Road trips are one of the coolest ways to travel. You just need a car, some pocket money for extra expenses, and an adventurous mindset! With winding roads, incredible coastal views, pretty mountain villages, isolated archeological sites and countryside churches, Sardinia is an incredible destination for a road trip. In fact, there's hardly anything better than a Sardinia road trip during the summer!
This large island at the heart of the Mediterranean has tons of different things to offer: from the heavenly beaches of Sardinia to delicious Sardinian food to historical ruins and unique museums, you will surely find the right attractions that will make your holiday special and unforgettable.
If you don't know where to start with your Sardinia road trip itinerary, you are in good hands. I am a local, I regularly roam the island with my car, and I thought I'd put together an incredible itinerary for 2 weeks in Sardinia.
Before I share with you the best itinerary for a Sardinia road trip, here is what you need to know before you actually hit the road!
Make sure to also read my posts A Fun Sardinia Itinerary, The Best South Sardinia Itinerary and The Most Scenic Drives In Sardinia.
What To Know Before Planning A Sardinia Road Trip
There are a few things you should be aware of if you choose to plan a Sardinia road trip. Here they are.
Renting a car can be expensive
The first, essential item you will need for a road trip is, indeed, a car. Unless you are planning to get to Sardinia by ferry, my recommendation would be to rent a car at the airport as soon as you land, and include insurance (you may never know what lies ahead). You will have to book it well ahead of time, because prices can be terribly expensive for last minute bookings, and this is especially true in the summer months.
Check out the prices of car rental in Sardinia here.
You can, of course, try and get around by public transportation, but that's not always reliable and you would probably need to spend an extra week on the island just because of that.
For more information on renting a car in Sardinia, read this post. Make sure to also read my post How To Travel By Public Transport In Sardinia.
Sardinia is all about windy roads
Another thing you should know is that Sardinian roads are often very narrow and windy, which is pretty normal for a mostly mountainous land but can be bothersome nonetheless. With this in mind, be always careful about cars coming from the opposite direction when you drive and mind the speed limits.
City roads are narrow
Try to avoid renting a huge car because you might get stuck in some village or city's inner streets. Unless you are accustomed to it, it can be truly frightening!
You need to take a map
An old fashioned map, that is!
This is because Google Maps in Sardinia can be super-tricky, especially outside of cities. I know I got lost several times trying to follow the app that was not properly updated, or ended up taking the most isolated road at night. Having said that, Google Maps works great when you're driving around the more famous places to visit on the island.
The best time for a Sardinia road trip
You might be wondering when is the best time to go on a road trip in Sardinia. Since my itinerary will not be focused on beaches only, my recommendation is to avoid the hotter, most crowded summer months (from the second half of June to the end of August).
This itinerary is ideal for the second half of May, the beginning of June, and for September, when the climate is still excellent for some swimming but also great for other adventures. Moreover, traffic won't be nearly as bad and hotels will be a bit cheaper. Having said that, you will have a blast if you follow it in the summer months too!
Make sure to read my posts A Guide To Visiting Sardinia In August and The Best Time To Visit Sardinia.
Now that we got the tips out of the way, let's see check out your itinerary for 2 weeks in Sardinia!
2 Weeks In Sardinia Itinerary Overview
Here is a quick overview of how many nights you will stay at each place during your road trip around Sardinia:
Cagliari – Four nights
Carloforte – Three nights
Alghero – Four nights
Santa Maria Navarrese – Three nights
The Best 2-Weeks In Sardinia Road Trip Itinerary
Cagliari
Day 1
Once you land in the Cagliari – Elmas airport, you will need some time to pick up your luggage and car, and reach your hotel in the city center. Depending on when you are landing, you will probably want to eat something and rest a bit. Just take it easy, maybe have a walk around the neighborhood and, when evening approaches, head to Via Santa Croce for a breathtaking sunset.
For the best walks in Cagliari, read this post.
Day 2
Spend the whole day exploring Cagliari. The center is small and pleasant to walk around, so you won't to use the car while in the city.
Cagliari is an ancient city pulsing with life and mystery and will leave a long-lasting impact on your and your fellow travelers.
Among the many attractions you can choose to enjoy, there's the Roman Amphitheater, the Botanical Garden, Castello's neighborhood, the Cathedral (located in Castello) and other stunning churches, the harbor, and the shopping streets.
Make sure to read my post The Best Things To Do In Cagliari.
Day 3
Your third day in Sardinia will be take you to the Giara Plateau, a natural area home to the indigenous Giara horses (famous because of their fur and small size), and the Barumini Nuraghe Complex, one of the best-preserved and easiest to visit nuraghe in Sardinia.
You can reach the Giara di Gesturi by following State Road SS125 and SS 127; it will take you about one hour drive. Barumini is a popular destination, so your GPS will easily guide you there.
Day 4
Your last day in the area of Cagliari can be spent enjoying some local delicacies and to go on one of the best day trips from Cagliari.
Take State Road 387 towards Serdiana and, in about twenty minutes, you will reach the famous Argiolas Winemakers' shop where you can go on a wine tour and try several of the best Sardinian wines. Make sure to book your guided tour in advance directly via their website, or send them an email at [email protected] for information.
Once you've had your share of drinks and food, go on to explore the area.
My recommendations are the saltwater pond "Su Stani Saliu" and the Santa Maria di Sibiola Church, beautifully immersed in the Parteolla countryside. Depending on when you visit, Su Stani Saliu is home to pink flamingos too!
Where to sleep and eat in Cagliari
There are some great hotels in Cagliari, and some excellent Airbnbs too. Here is a selection of places to stay:
Cagliari Old Town B&B – This cute Bed and Breakfast is located just a few hundred meters from the harbor and offers free parking, WiFi, excellent rooms, and abundant breakfast.
B&B in Centro – This is one of the visitors' favorite budget-friendly locations. It's very close to the city center, so you will have the total freedom to explore until relatively late, and has all the features you might want from your accommodation. Guests especially love their breakfast, and the place is also pet-friendly!
Cagliari has tons of great restaurants to pick from, for any budget and taste. The best pizza in town is at Framento. For a fancy dinner experience, go to I Sarti del Gusto. If you want charcuterie and wine, head to Sabores. They are all in the historic center of Cagliari.
Here are some more readings to help you plan your time in Cagliari: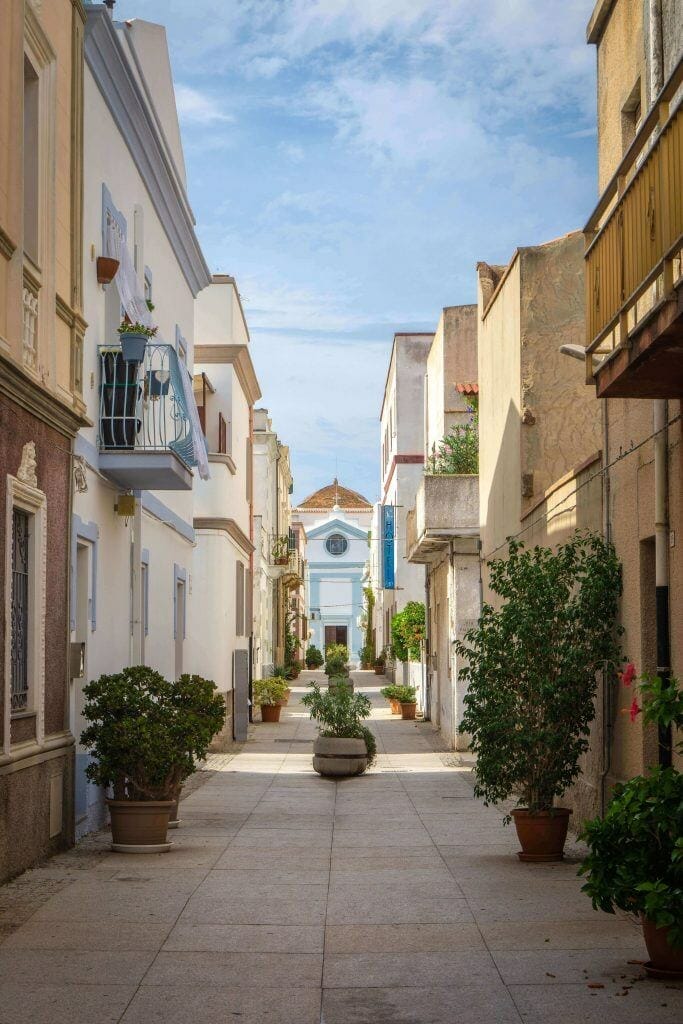 Carloforte and San Pietro Island
Day 5
Wake up early and prepare to hit the road! Your ferry to Carloforte will be departing from Calasetta, but it would be a pity to just pass by this village without exploring it, right? Once you are done browsing around Calasetta, head to the local beach or drive around the island of Sant'Antioco to find the perfect spot. Once you are done exploring, hop on the the ferry to San Pietro Island for your stay in Carloforte.
Days 6 and 7
I would personally spend a full day beach hopping and another full day visiting the city and then other landmarks on the island, but you can choose how to best distribute your time. The village is truly colorful and a perfect place for photos!
For a complete guide to Carloforte and San Pietro Island, read this post.
Where to sleep and eat in Carloforte
There are some great accommodation options in Carloforte. I have selected a couple for you:
B&B Nell'Isola – This Bed and Breakfast has it all: clean, pretty rooms, an excellent position on the map, a garden, a terrace, and an abundant breakfast. It's one of the best picks in the area.
Panoramic Studio Carloforte – Just as the name suggests, this guesthouse offers a stunning view of the Le Saline beach. Guests love it because of the many comforts offered and the outstanding quality-price ratio.
Make sure to also read my post The Best Hotels In Carloforte.
Tuna is a local specialty in Carloforte and you'll find plenty of places to try it. For fine dining, opt to eat at Da Nicolo. Another great restaurant is Da Andrea – it has two different settings: one is a trattoria and the other a more refined restaurant.
Alghero
Day 8
Moving from Carloforte to Alghero, stop halfway and spend some time in Is Arutas beach, famous for its quartz sand shaped like grains of rice. You can reach this beach by following SS131 to Oristano, then follow the road signs to Cabras and the beaches.
You can then continue to Alghero. Depending on the time of your arrival, you can have a walk around the city – there is no shortage of hidden corners to find. If you make it there for sunset, head to the Bastions for incredible views.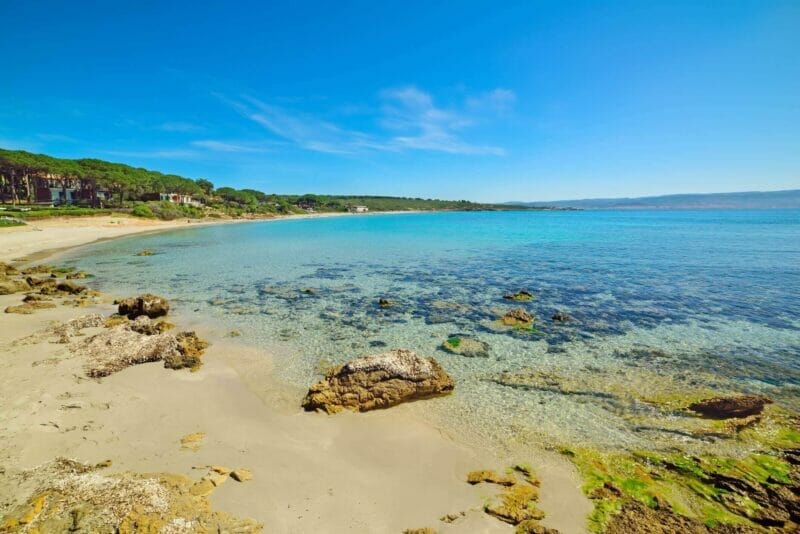 Day 9
The Catalan city of Alghero has plenty of beaches and all of them are free to visit. From the most famous Le Bombarde and Lazzaretto beaches to the lesser-known but still stunning Cala Speranza and Cala Dragunara coves, there is no way you'll go to bed disappointed after this day.
Make sure to read my posts A Complete Guide To Alghero and The Best Beaches In Alghero.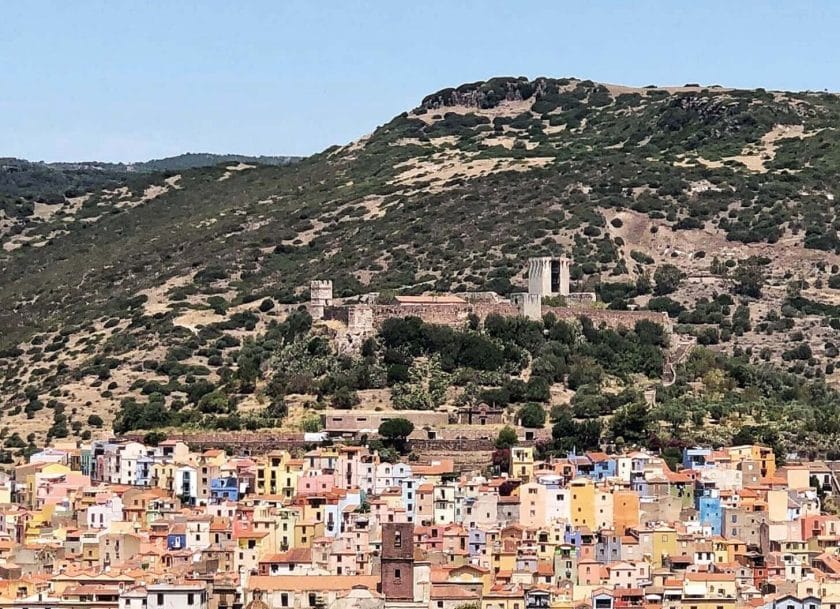 Day 10
Head out of Alghero to visit Bosa, an ancient and colorful village about 45 km(28 miles) away from Alghero: you can reach it in about an hour by following SP49.
Among the most famous attractions, you can visit the Malaspina Castle's remains; go for a walk along the Temo river and visit the churches, souvenir shops, and picture-worthy spots. After lunch, move on to sunbathe at Cani Malu – it's not exactly a beach, but an incredible swimming spot with very clear waters.
For more activities in Bosa, read this post.
Day 11
Spend the day browsing Alghero. This city has many unique features, such as a strong Catalan influence that shows not only in the language the locals speak but in every aspect of Alghero itself.
If you wander a little bit, you will notice how the buildings and the city structure are different from the rest of Sardinia. You can't miss a walk on the defensive walls surrounding the city center (try to visit every watchtower – there are three – and watch the sunset from up there, if you have the time.)
Definitely do some shopping – there are a lot of local shops selling trinkets made with coral (the city is the capital of Sardinia's Coral Riviera), and try some local seafood dishes.
Another place you shouldn't miss is the Neptune's Grotto (Grotte di Netturno), a quite famous and suggestive place that can be reached by sea or by land. If you choose to go to the caves by car, spend some time at Capo Caccia, a panoramic cliff that offers impressive views.
Where to sleep and eat in Alghero
There are plenty of good hotels in Alghero, as well as some fabulous Airbnbs. The following is a small selection:
B&B la Bouganville – This Bed and Breakfast features new, modern rooms, a terrace where breakfast is served daily, free wifi, and an excellent location and price overall.
Hotel Angedras – Located slightly outside the city center, this hotel is still considered one of the city's best locations. The rooms are bright and clean and the structure offers all the services you might need during your stay, including free parking and a restaurant.
The city is perfectly geared to tourists, so you won't find a shortage of excellent restaurants. For a real treat, book a table at Nautilus and ask for views over the harbor. It's a great seafood restaurant! For a quick lunch, La Focacceria, on the waterfront, is the best option.
Santa Maria Navarrese
Day 12
Santa Maria Navarrese is a bit of a drive from Alghero, so set out nice and early. As you will be going through Nuoro and Orgosolo on your way there, you can stop at both places for a quick look around.
Nuoro is one of the main cities in Sardinia and has some of the best museums on the island. Orgosolo is famous for its many murals and is one of the most unique small towns in Sardinia.
Santa Maria Navarrese is Baunei's beach appendix. This small village is especially famous for its beaches, but there is also a nice church (which was built by a Spanish princess in the XI century) and the old Spanish coastal watchtower.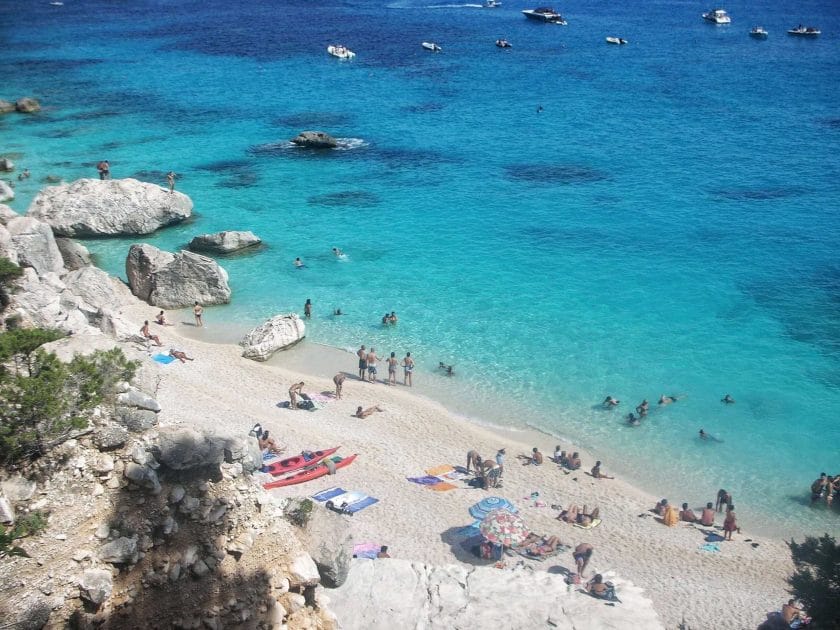 Day 13
Depending on when your Sardinia road trip is taking place, you have one of two options (in fact, if you have more time in Sardinia, I actually recommend doing both!).
You can either go on a boat tour around the Gulf of Orosei and visit all the incredible coves on the area – such as Cala Goloritzé, Cala Sisine, Cala Mariolu, and Cala Luna; or hike to one of the beaches.
You can book your boat trip around the Gulf of Orosei departing from Santa Maria Navarrese here.
Hikes to the coves depart from the gorgeous Golgo Plateau, about 35 minutes drive from Santa Maria Navarrese, through Baunei.
The hike to Cala Goloritzé is the shortest one – about one hour to head down, and one and a half to climb back up. Either way, remember that Cala Goloritzé is a limited-entry beach from 2020 and you will need to book your spot there via the phone app "Heart of Sardinia"; there is a maximum of 250 spots available.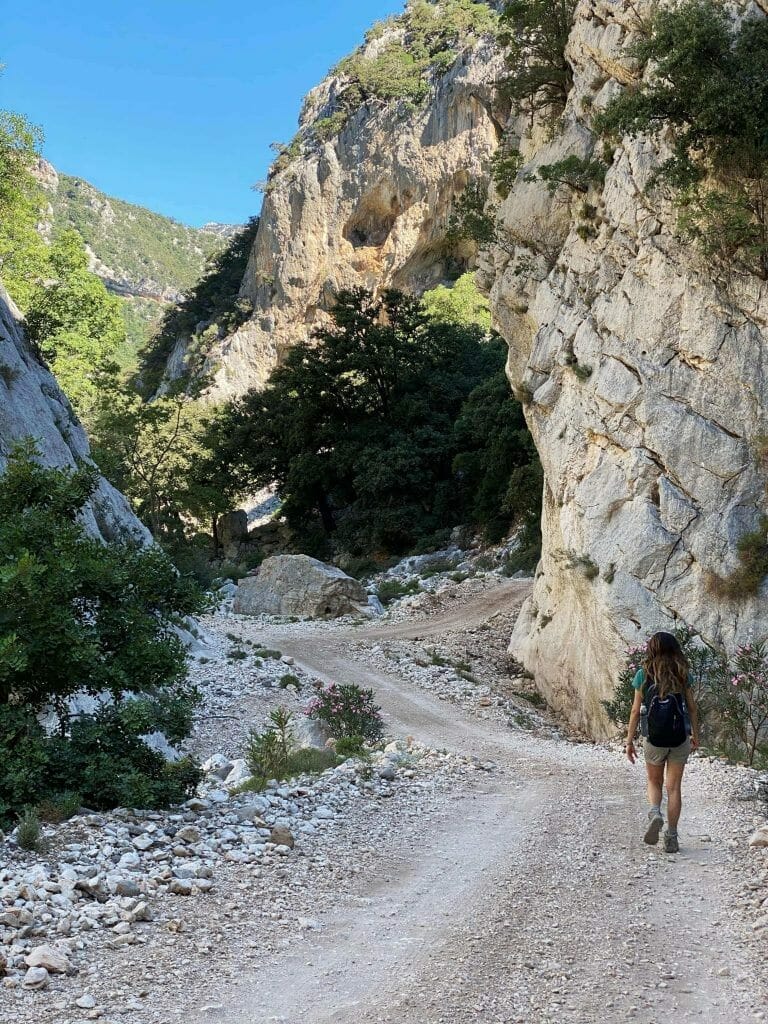 Where to sleep and eat in Santa Maria Navarrese
There are plenty of good accommodation options in Santa Maria Navarrese. I have selected the best ones for you:
Appartamento Mariolu – This apartment features a breathtaking view of the area, free private parking, and all the things you would expect from an apartment, such as a kitchen and free WiFi.
B&B Più Mare – You will be enchanted by the rooms in this Bed and Breakfast. Breakfast is included, and so are private bathrooms with toiletries and free parking.
For a quick meal in Santa Maria Navarrese, head to MeC Puddu's, Sardinian response to fast-food. It serves Sardinian staples such as culurgiones and malloreddus in an easy going environment. Toma is the best place to go if you want a table with a view and a delicious meal of seafood.
Fly home
It's time to pack your things and go home, sadly. Whether you drive back to Cagliari or leave from another airport, have a final check at your car before returning it. I am sure that after this Sardinia road trip, you will be eager to visit again, perhaps for another road trip and following a different itinerary.
I hope this simple road trip has touched as many places you wanted to visit as possible. Remember that this is not a plan you necessarily have to follow step by step: you can take things out, change the stop-overs' order, skip some activities. This is only a general guide for a somehow all-inclusive tour of Sardinia.
Pin It For Later!