Every corner of Sardinia is beautiful, but the Southern part holds a special place in my heart. This is where I was born, where I grew up and where I currently live. If you come to the Island during the spring or summer months, you'll make the best out of your South Sardinia explorations, but the area is stunning year-round. While the South Sardinia itinerary in this post is best in the spring and summer months, you can still follow it during the winter, just skip the swimming!
This South Sardinia itinerary is meant to combine the best the island has to offer: beautiful cities, archeological sites, easy hikes, gorgeous beaches, pristine nature, delicious food and wine and more. All you have to do is book your car rental (more about that in a bit) and your hotels, and then you'll be ready to pack your bags and start your adventure.
Ready? Continue reading!
Make sure to also read my posts A Complete 10-Days Sardinia Itinerary, The Best Itinerary For A Sardinia Road Trip and The Best North Sardinia Itinerary.
A Wonderful South Sardinia Itinerary
South Sardinia has several gems to offer, starting from Cagliari, the capital city, to quite a few stunning beaches, archeological ruins dating back to different times in history, natural parks, and more.
This South Sardinia itinerary is supposed to take ten days, but you can adjust it to your schedule to a certain extent: shortening it would be difficult – unless you take out some stops, which would be a shame! However, nothing stops you from taking it easy and using more days, visiting more places, or going to the same spot/beach more than once. It's your trip, your holiday, and you deserve to enjoy it to the fullest!
Unless you have a month, the only way you can follow this South Sardinia itinerary is by car. Public transportation isn't very reliable in Sardinia – not so much in terms of availability (buses and trains are available), but in terms of actual schedule. While you can visit Cagliari and go on the day trips from Cagliari on guided day trips that include transportation, the other places mentioned in this itinerary aren't nearly as easy to reach.
Make sure to read my post A Guide To Renting A Car In Sardinia or simply check out the prices of car rental here. Make sure to book your car well in advance to secure the best prices!
4 nights in Cagliari
Day 1: Historical Center
Your South Sardinia itinerary could only start with Cagliari, Sardinia's capital and largest city. If you want to feel the flow of history directly on your skin, head to the historic center: the four ancient districts (Marina, Stampace, Villanova and Castello) are a treasure chest for archeology, history and art lovers.
From the Roman ruins (especially the amphitheater) to narrow alleys of Castello, from the old defensive walls to the newer Bastioni, you will get to experience Cagliari's birth and growth in the span of a day.
Of course, there are more than old ruins in the city center: some extra stops could be the Botanical Garden, the promenade alongside the harbor (it goes all the way to Su Siccu), or a nice old shopping spree in the fashion streets of Via Manno, Via Garibaldi and Via Sulis.
Make sure to stop in Via Santa Croce for a sunset drink at Café Libarium. The views are stunning!
For a guided tour of the historic districts of Cagliari, click here.
Make sure to read my post The Best Things To Do In Cagliari and The Best Itinerary For 3 Days In Cagliari.
Day 2: Sella del Diavolo / Fortino S. Ignazio / Molentargius Reserve
Your second day will be spent exploring Cagliari natural sites. These are the pride and joy of us locals, who feel we never have to head too far to enjoy fresh air and nature.
First off, head to its famous urban beach, Poetto: here you can find bars, kiosks, and tons of locals enjoying a walk, a run, or a picnic. Poetto beach is Cagliari's most beloved beach, the place where the locals go to catch some fresh air and escape the city for a couple of hours.
Read my post A Full Guide To Poetto Beach.
Once you are done visiting Poetto beach, head to Calamosca and hike your way to the top of Sella del Diavolo, "The Devil's Saddle". This unique rock formation got its name from a legend, according to which Lucifer fought the Angels right above Cagliari's Gulf and, defeated, he fell from his horse and to the ground, leaving his saddle behind. The war started because the two parts wanted to rule over the area, which has beautiful scenery: you will realize that the legend isn't far from reality once you reach the top of the hill!
The trail to the peak of Sella del Diavolo is easy and well marked (follow the green dots painted on the rocks) but you are better off wearing hiking shoes or at least a good pair of running shoes.
Check out my post A Guide To The Sella Del Diavolo.
Another hill with a stunning view of the surroundings is Colle di Sant'Elia, where Fortino Sant'Ignazio was built and still stands. It's a fort that was firstly designed in 1792 to fight the French – it's in an excellent, strategic point of the city – but it was never completed. With time, it was used as a hospital for infectious diseases, a fort again during WWII, and is now, sadly, in ruins. Still, the hike and the view from the hill are stunning, so, don't skip this stop!
The last stop for your second day in South Sardinia is Molentargius Nature Reserve. It's a natural park home to several swamp birds and other animals and plants; it's a protected area where rare birds can nest in all safety, away from hunters and other dangers. Molentargius can be visited in a few hours and, if you want to enjoy the trip to the fullest, guided tours are also available. It's the ideal place for some quality birdwatching – especially if you want to see pink flamingos from quite close!
For a guided tour of Molentargius Nature Reserve, click here.
Head over to my posts A Guide To Fortino Di Sant'Ignazio and A Guide To Molentargius Nature Reserve.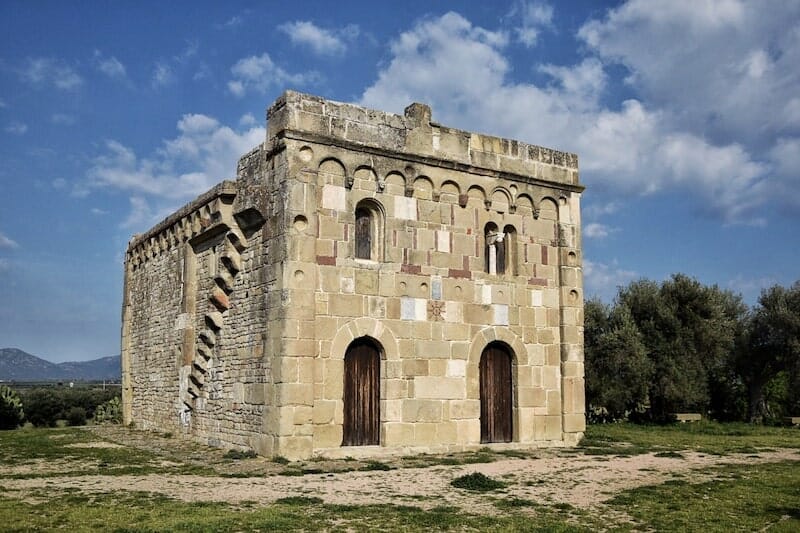 Day 3: day trip to Serdiana
The third day of your South Sardinia Itinerary will consist of a day trip outside the city. Drive to Serdiana, a lovely small town not too far away from Cagliari (about 20 minutes drive). This is another place that is very dear to my heart, because it's where my mom is from and part of her family still lives.
There are some true hidden gems in Serdiana: a beautiful and unique rural Romanesque Church (Santa Maria di Sibiola, where my mom, her sisters and even my sister got married!), and an excellent winery where you can enjoy a wine tasting tour and also visit their property – but you'll need to book everything beforehand!
After spending the morning enjoying Serdiana's beauties and drinking wine, head to Santa Maria di Sibiola Church and, not far from it, another nice protected area, Su Stani Saliu. Here, like in Molentargius, you will find rare birds and plants that find safety behind the swamp's reeds. Be careful not to scare them: some of them are so shy that, if frightened, won't lay eggs for the year!
Make sure to read my post A Guide To Cantine Argiolas, Serdiana.
Day 4: day trip to Barumini and the Giara
On your fourth day on the island, you can take another day trip and visit some of the most unique places in Sardinia: a Nuraghe, a cone-shaped building dating back to 5000 years ago, and the Giara plateau, a unique area with very specific features, and an indigenous type of horse that doesn't live anywhere else in the world.
To see the nuraghe, head to Barumini's Su Nuraxi. It's one of the best-preserved archeological remains in the area and can be visited on a guided tour that will give you some context and information about the Nuragic people, a prehistoric local civilization that has left about 7000 nuraghe scattered around Sardinia.
After your visit to Su Nuraxi, head to the nearby Giara Plateau. Bring some plenty of water and wear comfortable clothes, because the walk is going to be as fun as it will be mildly tiring. The Giara is a unique place that, according to many (including myself) looks a lot like the African savannah; plus, there are some horses that only live there and nowhere else in the world. They are smaller than the average horse but look nothing like ponies, and usually have dark fur. They are very shy, so don't be surprised if you don't meet any!
For a guided day trip to Su Nuraxi and the Giara, click here.
Check out my posts A Short Guide To Barumini, A Guide To Su Nuraxi, Barumini and The Most Impressive Nuraghe In Sardinia.
Where to stay in Cagliari
Villa Fanny
This beautiful boutique hotel is located just a few minutes from Cagliari's Stampace district. It is a fantastic place, with a beautiful garden and a nice pool. The rooms are spacious yet cozy and incredibly comfortable. Amenities include free WiFi, an airport shuttle service, and a delicious continental breakfast. There even is a gourmet restaurant on site.
La Dolce Cagliari
My friends Riccardo and Alessandro own this lovely guesthouse in the Stampace district. Each room at La Dolce Cagliari has a private bathroom and is bright and comfortable. Wifi is available throughout the property, and you will have plenty of places nearby to have breakfast (Ex Tipografia and B-Liv just to name a couple).
For more accommodation options, read my post Where To Stay In Cagliari.
How to get to Cagliari
Getting to Cagliari for mainland Italy or from many other places in Europe isn't difficult. There are plenty of flights and ferries leaving for the island during the week – scarcer during the winter months and more frequent in the summer. The flights to Cagliari are operated by the majority of big airports in Italy (if you are coming from the US it's likely that you will have a layover in Rome or Milan) and are ideal for the travelers who plan to rent a car or rely on public transportation.
The ferries, leaving from the main harbors on the Tyrrhenian Sea, are the best option if you are getting to the island with your car – or if you are afraid of flying.
Check the price of flights to Cagliari here.
For the price and schedule of ferries to Sardinia, click here.
3 nights in Carloforte
San Pietro Island and its main city, Carloforte, will occupy the following three days of your south Sardinia itinerary. The island was inhabited since the Punic times (8th century BC) but really became populated during the 18th century AD, when some families from Tabarka (an island nearby Tunisia) founded Carloforte after being sent away from their colony.
These families were actually originally from Genoa, in the North-West of Italy, and were sent to Tabarka to farm and harvest coral; here they stayed until they weren't welcome anymore. Carloforte is clearly a unique city, still looking very similar to the families' motherland, both by appearance (the buildings are extremely colorful, nothing like Sardinian traditional architecture) and by the way people in San Pietro still speak – with a dialect called Tabarkine.
One thing you shouldn't miss out on when in San Pietro Island is the incredible beaches: among them, the most famous are Il Giunco, Punta Nera, la Caletta, and Cala Fico, but there are plenty more.
Among the must-see attractions, of course, you have to visit Carloforte – there are plenty of picture-worthy corners; don't miss the defensive walls and the castle, the Multimedia Museum of the Sea, and the various churches.
San Pietro is also a great place for a hike, and can even be explored via boat tour. If you are a fan of pretty landscapes, don't forget to visit Capo Sandalo and its lighthouse: the view from there is breathtaking.
Make sure to read my post A Guide To Carloforte And San Pietro Island.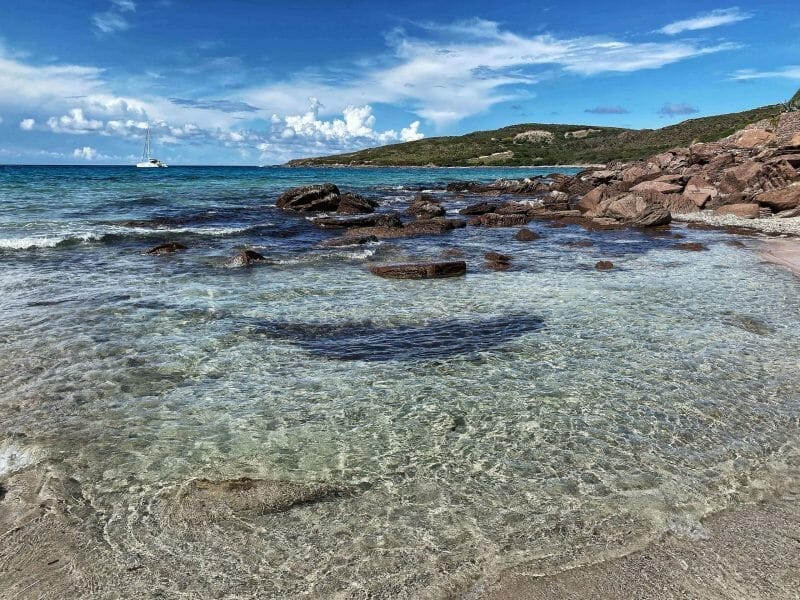 Where to stay in Carloforte
Nichotel
Located in the city center, close to everything. The rooms are bright, spacious, and equipped with anything you may need for a comfortable stay. You can also have meals in one of the nearby restaurants.
Carilla B&B
Excellent location, nearby many attractions and some of the main beaches of the area. Equipped with every comfort.
For more accommodation options, read my post The Best Hotels In Carloforte.
How to get to Isola di San Pietro
You can get to San Pietro from Porto Scuso (on mainland Sardinia) or Calasetta (In Sant'Antioco, another island you should visit if you have extra time). There are several ferries throughout the day, with prices varying from €8 to €20 if you have a car. Booking is necessary only during peak season, in August.
3 nights in Chia
Chia is a marine district of Domus de Maria, and has some of the most beautiful beaches in the area and incredible panoramic spots. Several resorts are scattered around the place as it's a famous tourist destination, and you will be spending the last three days of your South Sardinia itinerary here.
When in Chia, you should relax and enjoy some beach hopping. There are several beaches and coves to discover, but my favorite ones are Su Giudeu and Cala Cipolla.
Su Giudeu is a long, sandy beach that can get really crowded during the summer as it's a locals' and tourists' favorite. Nearby, there is a pond, home to flamingos and many other species. There is a small islet in front of the beach, and you can reach it easily thanks to the low tide.
Cala Cipolla is a tiny but beautiful cove, which gets extremely crowded but it's still worth your time. It neighbors Su Giudeu, which is separated by some rock formations, and from here starts an easy trail to Capo Spartivento, a promontory that overlooks the whole Sulcis – a hike there, up to the lighthouse, is a must. If you feel like walking more, you can follow the trail all the way to other nearby beaches such as Tuerredda.
Check out my posts A Guide To Su Giudeu Beach, A Guide To Tuerredda Beach and A Guide To Cala Cipolla.
If you are feeling like something more cultural, not far from Chia you will find the ruins of Nora, a stratified ancient town witnessing of the many layers of history in Sardinia, including Phoenician, Punic and Roman.
Make sure to read my post A Complete Guide To Nora.
Where to stay in Chia
Hotel Aquadulci
Located nearby the beach, the hotel is equipped with every comfort and offers great rooms and likewise great views.
Faro Capo Spartivento
A luxury boutique hotel built inside the lighthouse, Capo Spartivento is a special place to spend your holiday in Chia. You will need some luck to find an available room, but the experience is likely to be carved in your memory forever.
How to get to Chia
Chia is about 75 km (46.6 miles) from Portoscuso, where you'll likely land after your three days in San Pietro. Just follow State Road SS 195 Sulcitana, and you'll be there in less than one hour and a half.
From Chia, it's about an hour drive back to Cagliari Elmas Airport or to the harbor, where you will have to return your car before leaving Sardinia.
Pin It For Later!