Fordongianus is a perfect place to visit in Sardinia is you ever need to relax, but want to do so in a unique, historical environment. This small town in the heart of Sardinia is located in the Tirso River valley close to Oristano, and offers a unique opportunity to combine a relaxing spa holiday with the discovery of an archaeological site from the Roman times.
For more sites in Sardinia, head over to my post The Most Interesting Archeological Sites In Sardinia.
In this post, I will give an overview of the Fordongianus Terme archeological site and explain how you can visit. I will then share information on how to make the most of the modern-day spa and thermal resort.
A Brief History Of Fordongianus Terme
Fordungianus was founded by the Roman Emperor Trajan, hence its ancient name Forum Traiani. Romans were very fond of thermal baths, so it is no surprise that Forum Traiani was already a famous location.
The natural source of water, known as Aquae Ypsitanae, was already used then for its healing proprieties. Romans used to visit Forum Traiani – which is just about half way between the north and the south of Sardinia – to relax, using the thermal baths which are now an archeological site – more about this in a bit.
The ancient thermal baths were divided in various structures, with pools and changing rooms. The facility also included a cold-to-warm thermal path with hygienic and healing properties. Thus, some of the thermal rooms had different temperatures.
The ceiling was made of blue glass paste, while the floor featured various mosaics. The baths were decorated with the statues of Bes, the Egyptian deity of wealth and fortune, and with various drawings of nymphs.
How To Visit Fordongianus Terme
How to get to Fordongianus
The closest city to Fordongianus is Oristano. The best way to get there is definitely by car.
Once you are out of Oristano, take the SS388 of Tirso and Mandrolisai, then drive until you get to a roundabout. Once there, go straight on SP35 and turn left at the second roundabout, in order to take the SP33 to Fordongianus.
You can also get to Fordongianus from Cagliari, Alghero and Olbia, by taking the SS131 to Oristano and then following the directions provided above.
Terme Romane opening hours
The site of the Terme Romane di Fordongianus is open daily. Opening hours vary seasonally and are as follows:
Fall: 9:30 am to 1:00 pm and 3:00 to 5:30 pm.
Winter: 9:30 am to 1:00 pm and 2:30 to 5:00 pm.
Spring: 9:30 am to 1:00 pm and 3:00 to 6:00 pm.
Summer: 9:30 am to 1:00 pm and and 3:30 to 7:30 pm.
Tickets and Tours
Admission to the Terme Romane site is €6 for adults. This is a combined ticket that also includes a visit of the Casa Aragonese, located in the center of Fordongianus. Keep in mind that contrary to the site which is open daily, the Casa Aragonese is closed on Mondays.
The ticket also includes – at no additional fee – an audioguide, which is available in a variety of languages, or the service of a live guide which is however only available in Italian.
The modern day Fordongianus Terme
The thermal waters of Fordongianus Terme are still famous for their therapeutic properties, and they are a popular place for spa and thermal treatments among Sardinians, so it's a place you may want to consider if you want to relax a bit, and see a lesser known part of the island.
The water here flows at 54°C, through Palaeozoic rocks where they are enriched with mineral salts.
Nowadays, the waters are used for medical treatments in the fields of rheumatology, orthopedics and dermatology, as well as for treating pathologies of the respiratory system. They are also used for mud therapies.
If you would like to take advantage of the therapeutic properties of Fordongianus thermal waters, you have two main options: the Is Bangius public thermal baths and the Sardegna Grand Hotel Terme.
Is Bangius
Is Bangius is an ancient thermal complex, dating back to 1800, but still functioning.
It is accessible by paying a small admission fee. You can only enjoy the pools for half an hour, which actually includes the amount of time you need to get changed. It may seem short, but honestly the water is so hot that you won't feel the need to stay longer.
The facility consists of three pebble-bottomed pools, inside which water gushes out at 41° C, perfect for a relaxing and beneficial bath. Given the temperature of the water, it is not recommended to stay in this specific pool for more than 10 minutes.
To access Is Bangius, you must bring your own slippers, bathrobe, white towel and bathing cap. The facility is open daily from 9:30 am to 12:30 pm and from 3:00 pm to 6.30 pm and works on a time slot system, which means advanced bookings are necessary. To book your slot, you must call +393462143581.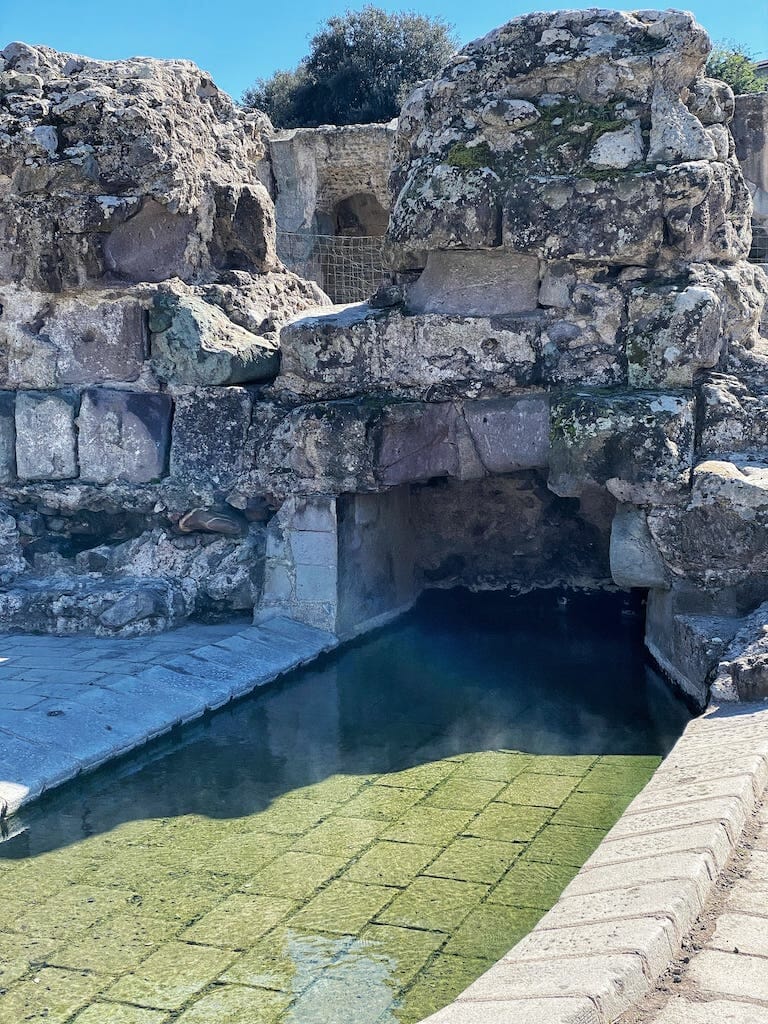 Sardegna Grand Hotel Terme
If you are looking for a more modern solution, then the Sardegna Grand Hotel Terme in Fordongianus may be the best choice.
The hotel has indoor and outdoor pools, whirlpools, thermal grottos, showers, hammam, and much more. Both the outdoor and indoor pools are filled with thermal water, so you can benefit from the healing properties of the water throughout the year. You can also book massages and beauty treatments.
The Parco Terme at the Sardegna Grand Hotel Terme is open daily from 9:00 am to 7:00 pm.
Since it is a hotel, you can consider booking a room, or simply pay to access the SPA services. In general, I recommend you check the hotel's availability by consulting the official website or by calling 0783605016.
Other nearby places to visit
Once in Fordongianus, I recommend a visit to some of the other town landmarks. Of course, you can't miss the aforementioned Fordongianus Terme Romane site, which is the main attraction in the area.
how Other than that, you can find other interesting places such as the Casa Aragonese, the Anfiteatro Romano, and the beautiful San Lussorio Church.
For more activities and places to visit in Fordongianus, you should also read my post A Guide To Fordongianus, Sardinia: 6+ Best Places To Visit.
Casa Aragonese
The Casa Aragonese is a typical 16th century Spanish house, built following the Aragonese style. The house was made in red trachyte, with columns on a long stone seat and a porch facing the courtyard.
Inside, the house has thirteen rooms, adorned with cupboards, chairs, emblems and furniture. You can also visit the rear garden and the stable.
You can get a cumulative ticket to visit the Casa Aragonese and the Terme Romane. However, keep in mind that the Casa Aragonese is closed on Mondays.
Anfiteatro Romano
The Roman theater is another testimony of the Roman presence in Fordongianus. Located in a valley outside Fordongianus, the theater features the typical architecture of these ancient structures. Therefore, there is a large space used for gladiator fights and other shows.
Keep in mind most of the site has hardly been excavated, so you can only really see it from the road – the view is actually quite nice!
San Lussorio Church
This beautiful church located about 2 km (1.2 miles) from the village was built in the 7th century is one of the oldest in Sardinia, though what you see today is actually the result of restorations carried out in the 13th and 15th century.
You should also read my post The Most Beautiful Churches in Sardinia.
Pin It For Later!