Alghero, Sardinia is a truly charming place to visit and if you are planning a trip to the island you should not miss it. This Catalan enclave of less than 50000 people is the 5th largest city in Sardinia and – despite attracting multitude of tourists every year – it's managed to retain its character and local vibe.
In Alghero, you will have a great choice of things to do which will include a visit to the historical center, one to the nearby natural sites and to close-by villages and, since it is Sardinia we are talking about, a good dose of beaches.
Read this post to find out more about Alghero, discover the things to do there and get useful information that will help you plan your trip. Let me start by sharing some historical background.
A Short History Of Alghero, Sardinia
The original name of Alghero is L'Alguerium (or L'Alguer in Catalan, the language spoken in the city). The name referred to an algae that was regularly found on the coast. The city was founded in the 11th century by the Genoese.
Back then it was nothing more than a fishing village. Its strategic position immediately attracted other people. The Pisans were the first to come, and ruled for a short period of time. In 1353 the Catalans arrived in Alghero, and locals were forced to move to the nearby Villanova Monteleone. In 1720 the city fell to the Savoy.
The 10000 people that lived in Alghero in the 1920s further decreased after the heavy bombings of 1943. The city only started gaining tourism momentum in the 1960s – and it hasn't lost it since.
Continue reading this post for all the things to do in Alghero, Sardinia.
11 Cool Things To Do In Alghero Sardinia
Explore the historical center
As soon as you get to Alghero Sardinia, make sure to go for a walk across its historical center. Protecting the city there are the walls (known as bastioni) built in the 16th century and that run from Porta a Mare (one of Alghero's gates) to Piazza Sulis, where you will be able to admire Sulis Tower.
Along the Bastioni, make sure to observe the various watchtowers – Torre di San Giacomo, Torre della Polveriera, Torre di Sant'Elmo. Go there in time for sunset for splending views of Capo Caccia in the distance; or for dinner – there are many restaurants in the stretch called Bastioni Marco Polo.
For a guided walking tour of Alghero, click here.
Also in the historical center you will find the 16th century Catalan Gothic Santa Maria Cathedral, which overlooks Piazza del Duomo. Take care to notice that the interior is actually in Renaissance and Baroque styles. Annexed to the Cathedral, the bell tower can be accessed through a Gothic doorway in Via Principe Umberto and from there you can get excellent views of the city.
Next to the tower, the 14th century Porta a Terra is one of the two main gates of the city. It's a 23 meters tall tower that is now home to a museum where you can learn a bit more about the history of the city. For great views of the city, walk up the terrace on the second floor.
Check out my post The Most Beautiful Churches in Sardinia.
Other churches you may want to check out are San Francesco, originally built in the 14th century in Catalan Gothic style and with a Renaissance style facade that was added after the original one collapsed in 1593; St. Barbara Church, the oldest one in Alghero; and St. Michael Church, which has a beautiful dome.
The nicest square to hang out is Piazza Civica, which is next to Porta a Mare. There you will find many nice boutiques and cafés – the most famous one is Caffé Costantino, on the ground floor of Palazzo d'Abis.
Visit the Coral Museum
As Alghero is located in the Coral Coast, coral is a big part of the economy there and you will find a Museo del Corallo where you can learn more about this traditional craft. The museum is located inside a beautiful Liberty-style villa.
The Coral Museum is open Thursday to Sunday from 10:30 to 12:30 and from 17:30 to 20:00; Monday from 10:30 to 12:30; Tuesday and Wednesday from 17:30 to 20:00. Tickets are €5.
Shop till you drop
Alghero is one of the best shopping hubs in Sardinia. It is the capital of Riviera del Corallo (Coral Riviera) so you will find many jewelries that sell jewels made in this beautiful bright red or pink material.
Other than that, there are many other shops. Alghero is the birth place of Antonio Marras, a well known Italian designer, and he obviously has his atelier in the city – right by Porta a Mare.
Try local food and wine
Alghero is famous for its seafood restaurants. The most famous (and also expensive) dish to try there is lobster "alla catalana" – Catalan style lobster which is boiled and then served with thin slices of tomatoes and onions. There are many places that serve it, but make sure to book in advance.
In terms of wine, Alghero is home to some terrific vineyards. The most famous one is Tenute Sella e Mosca, founded in 1899. You can go on a wine tour that can last up to 3 hours and the price varies between €15 and €50 depending on how many tastings you opt for.
Make sure to read my post A Guide To Visiting Sella E Mosca Winery.
For a wine and olive tasting experience in Alghero, click here.
The following are the best restaurants in Alghero:
AL VECCHIO MULINO – The best pizzeria in the historic center of town.
FOCACCERIA MILESE – Budget friendly place for a quick lunch. Very informal, and totally yummy.
GIOIA MI – A perfect spot for a quick lunch. The crostoni are freshly prepared with high quality ingredients.
ROBERTO MURGIA DOLCI IN CORSO – The best place to try local sweets, including Alghero's famous "menjar blanc."
QUINTILIO – A bit outside of the city and overlooking the sea, it only serves grilled fish and seafood. Pricey but perfect for a romantic night out.
THE KINGS – A great restaurant on the Bastioni whose main specialty is raw seafood. Quite pricey.
NAUTILUS – In a great location overlooking the harbor, you will find great quality seafood and professional yet friendly service. Not cheap, but worth it.
TRATTORIA AL REFETTORIO – In a lovely spot in the heart of historic Alghero, this restaurant dishes out incredible dishes and even better dessert. Try the octopus and the crema catalana cake. There is a long wine list to pick from.
TRATTORIA LO ROMANI – Comforting dishes with a wide choice of seafood and meat, good easygoing service and a cozy atmosphere make this one of the most popular choices in Alghero.
Make sure to read my post The Best Restaurants In Alghero.
Go to the beach
Not far from Alghero Sardinia you will find many stunning beaches. Here are the ones I recommend visiting:
LE BOMBARDE AND IL LAZZARETTO: North of Alghero on the way to Porto Conte, these small coves have beautiful fine sand and freezing but crystal clear waters and surrounded by a thick forest of Mediterraean pines home to thousands of cicadas who'll provide free live entertainment.
MUGONI: Part of Porto Conte Nature reserve, this stretch of fine sand and clear waters has more of a local feel and offers stunning views of Capo Caccia.
LIDO SAN GIOVANNI – The main urban beach. Perfect for an afternoon.
MARIA PIA – On the way to Fertilia, it's home to gorgeous sand dunes.
SPIAGGIA DI PORTICELLO – It has incredible views over Porto Conte Natural Park.
PORTO FERRO – North of Alghero, it's the most secluded beach in the area. It's surmounted by three Aragonese towers.
LA PELOSA – One hour drive north of Alghero, in Stintino this is one of the most famous beaches in Sardinia. If you visit between June and September you will have to book your visit via a local app. Totally worth going. For more information, check out this post.
Care to see dolphins in their natural environment? Check out this tour.
Take a sunset walk in Capo Caccia
Alghero has the perfect location to admire sunset, and you should never miss the opportunity to do so! I have already mentioned a walk along the Bastioni as a sunset opportunity, but for a real treat heat to Capo Caccia. There is a trail from where you can get stunning coastal views and the sunset over Foradada Island is out of this world.
Visit Grotta di Nettuno
Not far from Alghero and in the area of Capo Caccia, Grotta di Nettuno is one of the most famous places to visit in this part of Sardinia. The caves have incredible stalactites and stalagmites, and the lightening of the largest rooms (that literally look like concert halls) creates an stunning show.
There are two ways of getting to the cave: by boat from Alghero's harbor or via the Escala del Cabirol, a 654 staircase that offers breathtaking views (and lots of exercise opportunities). The ferry costs €16 for adults and €8 for children. Admission is €14 for adults and €7 for children up to the age of 12. Tickets include a guided visit and must be booked in advance here.
Check out my post A Short Guide To The Grotta Di Nettuno.
Practice adventure sports
If you are into adventure sports, Alghero will prove to be an excellent destination for you.
For rock climbing, the Via Ferrata del Cabirol is a great medium-difficulty ferrata with stunning views of the coast. As it is right in the sun, only opt to do it in the spring or fall or else you will burn and / or melt.
Alghero is also a fantastic diving destination and you won't have any difficulty in finding a diving expedition. The best experience is a dive of Nereo Cave, which is the biggest underwater cave in the Mediterranean.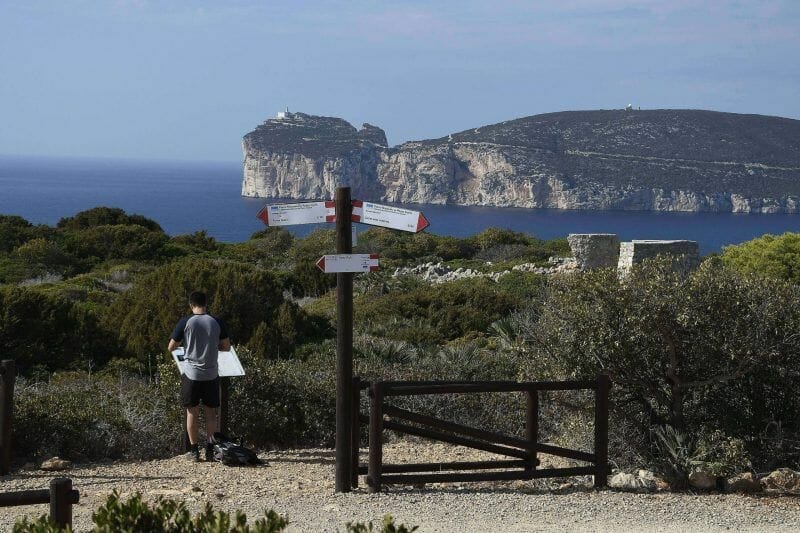 Go for a walk in Porto Conte
Porto Conte is one of the nicest areas you can visit located within short distance from Alghero. To give you an idea, this is where Mugoni beach is located. It's a fantastic place to go hiking and biking, and the coastal views from there are splendid.
You can reach Porto Conte by car from Alghero. There is a €5 admission fee for cars and €3 for bikes or pedestrians. You can also opt for a guided tour from Alghero that you can book here.
Make sure to also visit Le Prigionette Nature Reserve, a beautiful reserve of Mediterranean scrub with a bunch of good walking and biking trails and where you should be able to spot local wildlife.
Make sure to read my post The Best Hikes In Sardinia.
Visit the archeological sites
There are a few interesting archeological sites you can visit near Alghero ,Sardinia. I recommend going to Nuraghe di Palmavera, a nuraghe village that dates back to 3500 years ago and where you will be able to see a main tower and a secondary one.
Nuraghe Palmavera is open daily from 10:00 am to 7:00 pm. Tickets are €5; a combined ticket for Nuraghe Palmavera and Anghelu Ruiu Necropoli costs €8. The site is best visited with a guide, which costs €2 per person and must be booked in advance. Audio-guides are €3.
You can get tickets to the site here. Alternatively, you can join this private tour of Nuraghe Palmavera with a local guide. For a cheaper tour, click here.
At about 10 km north of town and on the way to Porto Torres you will find the Necropoli di Anghelu Ruiu. It's a place where the archeologists found the remains of 38 tombs carved in sandstone that date back to 3000 to 2700 BC. These are known locally as domus de janas.
If you want to visit both sites, you can get a combined ticket here.
Visit the nearby Bosa
When in Alghero make sure to visit Bosa. This truly is the prettiest village in Sardinia and one of the most charming in Italy. It's a series of cobbled alleys, low rise colorful buildings, a medieval castle (Castello dei Serravalle, also known as Malaspina) offering stunning views of the village below and of the coast. Add to this a lovely, genuine vibe and you will want to go for sure. It is at about 45 minutes drive from Alghero.
Go to Sassari for a day
Sassari can be easily reached by car (40 minutes drive) or even by public bus from Alghero. The second largest city in Sardinia is not the most popular place to visit on the island – which means that, should you decide to go, you will really be off the tourist path and be able to experience a much more local vibe.
The main sights are all in the historical center. You will want to pop into Piazza Italia – one of the largest and prettiest squares in Sardinia. Not far from it, the Museo Sanna is a great archeology museum. Other great sights are St. Nicholas Cathedral and its bell tower, St. Anthony Abbot Church; and the Civic Theatre.
Check out my post A Short Guide To Sassari.
Useful Information About Alghero Sardinia
Guided tours of Alghero
A guided tour will give you a proper introduction to the city.
You can book your guided tour of Alghero here, here, or here.
I recommend spending a few days in Alghero to take in all that it has to offer, but if you are tight on time you can actually visit on a day trip from Cagliari.
You may want to consider this guided day trip to Alghero from Cagliari. Check it out here.
How long to stay in Alghero
Alghero city proper won't take you more than a day to explore but if you are interested in visiting the surroundings, you can easily spend a week in Alghero without ever getting bored.
Where to stay in Alghero
You won't have a hard time looking for a good place to stay in Alghero, no matter your budget and taste. I have selected a few good places to stay for you – some are in the city center, other closer to the beach:
Make sure to read my post The Best Airbnbs In Alghero.
Getting to Alghero and moving around
You can get to Alghero, Sardinia by plane from Italy and Europe via budget flights. There are buses connecting the airport to the city, but you can also book a private transfer here.
For more information on how to get to Alghero, check out my posts How To Get To Alghero From The Airport and How To Get To Sardinia: Routes From Italy And Europe.
The city of Alghero is so small that you don't need a car to move around – but you may need it to get to the beach and to other nearby places. It's probably best to rent a car directly at the airport.
Check out the prices of car rental here.
RESPONSIBLE TOURISM TIP: The last time I visited Alghero I noticed that rides on horse pulled carriages were being offered as an attraction to tourists. Please, do not ride them – those horses must be stressed to ride among cars and noise. As an alternative, and especially if you have children, opt for the train on wheels.
The best time to visit Alghero Sardinia
Alghero is a great place to visit throughout the year. If you intend to enjoy the beaches, you are better off traveling in the summer months between June and September. You may want to avoid the two central weeks of August as that's when it gets most crowded and prices tend to rise.
Further Readings
Make sure to read my other posts:
Pin It For Later!