Oristano is located on the Western side of central Sardinia and is considered an area that has stayed natural, more authentic compared to the ones that have seen a huge touristic flow throughout the years.
The city and its surroundings have a long history because they were inhabited since Nuragic times.
The Oristano we know nowadays, however, became an important city only during the Middle ages. The area is blessed by fertile ground and two important lagoons which guarantee good harvest and fishing.
Moreover, its location in the middle of the Oristano Gulf has always allowed the area's inhabitants to pursue trading. Tharros first, and Oristano later on, were important and rich harbors and places of commercial and cultural exchanges.
Of course, there's more than ancient buildings and museums in this part of Sardinia: the Oristano Gulf is famous for its unique beaches as well, and I'm here to give you a full tour of this area's beauty and charms!
A Brief History Of Oristano
The city as we know it nowadays wasn't an important center until around 1000 AC. Before that, people lived in the near villages of Othoca (now Santa Giusta) and Tharros.
In 1070, however, Tharros was definitively abandoned because of pirates and Oristano began expanding and growing in population, also thanks to the fact that it became both an Episcopal headquarters and the Arborea Giudicato capital city.
This choice was surely made because the city was way safer than the other villages, thanks to the two lagoons and the river which acted as a natural shield against potential enemies.
Oristano got involved – and started – several wars during the Middle Ages. It was also invaded, damaged, and promptly rebuilt on two separate occasions. In 1479 all of Sardinia fell under Spanish rule, and in 1720 the Savoy family bought it off.
There aren't any significant events in Oristano's modern history: its golden age was the Giudicati era, as the many medieval buildings around the city show that.
Check out my post A Brief History Of Sardinia.
Sa Sartiglia
Sa Sartiglia is Oristano's most famous event. In fact, despite many people choose to visit Sardinia in the summer (and this area's beaches are totally worth it!), there is a time in February during which you should definitely be in Oristano.
The Sartiglia is an event that's held exclusively in this city and has medieval origins. It takes place during the Carnival celebrations, specifically on Sunday and Tuesday, and consists of a horse riding competition.
The riders, dressed in traditional Oristano clothes, try to catch a star-shaped ring with their sword; there are two teams (called "Gremi"), and the one that gets more stars wins that years' race edition.
It's difficult to explain and make you understand how beautiful this event is with only a few words, but I assure you it's something you should see with your own eyes at least once!
Whether you are visiting Oristano during the Sartiglia or not, make sure not to miss the small but interesting Sartiglia Museum in the center of Oristano. A guide will take you around the exhibit to explain the main rituals and historical facts.
Make sure to read my posts A Complete Guide To Sa Sartiglia and The Most Famous Festivals And Events In Sardinia.
The Best Places To Visit In Oristano
Piazza Eleonora
This is Oristano's beating heart. It's located in the city center and leads to many important buildings. In the middle of this square sits the statue of Eleonora d'Arborea, a respected and loved personality in Sardinian history, who became especially famous for improving the Carta Delogu, one of the most ancient written constitutions in the world.
Her statue was put there on May 22, 1881.
Antiquarium Arborense
The city's most important museum, albeit not very big, stores important relics of the Nuragic era and other relics found in Tharros, plus some medieval artifacts. It's also one of the few Sardinian museums to have a tour dedicated to visually impaired people.
The museum also has two very detailed relief maps: one of Tharros and one of Oristano in its golden age, during the Giudicato era.
Read my post The Best Museums In Sardinia.
Piazza Roma
Directly linked to Piazza Eleonora by a short street (about 250 meters) called "Via Dritta" by the locals, this large square is home to a variety of shops and cafés and is famous for the tower standing in its center, the so-called Torre di Mariano or Torre di San Cristoforo.
This tower was built by Judge Mariano IV (hence the name) for defensive purposes and is divided into three separate chambers. At the time of its construction, the 19-meters-tall tower was one of the main gateways to Oristano and was, therefore, part of the defensive walls.
You can still see a small chunk of those walls on the main street and scattered around the city center.
For a small fee, you can also walk up the tower to take in the views of the city.
Pinacoteca
Oristano's Pinacoteca is one of the most important collections of Sardinian paintings. It was first funded by Giovanni Battista Sanna Delogu who, in 1969, gifted the Oristano Municipality with all the artworks he owned and asked them to be made into a public, permanent exhibition.
The building also hosts temporary art exhibitions, the public library, and a pottery museum (Museo della Terracotta) and is, therefore, an essential cultural spot for citizens and tourists alike.
Cattedrale di Santa Maria Assunta
If you walk towards the bus station from Piazza Eleonora you will see the Santa Maria Assunta Cathedral. It was sanctified in 1745 but was built on a previous Byzantine church from the 7th century AC.
It's impossible to notice if you only look at its external appearance, but if you walk inside you will notice that all the chapels have different architectonic styles: another sign that the church has been renewed many times, adapting it with the era's trends.
San Francesco Church
This is another important church in Oristano. It was built in a gothic style, which can still be seen on the inside, but it was renewed in 1834 and acquired its neo-classic look. This was the church where Eleonora d'Arborea signed the peace treaty with the Aragonese in 1388.
One of the biggest religious treasures in Oristano, the Nicodemo Crucifix, is kept here: this is a beautiful, polychromous statue that was probably made in Tuscany and brought in Sardinia in the 14th century. Every year, on September 14, a rite involving this relic is celebrated in San Francesco church.
Santa Chiara Church
Although not one of the biggest churches in the city, it's one of the few fully gothic churches in Sardinia and is quite important to Oristano's history, because it was strictly linked with the Arborea Judges' family.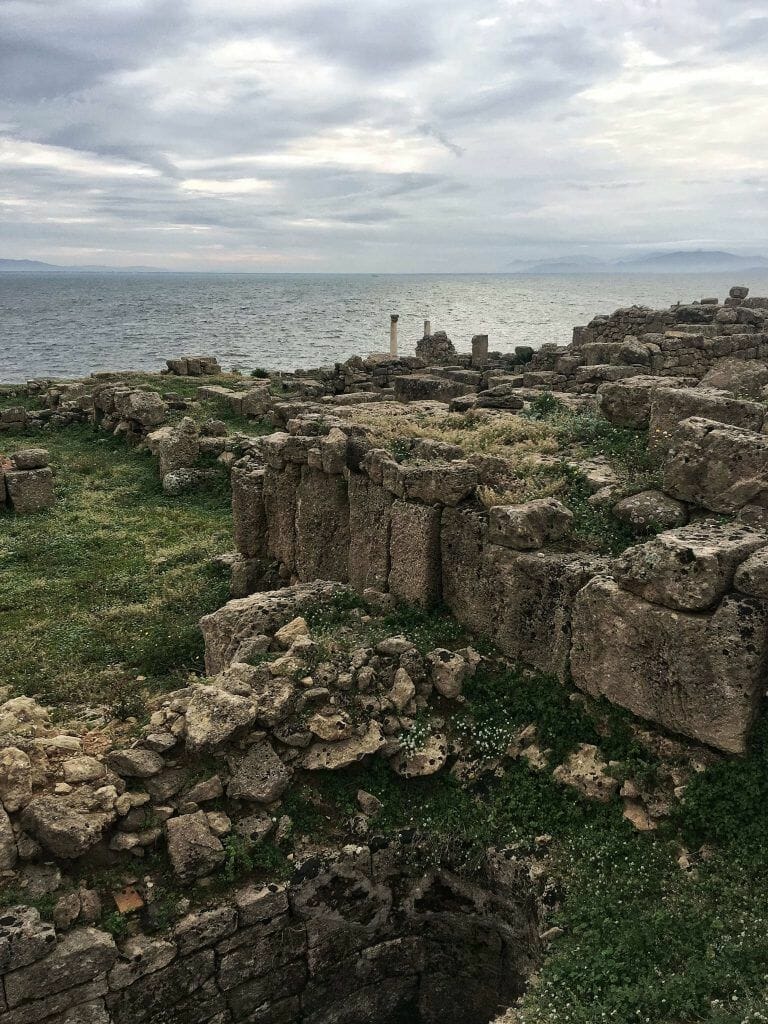 Tharros
Tharros can be visited on a day trip from Oristano. This was one of the first populated places in the area. Its first inhabitants were Nuragic people, and the village was conquered by Phoenicians and Romans, then abandoned in 1070 because of the increasing pirates' incursions.
It's a place filled with history and you shouldn't miss seeing it!
It doesn't take more than half an hour to get there from Oristano, and the road signs will easily guide you: just follow the directions towards Cabras and San Giovanni di Sinis.
Make sure to read my posts The Ultimate Guide To The Sinis Peninsula
and A Complete Guide To Tharros.
San Salvatore di Sinis
This abandoned village in the Sinis peninsula was used as a set for several spaghetti-western movies and it really looks like it came straight out of one of those movies! You can have a stroll around a typical Far West city, with saloons and a desert-like environment.
The village was populated in ancient times but, being only 9 kms away from Tharros, it was eventually abandoned in favor of Oristano. You can visit both on the same day.
San Salvatore di Sinis gets very crowded on the first Saturday of September when an essential celebration from the near village of Cabras takes place: the Corsa degli Scalzi ("Barefoot Race").
This is a procession during which San Salvatore's statue is brought from Santa Maria Assunta church in Cabras to San Salvatore church in the homonymous village, and back to Cabras on the following day, by barefoot men.
It's a tradition that's very dear to the people of the area, especially Cabras' citizens, who take great pride in it. You can see a video of it here.
San Giovanni di Sinis
The small hamlet of San Giovanni di Sinis is a quick drive from Oristano and where locals would go for a day at the beach. The beach is indeed fabulous (and there is a stretch towards the end that is dog friendly) but the actual village is one of Sardinia's true hidden gems.
On the road that connects the village to the Tharros ruins you will find a beautiful Romanesque church that was actually first built in the 6th century. Not far from it, along the beach, there are a couple of Punic necropolis that are easily visible if you walk along the trail that follows the beach, northbound.
Make sure to read my post A Complete Guide To San Giovanni Di Sinis.
Mont'e Prama
Actually located in the Cabras municipality, a 10 minutes drive from Oristano, is one of the most interesting sites in Sardinia, Mont'e Prama. It is actually tiny compared to the other more famous sites such as Tharros, and only a small portion has been excavated and researched.
Yet is is one of the most important in the area, as this is where the famous Giants of Mont'e Prama – which can be seen in the Civic Museum of Cabras and in the Archeology Museum of Cagliari – were first found. Little is known about the site at the moment – there are lots of speculations and ongoing research – but it is believe to be a necropolis.
Since it is still being excavated, the site is only occasionally – during special occasions – opened to the public who can access via guided visits which last about one hour. The statues can be seen and the small but very well curated Museo Civico of Cabras.
For enquiries on openings and tours, send an email to [email protected].
Make sure to read my posts A Curated Guide To Cabras and Who Were The Giants Of Sardinia?
Nuraghe Losa
This is one of the best-preserved Nuraghe in Sardinia and the village around it was inhabited until the 8th century AC. It's located only 5 km away from Abbasanta, a nice village on the island hinterland, and 40 kms – 30 mins by car – away from Oristano.
Make sure to read my posts The Most Famous Nuraghe In Sardinia and A Quick Guide To Su Nuraxi.
Fordongianus Thermae
This thermal complex, located in the homonymous village, is divided into two parts (one with natural warm water and the other one warmed artificially) and is the ideal stop if you want a relaxing break.
Fordongianus, like Abbasanta, is only 30 mins away from Oristano and is definitely a nice place to completely relax and enjoy a full, lazy day.
Make sure to also read my posts A Guide To Fordongianus, Sardinia: 6+ Best Places To Visit and A Guide To Fordongianus Terme Romane, Sardinia.
Torregrande Beach
The water here isn't particularly crystal-clear, but Torregrande is the center of summer's movida in Oristano: youngsters ispend their days on the beach and then have a drink and some fun in the bars and clubs in the village.
There is a shuttle bus service working 24/7 to discourage drunk driving and just to make the commute easier for everyone who doesn't own/rent a house in Torregrande.
Mari Ermi
Located on the Sinis peninsula, this beach is famous for its clear water and for the sand made of tiny pink and white quartz pebbles.
Is Arutas
Another gem of the Sinis peninsula, Is Arutas' signature is its half-moon shape and its sand: the quartz has been polished by time and tides, and now it looks like the whole beach is made of grains of rice.
Although it might be tempting, please remember that you can't bring it home: the same goes for every beach on the island. You'll be heavily fined if even a pinch of sand is found in your bag or luggage!
Check out my full guide to Is Arutas here.
S'Archittu
S'Archittu is a bit farther from Oristano but it's worth the 40 minutes drive. It's famous thanks to the cliffs forming an archway (which give it its name) and you will surely see people jumping in the water from there.
This type of diving is relatively safe if you do it from the middle of the rocks (about 6 meters high) but still requires attention: if you want to try the experience, make sure there is no boat or people under you and have a swim first to check for sharp rocks or any other dangerous thing.
The beach is often quite crowded, so make sure to arrive there a bit early!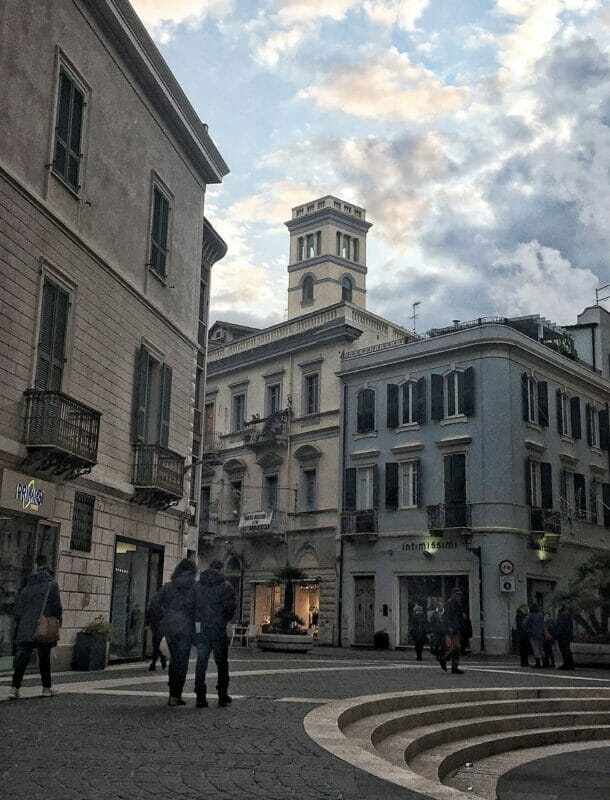 Practical Information
Guided tours of Oristano
Guided tours of Oristano are offered by a local organization called Mare Calmo. They have various itineraries in the city – including in the places of the Sartiglia – as well as in its immediate surroundings, such as Tharros and Santa Giusta.
You can review the tours offered by Mare Calmo here or send them an email at [email protected].
Where To Sleep And Eat In Oristano
There are a few good places to stay in Oristano. Here is a selection:
Mariano IV Palace Hotel – Located in the city center, you will have Oristano in the palm of your hand! Rooms are a bit outdated, but the lovely staff will make up for everything.
Via Del Centro Guesthouse – Another place in the city center, this time in Piazza Eleonora. You will stay in a nice and comfortable place indeed.
Residenza d'Epoca Regina d'Arborea, Oristano – This place, also located in Piazza Eleonora inside a 19th century house, makes for a very unique stay.
Il Giardino di Chiara – lovely small family run bed and breakfast in the center of Oristano, in Via Cagliari.
If you get hungry when exploring Oristano, head straight to Craf, a traditional trattoria serving the best Sardinian staples. Another fabulous place is Cocco & Dessì. You will find a large selection of fish and seafood dishes (their paccheri with zucchini and shrimp are mouthwatering) as well as vegetarian and meat based dishes.
One of the nicest wine bars in Oristano is Librid, in Piazza Eleonora. They have a small menu of delicious dishes too. The best pizza is at Sa Pedrera: they bake mouthwatering pizzas with local seasonal ingredients and have lots of vegan options too.
How To Get To Oristano
Oristano is probably the easiest city to reach on island, thanks to its central location. You can easily get there from any harbor and airport by car, just taking SS 131 to the city, or by train: there are several direct trains every day.
Further Readings
Make sure to read my other posts:
Pin It For Later!