Situated in northeastern Sardinia, the archipelago of La Maddalena is a dreamy place to visit. Made up of a whopping 62 islands (most of them truly tiny), and officially titled the National Park of the Archipelago of La Maddalena, this protected paradise is home to some stunning slices of nature.
From adventurous hikes that cut to the coast to white-sand beaches, these islands are lined with turquoise seas and rugged rocks, making it a place that's as good for finding a secluded spot to sunbathe as it is for scuba diving.
Couple this with historical credentials, such as the islands' connection to Giuseppe Garibaldi and a number of centuries-old fortifications, and La Maddalena is a comprehensive destination for anyone looking for somewhere blissful to while away summer days.
I've put together this epic guide to La Maddalena to help you plan the best trip ever.
The Best Beaches In La Maddalena
The Maddalena Archipelago has some stunning unspoiled beaches with fine sand and crystal waters. This is a protected national park, after all. I am listing my favorite ones below, but there are many many more!
Don't take any sand, stones and shells from the beach. Likewise, don't pick up starfish. Sand in Sardinia is protected and you may get a fine if caught with it. Starfish are delicate creatures that die if their skin is exposed.
Bassa Trinità Beach
Bassa Trinità Beach is located on La Maddalena. It's a sheltered spot, especially in summer. The sea is shallow for around 20 meters, making it a great option for those traveling with children.
As well as fine white sand to play on and ultra-turquoise water to splash in, there are rocks to explore and clamber around. Sunset here is particularly impressive, so stick around for that if you've got time.
The beach s accessed by a picturesque wooden staircase down to the shore. Though it is a popular beach, it's not always busy.
There are a few cafes and eateries in the vicinity serving up some delicious food if you need to refuel. But you'll have to bring your own sunshades and anything else you might need to enjoy the beach.
To get to the beach, catch the bus from La Maddalena town – it costs just €1. Otherwise, it takes only nine minutes to drive through the center of the island. There's parking, though it can be difficult as there is no dedicated car park.
Cala Francese
This secluded beach is one of the island's most beautiful. Set in the southern part of La Maddalena, the combination of green shrubbery, bleached white granite, and emerald sea makes for a postcard-perfect place to relax.
At the entrance to the beach, there's a disused granite quarry. Dating back to the 1850s, the stone here was extracted at this French-owned operation and used in various global projects – including the Statue of Liberty and other iconic structures.
There isn't one long stretch of sand here; instead, there are small beaches and hideaways where visitors can find privacy even on the busiest of days. Otherwise, Cala Francese is all about sunbathing on the rocks and snorkeling in the crystalline water.
There is a cafe at the end of the road before you head down to the beach. It's a good place to get a snack pre- or post-swim.
If you're approaching from La Maddalena town, reaching Cala Francese is reasonably easy. Drive the coastal road from town. When it starts to turn inland, you'll see a road leading left for Cala Francese. Take the dirt road past Padule waterfront and the townships of Punta Tegge and Nido d'Aquila, eventually reaching the beach.
Spiaggia di Tegge
Situated close to La Maddalena town center, Spiaggia di Tegge is a very popular spot. It's not the place to go if you're into sandy beaches, however.
Flat granite boulders create the beach landscape here, providing natural sunbeds. It's a good place to go on a windy day, as there's no sand to blow into your face or your food.
This is more a rocky outcrop that juts into the jewel-like sea, making it a great spot to take photos of the scenery, sunbathe, or simply rest with a picnic of locally bought food. This small peninsula is the site of a former fortress built in the 19th century; it's still visible (and visitable) today.
It's a great sunset spot.
Lifeguards are on duty at Spiaggia di Tegge, as well as a diving center.
At 2 km from La Maddalena town, the beach is around a 15-minute walk.
Spiaggia di Monte di Rena
Set in the northern part of the island, the Spiaggia di Monte di Rena is a picture-perfect beach: think shallow waters lapping a gently curving crescent of golden sand.
The beach itself is immaculate, meaning it's great for families with children. The water, too, is very clean and clear, so you can see fish darting around in the shallows. Don't forget to take your snorkeling gear; there are rocks where you can spot the fish that use them as hiding places.
Although it's large enough to find a space of your own along this slice of sand, it can get busy during high season.
There's a small café where you can get meals and snacks.
There are buses from La Maddalena town to Spiaggia di Monte di Rena. Otherwise, there is (free) parking nearby, so it's possible to drive and find a place to leave your car. Drive through the center of the island, past the town of Sualeddu, making a right when you reach Abbatoggia Village and turning off when you see signs to the beach.
Spalmatore Beach
This northeastern beach is basically a large bay boasting three beaches. There's calm water, a relaxed atmosphere, and some strong paradise aesthetics, making it a popular spot.
Surrounded on three sides by rock formations, the beaches that make up Spalmatore Beach are sheltered from the wind, too. For those who like to keep active, you'll love jumping into the water from the jetty. The rocky bay is perfect for snorkeling.
There are lifeguards, as well as beach bars where you can hire sun-beds and parasols for the day – and get refreshments when needed. There are cabins to use, as well as canoes and pedalos for hire.
Just 5 kilometers away from La Maddalena town, Spalmatore Beach is easily reached via bus. Arriving by car is simple, too; there's parking at the side of the road and a further ten-minute walk to the beach. The jetty here allows those with boats to visit with ease.
Spiaggia del Cardellino
Situated on La Maddalena island, in the northeast near Capo Ferrari, this beach is a hidden gem featuring a small slice of sand interrupted by otherworldly rock formations. The sand slopes gently into the water, and with very few waves, it's an excellent option for those with children who want to paddle in the shallows.
It's a tranquil beach that may have only a few other people on it when you visit – or, more likely, no one at all – a perfectly peaceful spot for lounging by the sea and reading a book.
Being out of the way, there are no amenities here. And with no shade, you'll want to bring a sunshade and other sun protection, as well as any food and drink you'll need.
Best accessed by car, you'll find Spiaggia del Cardellino along the road further north of Spiaggia di Monte di Rena. Parking is just meters away from the beach.
Cala Lunga
Cala Lunga – also called Porto Lungo – is a small crescent of a beach around 40 meters long. It's very well sheltered, set in a narrow inlet that stops the sea getting too choppy or the wind being too strong.
This is an easygoing spot with fine white sand, turquoise seas, and a sandy seabed, with snorkeling possibilities, too. The good news is that it never gets too crowded.
There's a small kiosk on the beach where you can grab a refreshment or two, as well as a toilet. Other than that, you'll have to bring your own sunshades and sun protection.
Drive along the Panoramic Road which goes through the center of the island and follow signs to Cala Lunga, passing through Piras village on the way. There's parking, but space for only six or so cars.
Capocchia du Purpu (Testa di Polpo) Beach
Both names translate to "Octopus Head Beach," and once you're there, it's easy to see why. There's one particular formation here that really does look like the head of a giant octopus!
Located on the island of Giardinelli, connected to Maddalena via a bridge, this beach has fine sand, shallow waters, and brilliantly blue seas. This sheltered bay is virtually a lagoon. The view of the surrounding landscape feels like another time and place – go at sunset for extra beauty.
Due to its somewhat remote location, you should arrive at Capocchia du Purpu beach prepared with sun protection, appropriate footwear, and food and drinks.
The beach is at about 15 minutes north of La Maddalena town. You'll have to cross over to the island of Giardinelli. The last part of the drive to reach the car park is on unmade roads, so you may want to leave your car and walk the rest of the way. Then again, if you don't have a car, it takes around 35 minutes to walk from the La Ricciolina bus stop.
Garibaldi Beach
Known also as Spiaggia di Cala Garibaldi, this beach is set on the northwestern coast of the island of Caprera, where Italian hero Garibaldi used to live. It's small and situated in a bay that has a picturesque outlook.
It's named like that because Giuseppe Garibaldi used to arrive here by boat. If you don't mind the abandoned buildings nearby, they can add a certain mystique to the place.The beach itself sweeps gently into the sea for a fair distance, meaning the waters are shallow and perfect for children to paddle in. All in all, a serene – and visually stunning – spot for enjoying some seclusion.
There are trees edged along the beach which can be used for shade. There is no kiosk on the beach to get food or drink, so bring that with you.
The beach is a 15 minutes drive from the Garibaldi House, and there's plenty of parking. To get there from La Maddalena, leave town across the Ponte Moneta to reach Caprera island. Just note that there are some dirt roads involved, so drive carefully.
Cala Serena
A tiny curve of a beach around 40 meters long, surrounded by lush macchia, rocks, and set in a narrow cove, Cala Serena is something of a local favorite, so it can get quite busy, but it feels like a relaxing spot nevertheless. The white powdery sand, the gentle, swimmable waters and rocks formations make it a great place to soak up the atmosphere for the entire day.
There are no amenities and very little in the way of shade on this beach, so bring water and food to make a day of it. You'll want sun protection too.
If you've parked at Garibaldi Beach, Cala Serena can be easily strolled to along the dirt road leading north, which takes about 10 to 15 minutes to walk. As such, you'll need appropriate footwear. But it's worth it.
Cala Granara
Located on Spargi island, this is one of the most beautiful beaches in the archipelago. Nicely sheltered from the wind, it features shallow, incredibly transparent waters perfect for snorkeling. A short trail on the south will take you to another nearby cove. There's nothing in the range of services on this beach, so you will have to bring anything you may need – and enough food and water for the day.
There is a family of wild boars living on the island that roam the various beaches in search of food and fun. Make sure not to feed them and close your bags properly as they love stealing food!
The only way to get to Cala Granara is by boat from La Maddalena. You can hire a taxi boat that will take you there in about 10 minutes – it literally is a drop off service and costs €30 round trip.
Cala Conneri
Another lovely beach in Spargi, this small cove features pristine, clear waters and very fine sand. Thanks to the shallow sea-bed, it's a good place to spend the day if you are traveling with children. Keep in mind it is not equipped so you'll have to bring your own lunch, drinks and whatever you may need for the day.
Much like Cala Granara, it's a favorite of the local boars so watch out for your belongings!
You can get to Cala Conneri by taxi boat from La Maddalena. It's also a popular stop during boat tours around the archipelago.
Cala Soraya
A gorgeous beach surmounted by a sand dune of the finest, whitest sand, Cala Soraya is one of the many small coves in Spargi island. You can walk up the dune for a stunning view, and head to the adjoint cove. The water is very shallow and clear, so perfect for swimming and snorkeling even if you have small children. There's no kiosk or service on the beach so make sure to bring anything you may need for the day.
If you are a good swimmer, you can easily get to Cala Soraya from Cala Granara. Otherwise, you can go there by taxi boat. Many boat tours around the archipelago also stop in Cala Soraya.
Cala Caprarese
Another of La Maddalena's best beaches, Cala Caprarese is well away from the crowds. It's situated in a cove at the end of a narrow inlet, which means it's sheltered from wind and currents.
Set on the northwest coast of Caprera Island, this beach boasts pale turquoise seas, tall rock formations, and practically glowing white sand. It's quiet and relaxed, too, making it a great spot to come if you're looking for some real seclusion.
Bring everything you need for the day as the beach is not equipped.
It's not easy to reach Cala Caprarese. You'll need sturdy shoes first to clamber up and then descend to the beach itself from the well-trodden (and well-marked) path leading from the Sentiero per Punta Crucitta. With no parking, you'll also have to leave your car at the side of this road.
Cala Coticcio
Capturing imaginations as "Little Tahiti," Cala Coticcio is nestled in an inlet lined with tall cliffs and rugged clusters of rock. This is one of the most famous beaches in La Maddalena. It's well protected from the wind, which makes it a favorite for sunbathing, while its sheltered, rocky water mean snorkeling is perfect.
Feeling like a natural pool rather than a part of the sea, this beach is almost like an aquarium – that's how abundant the marine life is.
Boats can't reach this beach so the only way of getting there is on a hike. As it is highly protected, you will need a straw mat and placing umbrellas is not allowed.
Because it's a bit of a hike to access the beach, it's best to have good shoes for the job and to carry your belongings. Flip-flops will not cut it. You'll easily need a big, 2L bottle of water per person.
Situated on the east side of Caprera, you won't be able to drive to the beach itself and as of 2022 you need to join a guided hike – prices are fixed at €25 and you can find one on the guides of La Maddalena National Park here. I went with Eleonora Amoroso and found her lovely and very good! You'll also have to pay a €3 fee to the park. It can take anything up to an hour and the hike can be tough going. Not recommended if you've got children in tow.
For more information, read my post How To Visit Cala Coticcio.
Make sure to also read my post A Guide To Caprera Island, Sardinia.
Cala Napoletana
Another of La Maddalena's beaches perfect for those who like hiking, the scallop-shaped Cala Napoletana is sheltered from the wind on three sides.
Though it's tricky to reach on foot, this beach gets fairly busy with those arriving by boat – usually in peak season. Otherwise, this is a calm, white-sand beach dotted with rocks and incredibly clear waters that's a peaceful excursion away from easier to reach beaches.
Another beach with no amenities, and only accessed by a long walk, you should bear both these factors in mind when preparing for your day out. You should also go early in the height of summer, as it can get busy.
The trail to Cala Napoletana isn't as long or as tough as the walk to Cala Coticcio, but it's well sign-posted and can be done with children. It starts at the fortification of Arbuticci, and from there, the trail leads through brush and rocks. Wear sturdy shoes!
Cala Brigantina
Cala Brigantina is another beach that requires visitors to bring hiking shoes. Situated on the east coast of Caprera, at the bottom of a steep slope, the path to the beach leads down through macchia. There are sublime views of the sea from up on the path, too.
The sea here is crystalline, with calm waters rich with marine life. Set in a narrow inlet, Cala Brigantina is sheltered and ideal for snorkeling. You may also be able to spot some goats, too.
Bring anything you may need for the day. Be careful with the descent down to the beach: it can be arduous, so make sure you have a backpack to keep your hands free.
Located around a kilometer from Caprera's Panoramic Road, it takes 20 to 30 minutes to walk from the road down to the sand. You'll find the path, as well as a place to park, not too far from the Batteria Poggio Rasu Superiore.
The beach can only be visited on guided hikes that are organized in time slots and run by official guides of the Maddalena National Park. The best one is Giuliano Gaio – you can get in touch with him via whatsapp at +39347488803 – he speaks very good English. You'll have to pay a €3 fee to the park to access the beach.
You can't place umbrellas or towels on the beach, so bring a straw mat.
Cala Portese (Spiaggia dei Due Mari)
Located on the southern coast of Caprera, Cala Portese is an inlet boasting a beach known as "Due Mari". This is because the beach here separates the water into "two seas." The sea is calm and shallow, while the beach is gently sloping, making this a perfect choice for those with families.
This is a nice cove protected from the strong winds so perfect on a windy day. There are small sand dunes on the beach but they are protected so you should not walk on them.
Thankfully, there's a beach bar on the main beach at Cala Portese, so you can grab ice creams and refreshments. It's still recommended that you bring your own sunshade and sun protection.
Driving from La Maddalena, head over the bridge to Caprera and carry on straight, passing through the pine forest and turning right at the second intersection. Continue until you arrive at the south of the island, where the paved road stops. Here's where you park. From there, it's a simple matter of walking 100 meters or so along a scrubby path.
Spiaggia del Relitto
This Caprera beach is a very popular spot in high season. That's partly due to how accessible it is – thanks to its well-maintained boardwalk – and partly down to its beauty.
As the name recalls, Spiaggia del Relitto has its very own shipwreck. A sailboat caught fire and ran aground here in 1955; its remains can still be seen in the shallow waters. This unique factor of the beach – as well as its scattering of rocks – makes it a great spot for snorkeling.
There's a beach bar selling food and drink. It's possible to rent parasols and sun beds for the day/half-day, which are reasonably affordable but get booked up very quickly. Pedalos can also be hired out.
There's a bus from La Maddalena which stops at I Due Mari, and Spiaggia del Relitto is around 4 kilometers from here. Otherwise, driving requires you to be early (especially in high season) as parking spots are limited. You should also read my post A Guide To The Spiaggia Del Relitto, Caprera.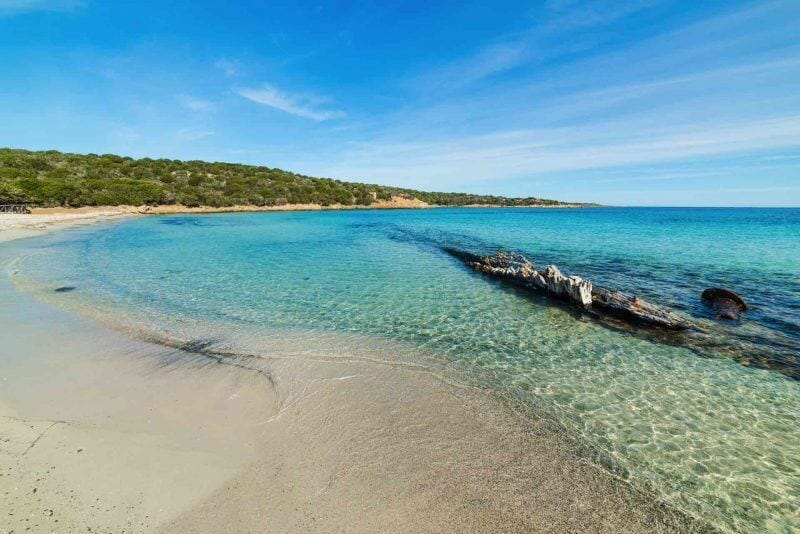 Cala Andreani
Located on the southernmost peninsula of Caprera, Cala Andreani is a rugged beach away from busier spots nearby, incredibly picturesque. Backed by pinewoods – meaning lots of shade – the beach is mainly a sloping affair that leads sharply into the turquoise sea. Marine life is abundant, with starfish and fish to be seen on the seabed and among the rocks just offshore.
It also is a stunning place to watch sunsets.
There's some shade here, thanks to the trees, but laying out on the sand will require sun protection of your own. There are no kiosks, either, so bringing your own food and drink is essential.
Taking the same route as to Cala Portese, take the second intersection after the bridge to Caprera, and carry on driving past the isthmus. The road curves around to the right, and you'll spot the beach on your left soon enough. There's parking nearby and walking to the beach is simple.
What to See and Do in La Maddalena
There's plenty on offer in this beautiful corner of Sardinia. Its beautiful beaches, of course, make up a big part of why this place is so amazing, but when you are done with all the beaches, you'll find there are more things to do!
Explore the town of La Maddalena
La Maddalena is the capital, largest town, and only real urban area in the archipelago. Centered around Piazza Umberto I, it's here that you'll find all the province's government buildings, as well as a load of restaurants, bars and shops to peruse.
More than that, however, it's the historic atmosphere left by the centuries of visitors that have made their mark on this port town. Small and charming, it makes for a wonderful day of wandering the narrow streets.
Being practically the only urban area in the province, La Maddalena is a good place to stock up on any essentials you may need as you begin your odyssey around these beautiful islands.
Road trip around the island
La Maddalena is perfect for those looking to explore on four wheels (or two).
Renting a car to get around the island gives you freedom you can't get if you have to wait for buses. Plus, the sheer joy of driving the 20-kilometer-long scenic road looping around the island cannot be overstated.
There are plenty of places to stop and admire the view of the sparkling sea, chill out for a moment on a deserted beach, or take a swim in the crystal clear water – and all at your own pace.
Then there's the option to cross the bridge to neighboring Caprera for yet more driving action.
You don't have to rent a car on La Maddalena itself, which can be quite limited in choice, especially in high season. You can rent it on the mainland and bring it over via the car ferry from Palau in the north. The journey takes around 15-20 minutes, and ferries are frequent.
Check out Carlotto Cape
Carlotto Cape is a rocky promontory situated on the west coast of the main island. It takes just 20 or so minutes to drive here from the main town, but despite its proximity, this is a relatively quiet spot.
A visit here is all about lapping up the scenery of rock formations, turquoise seas, and macchia. You'll also find the old Cappella della Madonnetta, which looks elegant on the backdrop of the sea (especially near sunset). There's a bar nearby and a hidden beach – both providing perfect rest-stops on your trip.
Bring a sunshade and plenty of sunscreen with you, as there isn't much natural shade to speak of.
Pay a visit to the island of Caprera
Whether you drive over yourself, ride the bus, or catch a taxi or ferry, Caprera is well worth a visit. The second-largest island in the Maddalena Archipelago, although it's a popular tourist spot, it's sparsely populated. In fact, it was deserted from the time the Romans left until the start of the 19th century!
While incredible nature awaits on Caprera, with a complex coastline ripe for adventuring, the history here is entwined with Italian national hero, Giuseppe Garibaldi, who spent the last 26 years of his life here.
You can learn all about Garibaldi and what he did for Italy at his former home, Casa Garibaldina, now a museum dedicated to his life. You can walk around the house to really soak in the history. The museum is open Tuesday to Sunday from 8:30 am to 2:00 pm.
Another place to check out is the Giuseppe Garibaldi memorial, which also focusses on the hero's military achievements. You will find it inside the old Arbuticci Fort, from where you can enjoy incredible views of Caprera island.
Check out my post The 18 Best Museums In Sardinia.
See Batteria Poggio Rasu Superiore
A remnant of the fortifications once in use across La Maddalena, the Batteria Poggio Rasu Superiore is today part of Caprera's landscape. Located in the southwestern part of the island, it's not kept as a tourist site or museum, but can be explored at your leisure – best if with a guide.
For this, I recommend getting in touch with Giuliano Gaio, an official guide of La Maddalena National Park – you can get in touch with him via whatsapp at +393478488803 – he speaks excellent English.
The tranquil setting and great views out across the island and sea beyond make it a special spot.
Though it's fun to explore, note that because it's not an official tourist site, the paths around Batteria Poggio Rasu Superiore can be uneven. Wear sturdy shoes and watch your step.
You can also pair your visit of Poggio Raso Superiore with a hike to Cala Brigantina – that however requires a guide. Once again, Giuliano is your best option in this case.
Teialone Tower
The Teialone Tower is the highest point anywhere in La Maddalena.
Set just a few minutes' drive north of Batteria Poggio Rasu Superiore, this place is another vestige of La Maddelena's fortifications. Behind former military barracks, there are stone steps that wrap around Monte Teialone itself, leading to the peak.
This former military watchtower boasts a beautiful vista out over the archipelago and glistening sea, all the way from the Gallura coastline to the Strait of Bonifacio. If you're up to the task of hiking to the top, watch your footing, be careful, and enjoy. Once there, you can admire Cala Coticcio in all its glory, likely with the company of the goats that live in the area.
Autumn is a particularly beautiful time of year to trek to the top of Teialone Tower. You'll get to see the pastel tones of wild heathers painting the hills and see wild mushrooms growing freely (not edible!).

Boat tours around the archipelago
More than 60 islands make up the La Maddalena Archipelago National Park. The main are La Maddalena, Caprera, Spargi, Budelli, Santo Stefano, Santa Maria and Razzoli. Most of the islands are entirely deserted or only have a few human settlements, but all of them – and their surrounding seas – are environmentally protected.
The best way to explore the islands is on boat tours. There are multiple companies and tour groups that you can take a boat trip with, all featuring varying schedules and routes, depending on what you want to do. Some will take you to almost every single island in the archipelago, while others will whisk you to snorkeling spots.
Smaller and lesser-known islands in the archipelago can only be visited by boat, such as Razzoli and Santa Maria. Budelli, on the other hand, is actually closed to the public, but you can see the spectacle of its famous pink sand beaches from afar.
These are the best boat tours of La Maddalena Archipelago that you can buy online:
Full day boat trip to the Maddalena archipelago – a well reviewed tour with two different departing points: La Maddalena or Palau.
Full day boat trip to the islands of La Maddalena – a very good option for a day at sea.
La Maddalena archipelago catamaran tour – this tour is perfect if you want to go on a smaller boat.
Make sure to read my post The Best Boat Tours Of La Maddalena.
The following are the main islands in the archipelago:
BUDELLI: Set slightly to the north of La Maddalena Island, it's known for its Spiaggia Rosa – or Pink Beach. Shell fragments and small pieces of coral have given it this unique color over thousands of years.
It's been closed to the public since the 1990's but is, however, home to one man who has lived on the island Robinson Crusoe-style since his catamaran ran aground here in 1989 (though he's due to be evicted). You can't visit the pink beach or swim there, but boat tours will let you peek at it from afar or you can opt for a guided tour of the island that takes you close to the beach, but not on it.
SPARGI: The third-largest island in the archipelago, Spargi lies just off the coast of La Maddalena. Just over 4 square kilometers in size, this wild island is characterized by rugged rocks and jutting cliffs sprayed with vegetation. Its shores are edged with white sand beaches and granite rock formations, all lapped by impossibly turquoise water.
On the north of the island there are the remains of old fortifications. Boat tours will take you to Spargi, but there are no facilities on the island, so you'll need to bring anything you feel you'll need.
RAZZOLI: Only 1.5 kilometers in width, this tiny island is the closest to the neighboring island of Corsica. It's one of the national park's wildest, with jagged rocks making up much of its coastline and rock formations jutting out of the ultramarine sea. It also boasts rich marine life, making it great for snorkeling.
Nobody lives on the island. It's possible to visit the buildings and an old railway that once serviced families. The main beach is Cala Lunga, which can only be reached via boat and is the island's main mooring point. Don't confuse it with Cala Lunga on La Maddalena!
SANTA MARIA: East of Razzoli, this is the flattest of all the Maddalena islands, abundant with vegetation, and surrounded by a number of islets. It's also the only minor island in the archipelago that is inhabited- there is a small harbor and gravel roads crisscrossing the island.
The main beach, Spiaggia Santa Maria, is a beautiful crescent of powdery sand that runs for around 200 meters. Expect crystal clear, shallow waters, and crowds in peak season. There are a handful of high-quality restaurants, and hiking trails, one of which leads to a church (Santuario di Santa Maria).
SANTO STEFANO: Situated between the Sardinian mainland to the south, La Maddalena Island to the north, and Caprera Island to the west, with it's 3 square kilometers, it's the fourth-largest in the archipelago.
Once home to a US Navy and NATO base, today it is uninhabited – except for the tourists who are guests at the island's resort (as well as the staff). You will find some old fortifications and an abandoned granite quarry. Santo Stefano is easily reached by boat. Meals can be eaten at a restaurant which is part of the resort located here.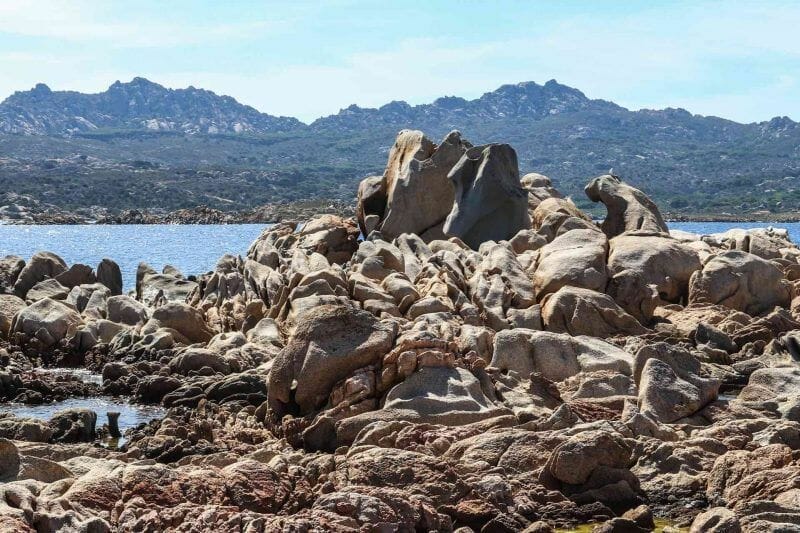 Hiking trails in La Maddalena
If you're a keen hiker, you'll be pleased to know that La Maddalena and Caprera are full of hiking trails. Most of the trails are well marked and visible, and suitable to all fitness levels.
Trails tend to be fairly short, such as Trail No. 04; starting at Cala Portese beach on Caprera and leading to fortifications, it takes around an hour and a quarter to complete.
If you're looking for something more challenging, you can join the dots and connect different trails for a longer trek. There's also the possibility of walking the west coast of La Maddalena, around 12 km.
All official hikes are marked with National Park of La Maddalena signs. Most trails run past beaches so make sure to bring a towel (best if quick dry and non stick as the sand is protected) and a swimming suit in your day pack! And hiking shoes are a must.
The best time to enjoy walking in La Maddalena is in autumn and spring. This is when the sun isn't so intense but days are still pleasant, and the flora of the island is in full bloom.
Check out my post The Best Hikes In Sardinia.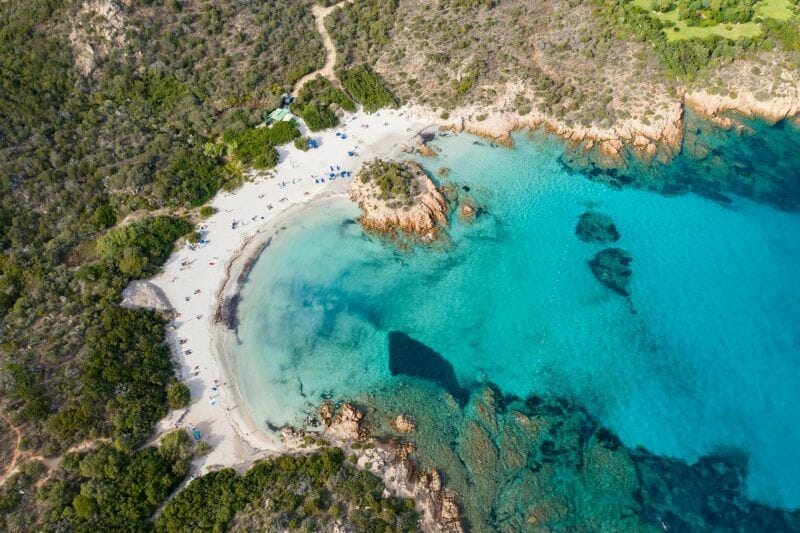 Day trips to nearby places
La Maddalena is a beautiful archipelago, but it is small. Its next-door neighbor – the Sardinian mainland – is much, much bigger.
Naturally, there are a whole lot of places nearby that you can take a day trip to. Here are just a few of my favorites to give you some inspiration!
Costa Smeralda
Famous for its high-end hotels and glimmering beaches, Costa Smeralda is one of the best-known corners of Sardinia. Meaning "Emerald Coast" the shoreline here stretches around bays and inlets for around 20 kilometers, so there's plenty to explore.
There are a few different places to stop off here – Liscia di Vacca and Porto Cervo are the most popular. These are the places to be, with streets lined by cafes and restaurants, as well as fashion boutiques.
Away from the upscale resorts and million-dollar yachts, there are archaeological sites to keep history fans interested—notably, the Li Muri Giants' tomb. There is also a scattering of authentic, traditional villages to discover.
You can go on an organized day trip to Costa Smeralda. If you have a car or want to see things for yourself, take the ferry from La Maddalena to Palau, where you can also rent a car or scooter to explore this glitzy coastline. You can also travel by bus from Palau (Linea 601 and changing to Linea 604).
Make sure to read my posts A Complete Guide To Costa Smeralda and A Short Guide To Palau.
Santa Teresa di Gallura and Capo Testa
West of Palau you'll find Santa Teresa di Gallura.
This charming town, thought to be the ancient city of Tibula, has a laid-back yet bustling atmosphere. It boasts a town square lined with small restaurants, cafes, and shops, as well as the attractive and well-maintained Spiaggia di Rena Bianca.
There are a number of places to stay in and around the area if you want to stretch your day trip here over a night or two instead.
Further west of Santa Teresa di Gallura, there's Capo Testa. Once an island, and formerly used by the Romans, it is now connected to the mainland via an artificial isthmus. It's an excellent spot for sunset.
It takes around an hour to get to Santa Teresa di Gallura from La Maddalena port if you have your own car and take the ferry. You can also go there on organized tours that stop in both places.
Check out my post A Complete Guide To Santa Teresa Di Gallura, Sardinia.
Corsica
Let me start by saying you can't see Corsica on a day trip – it's a massive island. But if you want, you can go on a day trip that from La Maddalena Archipelago will take you to the southern bits of the island just above the Bonifacio Strait.
Places you'll see on such day trips include Lavezzi Island, home to a lighthouse and a wonderful place for snorkeling, and Ile Piana, where the shallow waters will allow you to cross from the island to mainland Corsica. Depending on the boat tour and the winds (which can blow quite strong in this part of the Mediterranean), some tours also make a stop at Bonifacio town.
You may want to consider this half day zodiac tour to Corsica here.
Practical Information To Plan Your Trip To La Maddalena, Sardinia
How to get to La Maddalena and move around
Ferries from mainland Sardinia to La Maddalena depart from Palau port, in Northeastern Sardinia at about 50 minutes drive from Olbia and 3.5 hours drive from Cagliari.
You can easily get to Palau by car or bus from the harbors of Santa Teresa di Gallura, Golfo Aranci, and Olbia. In the summer months, there is a direct bus from Olbia Airport (the closest to Maddalena Archipelago) to Palau; the bus stop is directly at the port, so it's easy to transfer.
Two companies run ferry services – Delcomar and Maddalena Lines, more or less for the same price – so it is just a matter of picking the most convenient time of departure. Keep in mind that if you get a round trip ticket you will have to travel back to Palau with the same company.
Just make sure to arrive at the harbor around 15 minutes early to buy your tickets and get on board – it may take a bit longer if you are taking your car with you. Ferries travel throughout the day and night and there is no need to book in advance.
The crossing takes about 20 minutes, depending on the weather conditions.
Once on the island, a bus service will allow you to reach the main beaches in La Maddalena and Caprera – but some can only be reached via hikes on easy to follow trails. Alternatively, you can rent a scooter once there, or bring your bike.
If you are only planning to visit for a day or go with your own boat you will have to organize your own permit (you can do so here), which is charged by the day, because this is a national park. Alternatively, you can join a guided tour.
Guided tours of Maddalena Archipelago
Should you be tight on time, you may want to consider a guided tour of La Maddalena – they will take you to around Maddalena archipelago and the best beaches:
La Maddalena archipelago full day boat tour from Palau – departing from Palau, in mainland Sardinia, this boat tour takes you to the best places to visit in La Maddalena.
Full day boat trip to the Maddalena archipelago – a well reviewed tour. You have the option to depart La Maddalena or Palau.
La Maddalena archipelago catamaran tour – a fantastic option if you prefer traveling on a smaller boat.
La Maddalena archipelago small group tour – a good option that also includes lunch. It departs from Cannigione.
Half day boat tour of La Maddalena from Palau – it's a wonderful short option that allows you to see (though you can't disembark, but you can swim from the boat) the best beaches in the area such as Cala Coticcio, Cala Brigantina, and the wonderful Budelli Natural Pools.
How long to stay in La Maddalena
With some of the best beaches around, good hiking trails through lush macchia, and the adventure of boating to different islands, La Maddalena is a wonderland of nature and you should definitely spend a few nights there. If you can, spend a week there to make the most of it. If not, 4 days are enough to get a taste.
Where to stay
Though it's a small place, there are quite a few accommodation options. The best places are found in La Maddalena town, which is the ideal place to base yourself to explore the national park. From here, you can spend your days seeking out beaches and enjoying nights eating and drinking back in town.
To help you out, I've chosen a few options for you, from the boutique to the budget-friendly.
If you're looking for a rustic and authentic stay, this hotel situated around 400 meters from Punta Tegge beach, and with eateries nearby, is your best option. It isn't about ultra-modern chic – more like laid-back Mediterranean ambience. Rooms are bright and sparklingly clean, with each boasting a terrace and kitchenette. There's also a delicious breakfast served each morning.
Located a five-minute drive from the port, this is a comfortable, budget-friendly option. The rooms are simple, spacious, well-equipped, and come with private bathrooms – some have balconies, too. Each morning, you can tuck into an Italian-style breakfast, then head off adventuring; there's a bus stop nearby, but the owners will be happy to arrange tours for you. The free parking is a bonus.
Providing a boutique-style home away from home, this private room is set in a bed and breakfast and is beautifully decked out for all you style-lovers out there. Think white-washed walls, rustic wooden furnishings, and eclectic decorations – all with a private room. The location right in the town centre, close to its main streets, means you'll have everything you could desire at your fingertips.
Where to eat (and drink) in La Maddalena
There is a surprising assortment of tavernas, restaurants and kiosks to make sure you're never hungry or thirsty for too long. They combine quality of food, Sardinian hospitality, and some great natural views for an all-round magical experience. Here are some places you may want to try:
Trattoria Dal Genovese – Home-style restaurant serving local as well as Genoese fare.
L'Alternativa – A delicious steakhouse close to the harbor.
Puffer Fish – Delicious seafood and fish restaurant. It's right in front of L'Alternativa.
Taverna Barò – A pub-style place serving good beer on tap, local wines and massive meat and cheese platters.
Civico 49 – The best pizza in town.
Dolci Distrazioni – Just a handful of flavors for the best gelato in town.
La Finestrella – Don't be surprised by the line at this hole in the wall gelato shop by the harbor: it's because it's truly delicious!
Punta Tegge – A fabulous sunset spot – get yourself a drink from the bar, and a pillow to sit comfortably while you admire a fabulous sunset.
Ristorante L'Agriturismo – The perfect place to try local dishes in an easygoing environment.
Zi Antò – If you want a seafood lunch overlooking the sea, this is the place for you.
Make sure to also check out my post 10 Fantastic La Maddalena Restaurants And Bars.
Further Readings
.Make sure to read my other posts about Sardinia:
Pin It For Later!