Villasimius is one of the best holiday destinations in Sardinia.
This small village on the south-east coast of Sardinia is an incredibly pleasant place to visit. At the end of an intense day by the beach or visiting the surroundings, (basically you can go to a different beach every day for more than two weeks), you can relax by taking a walk, shopping and a tasty dinner, enjoying seafood specialties and local wines.
The village everything you need for a perfect vacation: beaches, hiking, food, drinks, shopping and much more.
I happen to know this small town very well. You see, I grew up spending my holidays, not only summer but Easter, Christmas and weekends all year round in Costa Rei that is less than twenty minutes drive from Villasimius. Moreover, until about 20 years ago, the only way to get to Costa Rei was through Villasimius. I am basically what you'd call a local.
Continue reading this post for everything you need to know about Villasimius.
What To See And Do In Villasimius
Enjoy the gorgeous beaches
The main reason to visit Villasimius is the many incredible beaches. You can literally pick a different one for every day of your holiday. Below are the ones you shouldn't miss.
For a private boat excursion around Villasimius, click here. To rent your own zodiac, click here.
For an exclusive catamaran tour that departs from Villasimius, click here.
You may want to check out this guided tour of Villasimius beaches departing from Cagliari.
Make sure to read my post The Best Beaches In Villasimius.
Simius
Simius is the main beach that gives (half) its name to Villasimius. It is part of the Marine Protected Area of Capo Carbonara, located immediately south-east of town (so it can get quite crowded).
About one kilometer long, the bay is characterized by fine soft and white sand, enclosed at both ends by a small cliff. On the right side there is the pond of Notteri where you can admire pink flamingos. It is a pleasant place for a walk.
The bay is protected from the wind and is bathed by crystal clear and transparent sea, with shades ranging from emerald green to cobalt blue. The shallow water is ideal for children.
Behind the beach, the Mediterranean maquis is low and shaped by the wind. While in front, in the background, you can see the Spanish Tower of Porto Giunco and the islands of Serpentara and dei Cavoli.
On the beach there are several refreshment points and kiosks where to rent umbrellas, deckchairs and sun-beds, boats, pedal boats, canoes and even jet skis. You can take private wind and kite surfing lessons. There also are diving centers and a nine-hole golf course.
To get there, walk straight out of the village on Via del Mare, until you find the beach car park. It will take you about 30 minutes, but I don't recommend walking in the peak summer hours. Alternatively, you can bike there.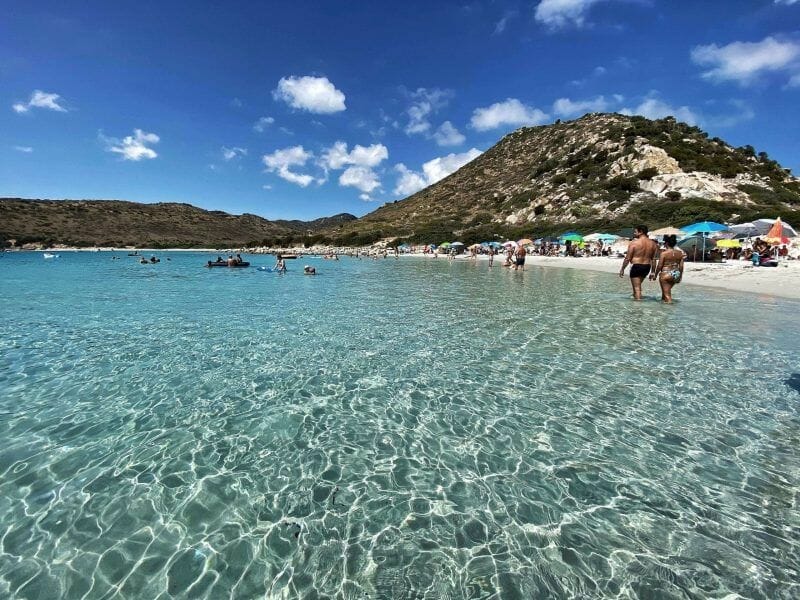 Punta Molentis
This beautiful beach not far from the center of Villasimius owes its name to the donkey ('su molenti', as we call it in Sardinian) once used to carry the granite of which the area is rich. On the promontory, overlooking the beach, there is what still remains of a Nuraghe. The view from there is breathtaking.
The beach is surrounded by granite rocks up to 15 meters high. This area has been included in the Marine Protected Area of Capo Carbonara.
The beach is divided into several coves. The first, nearest to the parking lot, has pebbles of medium size. Even if the color of the sea is amazing few people stop there because it's uncomfortable to walk or lay down. The main beach, shaped like an arch, is the most famous and nicely sheltered from the wind.
Because of sea storms and the big number of visitors during the summer months, Punta Molentis has unfortunately eroded. Nowadays, no more than 500 people per day can visit, and each has to pay a €1 fee (children under six years of age get in for free). Access is prohibited from 8:00 pm to 8:00 am.
Plan to be at the beach by 8:00 am at the latest to get your spot. Alternatively, book an umbrella and bed at I Due Mari for €25 and arrive comfortably by 10:00 am. Call +39 3934077632 for reservations and once you reach the parking lot tell the guard that you have booked a bed.
There are two refreshment points on the beach.
To get there, from Villasimius, follow the panoramic road to Costa Rei: take the municipal road Accus is Prezzus. A little further on, at the junction Mare/Villasimius go straight ahead. Once you reach a narrow hairpin bend, turn left on a dirt road, then continue turning right and passing under the road bridge until you reach the parking lot.
Make sure to read my post A Useful Guide To Punta Molentis Beach, Villasimius.
Porto Giunco
This easily accessible beach is a favorite of families with children. You will find anything you need for your day, including umbrella rentals, SUP and wind surfing classes and expeditions to the nearby beaches and islands including the marine oasis of Capo Carbonara.
Plan to stay in the center of the beach for a less crowded spot – it's a longer walk from the parking lot, so less people go there.
You will find shuttles to take you from Villasimius to Porto Giunco. You can also get there by car from town – just follow the signs to Via degli Oleandri, where the tourist harbor is located, and then to Porto Giunco. Once there, there is plenty of parking space.
Check out my posts Where To Go Surfing In Sardinia and A Useful Guide To Porto Giunco, Sardinia.
Cala Caterina
Nestled on the southern side of the promontory of Capo Carbonara, this bay consists of two coves that are very similar.
The biggest is a bit more exposed to the winds. The sandy bottom becomes rocky after a few meters: it's a great place for snorkeling. The smallest is well sheltered from the mistral, surrounded by granite rocks on one side and on the other by a cliff. The sand is fine and white and the water a beautiful shade of emerald green.
It's a great sunset spot.
There's a kiosk on the beach where you can rent umbrellas, deckchairs and sun-beds and get a drink and a bite.
Drive along the road to Spiaggia del Riso, passing the Marina and the Fortezza Vecchia (Old Fortress). Go straight on, until on the right you will find a crossroads marked by a tourist sign indicating the hotel Cala Caterina. Follow the sign to the hotel and once you park the car, you will reach the beach with a five-minute walk. The beaches are accessed by stairs.
Spiaggia del Riso
Located in the Marine Area of Capo Carbonara, this beach takes its name from its sand: tiny white pebbles of granite quartz that look like rice. The sea is crystal clear water is quite shallow, so a great place for children.
Unfortunately a mix of coastal storms, strong wind and theft of sand has considerably reduced its size.
On the beach you can rent sun-beds, umbrellas, pedal boats and there are several refreshment points.
From Villasimius, drive towards the Marina, along Via degli Oleandri and turn right following the sign for Camping Spiaggia del Riso. Drive all the way until you reach the parking area.
Campus
This long stretch of white, golden and grey sand and transparent water is ideal for families with children. Two small promontories protect the beach and separate it from Cuccureddus beach, which is a bit harder to reach but a real paradise, and significantly more secluded.
Campus is where Caretta Caretta turtles often lay their eggs – this was the case in 2016.
This is a well equipped beach perfect for kayaking and windsurfing. It is usually crowded during the summer. Nearby there is a paid parking lot with disabled access.
Take the Cagliari-Villasimius coastal road (SP 17), turn left at the junction following the signs for Campus. After 300 meters there is a car park, right next to the beach.
Campulongu
This beach, also part of the Marine Protected Area of Capo Carbonara, is a natural continuation of Spiaggia del Riso. Its white sand is so light and fine it looks like flour. The shallow water makes it a great place for children, and the rock formations make it perfect for snorkeling.
Campulongu is sheltered from the wind so the sea is generally calm, except when the Mistral blows. When Libeccio blows, on the other hand, it is a great place for kitesurfing and windsurfing.
The beach gets very crowded in summer so try to get here early in the morning or at lunch time when families usually go home for lunch. It's a great sunset spot.
You will find public toilets on the beach (for a €0.50 fee). There are several hotels in the area, including Hotel Stella Maris right by the waterfront, and a campsite. Behind the beach there is a pine forest where you can rest in the shadow during the hottest hours of the day.
From Villasimius take via degli Oleandri and turn right to Via delle Aquile. Then turn left following the sign to Campulongu until you reach the car park.
Porto Sa Ruxi
Also part of the Marine Protected Area of Capo Carbonara, this small beach is characterized by cream-colored coarse sand mixed with rocks and sand dunes. The sea is transparent, perfect for snorkeling, and nicely sheltered from the mistral wind. The view of Capo Carbonara and Isola dei Cavoli is amazing in particular at sunrise.
Access to the beach is limited to 450 persons per day. All visitors have to pay a €1 fee to access the beach.
Another incredible beach two minutes drive from Porto Sa Ruxi is Is Piscadeddus beach. There is no direct access from the main street, so it never gets too crowded.
From Villasimius take the provincial road SP17 towards Cagliari. After approximately 5-6 km you will reach a resort village: turn left and continue until you reach via Abruzzo, a dirt road, where you can leave your car. A path through the juniper vegetation takes you to the beach.
Timi Ama
Between Porto Giunco and Simius, this beach has been the setting for several commercials and movies. Its name, which means "Shy Love" (Timido Amore, in Italian) comes from an ancient legend according to which the profile of a rock recalls the tail of a mermaid who enchanted fishermen with her singing.
Timi Ama is surmounted by rocks and has very fine white sand crystal clear, shallow water. Behind the Mediterranean scrub, there are luxury villas and a hotel; on the left side, there is the Notteri pond.
This is a fully equipped beach where you can get anything you need for a perfect day. Timi Ama is wheelchair accessible.
From Villasimius, drive along Via del Mare towards the Marina. Just before the junction to Cagliari on the right, turn left on a dirt road. You can also reach Timi Ama from the beaches of Simius or Porto Giunco through a beautiful promenade.
Practice water sports
Villasimius is a great place for water sports. Stand Up Paddle has become very popular and you can rent a SUP board in almost any kiosks at the beach. If you are a beginner you can easily find a school by the beach.
Depending on the wind, you can try windsurfing, kitesurfing, and catamaran hobie-cat. Wave surfing is only good at Porto Giunco during the winter months.
Other water activities are fun tubing and kayaking.
Fishing is not allowed in the Marine Protected Area.
Diving
Diving and snorkeling in the Marine Protected Area is fabulous. At Isola dei Cavoli you can admire the holy Madonna, a statue by famous Sardinian artist Pinuccio Sciola in pink trachyte, over 3 meters tall and located under water at a depth of 11 meters.
Fish you can spot include: capons, ravens, snappers, shrimps, octopuses, amberjacks, bream, mullets and morays. In the Variglioni of Serpentara you'll easily come across shoal of barracudas; while in Cala Caterina you'll spot huge groupers and sea breams. Dolphins and marine turtles live in the area too.
You may want to check out the guided diving expeditions departing from Villasimius – for more information click here or here.
Not into diving? Book your snorkeling experience in Capo Carbonara here or here.
Make sure to read my post A Complete Guide To Diving In Sardinia.
Visit the nearby islands
Isola dei Cavoli
Opposite Capo Carbonara, less than one kilometer away, Isola dei Cavoli stands in the middle of an uncontaminated marine area. This small granite island is immersed in a wild and protected natural environment and is a paradise for sea and nature lovers.
The name of the island, according to some, is due to its conformation that is similar to a crab, 'cavuru' in Sardinia; while others believe that it comes from the abundant endemic presence of wild cabbage plants.
The island has an area of just 43 hectares with some incredible flora and fauna. Other than wild cabbage, you can spot ferula and the endemic Dracunculus muscivurus, better known as flycatcher, because for pollination attracts the necrophagous insects that send out a terrible odor.
The waters around the island have a thriving marine life. It's also a paradise for peregrine falcons, crested cormorants and seagulls.
Perched on top of the island there is a scenic lighthouse that was built in the 19th century: it incorporated an old Spanish tower dating back to 1591. Its workers once lived on the island but, after the automation of its operation, the island is uninhabited.
You can reach Isola dei Cavoli by boat from Villasimius or Costa Rei. There are regular boat tours departing from either places. The price varies depending on the duration.
You can book your tour here or here.
Serpentara
From Punta Molentis and the panoramic road from Villasimius to Costa Rei you can spot the beautiful island of Serpentara, whose shape will remind you of a snake.
This small island of granite rocks is less than a kilometer long and is part of the Marine Protected Area of Capo Carbonara. It is uninhabited but populated by wild rabbits and a place to spot herons, Corsican seagulls, cormorants and tufty gulls, which nest here. Dolphins are easily spotted too.
In the northern part there are three large granite rocks, known as Variglioni, which form amazing natural pools. You will be able to see the remains of a Roman galley; an Aragonese sailing ship dating to the 15th century; the Egle steamship which drowned in 1943; and the Elba Ferry.
On the highest point of the island stands the tower of San Luigi, built during the Spanish domination to sight Saracen ships.
You can reach Serpentara by private boat or organized tours from Villasimius but navigation, fishing and diving are regulated by the Marine Protected Area of Capo Carbonara. You can't dock and disembark either.
Walking and hiking
The best hike starts from Porto Giunco. A trail takes you to the top of the promontory where an Aragonese tower stands. The view is priceless: the sea on one side, the pond of Notteri and the beach on the other, and divided only by a strip of sand.
If you are visiting in the fall or spring, you can also go for a hike in the Sette Fratelli mountain range which can be accessed from the nearby Castiadas. There are various trails in the park.
Horse riding
Horse riding is a great way to admire the countryside and the beaches at sunrise or sunset. The riding school based in Tanka Village resort can organize excursions year round.
Enjoy archaeology and art
Fortezza vecchia
The old fortress, located right by the sea, dates back to the 16th century and was initially used to shelter boats. Later on it was used for guarding and defending the area. It was restored several times until 1847 when the last captain was dismissed and the old fortress was abandoned to be restored again only in 1968.
Nuraghe
The area of Villasimius is dotted with defensive towers called Nuraghe that have a strong historical interest. If you are interested in history and archeology you can visit what remains of many nuraghe in the area: Giardone nuraghe in the area of Campus; but also the ones in Cuccureddus, Campulongu, Is Traias, Porto Giunco and the Manunzas and Baccu'eGattus nuraghe.
Domus De Janas near Spiaggia Del Riso
Domus de Janas means "fairy house," and it actually is a tomb carved into the rock.
You will find a Domus de Janas near Spiaggia del Riso, which dates back to 3500 to 2700 BC. Once there was a real necropolis in the area, but only one tomb, which can still be visited today, has remained intact.
There is a quadrangular opening carved into a massive granite on the outside and with a first internal room that leads directly to a tiny burial chamber. On the outside, two boulders act as a corridor leading to the tomb.
Attend the festivals
Depending on when you are visiting, you will be able to attend one of the festivals. They are a good opportunity to learn more about the local traditions, history and to get a bit of local action.
Virgin of the Sea
In July 1979, Pinuccio Sciola's statue of the Virgin of the Sea was placed 11 meters under water at Isola dei Cavoli.
Since then, every third Sunday of July, after the celebration of a special mass there is an evocative procession to the sea in memory of the unfortunate sailors who died in the area.
From the port the procession continues in the sea on boats covered with flowers heading to Isola dei Cavoli. The priest of Villasimius, with a team of divers, dives at the feet of the Virgin, recites the ritual prayer, heard through loudspeakers by the devotees on the boats.
As a sign of greeting the boats sound the sirens and throw into the water colorful flowers.
Santa Maria
Another important celebration is in honor of Santa Maria. The festival takes place each year on the 7th and 8th of September, but you'll be able to breathe the festive atmosphere throughout the week, after the conclusion of the religious rituals. It is considered one of the oldest and most heartfelt by its inhabitants.
The statue of the Madonna is carried on a decorated cart pulled by oxen (we call it 'traccas' here in Sardinia), while people pray for the rain to come in order to get abundant crops and harvest.
At the end of the second day, once the Madonna is returned to the church, fireworks start. For the whole week tourists will have the opportunity to attend folklore shows, craft exhibitions, culinary competitions.
Other Useful Information To Organize Your Trip To Villasimius
Where to stay in Villasimius
You will find a good range of accommodation options in Villasimius, from camping sites to luxury resorts. Local estate agencies can help you find a holiday home. Alternatively, Booking.com usually has some great deals. Just take a look here:
Villaggio Camping Spiaggia del Riso, on Spiaggia del Riso, has pitches for tents and caravans or private bungalows. You will find a restaurant, a grocery store, a newsagent and a wide range of activities for adults and children alike.
Arega B&B, in the heart of Villasimius, is perfect if you want to enjoy a bit of action at night. Unfortunately finding a parking spot might be difficult at certain times of day.
Hotel Sa Suergia has a beautiful garden and is decorated in a rustic style, with tiled floors and dark-wood furniture. There's a free parking and an airport shuttle service. C
VOI Tanka Village is the most famous resort in Villasimius. It offers all the services you may need, including a private beach, 2 swimming pools, sports facilities including 6 tennis courts, a golf course and a riding school, a SPA and wellness center, 5 restaurants and much more.
You may want to read my posts The Best Hotels In Villasimius and The Best Airbnbs In Villasimius.
Where to eat in Villasimius
Great restaurants in Villasimius are hard to find. The ones I usually go to are the following:
Mesa de Janas – their 'fritto misto' is superbe.
Baccusardus – Perfect for happy hour, their spritz is delicious and they have a good list of wines and beers. Their 'taglieri' with local cheeses, olives, sausages, cold cuts and much more are delicious.
Il Miraggio – This restaurant is set in a spectacular location: tables are on the sand, a few meters from the sea. It's not cheap.
Majori – a bit outside the village, go there for delicious pizza, excellent cocktails and a lovely atmosphere in a nice garden.
La Chiccheria – Right on the main square this is the best gelateria in Sardinia. Try the pistacchio and nocciola flavors but also their typical Sardinian flavors such as 'torta sarda'!
Primo Molo – A fabulous place by the tourist harbor perfect for sunset drinks.
Local services and shops
You will be able to find anything you need throughout the year: several supermarkets and grocery stores, ATMs, doctors and vets, pharmacies, hairdressers and even some lovely boutiques.
There are several places to have a drink while listening to some music. Live entertainment is common throughout the summer. 
How to get to Villasimius
You can reach Villasimius from Cagliari by bus or car.
Buses leave from Cagliari central bus station at regular intervals. The ride lasts about 2 hours along a panoramic road. Get some motion sickness pills, as the road is very windy.
Some hotels provide a shuttle service for their guests. Alternatively, you can book your transfer here.
If you are driving, you have to take SS554 and follow the signs to Muravera, then take SS125. Finally, take the first exit to Costa Rei, and turn right at the only traffic-light you will encounter. It will take you about one hour to get there, depending on traffic.
Make sure to also check out my post How To Get To Sardinia: Routes From Italy And Europe.
How to move around Villasimius
You will need a car, scooter or bike for your trip to Villasimius, so that you can explore the many beaches and the surroundings.
Further Readings
Are you planning to visit Sardinia? These posts will come in handy!
This post was written by Strictly Sardinia contributor Elisabetta Tavani.
Pin It For Later!