There is a great offer of things to do in Cagliari.
Although Sardinia is a popular summer holiday destination, not many realize that Cagliari, its capital, is a fantastic place to visit year round and where you are most likely going to learn a great deal about the local history, culture and overall vibe.
Cagliari will cast a spell on you, much as it did on D. H. Lawrence who in 1920 declared he found it to be "…strange and rather wonderful, not a bit like Italy." In fact, that's a common feeling.
Most people that end up visiting do so thinking they are going to just another Italian city, but soon realize upon arriving that there is something different here – and they can't quite put their finger on it.
To give you an idea of how stratified and diverse Cagliari is, let me give you a bit of information about its name. Cagliari comes from the Punic world "Karel" or "Karalis" – which means rocky place and it's an obvious indication of the morphology of the city.
Founded by the Phoenicians in the 8th century BC, Cagliari saw the dominations of – among others – the Romans, the Punics, the Arabs, the Pisans and the Aragonese.
But in Sardinian, one of the official languages of the island (together with Italian and Catalan), we call Cagliari "Casteddu" – a reference to the walled medieval city which had doors that were closed every night.
I guess what's important, for you, is to know that Cagliari is a splendid city and one of a kind. Perched on the hills and facing the blue waters of the Mediterranean, it has a mix of architectural styles, and layers of history that you will want to discover. It's a great destination for a long weekend, and a perfect starting point for a trip to Sardinia.
In this post, I highlight the many things to do in Cagliari.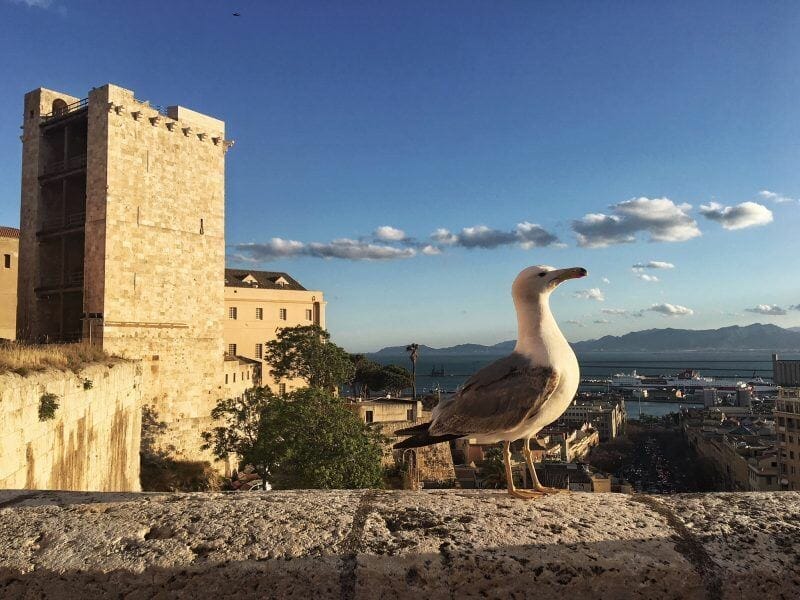 15 Top Things To Do In Cagliari, Sardinia
Explore the historical center
The historical center of Cagliari is divided into 4 quarters: Castello, Stampace, Villanova and Marina.
Castello is a hilltop citadel where you will see domes, palaces, towers – this is where the aristocracy of the city used to live in medieval times, a maze of narrow alleys, old buildings that look like they are falling apart but which hide many a treasure.
Make sure to walk along Via Stretta – there isn't much to it, really; except it is incredibly narrow and local residents have adorned it with lovely plants.
Located in Castello there are the two watchtowers – Torre di San Pancrazio and Torre dell'Elefante. Both of them were built at the beginning of the 14th century by the Aragonese rulers. You can go up but double check they are actually open before going, as they are occasionally closed for renovation work.
Other highlights of Castello include the Cathedral and the Archeology Museum (more on those in a bit) and Palazzo Viceregio, once the residence of the Spanish and Savoy viceroys.
It's open every day from 10:30 am to 6:30 pm in the winter and from 9:00 am to 7:00 pm in the summer. It is free to enter but you have to pay a small fee for a guided tour.
Cagliari version of the city pass is "Biglietto Integrato Beni Culturali Cagliari" and gives you access to one of the towers, the Roman Amphitheater, Santa Restituta Crypt and Villa di Tigellio. Just make sure that all sites are actually open before getting a city pass as there often are maintenance works and closures.
Make sure to also pay a visit to Santa Croce church in Castello. What's interesting about it is that it was built on top of a synagogue in an area that until 1492 was known as the Jewish Ghetto of Cagliari.
Your wandering across the historical center should also take you to Stampace, Cagliari's working class district in Medieval times and home of Santa Restituta crypt, which has been used since pre-Christian times, and of Sant'Efisio church; Villanova a colorful area that has recently become one of the trendiest of Cagliari; and La Marina, where you'll get the best nightlife in town.
In Via Roma, make sure to stop by Palazzo Civico, Cagliari's beautiful City Hall. Built between 1899 and 1913, you can visit it on guided tours on Saturday, but you have to book them in advance.
I recommend this guided tour of Castello District run by excellent local operator Arasolé. I have taken the tour myself and guide Raffaela provides an outstanding description of the life of the district in its heyday, touching on all the most important sites in the area.
Another option you may want to consider is this walking tour of the historical center that is very well reviewed.
For a fun experience and to avoid having to walk up and down the many hills of Cagliari, you could also opt for this Cagliari segway tour, which is one of the most popular offers in the city; or a Cagliari tour by vintage Fiat 500.
Finally, there also is an excellent 2-hour sightseeing bike tour which takes you to the various historic districts. Don't worry, you can opt to have an electric bike too!
Visit the archeological sites
There is no doubt that one of the things to do in Cagliari is visiting the Roman Amphitheater. Accessible from Viale Sant'Ignazio, it dates back to the 2nd century AD when it was entirely carved in the rock. It could hold up to 10000 people!
The Roman Amphitheater is open daily from 9:00 am to 5:00 pm but is currently being restored so only a limited part can be visited.
Another interesting site is Villa di Tigellio, a 1st century BC villa once the residence of poet and musician Tigellio Ermogene.
One of the coolest, creepiest things to do is visiting its undergrounds. The city is incredibly stratified and this way you get a good understanding of it. Keep in mind that you can't do this independently so you have to look for a local guide who knows where to take you.
I recommend joining this guided tour of Cagliari underground. My friend and I took it and we were impressed and learned so much about the history of our city. The tour actually walks you through the shelter tunnels built during WWII, but then shows other more ancient parts of Cagliari underground, for example the Santa Restituta Crypt and the Sant'Eulalia Museum where you can catch a glimpse of the Roman ruins Cagliari is built on.
Make sure to also read my post What To See In Cagliari Underground.
And the museums
One of the top things to do in Cagliari is visiting the Museo Archeologico Nazionale. This is located in Piazza dell'Arsenale, in Castello.
The museum has an exquisite collection of bronzetti (bronz figurines), and will give you a taste of the nuragic civilization of Sardinia.
You will also be able to admire Mont'e Prama Giants (the others are located in Cabras' Museo Civico), enormous stone statues which have been dated to the 8th and 9th century BC and on whose significance there is still a lot of mystery.
Next to the museum, the Pinacoteca Nazionale is an art gallery with pieces dating back to the 15th and the 17th century, with works of Catalan and Genoese artists, as well as Sardinian ones.
The museum is open from 9:00 am to 8:00 pm – keep in mind it is closed on Tuesdays and national holidays.
Make sure to read my post The 12 Best Museums In Sardinia.
Visit a church
The beautiful Cathedral, in Piazza Palazzo, was built in the 13th century in Roman – Gothic style – the original façade also used to be in Gothic style too, but was changed in 1704 when it was given a more Baroque style. The façade was once again dismantled and replaced by a neo-Romanesque style one in 1931.
Inside, the church is a mixture of style – Gothic and Baroque are clearly visible. It has a beautifully decorated crypt which holds the tombs of the members of the Savoy royal family. Make sure to climb the tower too for an added fee as the views are splendid.
The Cathedral is open every day from 8:00 am to 1:00 pm and from 4:00 to 8:00 pm.
Another impressive church is the Basilica di Bonaria (the annexed cemetery is worth visiting too). You will find a sanctuary right next to it which holds the relics of a wooden statue of Virgin Mary and Christ. Legend says that the Virgin Mary save a Spanish ship from draining in the 14th century.
Right below the church you will find a well kept historical cemetery, which is not in use since 1968. The cemetery can be visited on guided tours.
The best tours of the Bonaria Historic Cemetery are run by Arasolé, a local tour operator. You can get in touch with them at [email protected] for enquiries.
Other notable churches are San Saturnino Basilica, the oldest church on the island and built over a Roman necropolis; San Michele church, built in rococo style; Sant'Efisio church, famous for being the starting point of Sant'Efisio parade every 1 May.
Check out my posts 7 Beautiful Churches In Cagliari and The Most Beautiful Churches in Sardinia.
Take in all the views
There are many places in town perfect for stunning views, but I will never tire of going to the terrace of Via Santa Croce. The views are stunning at any time of day, but go for sunset and you will be in for quite a show.
You may even want to get a drink at Libarium, a local bar where they serve excellent cocktails – nothing better for a good sunset experience.
Another place for views is the Bastione di San Remy, which is accessible either from Via Università in Castello or from a beautiful staircase in Piazza Costituzione. Bastione was built between 1899 and 1902 and is now a nightlife hub.
Go to the market
If you are interested in learning more about the food culture of Sardinia, one of the things to do in Cagliari is visiting a local market. There are many around town, but my favorite one is Mercato di San Benedetto which is a fantastic fish market. It's open from Monday to Saturday, from 7:00 am to 2:00 pm.
You can definitely visit San Benedetto Market on your own – go there to shop for groceries if you are staying in an apartment and have a kitchen. It's where I buy my fruits and vegetables too. My favorite stand for fruits and vegetables is "Ughetto." If you want to buy fish or seafood, I recommend looking for "Alessio."
If you'd rather join a guided tour, consider this guided visit of San Benedetto Market that has excellent reviews.
Make sure to check out my post 5 Markets In Cagliari For Your Shopping Needs.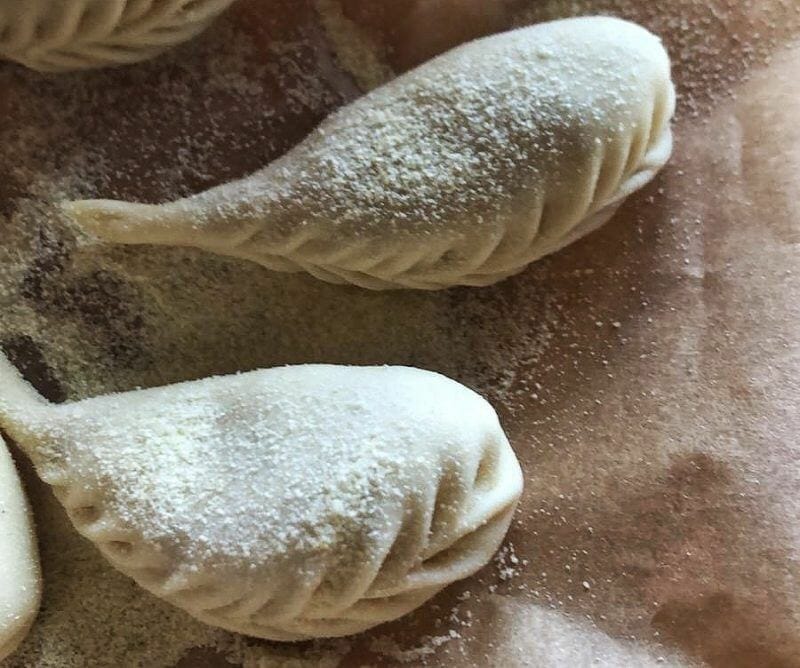 Try local food
Speaking of markets and food culture, one of the top things to do in Cagliari is eating! You will find many interesting specialties in town, some of which unheard of in the rest of Italy. Food in Cagliari is fantastic, and you'll find some specialties that you won't see in the rest of Italy.
For a real local treat, make sure to have a "pizzetta sfoglia" for breakfast – you can get one at any good coffee shop. It's a phyllo pastry stuffed with tomato sauce, anchovies and capers and a hint of tomatoes. It's truly yummy.
To get better acquainted with local food, you may want to opt for a food tour or even a cooking class.
I recommend this walking tour of Cagliari with wine and food tasting: you will sample some of the best local staples (including street food staples) and get drinks along the way too.
I also recommend you try this culurgiones cooking class to unveil the mystery of one of the most complex yet rewarding (and delicious) pasta dishes in Sardinia.
And here is a selection of my go to restaurants:
FRAMENTO – The best pizza in town, prepared with only local ingredients.
SONCINI – In Via Dante, so outside of the historic center, this understated gelateria is definitely the best in town.
STELLA MARINA DI MONTECRISTO – For good fish and seafood at very reasonable prices, this trattoria in La Marina district is the place to go. Book in advance as they are always busy.
SABORES – The best place in town (it's in La Marina district) to try local meats and cheese, to accompany the best local wines. Ask owner Samuele for his wine recommendations.
BOMBAS – By far the best burgers in town, it's located in the Castello district in Via Università. Burgers are prepared with local ingredients so in a way you are eating traditional food!
DUANIMA – Probably my favorite restaurant in town. It's in Via Satta, just outside the historic center. Chef Luca is, quite simply, a genius.
CHIAROSCURO – Chef Marina Ravarotto revisits dishes of the local tradition such as malloreddus alla campidanese or su filindeu in a more contemporary key. The restaurant has recently been added to the Michelin Guide and for good reasons!
Make sure to check out my posts The Best Restaurants In Cagliari and Where To Find The Best Pizza In Cagliari.
Attend a festival
One of the most interesting things to do in Cagliari if you happen to be there on May 1st is attending Sant'Efisio Parade.
It is a massive celebration of Sardinia's most venerated saint, during which people coming from all over the island and dressed in traditional costumes walk from Sant'Efisio Church all the way to Nora, at about 50 km from Cagliari, to accompany the statue of the saint – which is carried on a beautifully adorned carriage pulled by bulls.
You should also read my post A Short Guide To Sant'Efisio Festival.
Spend a day at the beach
Regardless of the season, we locals love going to the beach. We locals can't really do without it and any excuse is good to go – a coffee with friends, a sunset drink, a walk for fresh air, a swim and even running. As long as we get to see it!
These are the best city beaches:
POETTO – A long stretch of fine sand and clear waters, with a fabulous running and biking trail. It can get terribly crowded during the summer months, but we love it all the same. You will find kiosks to have a drink and a meal and places to rent umbrellas and whatever else you may need for the day. It's served by public transportation.
CALAMOSCA – A small cove on the other side of Sella del Diavolo, with nice clear waters. There is a kiosk. You can reach it by public transportation from the city center.
CALA FIGHERA – A popular naturist beach that requires a bit of a hike to get to. It's gorgeous. You can also get there by kayak from Poetto Beach.
For more options, read my post The 7 Best Beaches In Cagliari.
To make the most of Cagliari's most hidden swimming holes, you may want to join a boat or kayak tour. I recommend this boat tour with 4 stops along the Devil's Saddle. It's a half day tour that takes you right under the Devil's Saddle, for the best snorkeling in the city. You will be amazed many times!
Hike the Sella del Diavolo
What if I told you that hiking is one of the nicest things to do in Cagliari? We have trails in the city, so we don't have to get out of town to catch views or feel at one with nature.
The trail to reach the peak of Sella del Diavolo departs from Calamosca, right behind the beach. It's an easy to follow and well marked trail and once you get to the top, the views of Poetto beach and Molentargius Nature Reserve are just stunning.
Not far from Calamosca you can access another trail that goes to the Fortino di Sant'Ignazio, a fort (of which not much remains) that dates back to 1792. It is close to a lighthouse and a Spanish watch tower and the views are stunning.
If you want to see the Sella del Diavolo from a different perspective, one of the best things to do in Cagliari is a boat or kayak tour. My sister loves kayaking but I am not the biggest fan. So, I recommend this boat tour with 4 stops along the Devil's Saddle. You will get to snorkel in the clearest waters!
Make sure to read my posts A Guide To Visiting Fortino Di Sant'Ignazio and A Complete Guide To The Sella Del Diavolo.
Admire pink flamingoes in their natural habitat
One of the best things to do in Cagliari for bird watchers is to visit Molentargius Nature Reserve. This oasis in the city is the perfect nesting place for pink flamingoes and a favorite of other species of birds.
We locals love going there for walks, runs (there even are run races there) and to just admire the animals in their natural environment. It's a particularly beautiful place to visit in the spring and fall months.
Molentargius Nature Reserve can be accessed from several places in town. The easiest one for you is likely going to be Poetto Beach. The gate is close to the Ospedale Marino bus stop. The park is open every day from 8:00 am to 8:00 pm in the summer, and from 9:00 am to 6:30 pm in the winter. There is no admission fee. You will need to bring mosquito repellent!
You can definitely visit Molentargius Nature Reserve independently, but having a guide may be better to navigate the park which is fairly bit, and to understand its history and nature.
I recommend this 2 hour bike tour in the flamingo oasis or this 4-hour electric bike naturalistic tour – the views along the way are incredible, so don't forget to bring your camera!
Make sure to read my post A Complete Guide to Molentargius.
Visit a park
There are many nice parks in Cagliari. One of my favorite is Monte Urpinu, a pine grove with a small pond at the center. I often go there to run when I want to focus on my strength, as there are several hills to puff along.
A bit further from the center there is Monte Claro, which is also on the hills and equally well kept. Another special park to visit is Tuvixeddu, a large necropolis where you feel like your walk in nature has an historical flavor. There also is Terramaini, the newest park in town and which can be accessed from several spots.
I also really like the Bosco dei Cappuccini, which is closer to the historic center, and the Giardini Pubblici, where I spent many Sunday afternoons as a child.
If you are looking for something special, go to the Botanical Gardens. Opened for the first time in 1858, they are home to more than 3000 species of flora. Make sure not to miss the remains of the Punic cistern and of the Roman quarry.
The Botanical Gardens are open Tuesday to Sunday from 9:00 am to 4:00 pm in the winter, and from 9:00 am to 6:00 pm in the summer.
Check out my posts 10 Parks In Cagliari You Should Visit and A Short Guide To Tuvixeddu Necropolis, Cagliari.
Go to an art exhibit
If you want to take advantage of its thriving cultural scene, one of the things to do in Cagliari is going to an exhibit. Places like Ex Ma, the former abattoir, or Lazzaretto, located in a beautiful spot by the sea in Sant'Elia, regularly host exibits.
Another place is Castello di San Michele, a fortification located on top of a hill overlooking the city, which dates back to the 10th century – it became the residence of the Carroz, a powerful local family, in the 14th century. The castle has been beautifully restored and it now holds art exhibits.
Castello di San Michele is open Tuesdays to Sundays.
Jump into the local nightlife
For as small as it is, nightlife in Cagliari is thriving and you are bound to find something that suits your taste. You will find most of the drinking holes in Cagliari located in the historic districts of La Marina and Stampace, with Corso Vittorio Emanuele II having the largest offering of bars and pubs along restaurants.
The ones I mention are my favorite places in town:
FLORIO – Fun easygoing bar in the Villanova district, in one of the prettiest squares in Cagliari.
B Flat – In Via del Pozzetto (outside the city center) regularly has live music. You need to reserve a table in advance. I also recommend checking the calendar of their events to make sure a band / genre you like is playing.
DE CANDIA – Located on the Bastione, it is perfect for a drink with friends.
LIBARIUM – Probably my favorite spot in town for drinks with a view. They make excellent cocktails.
BIFFI AMERICAN BAR – In Via San Giovanni, Villanova, this retro place is a rather hidden place: you literally have to ring a bell to get in!!
Make sure to check out my post Cagliari Nightlife: A Guide To Cagliari Best Bars.
Go on a day trip out of the city
The chances you will be stuck with no things to do in Cagliari are very slim, but if you feel the urge to get out of the city, the choice is massive.
One of the best options is to go for a wine tasting tour, and for that I recommend heading to Serdiana and Dolianova, two small towns at about 20 minutes drive from Cagliari, with a plethora of wineries and immersed in the most bucolic countryside.
I recommend opting for a guided tour so you don't have to worry about drinking and driving.
You may want to opt for this this winery and oil mill tasting tour from Cagliari that goes to Serdiana's wineries,
However, for a more complete experience I recommend this food and wine tour that also goes to the Santa Maria di Sibiola Church outside of Serdiana (incidentally, it's where my parents got married!).
Check out my posts A Guide To Sardinian Wines and 15 Must Visit Wineries In Sardinia.
Another option may be that of visiting a small village. I am a fan of San Sperate, literally an open air museum with its many murals. You will need a car to get there – it's about 30 minutes drive from the center of Cagliari. Once there, you can explore on your own but spotting the murals on your own may be a bit challenging.
I recommend this San Sperate murales tour that includes transportation from Cagliari and a guide to take you around the village.
If you are an archeology geek, make sure to visit at least one nuraghe. The Nuraxi di Barumini is the only UNESCO World Heritage Site in Sardinia and the most famous one in the region. It's easy to visit from Cagliari – there are buses to Barumini and the drive (about one hour) is nice and pleasant. You can easily pair it with a visit of the stunning Giara Plateau.
If you don't want to use public transport and don't have a car, you could join this half day tour of Su Nuraxi di Barumini. Keep in mind it does not include the admission fee to the site.
Make sure to read my posts A Quick Guide To Visiting Su Nuraxi, Sardinia and A Guide To The Altopiano Della Giara Di Gesturi.
You may also want to consider visiting the Roman ruins of Nora – if you are visiting in the summer months, you can easily pair your visit with one of the beaches in the area such as Su Giudeu or Cala Cipolla.
You could also consider going to Porto Flavia, one of the most interesting mines in the Sulcis region with a harbor built directly on the cliffs and overlooking the sea (to be more accurate: if you want the views of the actual harbor, you need to rent a kayak or do a boat tour). If you visit in the summer, you can pair it with a day at the beach in Masua Pan di Zucchero.
You will need your own car to get there (it's about 1.5 hours drive from Cagliari, but once there you can join this excellent guided tour that takes you through the tunnels of the mine.
If hiking is your thing, you will find many excellent trails in Sardinia, and many are easy to do using Cagliari as a base. My recommendation is to go to the area of Porto Pino or in the Capoterra mountains where you will find Is Cioffus canyon. However, take care never to go alone and to join a guided hike for the hardest trails.
Check out my post The Best Hikes In Sardinia.
If you are looking for a guided hike, check out this half day ancient Roman Road hike – it's an easy hike on a trail that is easy to follow. I have done if many times and each time I am impressed with the views.
For more options, make sure to read my post The Most Incredible Day Trips From Cagliari.
Further Readings
Make sure to read my other posts:
Pin It For Later!