Boat trips to La Maddalena are the best way to enjoy this archipelago if you are short on time or you don't have your own boat to go around. The good news is that there are many tours available – for any budget and taste.
Whether you want to splurge on a private boat and be fully pampered for a day, or you don't have that much money to spend on the tour, worry not! In this post, I will highlight the best options and tours that will whisker you to La Maddalena National Park (founded in 1994) and help you have a memorable experience.
A Selection Of The Best Boat Trips To La Maddalena
La Maddalena boat tours typically have three starting points:
PALAU – This is a small town just on the other side of La Maddalena. It's also where ferries to the island depart from.
LA MADDALENA TOWN.
POLTU QUALTU – A small harbor located in in Baja Sardinia, closer to Costa Smeralda.
There also are tours that depart from Santa Teresa di Gallura, Cannigione, Porto Pollo, Baja Sardinia or Olbia. The latter location is a bit far so only opt for that if you don't have other options.
| | |
| --- | --- |
| STARTING POINT | LA MADDALENA, PALAU, OLBIA, CANNIGIONE, PORTO POLLO, SANTA TERESA DI GALLURA, BAJA SARDINIA |
| PRICE | €45 TO €120 PER PERSON, DEPENDING ON THE DEPARTURE POINT |
| DURATION | 7 TO 9 HOURS |
| INCLUDED | DISCOUNT CARD |
| EXCLUDED | LUNCH; DRINKS; GRATUITIES; HOTEL PICKUP AND DROP-OFF; NATIONAL PARK FEES |
This is by far the most budget-friendly tour, but also the most basic. A large charter boat (where you'll find toilets and even a small café) will take you to the various islands – Santa Maria, Spargi, Budelli (home of the famous Spiaggia Rosa, the Pink Beach), the natural pools of Porto della Madonna.
Depending on the day, the tour stops either in Caprera, where you can enjoy some time at the gorgeous Cala Coticcio, or at La Maddalena – where you stop for a period of time that can vary between 15 to 90 minutes, where for an additional fee you can opt for a a panoramic bus tour.
| | |
| --- | --- |
| STARTING POINT | PALAU, SANTA TERESA DI GALLURA |
| PRICE | FROM €80 PER PERSON |
| DURATION | FULL DAY |
| INCLUDED | BASIC LUNCH, WATER, WINE |
| EXCLUDED | SNORKELING EQUIPMENT |
This is a great mid-range option, where for a bit more money you get to spend time in a smaller boat that carries a smaller group of people.
The first stop is typically Spargi, where the highlight is usually Cala Soraya (a beach named after Princess Soraya who visited in the 1960s), or the nearby Cala Corsara. The rest of the itinerary depends on the winds and the weather – but that's the beauty of traveling in a catamaran!
Although catamarans are typically a bit slower than regular boats, they are also way more silent so you will feel at one with nature. The boat is equipped with toilets and a shaded space.
| | |
| --- | --- |
| STARTING POINT | CANNIGIONE |
| PRICE | €900 PER GROUP OR €160 PER PERSON |
| DURATION | FULL DAY |
| INCLUDED | BASIC LUNCH, WATER, WINE |
| EXCLUDED | SNORKELING EQUIPMENT |
This tour is perfect for a group of friends so that you can share the costs. It's similar to the one above, but you get to sail on a sailboat instead – so the pace is even slower. The boat has a toilet and shaded space.
During the tour you get to admire Porto San Rafael from a distance, and Punta Sardinia lighthouse, before arriving at Spargi which will be your first stop during the day. Other stops include Budelli, Santa Maria, La Maddalena, or Razzoli.
| | |
| --- | --- |
| STARTING POINT | PALAU, LA MADDALENA, POLTU QUALTU, PORTO CERVO, CANNIGIONE |
| PRICE | FROM €800 PER GROUP (MAX. 12 PASSENGERS) |
| DURATION | 8 HOURS |
| INCLUDED | NATIONAL PARK FEES; BOTTLED WATER; PROSECCO; BEACH TOWELS |
| EXCLUDED | LUNCH; GRATUITIES; HOTEL PICKUP AND DROP-OFF |
If you are traveling with a small group of friends and would rather do your own thing, a private boat tour may be the best option – a not nearly as expensive as you may think. These tours are super flexible in terms of timings and itineraries, and captains are usually very experienced skippers who'll be able to suggest the best itinerary based on the winds and the weather. Depending on the day you may make it all the way to île Piana and Lavezzi, off the coast of Corsica.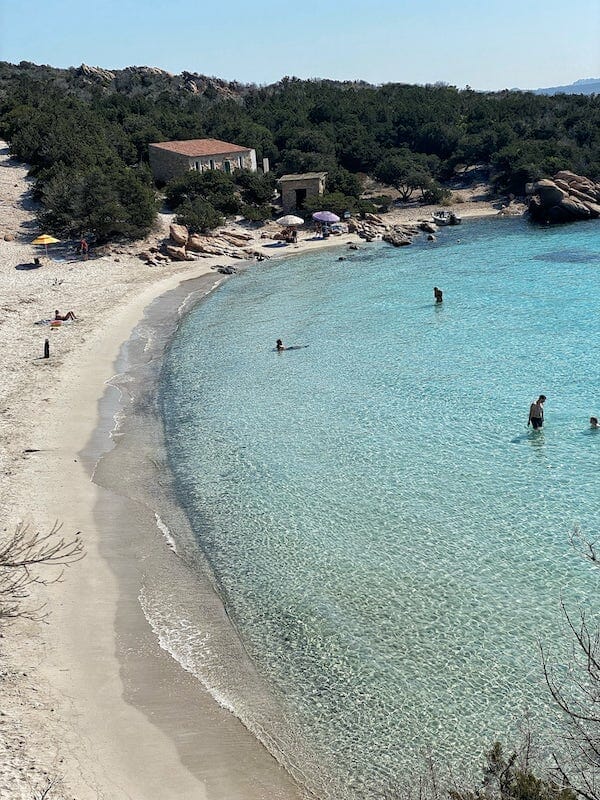 | | |
| --- | --- |
| STARTING POINT | CANNIGIONE, PORTO POLLO |
| PRICE | FROM €65 TO €225 PER PERSON (MAX. 14 PASSENGERS) DEPENDING ON WHAT'S INCLUDED |
| DURATION | 8 HOURS |
| INCLUDED | NATIONAL PARK FEES; BOTTLED WATER; LUNCH (ONLY ON SOME BOATS) |
| EXCLUDED | ADDITIONAL DRINKS; GRATUITIES; HOTEL PICKUP AND DROP-OFF; SNORKELING EQUIPMENT |
If you prefer small groups but don't have the means to book a private tour, you now have the option of joining a small group tour. You will be going around in a small boat and your captain will prepare lunch for you (usually fish and seafood base). You will be stopping at the most charming places in the archipelago, including Spargi Island, Budelli Pools and Santa Maria – though the full itinerary usually depend on the winds.
Where Do La Maddalena Boat Trips Go?
There are 62 islands in La Maddalena archipelago. Boat tours to La Maddalena will typically take you to the biggest ones, namely:
LA MADDALENA – This is the island that gives its name to the entire archipelago, and where the main town, also called La Maddalena, is located.
CAPRERA – This island is a must see not only because of the many incredible beaches, but also because it's where you'll find the former home of Garibaldi, Italian unification hero, and his memorial. It's the second largest island in the archipelago and connected to La Maddalena by a bridge, so you can easily drive there in case you have your own car.
SANTO STEFANO – Known for being the home to a fabulous resort – if you have money to splurge, definitely opt to visit.
RAZZOLI – A truly tiny island.
BUDELLI – This is where you can spot the famous Pink Beach, whose color is due to the corals in the sand. To protect it, disembarking is prohibited. A man has lived on the island for more than 30 years and has now been evicted.
SPARGI – Known for the wild boars that live on the island, it's breathtakingly beautiful.
SANTA MARIA – Other than La Maddalena and Caprera, this is the only other island that is permanently inhabited.
Check out my post A Complete Guide To La Maddalena for more information.
Final Tips To Make The Most Of Your Tour Of La Maddalena Archipelago
To make the most of your time while touring La Maddalena Islands, I thought I'd share some extra tips.
APPLY SUNBLOCK AND WEAR A HAT – The sun can be fierce during summer months in Sardinia, and the last thing you need is to get sunburnt or heat-stroke. Make sure to apply sunblock regularly.
BRING YOUR SNORKELING GEAR – Most tours will offer masks, but if you have yours, bring it along.
DRINK LOTS OF WATER – It's always best to stay hydrated.
BRING SOME MOTION SICKNESS PILLS – You never know you may need it.
AND SOME FIRST AID JELLYFISH TREATMENT – It's not common to get stung by jellyfish, but just in case!
DON'T TAKE SAND, STONES AND SHELLS – It's prohibited to take sand and shells from Sardinian beaches. Stay out of trouble or risk paying a fine.
Further Readings
Make sure to check my other posts:
Pin It For Later!