Costa Rei is a magical place. Situated on the southeast coast of Sardinia, approximately a one hour drive from Cagliari, it is a series of stunning beaches and beautiful landscapes.
I have been going to Costa Rei since I was born. As a baby, my parents would take me camping there. As the years rolled by, they rented a holiday house, and later on, they actually invested in a property. To this day, my parents spend five months a year in Costa Rei – in fact, they are there as I write.
Since Costa Rei is, in fact, my home away from home, I'm eager to share all its the best-kept secrets and prepare you for your visit.
Continue reading to discover what makes Costa Rei special!
The Top Things To See And Do In Costa Rei
Take Pleasure in The Balmy Beaches
Costa Rei Beach
The main beach in Costa Rei is 12 kilometers (7.4 miles) of powdery, golden sand and crystal-clear waters – a slice of paradise. That being said, it does get quite windy, so you may want to tuck yourself into one of the nearby coves on windy days.
There are limited parking lots available sprinkled at various points. Some allow stroller or wheelchair access to the beach, while others are only small foot trails.
You'll find a variety of kiosks selling snacks, meals, and beverages all along the shore, and you can rent umbrellas and beach equipment. Some booths organize activities like boat trips to nearby islands.
Sadly, dogs are not allowed at the main beach in Costa Rei. The best nearby dog-friendly beaches are Tiliguerta – there is a camping site and access to the beach, but you don't have to be a guest to go; and Murtas, a 20 minutes drive north, in the Quirra area.
Check out my post The Best Dog Friendly Beaches In Sardinia.
Santa Giusta Beach
Santa Giusta Beach is a favorite of locals and tourists. There are two different focal areas here – the crowded resort side that allows access to a megalithic rock called Peppino's Rock (Scoglio di Peppino), and the other side, which is a small, lovely cove protected from the wind.
Make your way to Santa Giusta by following the signs directing you to the resort. The beach has one main, large parking lot that is the only place you can legally park your car. Police patrol the area, and give out a lot of fines to those who don't park in the designated parking lot. The walk to the beach from the legit parking is only about 500 meters (0.3 miles).
Monte Turno (Castiadas)
Monte Turno is just a bit south of Sant'Elmo—one of the top resorts in Costa Rei. It is a small cove with wonderfully crystal-clear water and unique rock formations standing like sentinels on both sides. That means that Monte Turno is one of the best places to go snorkeling!
Since it is such a spectacular spot, Monte Turno gets fairly crowded during the summer's peak tourist season. Given that it is a cove, it is also protected from the wind— so it's a great spot to hunker down during one of those wickedly windy days!
There is one kiosk on the beach called Iki Beach: it serves snacks, very light meals, and drinks. They also rent sunbeds and umbrellas.
Find your way to Monte Turno by driving south on SP18 for about 5 kilometers (3.1 miles) from Costa Rei. There will be a small sign that directs you towards Monte Turno beach: you will have to make a turn so sharp that it's almost a U-turn. Drive slowly!
Cala Sinzias (Castiadas)
Located just ten minutes south of Costa Rei by car, Cala Sinzias has powdery white sand and turquoise-blue waters.
Be aware that the water at Cala Sinzias is immediately quite deep! You don't have to be a strong swimmer necessarily, but you do need to be able to tread water and swim.
The beach is spotless, there's almost always a lifeguard on duty, and it's very easily accessible… that's the recipe for a very crowded beach! Plus, there are many kiosks that sell snacks, drinks, food, and beach rentals.
Take the SP18 south from Costa Rei and follow the road until you see the sign directing you to Cala Sinzias. Even though there are multiple access points, parking is quite limited. Don't leave your car on the main road, though, because police patrols are eager to ticket cars with big fines!
Don't forget to read my post A Short Guide To Cala Sinzias.
Cala Pira (Castiadas)
Lying farther south from Cala Sinzias, still only a 15-minute drive from Costa Rei, Cala Pira is a heavenly beach. It has shallow, transparent waters, which makes it a favorite spot for families. Also, there's a lifeguard on duty— another reason why families love this beach! Standing tall at one end of Cala Pira is an Aragonese watchtower.
There is a kiosk on site serving light meals and that also rents out all the beach gear you could possibly need. The parking lot is large, and the beach is quite close to the lot.
Occasionally, dolphins show up in Cala Pira. I can't say that you will get to see them if you go there – but it is nice to know that these beautiful animals roam the waters of Sardinia.
From Costa Rei, start on the SP18 and continue along it until you spot the sign that directs you to Cala Pira. You'll definitely need to drive slowly, as the sign is small and you could easily miss it!
Portu de S'Illixi and Cala sa Figu (Muravera)
These blissfully peaceful beaches stay relatively uncrowded, even during peak summer season. They are adjacent to each other and aren't as easily accessed by car. To get from the road to the beach takes a bit of a walk over uneven terrain, and the roads aren't that well marked, so you are guaranteed a more private beach experience.
If I had to choose between the two, Cala sa Figu is my favorite. It's a tiny beach with soft powdery sand and pure, crystal-clear water perfect for snorkeling.
There aren't any kiosks or vendors, so there's nothing to buy and no one to bother you. Also, there's no lifeguard on duty and there aren't any toilets on site either.
To find these two beaches, head north towards Olia Speciosa. After you've traveled for about 5 kilometers (3.1 miles), turn right onto the SP97 heading towards Capo Ferrato. It will take approximately 25 minutes to arrive at Portu de S'Illixi and Cala sa Figu.
Water Sports in Costa Rei
If you are a water sports aficionado, or just want to give it a try for the first time, Costa Rei is the place to do it! This coast can get quite windy, making it a veritable paradise for kitesurfing and windsurfing. There are also many kiosks that will rent you a tube, kayak, or stand-up paddleboard, so you can take to the water and explore the shoreline your way!
Diving in Costa Rei
The Mediterranean waters may be on the cooler side of life but there is still incredible marine life to witness – it's one of the best diving spots in Sardinia.
Tour The Nearby Islands
Not too far from Costa Rei lie a few small islands you can check out on a boat trip. The largest island called Serpentara, which actually appears to be in the shape of a crocodile's head, and it belongs to the protected marine area of Capo Carbonara. Discussions with local authorities are currently ongoing to allow small guided groups of tourists on the island. At the moment, boats can get close to Serpentara, but can't dock.
The other island close to Costa Rei is Isola dei Cavoli. This roughly translates to 'crab island.' Sitting just one kilometer (0.6 miles) away from Capo Carbonara, this island also belongs to the protected marine area of Capo Carbonara. It's one of the best snorkeling spots in Costa Rei!
Other than marine life, one of the most unique things to see underwater is a statue called the Virgin of the Sea, purposefully placed underwater back in 1979 by the Sardinian artist Pinuccio Sciola.
Boat trips to Isola dei Cavoli take off several times per week from the main Costa Rei beach. The boat trip takes about five hours in total and goes to the island, as well as to multiple beaches in the Villasimius area. You can expect the boat trip to cost around €45.
Running and walking
There are plenty of beautiful walks to enjoy in Costa Rei.
My absolute favorite walk is one that goes to a lighthouse in Capo Ferrato. You'll walk through stunning Mediterranean pine forests and end up at the majestic lighthouse. To get there, drive north until you reach Capo Ferrato. To get to the pine forest is pretty obvious as it's right there in plain view!
Speaking of views, for the best scenery in Costa Rei, meander up the "Casa della Contessa" – also known as the Countess' House – perched atop a hill.
This house is an old, abandoned building that can be seen from pretty much anywhere in Costa Rei. There are several legends about this house. The most popular one is that the countess left during a fire and hid precious treasures inside the walls. Lots of people have tried to find the treasure, and have vandalized the property to do so. That's quite sad, as this beautiful old structure has been defaced and damaged, but there have been no reports of a treasure being found.
If you happen to be a runner and are looking for a good running trail, follow Via Ichnusa. Start running north, and you'll notice that after about the first kilometer, the road turns into a lovely trail. I recommend going in the early morning or late afternoon so that the weather isn't too hot.
For the best hikes, head out to the Sette Fratelli mountain range, accessible from Castiadas. There are lots of trails to explore, and it's a perfect way to get the heart rate pumping, all while immersing yourself in stunning Mediterranean beauty!
Other easy hikes around Costa Rei include the trail running from Monte Turno to Cala Pira, and another one that goes from Cala Pira to Cala Sinzias. Moreover, there are quite a few trails around the Villasimius beaches.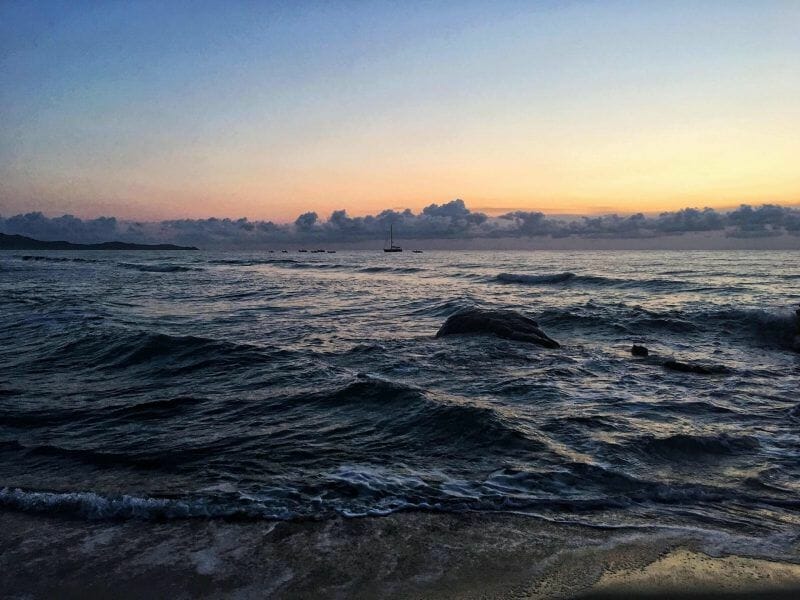 Sunrise and Sunset in Costa Rei
Costa Rei is on the eastern coast of Sardinia, which means it's not a good place to be if you are hoping to catch a beautiful sunset. However, if you set your alarm early and are willing to yank yourself out of bed in the wee hours of the morning, you can expect stunning sunrises from the beach.
If you're dying to see a sunset, drive south towards Monte Turno. For an even more epic sunset, you'll have to drive around 45 minutes from Costa Rei towards Baccu Mandara. While it does take a while to get there, it's worth seeing those peaches and purples unfurl against the Sardinian sky.
The Pools of Sarrabus
Situated not too far from Costa Rei, in proximity to the small towns of Muravera and Villaputzu, is the beautiful wetland known as the Pools of Sarrabus, home to stunningly diverse wildlife, and the perfect place to go bird watching! I recommend going early in the morning or right before sunset, as you'll likely see more birds that way.
To find the Colostrai and Feraxi ponds, take the old SS125 towards Muravera. Once you arrive at Capo Picci, follow the signs that will point you towards Torre Salinas.
Castiadas Prison
Castiadas Prison is a perfect rainy day activity. It opened in 1875 and was fully operational until the 1950s. Guided tours of the prison happen daily in Italian or English. On the tour, you'll visit the cells, the torture chambers, and the backyard areas. The admission fee is just €5 euros and includes a guided tour.
Castiadas Prison is just a 15-minute drive from the center of Costa Rei. Follow the road as if you want to go back towards Cagliari, but rather than getting on the SS125, continue straight for just a few minutes until you come to a small square, where you'll see the prison.
The Festivals in Costa Rei
While Costa Rei doesn't actually have any festivals, the nearby town of Muravera has a couple each year. My favorite is the Citrus Festival, Sagra degli Agrumi, in which the town celebrates the delectable citrus fruits produced in the region. It takes place each year in March or April. It's a festive occasion and the perfect excuse to gorge yourself on everything citrus!
The other popular festival is the Muravera Carnival, which can get pretty rowdy! It happens each year in August, and you'll see tons of masks and parades. The city becomes a throbbing mass of singing, dancing, and celebration.
Other Useful Information
Where to stay
Costa Rei has lots of incredible accommodation options, with a great selection of camping sites, some of the best all-inclusive resorts in Sardinia, as well as holiday rentals.
In terms of camping, the two most popular sites in Costa Rei are Camping Le Dune and Tiliguerta Camping Village. The latter is dog friendly.
Looking to splurge? If you can swing it, staying at an all-inclusive resort in Costa Rei is a dream. The best ones are Free Beach or Villas. Both are enormously luxurious!
Make sure to also read my post Where To Stay In Costa Rei.
Where to eat in Costa Rei
Unfortunately, eating options in Costa Rei are a little on the slim side. I have eaten at almost every restaurant in the area and here are my top recommendations:
CHAPLIN – An inexpensive restaurant close to the beach. I love their pasta dishes, and they have very good calamari. Booking in advance is usually a good idea in tourist high season!
SA CARDIGA E SU PISCI – Hands down the best restaurant in Costa Rei. They focus on locally-sourced ingredients with a modern twist. However, expect things to be on the expensive side. Reservations are highly recommended!
LIDO TAMATETE – Situated right on the beach of Cala Sinzias, Lido Tamatete is a seafood restaurant that has positively divine desserts. Yes, it is expensive, but it's totally worth it. Book in advance.
PIZZERIA SU TOSTOINI – One of the most budget-friendly options in Costa Rei. It's right at the intersection on the way to Villasimius. Reservations are not accepted here, so it's not exactly the best place for large group dining.
SU NURAXI – This large restaurant and pizzeria is located at a very convenient location. Pizza is fairly good and desserts are decadent. It's fairly priced. Service can be a bit slow on busy nights.
I MENHIRS – This restaurant located in Olia Speciosa has a fantastic menu geared towards local specialties and gastronomic delights! A full meal ranges from €35 to €40, and booking in advance is recommended.
LA BOTTEGA PANE E VINO – The perfect spot for a little wine and cheese plate!
Once in Costa Rei, you'll spot other restaurants too. Let's say I tried them and they are not making this list. There's a good reason for that!
Groceries in Costa Rei
Grocery stores are sprinkled throughout Costa Rei. There are three in the main village. The best quality fruits and vegetables are found at the greengrocer in Piazza Sardegna. There is also a butcher and a fishmonger situated right next to the Farci supermarket.
My favorite way to pick up fresh produce in Costa Rei is at the little farm stands that sell their own farm-fresh products, including eggs! The best farm stands are around the area of San Pietro. Drive towards Cala Sinzias, and make a right on the big intersection, then immediately turn left. There is a little road where you will find signs broadcasting what the stands are selling. Support local, and be dazzled at the fresh flavors these farms delight in sharing with you.
Local Services and shops in Costa Rei
Blessedly, Costa Rei has lots of shops to make your holiday a comfortable one. There is only one bank, though, Banco di Sardegna, which is located at Olia Speciosa. There's also a post office next to it! If you are on the hunt for an ATM, you'll find them sprinkled throughout the main road, next to the supermarkets.
There are beauty salons located in Piazza Italia, and one on Via Ichnusa. Two pharmacies are located in the same areas. A veterinarian is located in Muravera; the clinic is in Via Roma.
I also wanted to mention that the local police station, Carabinieri, is situated on the northern side of the resort in the Piazza Rei Marina. If you need to call the police, their number is +39 070 991 6112.
Lastly, there is a doctor on duty at Camping Le Dune.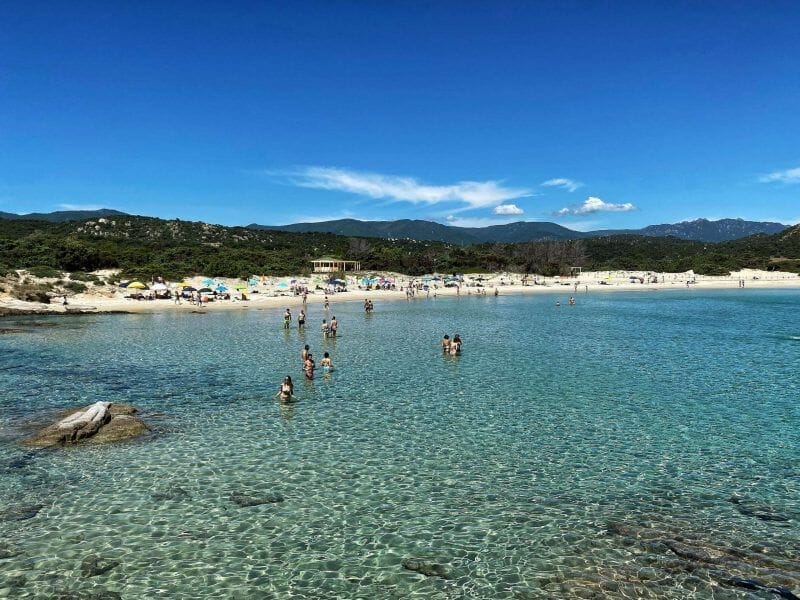 How to get to Costa Rei
By Bus
Buses leave from Cagliari main bus station multiple times a day. The trip takes about 2 hours.
By Car
If you're driving, take SS554, follow the signs that will point you towards Muravera, and hop on the SS125. There are two exits for Costa Rei. Usually, the drive takes about one hour.
By Private transfer
If you don't fancy driving, but would rather not take the bus, you have the option of booking a private transfer from the airport. You can do so here.
When to visit
While the busiest tourist season is during the warm summer months, there isn't a bad time of year to visit Costa Rei. The crowds of tourists leave in September, and the beach is more tranquil. Even in October, the weather is pleasant and warm.
During the winter, Sardinia feels kind of empty. Tourist shops close, and most of Costa Rei is shut, so you won't even be able to buy groceries. Instead, you'll have to pick up necessities in Olia Speciosa or Muravera, or bring them in from Cagliari. Although Costa Rei can feel eerily quiet in the winter, it's one of my favorite times to visit because I have the whole place to myself! I go for long walks or cozy up with a blanket and a book on the beach.
Final (VERY IMPORTANT) Note
Please do not take shells from the beach. It is forbidden to do so! Also, when you take starfish from the water, you are killing them. Please leave the shells and marine life alone, or you could face fines.
Further Readings
Make sure to read my other posts about Sardinia for more ideas and planning tips:
Pin It For Later!