Tavolara is one of the nicest islands of Sardinia, and if you are planning a summer or early fall trip to the northeast of the region, you should try to include it in your itinerary.
Part of the Protected Marine Area of Tavolara Punta Coda Cavallo – which includes 15,000 hectares of sea and around 40 km of coast, the protected area was created in 1997 with a view to preserve the thriving marine life of this part of Sardinia.
Similarly to Asinara Island – which is on the northwestern coast of Sardinia – the island is divided into three main areas. Zone A is not accessible to visitors: this is where a NATO military base is located. Zone B is only partly accessible. Zone C is free to access – you can enjoy swimming, diving, snorkeling and even sailing there.
For as gorgeous as the waters surrounding the island are, this place is not just about the sea. It has a truly unique history, offers incredible experiences. Continue reading, as I will tell you everything you need to know about Tavolara island and share practical information that will help you plan your visit.
A Brief History Of Tavolara Island
Did you know that Tavolara was actually a Kingdom (one of the smallest kingdoms in the world), ruled by the Bertoleoni family between the 19th and 20th century upon permission of King Charles Albert of Sardinia?
The first king was Paolo I, son of Giuseppe Bertoleoni who died in the 1840s. So important was the island in the geographic space of the Mediterranean that in 1861- as documents show – the Italian government paid 12,000 Italian lire to build a lighthouse on the island, which became operative in 1868.
The kingdom became part of Italy in 1934 upon the death of Mariangela – sister of Paolo II, fourth king of the reign – regent of the island while his brother moved overseas. Her nephew continued claiming the kingdom until he died in 1962 – which is also when a NATO based was built on the island.
The Bartoleoni family currently runs Da Tonino, one of the two restaurants on Tavolara.
What To See And Do In Tavolara Island
Spalmatore di Terra Beach
With views of the massif of the island, this is one of the most unique beaches in Sardinia. The main beach on the island can be accessed directly as soon as you get off the ferry. 616 meters (2021 feet) long, at its back, you will find a mixture of small sand dunes and Mediterranean shrub. Fine golden sand and incredibly clear – though almost immediately deep – waters make it a perfect place for a day in the sun.
The beach is free to access but no more than 924 visitors are allowed daily, which means it is never too crowded, even during the peak summer season.
If you don't want to carry your own umbrella, you will be glad there is a place where you can rent umbrellas and sun-beds. It's open from 9:00 am to 6:00 pm daily (the last ferry to mainland Sardinia is at 6:30 pm). Expect to pay €30 for two sun-beds and an umbrella. To reserve your spot call +39 3398911325.
Unfortunately the beach does not have disabled access.
Cemetery
Located behind Spalmatore di Terra beach, among the sand dunes, and easily reached on a short walk, the island's tiny cemetery is an interesting place to visit. The cemetery was built upon wishes of Paolo Bertoleoni in the second half of the 19th century and it's where the king of Tavolara, the queen and their family are all buried.
The largest tomb is that of Paolo I – known as Polo – and is complete with a sculpted crown. One of the newest tombs is that of Pompea Romano, wife of Tonino Bertoleoni, who passed away in 2010.
The cemetery is complete with the royal coat of arms.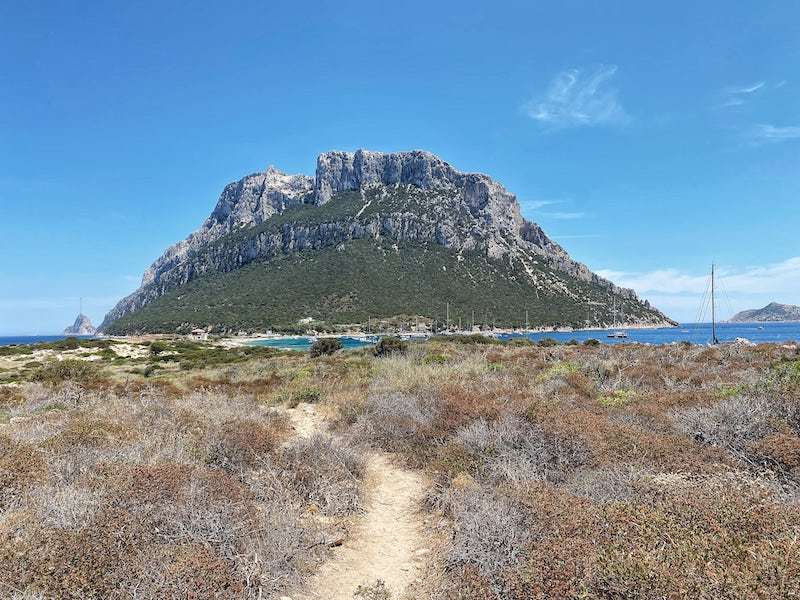 Hiking
One of the best ways of enjoying this paradisiac place is on a hike – but I don't recommend hiking in the summer, as all trails on the island are challenging and the heat can be fierce. Another thing to note is that all hikes require a guide and some of them have bits of ferrata and rappelling – don't go if you are afraid of heights!
The most popular hike departs from Spalmatore di Terra beach and is a 6-hour hike that goes to Pratone, from where you can enjoy views of the Gulf of Olbia.
Another even more challenging hike goes all the way to Punta Cannone, the peak of the island at 564 meters (1850 feet). Once you reach the peak, you will have unobstructed views of Mount Limbara, Mount Nieddu and even Caprera, in the Maddalena Archipelago, on a very clear day.
For information about hikes, get in touch via email with Tavolara Trekking – [email protected].
Diving and Snorkeling
With clear waters and lots of marine life, Tavolara and its surroundings are incredible places for diving and snorkeling. Teddja Liscia, in the southern bit of the island, Secca del Papa, Molara and Molarotto are the best spots for divers – but they are best enjoyed on a guided dive. Things you can spot other than marine life include archeological remains and shipwrecks.
Several companies run diving expeditions in the area. The most reputable one is Tavolara Diving. You can contact them at [email protected].
Tavolara Film Festival
Taking place each mid-July, Tavolara Film Festival – also known as Una Notte in Italia (A Night In Italy) is a celebration of Sardinian, Italian and international cinema, with a strong focus on younger directors and actors in the gorgeous environment of the island. It usually lasts three days and attracts visitors from the surroundings.
During the festival, additional ferries from Porto San Paolo are available for anyone who wishes to attend.
Practical Information
How to get to Tavolara Island
Unless you have your own boat, you will only have two options to reach Tavolara island.
By public ferry
Ferries to Tavolara depart from Porto San Paolo, a 20 minute drive from Olbia or San Teodoro. The ride takes about 20 minutes. The timetable is as follows:
FERRIES TO TAVOLARA: 9:00 – 9:30 – 10:00 – 10:30 – 11:00 – 11:30 – 12:00 – 12:30 – 13:30.
FERRIES FROM TAVOLARA: 13:00 – 15:30 – 16:30 – 17:30 – 18:30.
Tickets cost €18 roundtrip. You need to call ahead of time to book your ferry ride to the island; while you can pick whichever ferry you wish to get back to Porto San Paolo. For reservations, call +39 3494465993.
Make sure to arrive to Porto San Paolo well before your ferry is scheduled to leave, as depending on the day finding a parking lot can be a hassle (have small change handy to pay) and you will have to stop by the ticket counter to pick up your ticket and pay.
By guided boat tours
Another way of experiencing the island and its surroundings is on boat tours departing from the Marina of Olbia Marina. Tours depart every day at 9:30 am and last approximately 4 hours, with various stops in places where you can snorkel and enjoy the pristine beauty of the island.
Tours start at €89 ($105 USD) and can be booked here, here or here.
For a tour that also goes to Molara, click here.
Services
Tavolara has two restaurants – La Corona and Da Tonino Il Re Di Tavolara, both focussing on Sardinian specialties and serving freshly caught seafood. There also are a couple of kiosks where you can get a drink, a bite or an ice-cream; and toilets free to use for all visitors.
Where to sleep near Tavolara
There are a couple of places on the island that are available for rent, but I have been unable to locate them online. If you want to stay in the vicinity, you can instead opt to sleep in Olbia, Porto San Paolo, or San Teodoro, where you will find plenty of accommodation options and good restaurants.
For hotels in Olbia, click here.
For hotels in San Teodoro, click here.
For hotels in Porto San Paolo, click here.
Where To Get Views Of Tavolara
Tavolara Island can be spotted from many places around the northeastern coast of Sardinia. The following are my favorite spots:
Cala Brandinchi
One of the most beautiful beaches on this coast of Sardinia, Cala Brandinchi offers splendid views over the island of Tavolara. You can read more about it here.
Porto Taverna Beach
This beautiful, family friendly beach is located a short drive from Olbia and San Teodoro. It's equipped with anything you may need for a perfect, relaxing day – from small restaurants serving delicious local dishes, to places where you can rent all sorts of beach equipment. From there, you get unobstructed views of Tavolara island.
Molara Island
This small private island is right next to Tavolara and can only be accessed on guided tours departing from Cala Finanza and organized by Associazione Molara.
You can read more about Molara in this post.
Final Recommendation
Like anywhere else in Sardinia, taking sand, shells or stones from Sardinian beaches in prohibited and should you be caught with it, you may incur in a heavy fine. For more information about Sardinia sand theft and what it implies, read this post.
Pin It For Later!