Are you looking for a fabulous Airbnb Alghero? You are in the right place!
Alghero, Sardinia's Catalan enclave, is one of the most popular tourist destinations on the island. The city is great to visit year round; offering access to gorgeous sandy beaches and small coves – think Le Bombarde and Lazzaretto next door; Mugoni; and Cala Dragunara.
If that is not enough, you'll have all the hiking trails in Porto Conte Nature Park; the beautiful Neptune Caves and Capo Caccia (perfect for diving); archeological sites such as Palmavera Nuraghe, and a gorgeous historic center. Add the incredible selection of restaurants and bars, and the breathtaking sunsets, and it's easy to see why the capital of the Riviera del Corallo (Coral Riviera) receives so much attention.
Accommodation abounds in Alghero, with plenty of hotels and holiday homes. With so much choice, you may feel a bit lost when looking for your Alghero Airbnb.
Don't worry though – I visit Alghero every summer and I am here to help you pick the best place for your holidays, and have selected the best Airbnb Alghero for you. All the properties I mention are listed on Airbnb, some are listed on Airbnb, VRBO and Booking.com. In that case, I have included a link to VRBO and Booking.com as they are my choice for accommodation bookings.
Ready to find out more? Continue reading.
The Best Airbnb Alghero
LOCATION – Outside the center
SLEEPS – 2
SUPERHOST – Yes
This charming studio apartment provides the perfect backdrop to your vacation to Alghero. With space for two guests to sleep, it's great for a couple or solo traveler. There's a well-equipped kitchen to make full use of, and large sliding doors that open out onto a patio area.
Located just outside the historic center of Alghero, within walking distance of numerous eateries, this Airbnb also has space for free parking, meaning you can travel further afield with your own set of wheels.
Pets are also allowed to stay at this Airbnb.
LOCATION – Waterfront
SLEEPS – 3
SUPERHOST – Yes
This fresh apartment has large windows letting in plenty of natural light, making it a bright place to stay. Its interiors feature white-washed walls which are accented with shades of blue throughout.
A modern and stylish place to stay, there's enough room in this apartment to sleep three guests. There's one bedroom, one bathroom, as well as a kitchen and dining area, air conditioning and a dedicated workspace – everything you'll need for a comfortable stay in Alghero. Sitting at the kitchen table enjoying breakfast with views across the sea is magical.
LOCATION – Historic Center
SLEEPS – 4
SUPERHOST – Yes
Boasting incredible views of the sea, this vacation house in Alghero has been decorated throughout with a nautical theme – think white-washed walls and natural tones of blue. With one bedroom and two bathrooms, as well as a kitchen and lounge, there's space for four guests to sleep here.
Bedrooms here have windows that look out over the historic center of town, while there are also two balconies where you can enjoy a sweeping vista of the Gulf of Capo Caccia.
LOCATION – Historic Center
SLEEPS – 2
SUPERHOST – Yes
This is a stylish option for those interested in staying in an Airbnb in Alghero with a difference. It's actually set inside a 14th-century building, with interiors that have been fashionably updated with incredible attention to detail. Historic brickwork remains alongside contemporary furnishings throughout.
The apartment may be compact, but it's a great option for a solo traveler (or perhaps a couple). Location-wise, you'll find this stylish apartment in the center of the town itself – close to plenty of bars and restaurants to sample. It's also just a 10-minute walk from the beach.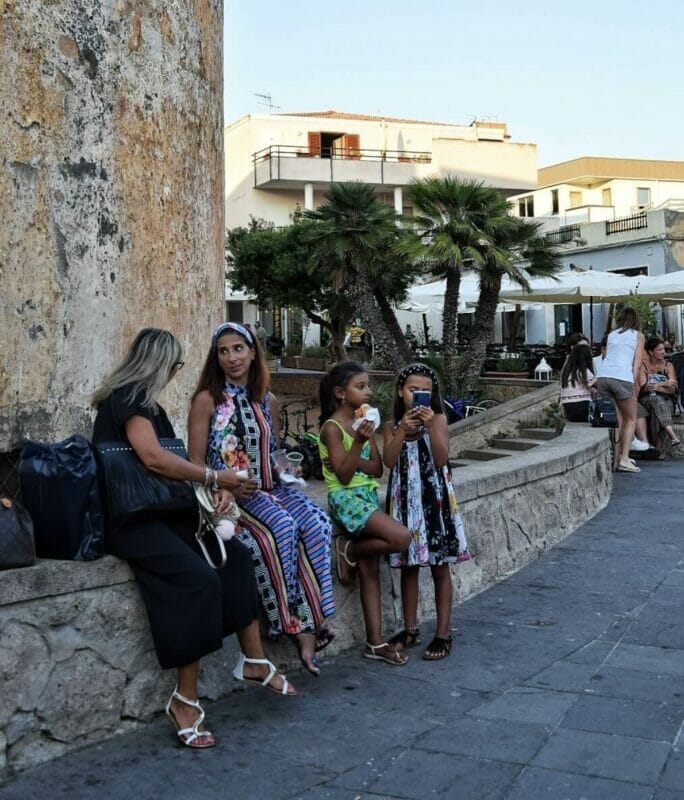 LOCATION – Historic Center
SLEEPS – 3
SUPERHOST – Yes
This Airbnb is a romantic choice – it's a studio apartment situated inside an historic building that has been tastefully renovated. Throughout the Airbnb, its interiors are traditional and polished, with a comfy queen-sized bed and a relaxing lounge area. There are also two large windows that boast views out over the sea.
Located in the heart of the old town, this Alghero Airbnb is in easy walking distance to restaurants and bars. However, the building itself is placed on a quiet street, meaning guests will be able to get a peaceful night's sleep.
LOCATION – Historic Center
SLEEPS – 4
SUPERHOST – Yes
With its minimal and stylish yet traditional decor, this apartment is truly a mix of old and new. It's been in the owner's family since the 1950s, so this is definitely a well-loved family home that's packed full of character.
This spacious and elegant Airbnb in Alghero boasts a fully equipped kitchen, a living room and one bedroom, with enough space to sleep four guests. Windows here look out across the sea, too.
The location is very convenient. It's situated in the heart of Alghero's old town, surrounded by everything from ancient buildings to bars and restaurants.
LOCATION – Historic Center
SLEEPS – 2
SUPERHOST – Yes
Possibly one of the coolest Airbnbs in Alghero, this apartment mixes its rustic period features with a minimalist sense of design, resulting in a very stylish place to stay. It's modern, clean and very comfortable.
Even though it's a studio-style apartment, this Airbnb makes clever use of its space. It's good for a couple, or maybe a solo traveler visiting the town. It's a first-floor apartment, with a door that opens up right out onto the middle of the old town. You'll be within easy walking distance to many of the top attractions in the area.
Fashionable Vintage Apartment
LOCATION – Historic Center
SLEEPS – 5
SUPERHOST – Yes
Another contender for the coolest Airbnb in Alghero, this place really is gorgeous. With unique design flair throughout and amazing attention to detail – combined with original features like stone walls and high wood ceilings – it's like staying in the pages of a magazine.
It's spacious, too. With two bedrooms and room for up to five guests to sleep, it's a great option for families or a group of friends. Both bedrooms even boast their own sea views!
The location is also very good. It's right in the heart of the historic center of Alghero, well placed for catching buses to nearby beaches or simply watching the sunset over the harbor.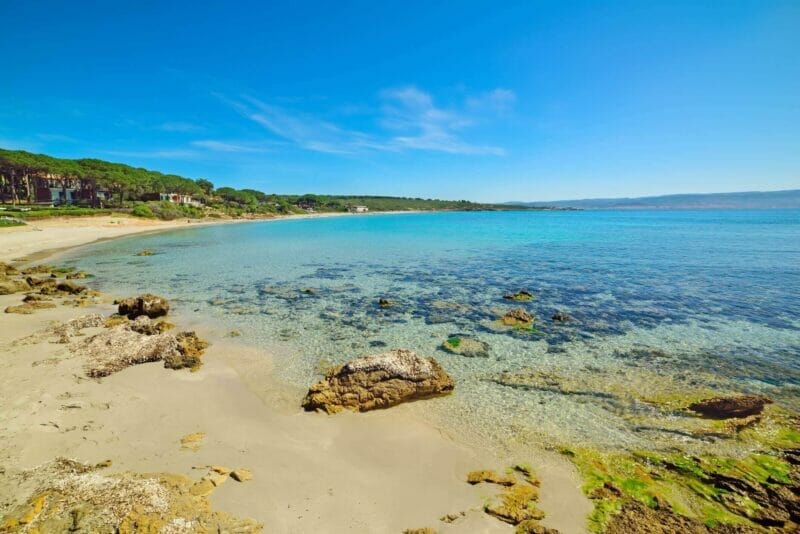 Stylish Historic Flat
LOCATION – Historic Center
SLEEPS – 4
SUPERHOST – Yes
Polished and sophisticated, this apartment is beautifully designed throughout – from its wooden floors to its original wood beam ceilings. Even though it's very stylish, the main event here has got to be the sea views – best seen when the windows are fully open and the sea breeze blows in.
Even though it's a one-bedroom apartment, there's enough room here for up to four guests to sleep here. There's also a fully-equipped kitchen and bright dining area.
Bright Modern Loft
LOCATION – Historic Center
SLEEPS – 4
SUPERHOST – Yes
This modern, minimalist Airbnb in Alghero is a bright and spacious place to stay. With its white-washed walls and chic furniture, it's equipped with everything you need for a comfortable stay, including air conditioning, laundry facilities and a well-stocked kitchen.
There's enough space for up to four people to stay, and space for your pets too (yes, pets are allowed). The apartment is located in a quiet street, close to the main shopping street of the town center, with restaurants and other amenities located nearby.
Further Readings
Make sure to read my other posts:
Pin It For Later!