Are you spending your holidays in Alghero? I am happy for you, this small Catalan city in northwestern Sardinia is a really fantastic destination, with a lot to offer. Have you not found a place to stay in Alghero yet? Don't worry! I am here to help you as I have selected all the best Alghero hotels for you.
Alghero is one of the most popular tourist destinations in Sardinia. The capital of the Riviera del Corallo (Coral Riviera) is a great place to visit year round – yet many opt to go in the summer to enjoy the lovely beaches – Le Bombarde and Lazzaretto; Mugoni and Cala Dragunara to mention a few.
However, the city has much more to offer. If you enjoy hiking and biking, Porto Conte Natural Park has a great selection of trails. Into diving? Head to Neptune Caves and Capo Caccia (which is also a perfect sunset spot). And if you are into history and archeology, the historic center or Nuraghe Palmavera, a bit outside of town, will have you wowing.
Ready to book your holiday? Great, because below are the best Alghero hotels for your perfect trip. I have selected something for any budget!
The Best Alghero Hotels
Located about 5 km from the city center, this hotel is one of the best places around. It rooms are big and equipped with private bathrooms and everything you would need, plus a view of the beautiful Sardinian mountains. There is an outdoor pool and two tennis courts.
The buffet-style breakfast is included and they offer a shuttle bus service for both airport pick up and drop off and to the city center. For those of you renting a car for your trip to Sardinia, you will have free parking and the total freedom to choose what beach to visit every day: everything will be in the palm of your hand, less than 5 kilometers away.
This guest house is right by the sea, only 50 meters from Alghero Marina beach. It offers an airport shuttle bus and is located less than 1 km from the train station. It's the ideal place for a family vacation as rooms are massive and there even are whole apartments for rent. Breakfast is not included. Free private parking available.
700 meters away from Alghero Port, this is another seaside accommodation. The rooms are big and bright, but the special thing about this place is the bathrooms setting. As the name suggests, it will remind you of a starry sky and it is, indeed, very suggestive.
The hotel offers a parking service, but you need a reservation and some extra fees might apply depending on the availability and length of stay. There is, unfortunately, no shuttle bus service, but you aren't far from the train station, so that's not a big deal.
Another great hotel in a great location. It's only a ten minutes' walk from the harbor and it's surrounded by shops and tourist attractions. The rooms are all decorated with a Sardinian decoration style, they are wide and bright and with free Wi-Fi. Room service is available, as well as an airport shuttle bus service. There is a small swimming pool on their terrace. Breakfast is included.
Located next to the Lido di San Giovanni beach and ten minutes from the city center, this is another hot spot for tourists. Breakfast and a swimming pool are included, while parking service costs 15€ per day. The modern rooms, all equipped with private bathrooms and free Wi-Fi plus many other comforts, are quite bright and wide and, if you're lucky, have a beautiful sea view.
This bed and breakfast is located in the historic old town and offers a pretty internal garden, free breakfast, and a beautiful seaside view: it is, in fact, close to most of the beaches in the area. The rooms are big and cozy and offer any comfort you would think of for a B&B, which is, incidentally, also very close to the train station. There is no pool or shuttle bus and parking services but the price is so convenient that you can definitely overlook that.
This guest house has been recently renewed and is only 250 meters away from the beach, in one of the most served areas in Alghero. Every room has a balcony or terrace and a private, external bathroom, plus Wi-Fi, air conditioning, and a coffee machine. Free parking is available on site. Breakfast is not included, but there is plenty of cafés and restaurants nearby.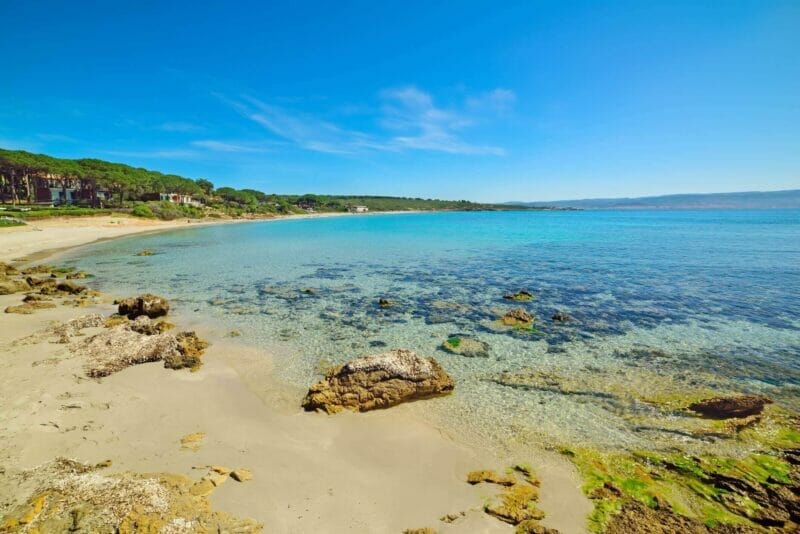 This apartment is located next to the Lido di Alghero Beach and has every comfort a deluxe apartment could have, including free Wi-Fi, a patio with a garden, stunning sea views, and much more. You will also have your own parking spot and can reach the train station with a short walk. It has two rooms and a bathroom, so it's the ideal place for a small family or a group of friends.
This is a bigger apartment (3 rooms, 4 bathrooms) located less than 1 km from Alghero Marina beach. It offers a terrace, free Wi-Fi and free parking; you will have both mountain and sea views thanks to its position, and you will be able to reach the train station and many shops and restaurants in a very short time. The apartment is equipped with a washing machine, a dishwasher, and a microwave, plus a refrigerator in each room!
I hope this list of Alghero hotels is helpful! Alghero has plenty of accommodation options, anyway, so I'm sure you will not have a hard time finding the perfect one.
Further Readings
For more information about Alghero, make sure to read my other posts:
Pin It For Later!