Known to be one of the most beautiful villages in Italy, Bosa, Sardinia counts no more than 8500 inhabitants, colorful buildings, a hilltop castle and a river flowing right through the village. It's honestly so scenic that you really should not miss it if you happen to visit Sardinia.
Some go there on day trips from Alghero, but I recommend spending a couple of days as the atmosphere is completely different and you will definitely enjoy it.
This post will highlight the things to do in Bosa and share some useful information to plan your trip. Before doing that, let me share a few historical facts.
A Brief History Of Bosa, Sardinia
Founded during Phoenician times, Bosa prospered during the Roman Empire. In the Middle Ages it was invaded by Arab pirates several times until eventually in the 12th century the Malaspinas built a hilltop castle that proved vital in defending the town.
The Savoys arrived in Bosa in the 19th century and established tanneries businesses which proved very lucrative. The former tanneries can still be seen but the actual economic activity has been abandoned.
The castles and the tanneries I have just mentioned are obviously places you should visit when in Bosa, but they are not the only ones.
Continue reading to discover what to do in Bosa, Sardinia.
Tight on time? Consider taking this guided day trip from Cagliari to Bosa. You can check it out here.
11 Things To Do In Bosa, Sardinia
Visit Malaspina Castle
If Bosa is only a quick stop to you during a road trip across the island, and have time to visit just one place, head directly to Malaspina Castle.
Built in 1112, at the time when the Malaspinas moved to Sardinia from Tuscany, there isn't much of the original structure of the castle anymore – but the watchtowers and the walls are a nice sight, and so are the remains of the 14th century chapel, Nostra Signora di Regnos Altos, where you can admire a 14th century fresco of the lives of saints and martyrs such as St. Lawrence and St. Christopher.
Yet, I think that what makes it worth visiting is the incredible view you get from there.
The castle is open every day but opening times vary with the season, so you may want to call the number of the association managing the site to verify –  +39 340 395 5048 +39 329 850 507. There is a small fee to access.
Check out my post The Most Captivating Castles In Sardinia.
Browse the churches
For as small as it is, Bosa has a good concentration of beautiful churches and you should make sure to visit at least one. I can only name a few churches in this post, but if visiting churches is your kind of thing, make sure to do a bit extra research and I promise you won't be disappointed!
The Cathedral of Bosa was built in the 19th century over the remains of a Romanesque church. In Rococo style, the most admirable piece inside is the marble altar and the frescoes painted in the 19th century by Emilio Scherer.
Another nice church to visit is the one dedicate to Sant'Antonio the abbot. It's located on the southern bank of Temo River, once you cross Ponte Vecchio. The church is rarely open – you can visit during Sant'Antonio Abate festival on 16 and 17 January and during Carnival. Unless you are in Bosa on one of those days, you will have to make do with taking a quick snap from the outside.
Finally, at about 2 km outside the village and walking upstream you will find San Pietro Extra Muros church. This cathedral was built in 1073 and is among the oldest Romanesque style churches on the island.
Check out my post The Most Beautiful Churches in Sardinia.
And the museums
Bosa has a couple of good museums you may want to visit. I am pointing out their opening times but do make sure to double check that they are open if you are visiting in the winter months. You may want to call these numbers for more information +39 785 374 258 or +39 348 154 4724. There should always be someone able to speak at least some basic English.
The best one if by far Museo Casa Deriu, located in a 19th century building and with a collection of local crafts. Each floor focuses on a different historical period.
On the first floor you will find temporary exhibits. The second one is all about decor and contains original furnishing of Casa Deriu (the name of the building where the museum is located); the third floor is an art gallery and exhibit of paintings of Melkiorre Melis, one of Sardinia's most acclaimed painters.
The museum is open from Tuesday to Sunday from 10:00 am to 1:00 pm and from 5:00 to 8:00 pm. Admission includes a ticket to visit Pinacoteca Atza.
Another interesting museum in Bosa is the Museo delle Conce. It is located in the former tanneries (which were used until WWII) and it is meant to provide insights on how the tanneries work. You will see original stone tanks used to wash the leather and a photo exhibit illustrating the tanning process.
The museum is every day from 10:00 am to 1:00 pm and from 5:00 to 6:00 pm. There is a small admission fee.
Attend the festivals
Bosa is home to some very interesting festivals – the biggest one being Carnival. If you happen to be in Sardinia during one of them make sure to attend – these festivals are mostly for locals and (at most) for local tourists, so you can get a real experience away from the main tourism circuit.
Carnival is very much celebrated in Sardinia. From celebrations such as the Sartiglia in Oristano to those of Mamoiada, visit Sardinia during that time and you will have a great choice of events.
Bosa Carnival is quite big, but not nearly as touristy as that of other places (such as Mamoiada). Is starts with the burning of a pyre right in front of Sant'Antonio Abate church. The parades culminate in the celebrations of martedì grasso (Shrove Tuesday).
That's when people dressed in black will walk around pretending to cry for the end of the Carnival. On the same day, in the evening, people dressed in white will hunt the giolzi – a manifestation of the carnival thought to hide in people's groin. I won't spoil it for you and won't tell you how the giolzi are caught.
Another interesting festival, this time taking place in the first week of August, is Santa Maria del Mare. That's when a procession of boats takes the statue of the Virgin Mary from Bosa Marina all the way to the Cathedral, amidst fireworks, traditional dances and songs. It's hardly known to tourists, so quite a treat to experience it.
Finally, if you happen to be in Bosa during the spring, you may want to attend Bosa Beer Fest to try various kinds of Sardinian craft beer.
Check out my post The Best Events And Festivals In Sardinia.
Enjoy local specialties
Bosa is famous for the production of Malvasia, a dessert wine. You can easily get it in one of the many bars in town, but I recommend going to one of the local vineyards for a tasting tour and to discover how it is made – just enquire at your hotel for the best place to do that.
Care to try local products and wine? Why don't you consider this aperitivo among olive groves tour then?
Spend a day at the beach
As any proper coastal towns, Bosa is home to a few good beaches where you can enjoy a day in the sun and swimming in the clear waters. The beaches aren't easily accessible – other than that of Bosa Marina.
Cumpultittu is my favorite one. It's a small cove of white sand nestled among beautiful rock formations. You have to hike on a narrow trail to get there, so many sure to wear shoes!
Take a boat or kayak tour
Whether you want to visit the coves around Bosa, or would rather go along the river, you can do that in Bosa.
The Temo River is the only navigable river in Sardinia. A boat trip along the Temo usually starts from the estuary situated in Bosa Marina and reaches San Pietro Church and the remains of the Roman Bridge (where Bosa Vetus, the Roman city, used to be) after about 6 km. You will get to see Bosa from a different perspective; admire the old tanneries; the 19th century buildings surmounted by the Medieval district and the Malaspina castle.
Boat tours along the coast typically start in Bosa Marina and from there reach Capo Marrargiu, where you can visit a small cave. Along the way, you can see several small coves such as Cala rapina, Cala 'e Moros, S'Abba Druche, Torre Argentina, Tentizzos. You will be able to swim at Porto Managu and Cumpoltittu.
For a snorkeling expedition to Capo Marrargiu, click here or here.
If you'd rather join a tour directly from the village, consider Malesh Tours: boats depart right by the Old Bridge and cost between €10 per person for the river tour and €30 per person for the coast tour. For more information, click here.
Finally, you have the option of renting a kayak to go alone the river Temo. For more information, click here.
Go to Cane Malu
Cane Malu deserves a separate mention as it is not a beach proper. This natural pool has been carved in the white trachyte rock that is found in the area of Bosa, and can only be reached on foot. You will need rock sandals to get there, as it can be slippery. I recommend wearing them to also get in the water, as there may be sea urchins.
Some people enjoy jumping right into the natural pool but you can be low key and just slowly get there.
Don't swim in Cane Malu when the currents are strong and the sea rough, as it can be very dangerous!
How to get to Cane Malu
From Bosa Marina, follow the signs to Alghero and take the road to Sas Covas. Park your car at the end of the marina and walk from there. The trail is easy to follow. and you'll get there in about 15 minutes.
Or hiking
Speaking of walking and trails, if hiking is your thing you will find a choice of hikes and birdwatching opportunities in Bosa. Capo Marrargiu Bio-marine Park and the Nature Reserve of Badde Aggiosu, Marrargiu and Monte Mannu are the best places for that.
One of the nicest hikes is the one going to Managu Beach – which is the result of a volcanic eruption. On a clear day, you can see all the way to Capo Caccia in Alghero!
Another nice hike is the one to Torre Argentina. You have to start walking from the parking lot located on the left side along Provincial Road 49 (the one connecting Bosa to Alghero). The trail is easy to follow and you will go along some unique and ancient volcanic formations to get to a watchtower from where you can enjoy splendid views.
Make sure to read my post The Best Hikes In Sardinia.
Visit a Nuraghe
Sardinia is a land of nuraghe, unique archeological sites mostly dating to Bronze Age you won't find anywhere else. There are a few nice ones you can visit at a short distance from Bosa. Nuraghe Santa Cristina is a single tower construction of about 7 meters located close to State Road 131 on the way to Bosa, beautifully immersed in an olive grove. There you will be able to see a well preserved well temple accessible through 24 steps.
Another easily reached nuraghe is Losa, which dates back to around 1500 BC and has a central tower of about 13 meters.
Go to Cuglieri
One of the nicest small towns you can visit from Bosa is Cuglieri. The complete lack of tourists, the location on the hills at 500 meters above sea level, the view of it you get along the drive from Bosa make it a really scenic place. The main sight is the Basilica di Santa Maria della Neve. Don't miss the views of the sea from the village itself.
Useful Information To Plan Your Visit To Bosa, Sardinia
Accommodation in Bosa, Sardinia
Bosa is a really small town but there are some nice accommodation options. You can stay in the village so that you can enjoy its historic charm, or opt to stay closer to the beach in Bosa Marina. There are more restaurants in the village.
I have selected a few good places to stay for you: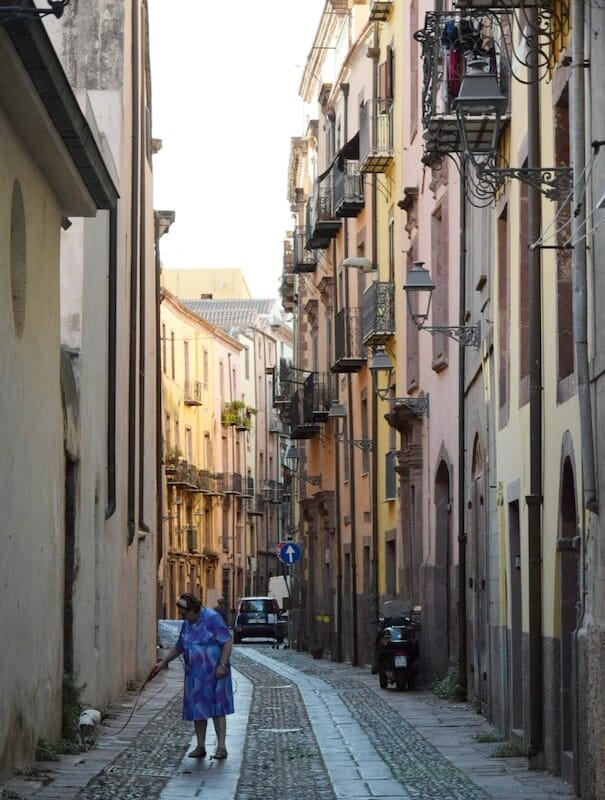 Getting to Bosa and moving around
Bosa is close to Alghero, whose airport has regular flights from various destinations in Italy and Europe. You can get from the airport to Bosa by bus – there are 5 daily buses and the trip takes about 90 minutes. There are two daily buses from the center of Alghero to Bosa.
I actually recommend renting a car for your trip, especially if you intend to move around a bit and explore the surroundings and other places in Sardinia.
You can check the prices and book your rental car here.
Once in Bosa, moving around is extremely easy at the village is small.
Best time to visit Bosa, Sardinia
You can go to Bosa throughout the year, but if you want to see it at its best go in the summer months – it's when it is going to be busy but it will never feel overwhelmingly crowded. That's also the festival season!
Further Readings
For more readings about Sardinia, make sure to check my other posts:
Pin It For Later!