If you are planning a holiday on the north-western side of Sardinia, you'll probably land in Alghero Fertilia Airport, one of the three airports of Sardinia together with Cagliari Elmas, which serves the south of the island, and Olbia Costa Smeralda, which serves the northeast of Sardinia.
Alghero Airport is only about ten kilometers (6.2 miles) away from the city center, in a small town called Fertilia that was founded during the Fascist regime, but you might need some tips on how to get there, right? I'm here to help you. Let's see the options you have and which one works best for you.
Make sure to also read my post Which Are The Airports In Sardinia?
How To Get From Alghero Airport To Alghero
By Car
If you are planning a longer trip to Sardinia rather than just a weekend getaway, the best way to get around Sardinia is definitely by car.
The rent-a-car offices are located right outside the arrivals' gate, and the staff will help you pick the car which best suits your needs and accompany you to the car parking to pick it up. However, it's best to book your car in advance to avoid excessively high fees or having to drive a car that you don't like – and this is especially true if you are traveling in the peak summer months.
Check the prices of car rental in Sardinia here.
Once you have picked up your car and checked if everything is alright, you just need to drive to Alghero. Take SP 44 to Alghero, then turn left and take SS 291dir. Keep driving for about 15 minutes and, at the first roundabout, take SP 42. Follow the road and you'll find yourself in the city center.
Make sure to also read my post A Guide To Renting A Car In Alghero.
By Public Transportation
The only option to travel between Alghero city center and Alghero Fertilia Airport by public transportation is the bus service. Indeed, Alghero Airport is not served by trains.
The ARST bus stops are located about 150 meters (492 feet) from the Arrivals' exit doors and there is a bus leaving approximately every hour. The journey takes between 20 and 30 minutes, depending on the traffic. You can buy tickets on the automatic vending machines inside the airport and at the bus stop, online on the ARST website, and in some tobacco and lotto shops – there will be one inside the airport terminal too. Tickets are €1,00.
The last stop is Via Catalogna in Alghero.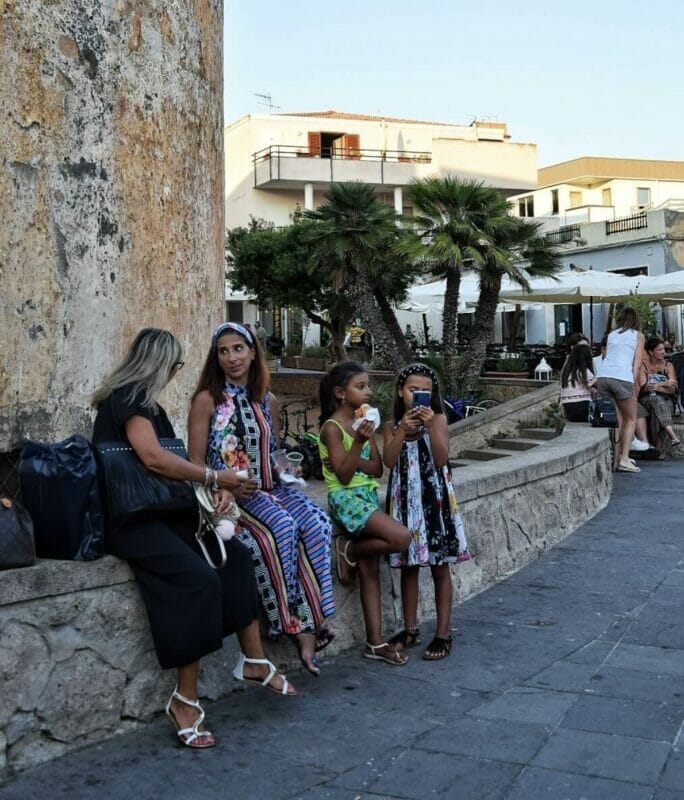 By Taxi
This is the most comfortable way to get to the city center. There isn't any flat fee, but you will be looking at a starting fee of €25 during the day, which can vary depending on the number of people traveling and on the amount of bags. There is a 40% surcharge for night rides, between 12:00 am and 7:00 am.
The journey takes around ten to twenty minutes depending on the traffic and your final destination (hotel, harbor, center, etc.).
You will find the taxis right outside the Arrivals' exit doors. Like other taxis in Italy, official taxis in Alghero are white and have a bright taxi sign on their roof.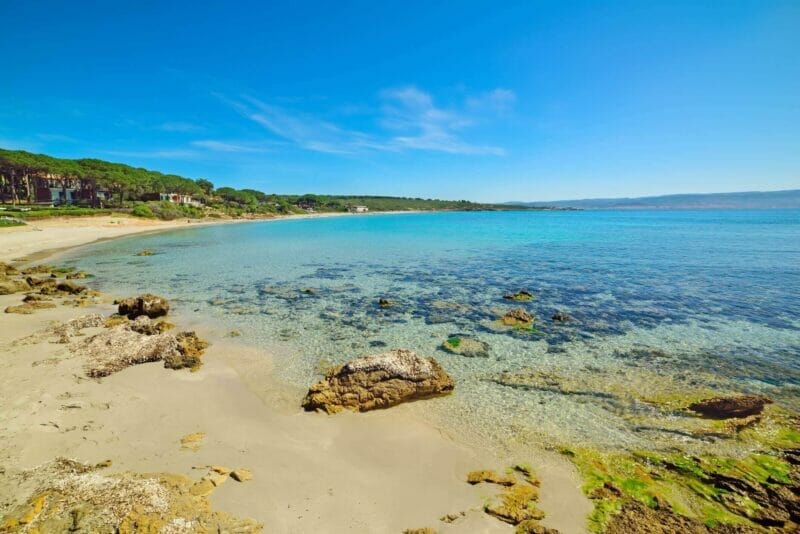 By Shared or Private Transfer
If you are traveling in a group and have lots of luggage and want to avoid any surprise, a transfer is definitely the best solution to get from the airport to the city center. You have the option of picking a shared transfer, which departs at fixed times from the airport; or a private one which will depart as soon as you board.
Private transfer can cost between €50 and €100, depending on the number of passengers and on the car you pick.
The most reliable booking site for airport transfers in Sardinia is AirportTransfer (yes, the name is that easy!). They work with local companies and are incredibly reliable, they select English speaking drivers, well-kept cars, and booking with them you will be able to count on 24/7 customer service and free cancellation. And don't worry, the prices are actually very reasonable. You can book your private transfer from Alghero Fertilia Airport here.
You can also book your private transfer here or here.
Shared transfers are in the range of €19 to €31 and are run by either Sardabus (the cheapest option) or Turmo Travel.
You can book your transfer with Sardabus here.
For transfers with Turmo Travel click here.
Another idea may be to ask your accommodation to arrange a transfer for you – most hotels offer this service for an additional feel.
Although Alghero city center is not far from the Alghero Airport, the trip might take some time because of traffic, especially during summer, because the area is extremely popular among tourists. Don't let the traffic jams intimidate you and enjoy your time in one of Sardinia's most beautiful cities!
Further Readings
These other posts may come in handy when planning a trip to Sardinia:
Pin It For Later!