With incredible sandy beaches with the clearest waters and the Marine Protected Area of Capo Carbonara that is a paradise for diving, Villasimius is one of the best summer holiday destinations in southern Sardinia. Add to that the hiking trails, the archeology museum, the ruins of the Fortezza Vecchia, and you will want to go.
The good news is that there many good resorts where you can stay, but if you'd rather opt for a more budget friendly holiday home, you have probably searched for Airbnb Villasimius – and have been scratching your head ever since, unable to decide where to stay.
Don't worry though – I have been going to Villasimius every summer since I was born as it is right next door to Costa Rei, and I truly know it well. So, I can help you pick the best location for your holiday needs, and choose a great Villasimius Airbnb where you can completely relax without having to blow your budget.
Ready to find out more? Continue reading.
Villasimius: A Quick Overlook
Villasimius is a fairly small village – less than 4000 people live there throughout the year. Comes summer however, and the population swells to more than 10000, with tourists crowding the beaches, the streets and the restaurants of the village, and its best accommodation.
In terms of location, you mainly have two options:
THE VILLAGE – You will be walking distance from the shops, markets, restaurants and bars; but you will have to bike, drive or take a quick bus ride to the beach.
THE BEACH AREA – Closer to the beaches, you have plenty of holiday homes to pick from, but you will need to drive your car to town in the evening as the restaurant choice is a bit more limited closer to the beach.
TIP: Book your Airbnb Villasimius well in advance. This is a popular place and the best rentals get booked by January!
Finally, continue reading for the best Airbnbs in Villasimius. All the properties I mention are listed on Airbnb, some are listed on Airbnb, VRBO and Booking.com. In that case, I have included a link to VRBO and Booking.com as they are my choice for accommodation bookings.
Airbnb Villasimius: The Best Holiday Rentals
Fabulous apartment with amazing view
LOCATION – Village
SLEEPS – 4
SUPERHOST – Yes
This apartment really does have an amazing view. Complete with its large balcony, guests staying at this stylish Villasimius Airbnb can enjoy a sweeping vista of the nearby mountains. Inside, the villa is compact and modern, with bright white walls and bright color pops of turquoise.
There's a fully-equipped kitchen, a lounge, one bathroom and a mezzanine floor bedroom, as well as a separate bedroom too. There's enough room for up to four guests to sleep here. The location is tranquil and convenient – it's situated in a quiet residential neighborhood, but still just a short walk from the town center.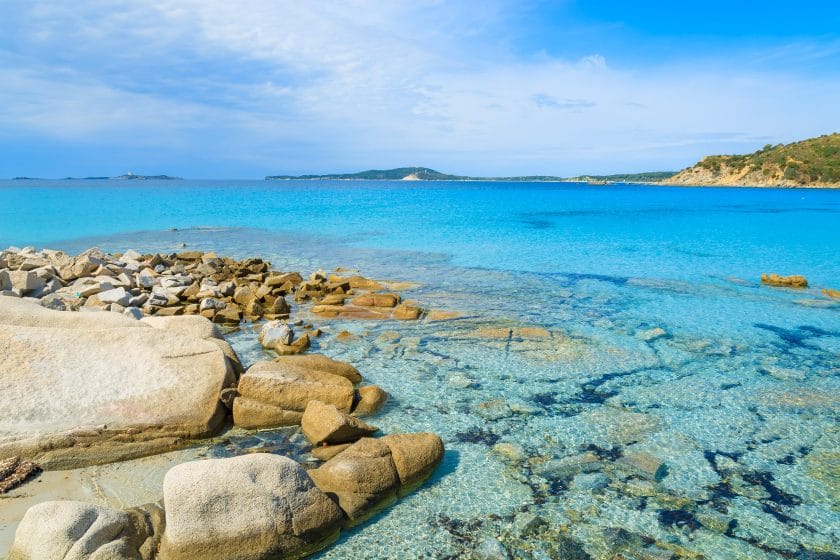 Small cozy beach house
LOCATION – Beachfront
SLEEPS – 2
SUPERHOST – Yes
This Airbnb is located only 300 meters from the white sand of one of Villasimius' beaches. It's a particularly great Airbnb option for a couple who want to while away lazy days by the sea. Spread across two floors, it's a spacious house merging traditional with contemporary interiors.
One of the best things about this place is the charming terrace – this lush Mediterranean setting is the ideal spot to enjoy a meal and a glass of wine or two as the sun sets. And if that wasn't enough, there's also a sizable garden where you can catch a glimpse of the sea over terracotta tile roofs.
LOCATION – Village
SLEEPS – 4
SUPERHOST – Yes
For those looking for a modern, minimal style in their Villasimius Airbnb stay, look no further than this stylish home. Set in a fully renovated historic cottage, the interiors boast clean lines, contemporary furnishings and colorful artwork.
Stylish throughout but family-friendly, guests will be able to make use of the two bedrooms (sleeping up to four guests), as well as a fully equipped kitchen and garden with views of the town. The sunsets are particularly stunning from the balcony.
From here it's just a five-minute walk to the bars, cafes and restaurants of Villasimius' historic center.
Apartment with stunning sea view
LOCATION – Village
SLEEPS – 3
SUPERHOST – Yes
This is a fantastic studio apartment that comes with everything you'll need for a fun stay in Villasimius. Located a mere minute's stroll from the center of town – and everything it has to offer – the apartment sleeps up to three guests, with one bedroom and one bathroom. It's great for a couple or young family.
One of the best parts of this beautiful Villasimius Airbnb is the balcony, which boasts sea views. As for the beach, it's around a 15-minute walk from the studio apartment. The apartment also has air conditioning, while there's free parking next to the building too.
Beautiful Holiday Villa
LOCATION – Beachfront
SLEEPS – 3
SUPERHOST – Yes
This spacious family home in Villasimius is perfect for a vacation. It's even pet-friendly, so if you're traveling with your pooch there's space for them, too! The charming villa is situated in a relaxing spot, but it's still just a few minutes' walk to the beach making it great for days spent by the sea.
The views from the windows take in the surrounding natural landscapes and the bright blue sea beyond. It also comes complete with access to a shared swimming pool, plus its very own outdoor terrace, which boasts an outdoor kitchen and oven.
LOCATION – Beachfront
SLEEPS – 4
SUPERHOST – Yes
With enough room to sleep up to four guests across two bedrooms, this stylish villa is a good option for a family or group of friends looking to kick back in Villasimius. It's a traditional home, but it's equipped with all the modern conveniences you'll need for a great vacation.
Easily one of the best Airbnbs in Villasimius, it's even got its own garden which is perfect for children to run around in. In addition, it also has a large covered terrace, which is just asking for long lunches and evening meals to be enjoyed in its magical setting.
LOCATION – Beachfront
SLEEPS – 6
SUPERHOST – Yes
Located just 150 meters from the beach, this is another great Airbnb in Villasimius for families – up to four adults and two children can comfortably stay here, with two bedrooms and two bathrooms. There's also a well-equipped kitchen, laundry facilities, and air conditioning.
This villa also boasts its own terrace with a garden too. Throughout, the house is decorated with vintage pieces and a color scheme that matches its seaside setting. A lot of thought has gone into making this a stunning place to stay.
Pets are also allowed to stay at this property.
LOCATION – Between the village and the beach
SLEEPS – 4
SUPERHOST – Yes
Recently renovated, this traditional townhouse has been lovingly decorated with calming interiors. It features enough room for up to four guests to sleep, with two bedrooms and one bathroom, as well as a kitchen and lounge area.
The location in a quiet residential area, 300 meters from the beach, means that guests will be able to soak up sweeping views of the sea down below. Guests can also enjoy sunning themselves on the terrace, or cooking evening meals in the outdoor oven.
Small sunny apartment
LOCATION – Village
SLEEPS – 3
SUPERHOST – Yes
This duplex is a great option for a budget Airbnb in Villasimius. Situated only a two-minute walk from the center of town, steps from supermarkets, bars, and restaurants, it's a convenient place to stay.
Inside, the apartment sleeps up to three guests, but with only one bedroom it could be a good option for a couple or solo traveler.
The interiors are traditional, decked out with terracotta tile floors, wood beamed ceilings and white-washed walls. There's also a balcony overlooking a courtyard – a charming spot to sit out with a glass of wine.
Contemporary minimal apartment
LOCATION – Village
SLEEPS – 4
SUPERHOST – Yes
With its neutral tones and minimalist style throughout, this brand-new flat is a stylish place to stay – a great option for a couple looking for a modern Airbnb in Villasimius. One of the best things about it is the spacious terrace, where you can soak up the last of the evening sun with views out over the mountains.
Location-wise, this Airbnb is in walking distance to numerous restaurants, making it great for those who want to explore the town's gastronomic scene.
Further Readings
Make sure to read my other posts:
Pin It For Later!