Are you looking for the most beautiful beach resorts in Sardinia for the most memorable holiday? Lucky you! Sardinia has more than one claim to fame, but the beaches really are one of Sardinia's main crowning jewels.
From the turquoise and emerald waters in the Northeast of Costa Smeralda and the idyllic coves in Costa Smeralda to the sprawling natural beauty of Monte Turri, Sardinia is famous for its beaches. To top it off, the sand is snow-white, and the Mediterranean sea is pristine.
However, when you're trying to decide among the nicest beach resorts in Sardinia… hello, headache! It's a dizzying swirl of comparing the fantastic with the phenomenal, looking at luxury villas that have a seemingly endless selection of activities to reviewing spacious bungalows nestled in resplendent gardens. Trust me; this isn't hyperbole. The beach resorts in Sardinia truly are lavish and lustrous. They are downright dreamy!
That's why I decided to create this blog post about the best beach resorts in Sardinia. I have had the pleasure of staying at the majority of them, and am bursting with excitement to share my heavenly experiences with you all.
Continue reading for my selection.
11 Incredible Beach Resorts In Sardinia
Forte Village Resort
There's a saying at Forte Village that goes, "Here at Forte Village, you'll want for nothing." Preach it! They really do keep that promise to their guests. Forte Village is located on the south coast of Sardinia in Santa Margherita di Pula. In fact, Forte Village has been awarded the best resort in the world designation. That's right. That isn't a "best pie in town" type of award, the best resort in the world designation is a colossal award that isn't given away lightly. Forte Village lives up to that award— and more!
Situated in 50 hectares of gardens and beachfront, Forte Village is pure luxury. It's also a marvelous hotel to take your family to, as there are tons of facilities and activities catered towards babies, children, and teenagers. As a matter of fact, Forbes announced that Forte Village is the World's Leading Resort in the category of Best Family Resorts. Pretty Impressive, Forte Village!
There are actually eight different luxury hotels on the property that fall under the Forte Village Resort umbrella, ranging from three stars to five stars. There are also 13 private villas and 40 suites so that you can choose precisely the right room to accommodate your budget and suit your style.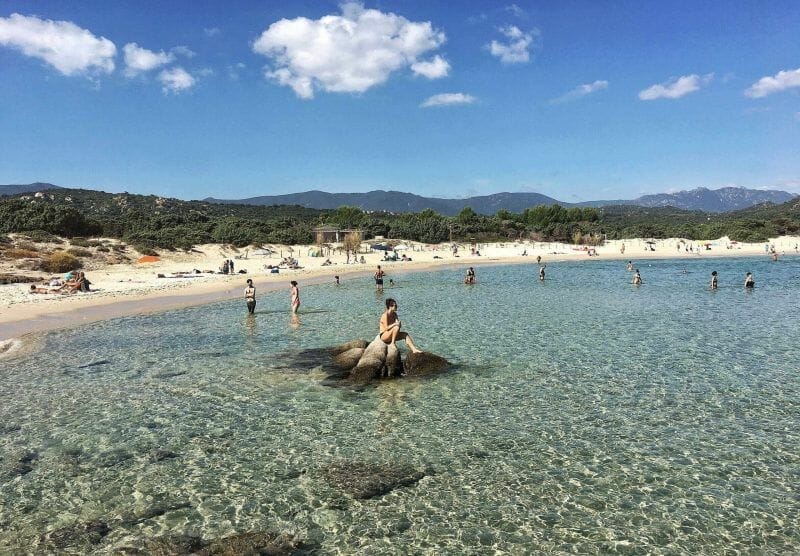 IGV Club Santa Giusta
The IGV Club Santa Giusta is hands-down one of the best beach resorts in Sardinia. Situated on the southeastern coastline of the island, near the popular holiday destination of Costa Rei, the IGV Club Santa Giusta is where to be. In fact, it is just a stone's throw away from Costa Rei Beach and Santa Giusta Beach. There's also a small swatch of beachfront property that is private to the IGV Club. Moreover, every room has a tranquil private balcony or patio and was designed with Sardinia's signature Mediterranean architecture in mind.
The hotel's property is expansive, complete with tennis courts, a football pitch, a volleyball court, three bars, and a disco. I think it's particularly darling that children have their own mini-club too! Plus, teenagers have a multimedia room to enjoy that includes plenty of video games, TVs, and music. The amenities at the IGV Club are vast and beyond thoughtful!
When I stayed at the IGV Club, the wild lilies were in bloom— it was a veritable slice of Sardinian paradise.
Make sure to read my post The Inside Scoop And Best Kept Secrets: Costa Rei In Sardinia.
Villas Resort Hotel
The Villas Resort Hotel is just a brief ten-minute walk from the Santa Giusta Beach, just one kilometer from the popular beach of Costa Rei, and definitely one of the most incredible beach resorts in Sardinia. And if you don't feel like walking the 500 meters to the beach, the hotel is happy to shuttle you over there.
It's a mid-size hotel with 73 rooms that isn't over-the-top or ostentatious. It has almost an understated elegance. It's definitely an upscale hotel, with choice amenities and furnishings. However, it doesn't have that glitz and glam vibe that some of the other beach resorts in Sardinia have.
There is a casual restaurant, plus a beach bar and an indoor bar available. Furthermore, you can expect stellar gym and sports facilities, including a pool, hot tub, and spa.
So, if you and your friends like a low-key, laid-back, mellow vibe while being surrounded by understated refinement, this is the beach resort in Sardinia for you!
Colonna Resort
Ever wondered what it feels like to be treated like a celebrity? Find out at the Colonna Resort! Situated in the world-renowned town of Porto Cervo, the Colonna Resort is immersed in a 50,000 square meter natural park that is directly opposite of their very own private beach. There are also seven different seawater swimming pools to take advantage of, as well as a gym, spa, and wellness center, golf driving range, and multiple tennis courts.
The Colonna Resort is one of the most exclusive resorts in Costa Smeralda— the infamous Emerald Coast that has been often described as a billionaire's playground. When staying here, you might find yourself glancing at a movie star across the dining hall, or floating by a famous musician in the pool.
To distill it down to one sentence – absolutely every corner of this resort is aglow with grandeur.
Sigillum Monte Turri Resort
Sigillum Monte Turri Resort dwells amidst 60 hectares of private park in Arbatax. This resort is also just a couple of minutes walk away from the sparkling blue waters of the Spiaggia Le Palme beach. The unique Red Rocks Beach is also just 3,000 feet away! Lastly, this resort does have a dedicated area on the Lido di Orrì beach, where sunbeds and umbrellas are available for their guests.
This resort is a complete hidden gem. It's like a secret garden of Eden in the middle of this protected Sardinian park. Sardinia is brimming with wild and rich natural beauty — and to be nestled right among it only enhances the tranquil ambiance of this hotel. It feels authentic and pure. Plus, since you are perched above the water, the panoramic views of the sea are positively astonishing.
Geovillage Sport and Wellness Resort
Although the Geovillage Sport and Wellness Resort in Olbia isn't exactly a beach resort, it's so spectacular that I just couldn't stand not including it on the list. Plus, it's less than two miles from the beach, so it's close enough to kind of count, right?
Regardless, the Geovillage Sport and Wellness is appealing on so many levels. It's a lofty, regal hotel that provides excellent value for your money. Expect each night's stay to come in hundreds of dollars less than some of the other resorts on this list. If you're looking for a more budget-friendly resort experience, the Geovillage Sport and Wellness Resort might be right up your alley – especially since it puts you close to the opulent Emerald Coast too!
Olbia airport serves the infamous Costa Smeralda. The Geovillage Resort is just a quick 12-minute drive from the Olbia Airport, and less than two miles from the Olbia Harbor, the Archeological Museum of Olbia, and San Simplicio Church.
However, let's get specific about the Geovillage Sport and Wellness Resort. This resort has a total of 254 rooms, ten tennis courts, two swimming pools, and a techno-gym. After a hard workout, why not relax in the wellness center, where you can soak in the hot tub, sit back in the sauna, or unwind in the Turkish baths. Sign me up!
The resort is tucked away from all the hustle and bustle of Olbia in a secluded green valley. You'll feel pampered in this sensual, deluxe resort that puts your health, wellness, and happiness at the forefront of your stay.
Chia Laguna Resort
Chia Laguna Resort sits on the southern coastline of Sardinia, near Chia beach on a road named Viale Belvedere. Even the location itself sounds romantic and posh, doesn't it? Chia Laguna is one of the most exclusive resorts in Sardinia; it is Italian hospitality and grandeur at its finest. I mean, this resort is truly visionary!
Moreover, Chia Laguna was awarded the "Best Family Resort in the Mediterranean" by the World Travel Award in 2014. It also was awarded "Italy's Leading Family Resort" in 2018 and "Seven Stars Family Resort" in 2019. If you're traveling with your family, there are extensive facilities and programming available to make your stay exceptionally pleasant, convenient, and comfortable.
For dedicated sea lovers who want every whim attended to, who want the privacy to enjoy the sea's caress, who want to take part in exclusive experiences — this is the place to be. Fit for a king, but ready for you and your family, Chia Laguna is the pinnacle of Sardinian beauty and hospitality.
Make sure to read my post The Best Resorts In Chia.
L'Ea Bianca Luxury Resort
L'Ea Bianca Luxury Resort lies in Cala dei Ginepri in the northeast of Sardinia, close to Costa Smeralda. Just around the bay from Cannigione, and a handful of kilometers from Porto Cervo, L'Ea Bianca couldn't be in a better location. Perched on a gentle hillside overlooking the peaceful Cala Bitta beach, L'Ea Bianca offers views of La Maddalena islands. Do you see what I mean? L'Ea Bianca's location is essential to it being one of the best beach resorts in Sardinia.
L'Ea Bianca also has all the bells and whistles – from a gym and a sauna to swimming pools and a fabulous international restaurant. I recommend dining outdoors as much as possible; it's positively divine!
Make sure to read my post A Complete Guide To La Maddalena, Sardinia.
Hotel Pullman Timi Ama
As one of the best beach resorts in Sardinia, Hotel Pullman Timi Ama doesn't disappoint. Dwelling mere steps away from Riso Beach, Porto Giunco Beach, and Simius Beach, you'll be hard-pressed to choose which beach to spend your time on. Of course, you could always divide your time evenly between the three, but I'm sure one of the beaches will pull ahead as your favorite – it just depends on what kind of vibe you're looking for (the one pictures above is Porto Giunco, by the way!).
Riso beach draws its name from "rice," as the white sand actually resembles rice! This is a peaceful beach with a more untamed, wild ambiance as there are large rocks and dunes dotting the shoreline. It's the perfect place for a sunset stroll!
Porto Giunco is the most popular — and populated — beach near Hotel Pullman Timi Ama. In fact, it is a favorite among both locals and tourists. It's a popular spot to participate in water sport activities or just relax under an umbrella on a sunbathing chair.
Simius Beach has white sands and pristine waters. It's a great spot to go swimming or windsurfing.
Now, back to the Hotel Pullman Timi Ama itself. It is a lavish hotel constructed in a classical Mediterranean style. At this hotel, you can expect everything to be absolutely perfect. They even host activities – from archery and hiking to themed dinners and horseback riding! Nearly guaranteeing complete relaxation and a memorable stay, this beach resort in Sardinia is one for the books!
La Villa del Re Hotel
La Villa del Re Hotel is an adults-only hotel in the southeastern corner of Sardinia, right outside of Costa Rei. Featuring a private beach and dwelling mere feet away from Spiaggia di Santa Giusta, Spiaggia di Sant'Elmo, and Cala di Monte Turno (pictured above), you won't be lacking for spots to throw your beach towel down on!
This elegant hotel is proud to host a plethora of water sports activities, like scuba diving, snorkeling, windsurfing, and canoeing. So if you've been in the mood to do more than recline in a chair with a good book, make sure to take part in as many water-based activities as possible!
La Villa del Re Hotel holds their guests' comfort as their highest priority, and they do this by paying extreme attention to the details — because it's the little things in life, right? While it is the little things, like fuzzy slippers and a stocked mini-bar, it's also the big things, like sweeping sea views and romantic furnishings. La Villa del Re has it all.
If La Villa del Re Hotel would let me move into one of their rooms, I'd do it in a heartbeat. This refined hotel is exceedingly soothing, refreshing, and even remedying. Remedying? That's right. La Villa del Re just might be the healing elixir you've been searching for…
Falkensteiner Resort Capo Boi
Escape to one of the best beach resorts in Sardinia, Falkensteiner Capo Boi.
Capo Boi Premium Family Resort is located just a breath away from Spiaggia di Capo Boi. Or you could walk a few minutes to Spiaggia di Piscadeddus or Spiaggia Porto Sa Ruxi if your heart desires. Speaking of your heart's desire, Falkensteiner Capo Boi is eager and willing to meet your every wish and whim. It's a veritable paradise, nestled among granite headlands, snowy, white-sand beaches, right in the middle of a lush, verdant green park.
Situated in the southeastern corner of the island of Sardinia, close to Costa Rei, about a 40-minute drive from the capital city of Cagliari, this resort is waiting for you, promising you a delightful, distinctive, dreamy experience.
Whether you wanted to give sailing a try, or practically any other water sport you can think of, the Falkensteiner can make it happen. On the other hand, I also spent many hours in the Acquapura Spa. Their massages are out of this world!
Final Thoughts On The Best Beach Resorts In Sardinia
Sardinia has a massive amount of luxurious beach resorts and hotels. I wanted to choose the top ten best beach resorts in Sardinia, but I couldn't narrow it down to ten — I had to choose eleven! Each of them promise unforgettable experiences and exclusive accommodation options — worthy of celebrities and nobility!
I hope you found your match made in Sardinian heaven from my list above! Let me know which resort is your favorite in the comments below – I'd love to hear about your experiences, too.
Further readings about Sardinia
Are you planning a trip to Sardinia? Make sure to read my other posts:
Pin It For Later!