Punta Molentis, near Villasimius, in southwestern Sardinia, is one of the island's most scenic beaches. This small beach known for its arch shape takes its name from the donkey ('su molenti', in Sardinian) that in the past was used to carry the granite rock found in the area.
With its incredibly fine, white sand, the shallow waters that are typically calm, and thanks to the fact that it is nicely sheltered from the wind, Punta Molentis is a fantastic beach to spend a day and both locals and tourists love it.
However, a series of sea storms and the ever increasing number of visitors during the summer months, caused a sharp erosion of space available in Punta Molentis, to the point that now only a limited number of visitors is allowed during the summer months.
In this post, I will tell you everything you need to know to plan your visit to Punta Molentis beach, and a few hacks to make the most of your day in a totally hassle free way.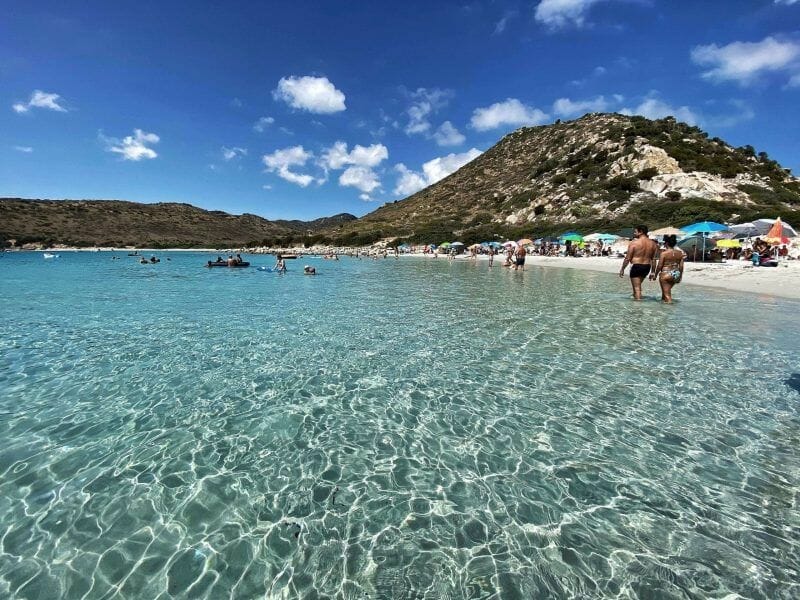 Everything You Need To Know About Punta Molentis, Villasimius
Punta Molentis Beach
Punta Molentis, which is part of the Protected Marine Area of Capo Carbonara, is divided in a couple of small coves. One of them has mostly large pebbles, so it is not very comfortable and doesn't get many visitors. The main one has nice soft sand and gets really packed in the summer months (even now that limits to the number of visitors have been placed).
Surrounding the beach there are gorgeous granite rocks up to 15 meters tall, and beautiful Mediterranean shrub.
The shallow waters and the rock formations make this a perfect spot for snorkeling, and the fact that the beach is sheltered from the wind means that the sea is usually calm and visibility perfect. Another great thing to do there is SUP.
Surmounting Punta Molentis there is a sharp tall rock that you can reach following an easy trail that departs from the kiosk. The view from there is stunning – for perfect colors, plan to go at around 2:00 pm. That's when the sun is at its peak and most people will be protecting from the heat and the shade, so you will have the place to yourself.
Located in Punta Molentis there is one main kiosk where you can get lunch, light quick meals, gelato and drinks; and a smaller place at its back which has a similar selection but is more easy going.
Boat trips by zodiac depart twice a day – at 10:30 am and at 3:30 pm – directly from the beach. For further enquiries, you can call the kiosk at +393347379487.
Punta Molentis top hack!
Only 600 visitors per day (and up to 200 cars in the parking lot) are allowed in Punta Molentis, and they all have to pay a €1 euro conservation fee (kids up to 6 years old can go in for free).
You can make reservations for a parking spot at the official site here (you will have to point out the plate number of your car and the number of visitors). Bookings are not mandatory, but you are better off with one.
However keep in mind that they only accept 150 reservations, after which the parking (and hence the beach) work on a first come first serve basis – so the only way you can secure your own spot at the parking lot and at the beach if you don't want to make reservations (which I wholeheartedly recommend) is by arriving there very early (before 8:00 am), especially on peak season days and at weekends.
However, here's another hack that I have tried myself and that you will find super useful. Book an umbrella and sun beds at Stabilimento I Due Mari for for a very reasonable fee and you can arrive comfortably by 10:00 am (but no later than that).
You will have to call +39 3934077632 for reservations. Once you get to the parking lot you will have to let the police officer know that you have reserved a spot at I Due Mari and you can then park and walk in.
Access to Punta Molentis is prohibited from 8:00 pm to 8:00 am.
Important rules of behavior for Punta Molentis
Punta Molentis is part of the Protected Marine Area of Capo Carbonara, in Villasimius. It's highly protected, and you should always make sure to be respectful towards its environment and other visitors. Here are a few basic rules:
DON'T WALK ON THE SAND DUNES – At the back of the beach you will find a small lagoon and an area that is fenced, where sand dunes are located. Signs will warn you that it is prohibited to walk on the dunes. This is done in order to avoid their further erosion: each person that walks on the dunes inevitably takes away the very precious sand.
DON'T TAKE SAND – Make sure to never take shells, stones or sand from the beach – and other beaches in Sardinia, as it is prohibited and if caught with it you may be subjected to a fine.
DON'T LEAVE ANY TRASH – There are trash cans at the beach, but make sure to bring anything bulky back home with you and to properly dispose of it.
DON'T PICK UP STARFISH – And by all means don't take them out of the water: they are incredibly delicate and if taken out of the water they die within a short time.
How to get to Punta Molentis
You can easily get to Punta Molentis from either Costa Rei or Villasimius.
By Boat
You can get to Punta Molentis by boat, on guided day trips departing from either Villasimius tourist harbor or from several spots along the beach in Costa Rei. Keep in mind that Punta Molentis will only be one stop during the tour and you get to spend at most a couple of hours there.
By Car
The only other way of getting to Punta Molentis is by car.
From Villasimius, take the old panoramic road to Costa Rei. Once you are out of the town center, drive by the soccer fields; take the municipal road known as Accus is Prezzus. Once you get to the junction Mare/Villasimius continue straight.
Once you reach a narrow hairpin bend, you will have to turn left on a dirt road, then continue turning right and passing under the road bridge. Once there, a police officer will stop you to make a note of your car, the number of people in it and to allow you to pay your parking spot.
From Costa Rei, follow the old panoramic road to Villasimius. The hairpin bend and the turning spot will be on your right hand side.
Parking at Punta Molentis costs €10 for cars, €5 for motorbikes and €3 for bikes. There is a €1 admission free per person; it's free for children under six years of age.
Other nearby beaches
The surroundings of Villasimius are packed with many beautiful beaches so it's just a matter of picking one to visit for every day of your stay. Here are my favorite ones:
PORTO GIUNCO – This is one of the most easily accessible beaches in the area, and a favorite of families with children. You will be able to rent anything you need for the day there, and even take SUP and wind surfing classes and join expeditions to other nearby beaches and islands of the marine oasis of Capo Carbonara.
CAMPUS – Another favorite local spot, much like the nearby Cuccureddus beach, beautifully secluded but definitely harder to reach.
CAMPULONGU – A great place for snorkeling and nicely sheltered from the wind. It's close to Spiaggia del Riso.
Finally, Cala Caterina, Timi Ama, Simius Beach and Porto Sa Ruxi are all worth a visit.
Make sure to check out this guided SUP tour that goes from Punta Molentis to nearby Cala Pira. Check it out here.
Where to stay to easily access Punta Molentis
The best areas to stay to easily access Punta Molentis are Villasimius and Costa Rei. Both have a great range of accommodation options. I have selected a few places to stay that you may want to check out:
DOMU SIMIUS HOTEL AND GUEST HOUSE – This small hotel offers nice, comfortable and modern rooms in the center of Villasimius. Some have great ocean views.
SUIMI'S HOTEL – Beautiful, spotless rooms, a nice swimming pool and easy access to the local beaches make this one of the best places to stay in Villasimius.
LA VILLA DEL RE – At easy distance from Costa Rei, this hotel is beautifully immersed in nature and has its own beach access. It's one of the best hotels in Sardinia.
Check out my post The Best Hotels in Villasimius.
Further Readings
Are you planning a trip to Sardinia? Make sure to check out my other posts:
Pin It For Later!