Gairo Vecchia is truly one of the most unique places to visit in Sardinia, and if you have a thing for eerie, quirky places, you should definitely add it to your itinerary around the island.
If you are a regular to this blog, you will have often read me as I say that there's more to Sardinia than just beaches and seaside resorts. In fact, there is much more to visit – basically anything you can think of, honestly. That also includes several ghost towns. In fact, there are many in Sardinia! I have already written about Ingurtosu and the abandoned mines, but on a recent road trip with a friend I got to visit a few more, and I wanted to share them with you.
Looking for more abandoned villages? Read my post A Guide To Lollove, Sardinia.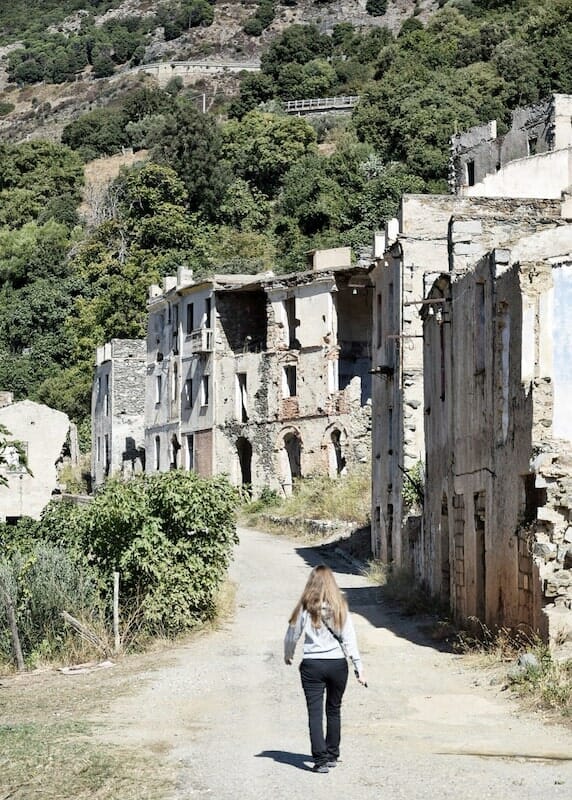 One of them is Gairo Vecchia – sometimes also referred to as Gairo Vecchio. This is one of the most famous abandoned villages on the island – if not just the most famous.
This tiny, remote town in Ogliastra was abandoned quite recently (the last inhabitants left in 1963). Many swear they can still hear the people's voices, or see them… however, if you visit and happen to see someone, don't be scared: it's probably not ghosts, but some old man who still tends to their small vegetable garden right there.
Yup, despite the town being deserted for more than half a century, someone still doesn't want to completely give up on it!
Curious to find out more about it? Good – I am about to share Gairo Vecchia's best kept secrets.
Looking for other intriguing places to visit in Sardinia? Make sure to read this post.
A Short History Of Gairo Vecchia
Gairo is a village that actually has a long history on its shoulders. Being in the heart of a mountainous region, the area was inhabited by the Nuragic – who left two important sites nearby the village – and Gairo itself was a prosperous village during the Giudicati time (around the 1200s). It surely existed from earlier on but this is the first time the village is actually mentioned in a historic chronicle/register.
The city was an important location in the Ogliastra area thanks to its vicinity to two rivers, but at the same time, it was always in danger because of the fragile terrain, which would crumble more and more after the seasonal rains.
Several floods during the centuries damaged the rocks Gairo was built on until in 1951 a very violent storm cause a landslide that destroyed a large portion of the village. The citizen decided to leave Gairo, slowly, one after another, and rebuild it somewhere else.
However, they never reached an agreement on where to settle, so nowadays there are three new villages born from the old Gairo population: Gairo Sant'Elena, commonly called Gairo, built some hundred meters uphill Gairo Vecchio; Gairo Taquisara, founded some kilometers downhill; Gairo Cardedu, which is actually closer to the coast, and simply called Cardedu by the locals.
Gairo abandonment didn't happen overnight, although the great flood of 1951 is unanimously considered to be the last straw that made locals decide to leave once and for all. Many inhabitants tried to stay in their houses for about a decade more, but when it became clear that it wasn't safe to live there, the village was ultimately left to itself. The last people living in Gairo Vecchio left in 1963.
What To See In Gairo Vecchia
Gairo Vecchia can be visited and explored, with the only exception of its houses: you can roam the streets freely, take as many pictures as you want, but it's forbidden – for obvious reasons – to get too close to the buildings or go inside (though to be fair, nobody is there to check you actually don't).
The houses have been damaged by the weather and passing of time, and no one tends to them since the 1960s, so getting anywhere nearby can be quite dangerous.
Once you understand the basic safety rules, Gairo will turn out to be a nice experience: you can easily get there by car and spend a few hours taking pictures of the village and the scenario. The square with the church and the public water fountain are the points of major interest, but exploring a bit of the area will surely reveal some hidden gems! The mist – very common during fall and winter – adds to the atmosphere.
Other things to visit in the vicinity are is Tostoinos area, where you can see some old Cuiles (the shepherds' traditional houses, that were used until relatively recent times) and Nuragic remains; and the Perdu Isu Nuraghe complex, which is very well preserved.
You can also join a trekking course along the Rio Pardu River, with a guide who will teach you everything about the area's forests, rocks, and waters.
How To Get To Gairo Vecchia
The best way to get to Gairo Vecchio is by car. Gairo Vecchia is about two hours drive north of Cagliari, along the SS 125, between Ulassai and Lanusei.
The closest small town to Gairo Vecchio is actually Lanusei, which is about half an hour by car. The city isn't actually very far, but the region is mountainous and the streets are incredibly windy, so not exactly easy to drive along – you will want to go slow.
To get to Gairo Vecchio, you will just need to take Provincial Road SP 198, then State Road SP 28, or State Road SS 389, and follow the road signs pointing to Gairo Vecchio.
If you want to get there by bus you have to take bus 103 from Cagliari Central Station to Tertenia, where you'll have to change for bus 9140. The overall journey takes almost 3 hours. The bus will drop you off in Gairo, from where it's a short walk to the abandoned village.
Pin It For Later!