Piscinas Dunes, in Sardinia's Costa Verde (Green Coast) are among the most incredible, surreal, breathtaking landscapes on the island. Not far from it, Ingurtosu is an intriguing, mysterious abandoned mining village that calls to be explored.
A visit of Piscinas and Ingurtosu, with the Laveria Brassey mine, can be combined in the same day and makes for a fantastic day out of town pretty much in any season – though it is quite perfect in the summer, when you can cool down in the sea after exploring!
I visited both of them recently, and thought I'd put together a short guide with plenty of information that will help you plan your day and make the most of it.
Make sure to read my post A Concise Guide To Costa Verde.
Everything You Need To Know About Piscinas Dunes And Ingurtosu
Piscinas Dunes Beach
Piscinas Dunes is one of the most charming, wild beaches in Sardinia. Located in the municipality of Arbus, in the province of Medio Campidano, this 3.5 km (about 2.2 miles) long beach is characterized by some of the most beautiful, tallest sand dunes in Sardinia – they are so tall that you can see them from a good distance, as you drive towards the beach.
The beach had soft, light brown and golden sand. Water is immediately deep and there often are strong currents which make swimming a challenge – if not plain dangerous, depending on the wind! This means that the beach is really not suitable for families with children.
As the beach is quite difficult to reach (the road to get there is terribly windy) and there are no villages in the immediate vicinity, Piscinas Dunes never gets really crowded – not even during weekends in the peak summer months. This makes it a perfect place to spend a day if you are looking for a quiet place.
You will find a nice kiosk immediately in front of the parking lot, where you can get a bite and a drink, make use of the toilets, and even rent out beach equipment. A lifeguard is on duty there, but nowhere else along the beach.
While there is a wooden trail leading to the beach from the parking lot, the shape of the beach is such that it's not suitable for people with limited mobility. Garbage bins are found in the parking lot.
Boat tours to Masua Pan di Zucchero and other nearby beaches depart from Piscinas Beach – prices vary between €25 and €45 depending on the itinerary.
As you walk to your left from the parking lot, closer to the massive sand dunes, you will find one of the very few areas in Sardinia where nudism (or naturism) can be legally practiced. This is marked by a sign on top of which you will spot a flag of Sardinia. You are free to stay there in your swimsuit if you want – just don't be surprised if people around you are naked!
Ingurtosu And Laveria Brassey
Now nothing more than a ghost town, Ingurtosu once was one of the most active silver, lead and zinc mines in the central-western coast of Sardinia. Now part of the 1997-created UNESCO network of Geo-parks, Ingurtosu is found in the Valley of Is Animas, which stretches all the way to the sand dunes of Piscinas.
You will drive by it on the way to the beach, at first almost oblivious to the abandoned buildings you will spot as you go along, then finally making sense that what you see isn't just an abandoned building, but a ghost town proper, where you will be able to spot houses, plants, wells, a church (Santa Barbara church, dating to 1916), the miners' dwellings and the management building (known as "the castle" and built around 1870 in Neo-medieval style) rusty carts and much more.
Among the most beautiful buildings there are Villa Wright, where the deputy director of the mines lived; and Villa Ginestra, home of the president of Pertusola, the English extraction company that managed the mines.
The most impressive building, however, is the Laveria Brassey (Brassey Lavery), which takes its name from the that of the mine's owner, Lord Thomas Alnutt Brassey.
Like other mines in Sardinia, Ingurtosu and the Brassey Lavery started their slow but inevitable decline after the Second World War. Concessions were given in 1964 to transition to the Monteponi-Montevecchio company, but a few years after that the mines were finally completely abandoned.
Ingurtosu and the Brassey Lavery are free to access, though the latter one is actually fenced. While you can definitely get closer to the building to explore a bit more, you should use caution as it's completely falling apart and it may be dangerous, especially on rainy or windy days. While guided tours are occasionally offered, these aren't regularly scheduled.
Check out my posts A Guide To Visiting Montevecchio Mines and 9 Mines In Sardinia You Should Visit.
How to get to Piscinas Dunes and Ingurtosu
Getting to Piscinas beach can be a bit of a hassle if you don't know the road. Google Maps will inevitably show up the shortest way as the best option – but it hardly is, I only know too well.
The beach is about 100 km (62 miles) from Cagliari. If you are coming from there, you will have to drive along SS 131 towards Sanluri. Once there, take SS 197 to San Gavino Monreale and then SP 4 to Gonnosfanadiga. From there, continue to Arbus and SS 126 and SP 66 to Ingurtosu. The last few km after Ingurtosu and Laveria Brassey will be on a dirt road.
Parking at Piscinas Dunes costs €5 for a full day.
Other Useful Information
Here is some additional tips to make the most of your time in Piscinas:
APPROACH THE WATER WITH CAUTION – The sea at Piscinas beach is immediately deep, and there often is a very strong current, even more so on windy days. Take your time when getting in the water, especially if you are not a confident swimmer, and remember that the only lifeguard on duty is where the kiosk is located.
DON'T WALK ON DUNES – Despite the many signs on the way to the beach and even along the beach, people still walk on the dunes for the sake of a photo, causing them irreparable damage. Please don't be that person! Admire the dunes from a distance. Also remember that taking sand, shells, pebbles or anything else from Sardinian beaches is forbidden by law and may end up in a fine. Check out my post about Sardinian sand theft here.
PONDER CAREFULLY BEFORE BRINGING CHILDREN – Unless there is no wind at all and your children are confident in the water, it's probably best if you go to another beach with them.
DON'T ABANDON TRASH – Small trash bins are found near the kiosk, and larger ones in the parking lot. Other than that, there are none at the beach – but this is no reason to abandon your trash there! Pack it, bring it home and dispose of it carefully: Sardinians are accustomed to recycling.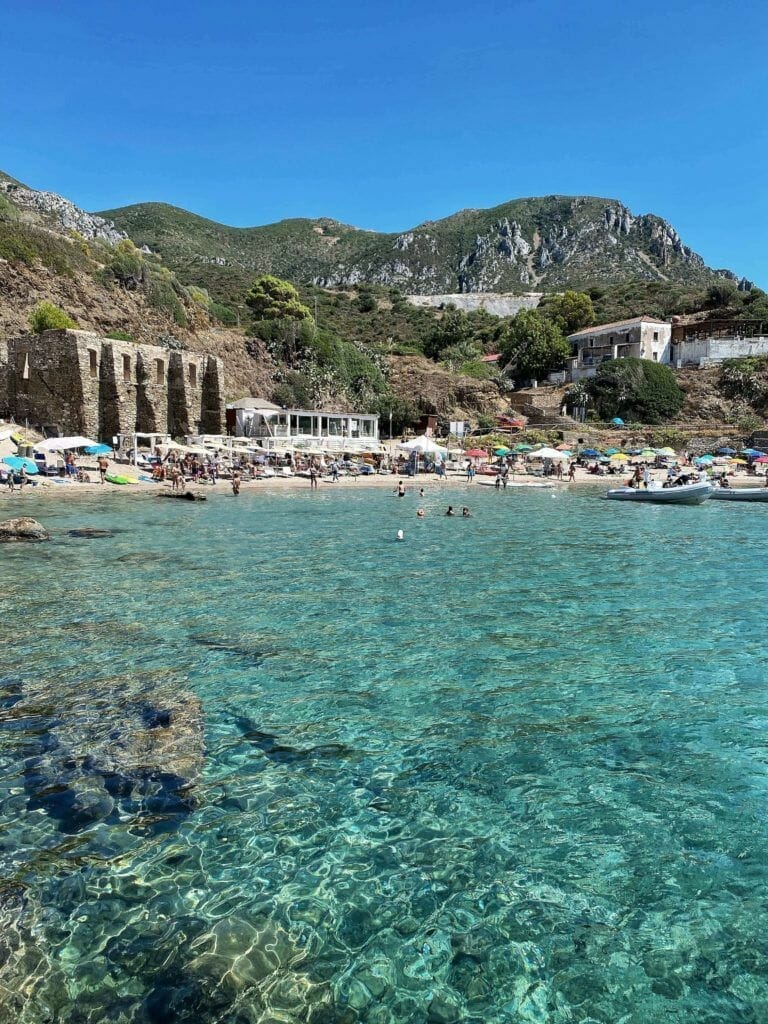 Other nearby beaches
PORTIXEDDU – One of the best surfing spots in Sardinia, you will find it 55 minutes drive south of Piscinas. It's only 32 km (less than 18 miles), really – but the roads aren't great.
SCIVU – 31 km (around 17 miles) south of Piscinas, this is one of the wildest, most beautiful beaches of the Costa Verde. It's long, sandy and with clear waters though not the ideal place when the mistral wind blows.
MASUA PAN DI ZUCCHERO – This small cove is about 1 hour and 30 minutes drive from Piscinas. It's an incredibly scenic place from where you can admire the sea stack of Pan di Zucchero and access Porto Flavia mines. Avoid it when the mistral wind blows.
Where To Stay Near Piscinas
There aren't any accommodation options in Piscinas Dunes itself – a hotel right by the beach is currently being completely refurbished. The closest access point will be Arbus – and even that is a good 40 minutes drive from the beach. Unless you want to visit Piscinas as a day trip from Cagliari (which is totally doable, provided you pick the right road!) you will have to sleep in Arbus. These are the best places to stay there:
AFFITTACAMERE ARBUS – A lovely small guest house in the center of the village, with anything you may need for a comfortable stay.
AGRITURISMO LA QUERCIA – A bit outside of the village, it's a lovely place to stay completely immersed in nature. There even is a pool where you can chill, and meals are offered.
For a selection of places to stay in Cagliari, click here.
Further Readings
Spending your holidays in Sardinia? Make sure to read my other posts:
Pin It For Later!