The Supramonte is an inner area of Sardinia which includes the municipalities of Orgosolo, Baunei, Dorgali, Urzulei, and Oliena, and is divided into mountainous Supramonte and marine Supramonte by the State Road SS 125 Orientale Sarda.
Due to its geological and geographical features, the Supramonte is home to a large population of autochthonous plants and animals and likewise unique natural formations. Moreover, it was a highly-populated area during the Nuragic times and is one of the most densely rich in relics and ruins from that era.
One thing for sure, there is no shortage of things to see and do in the Supramonte! Curious to find out more? Continue reading!
What To See And Do In Sardinia's Supramonte
Gorroppu Gorge
Gorroppu is a canyon that marks the natural border between Orgosolo and Urzulei municipalities. It's the deepest canyon in Italy and one of the deepest in Europe, too.
Thanks to its unique conformation, Gorroppu Canyon is home to several endemic species – both animals and plants – that can't be found anywhere else in the world. Since it formed millennia ago, when Sardinia was still emerging from the sea, you can even see fossils and seashells engraved in the rocky walls!
You can visit Gorroppu Canyon with a hiking tour – guided or on your own – and find out why it's such a special and one-of-a-kind place by seeing it with your own two eyes. It's also a great area for climbing!
You can book your guided hike to Su Gorroppu here or here.
Read my posts A Guide To Hiking In Su Gorropu, The Best Hikes In Sardinia and Where To Go Climbing In Sardinia.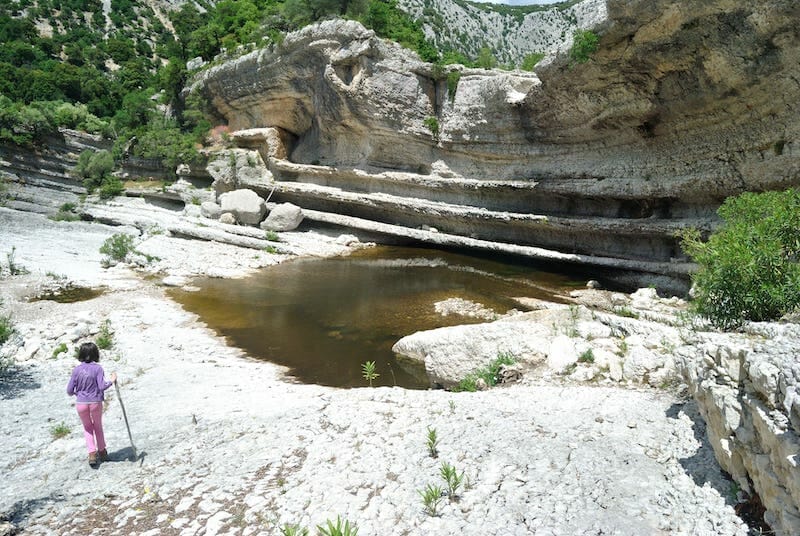 Urzulei
Urzulei, like Orgosolo, is part of the Blue Zone area in Sardinia (the Blue Zones are places where the local population lives a longer and healthier life compared to the region's average), and you will realize why as soon as you get there.
The village is small and peaceful, immersed in the wild Sardinian nature and isolated from the hassle of modern cities. Urzulei and its surroundings have always been inhabited but never densely populated. The numerous ruins (mainly Giants' Tombs) are the immortal demonstration that men liked this area since the most ancient of eras.
Urzulei's territory is rich in forests and thousands-year-old trees – among them, a grapevine is the symbol of the village – and is an invite to the tourist to enjoy a stress-free hike. The silent and peaceful environment is really healing.
Urzulei is located on the State Road SS 125 Orientale Sarda.
Lanaitto Valley
The Lanaitto Valley is entirely enclosed in Oliena's Supramonte and is considered the easiest point of access to the mountains and their secrets. It's an area filled to the brim with nuraghe, caves, natural monuments, and a whole lot of other secrets. You will need several days to explore it in its entirety, but the main attractions can be seen in a bit less.
You can't miss the Gologone springs, Tiscali and Sedda e Sos Carros Nuraghe Complexes (more about them in a bit); several caves such as Sa Oghe, Su Bentu, and Corbeddu (which got its name from a bandit who, like Robin Hood, used to steal from the rich, gift to the poor and hide in this specific cave to escape the hands of justice).
The best option to enjoy your time around Lanaitto Valley and discover all its secrets is a trekking tour with a guide.
For a guided tour of Lanaitto Valley that also goes to Tiscali, click here.
Tiscali Nuragic Village
Tiscali Nuragic Village is located on the homonymous hill and is a very suggestive and important archeological site. It was probably built during the pre-nuragic era and was supposedly inhabited throughout the Roman and Medieval eras as well.
The site has been discovered only in the 1990s, because (as you will notice once you're there) it can only be seen once you're almost there: this means that it has been hidden and protected by the mountains for centuries! No wonder that the Nuragic people thought of it as an essential, strategic site.
For a guided hike to the Nuragic village of Tiscali, click here or here.
Read my post The Most Impressive Archeological Sites In Sardinia.
Orgosolo
Orgosolo is a pretty village in the heart of Barbagia. If you are looking for a place to find the true essence of Sardinia, this is where you should go. Here, traditions and folklore are as lively as ever and, once you understand that the silent, stubborn appearance of the locals hides a golden heart, you will be able to experience the famous Sardinian hospitality and spend some days in a unique village, surrounded by its famous murals, excellent food and wine, and locals who look like some out-of-time novel characters.
For a guided tour of Orgosolo, click here.
You can get to Orgosolo by following the directions from your location to Nuoro and then take State Road SS 389 and SP 58.
Make sure to check out my post The Best Guide To Orgosolo.
Nuoro
You can't visit the Supramonte and skip a visit to Nuoro, the main city in the area. Nuoro has been called the "Athens of Sardinia" for a long time now, thanks to the many intellectuals and artists born there, who brought a constant flow of new cultures and ideas in a city otherwise quite isolated.
Among the places you should definitely see, don't miss the main churches (Madonna delle Grazie and Santa Maria della Neve), the MAN (Museum of Modern Art) and the Museo Deleddiano, dedicated to maybe the greatest mind ever born in Nuoro, writer Grazia Deledda – who is the only Italian woman who has won the Literature Nobel Prize. Another absolute must–go is the Ortobene Hill, the symbol of Nuoro.
Make sure to read my post A Short Guide To Nuoro.
Dorgali
Dorgali is, among the many Sardinian villages, one of the broadest. Its municipality includes mountains and beaches, and visitors are never left wandering to do and see. The village itself offers several nice places to visit, such as the Archeological Museum and the various artisans' boutiques where you can buy fun souvenirs to bring home.
And, of course, Dorgali is an excellent starting point for the numerous hikes of the area: whether you want to visit Tiscali Nuragic Complex or explore Cala Gonone and its neighboring coves, you will find great guided tours leaving from here.
Dorgali is located alongside State Road SS 125 Orientale Sarda. It's easy to get there from Nuoro: the signs are clear along the way.
Read my post The Ultimate Guide To Dorgali.
Baunei
Baunei is another stunning village in an uncontaminated area of Sardinia. The Golgo Plateau above Baunei is the starting point for the Selvaggio Blu hike, and of several other hiking trails. Baunei's Supramonte is also home to a few free climbing spots. The Golgo Plateau is where the famous, deep Sterru pit suddenly opens, like an abyss ready to swallow everything that comes too close.
Like Dorgali, Baunei is also famous for its beaches and coves, so if you happen to visit, be sure to book a boat tour and check them out. If you prefer exploring the mountains, you can opt for a simple hike around the Golgo Plateau or visit some hidden ruins, such as the Coa 'e Serra Nuraghe complex or one of the numerous Domus de Janas/Giants' Tombs.
To get to Baunei take the SS 125 (Orientale Sarda) from Cagliari all the way to Baunei.
Visit my post A Short Guide To Baunei.
Golgo Plateau
The Golgo Plateau is a gem of the Ogliastra region. You can best enjoy it with a guided trekking course, that will lead you through the forests and trails in the area without the risk of getting lost – which isn't difficult. The Sterru chasm is the main and most famous attraction on the plain, but several other things deserve your attention.
The area was inhabited since prehistoric times and still hides several ruins and remains of various eras, from Domus de Janas to the St. Peter's Church nearby su Sterru. The Golgo Plain is also one of the starting points of the Selvaggio Blu trails.
Check out my post The Best Guide To The Golgo Plateau.
The Selvaggio Blu
The Selvaggio Blu is a series of hiking/trekking courses that pass through the Gulf of Orosei and Supramonte marine area. The full course of the hikes takes about a week to complete and is quite challenging – definitely not suitable for amateurs – but there are also several one–day options for people with less time or who don't feel like enduring a whole week camping.
All the trails are as wild as they can get – the Supramonte villages have always made a point of preserving their environment and keeping it as close to its original state as possible. In fact, if you join any of the Selvaggio Blu activities, you will not spend any night in a hotel room, but sleep inside a tent, eat packed lunches, and spend a great time immersed in nature, almost forgetting about modern life and comforts.
The Gulf of Orosei
The marine part of the Supramonte – the Gulf of Orosei – is home to wonderful, uncontaminated beaches, immersed in nature. If you like long, challenging hikes, you could try hiking to one or all of the various coves, and see the beauty of places like Cala Luna, Cala Goloritzé, and Cala Mariolu from above a cliff.
If you prefer a more relaxing option, a boat tour is perfect for you: there are various options leaving from several different places, each one of them showing you all the main beaches and coves of the Gulf of Orosei.
In most cases, you can opt for a hop-on hop-off cruise, or a zodiac tour.
From Cala Gonone: You can book your private zodiac cruise here or here. In the second case, price is per group and includes lunch.
From Santa Maria Navarrese: Book your boat trip around the Golfo di Orosei departing here.
From Arbatax: You can also rent a zodiac and design your itinerary or you can join a guided boat tour. Check out the prices of zodiac rentals in Arbatax here.
From Orosei: You can either join a mini cruise or rent a zodiac.
Head over to my posts A Full Guide To The Golfo Di Orosei and The Best Boat Tours Of The Gulf Of Orosei.
Oliena
Oliena, mainly famous for its incredible Canto a Tenore (pastoral singing) traditions, is another gracious village in the Supramonte area.
Check out my post What You Must Know About Sardinian Canto A Tenore.
Albeit small, the village has a total of eleven churches (and three more located in its countryside), several pretty murals, and a very antique vibe: it looks like time has stopped about two centuries ago, and the locals just spend their day slowly, peacefully, in harmony with nature and the mountains.
Speaking of mountains, Mount Corrasi, the tallest peak of Supramonte, is located in Oliena's municipality. Like in the other villages' surroundings, you can enjoy some great hikes here. Use some of your time to explore the thousand-year-old forests and maybe see if you can spot some of the local wildlife!
Oliena is only a fifteen minutes drive from Nuoro! Don't forget to read my post A Short Guide To Oliena.
Sa Sedda e Sos Carros
Sa Sedda e Sos Carros is a very well-kept Nuragic village in Oliena's municipality. There are some special features to this village: the first one is that there isn't a nuraghe in the village, and the second one is the basin/fountain in the middle of it.
These two things, together with several and various bronze tools found inside the houses there, probably mean that the site was an artisans' district where some religious rites were performed as well. The basin is extremely well built, clear evidence that it was an important sacred area. A guided tour of the village will give you all the details about Sa Sedda e Sos Carros.
Check out my post The Best Sardinia Hidden Gems.
Su Gologone
Su Gologone is the most important fresh water spring in Sardinia and, being a very deep wellhead, has never been explored completely. The deepest a speleologist has managed to go was 135 meters (443 feet). The location of the spring is very suggestive and has beautiful scenery: you can get there with a hike through the forest and be surprised by the transparent, clear water of Su Gologone, which varies in color depending on the season and the sun's position.
My recommendation, if you like being active, is to try the kayak tour that leads you through the wonders of this area. If you prefer relaxing under the trees, the site is a popular picnic spot.
You can book your kayak tour of Lake Cedrino and Su Gologone here.
Ispinigoli Cave and the Sea Oxen Grotto
Another unique feature of the Supramonte area is the abundance of caves, both in the mountain area and in the marine part.
Ispinigoli Cave is one of the many (about 350) caves in the Supramonte area and one of the most famous ones. Its particular shape makes for a unique climate that remains stable at 15/16°C (59°F) and its main chamber has the tallest rock column in Europe (38 meters or little over 126 feet).
As common in many cave complexes, only a part of Ispinigoli is open to the general public, while the rest – the deepest part – is reserved to experts. Nevertheless, there are some unique things to see, such as the Virgins' Abyss, where ancient populations were thought to perform human sacrifices (this theory has been proved wrong), and the warm springs nearby the cave.
The Sea Oxen grotto (Bue Marino cave in Italian) system takes its name from the monk seals (called bue marino by the locals) which used to live and mate there. Unfortunately, there isn't any animal left because of the fishermen hunting them in the last century, but the cave complex remains a stunning natural monument, nonetheless.
You can visit the caves during a boat tour or get there directly from Cala Gonone, with a specific shuttle boat. Guided tours are available and the ticket varies from €8 to €11 depending on the season.
Read my posts A Guide To The Grotte Del Bue Marino and The Most Beautiful Caves In Sardinia.
Practical Information To Plan Your Trip To Supramonte
Best time to visit
The Supramonte area is beautiful throughout the year, but unless you are planning a fast trip to the villages and then a holiday nearby the beach, I would recommend avoiding the summer months. The main activities include hiking, climbing, and the like: these sports can be truly challenging when temperatures get as high as 40°C (104°F).
Do visit around the end of April or May or right after the summer peak, from the second half of September. The weather is more forgiving and you can enjoy a whole lot more activities. Plus, if you are nearby Nuoro during the fall months, you can even enjoy one of the best Sardinian festivals: Autunno in Barbagia.
How long to spend in the Supramonte region
There isn't an ideal time length to spend in the Supramonte region, but the longer the better. Of course, the length of your stay depends greatly on the activities you are planning to do. I would say that you need at least a week to visit all the main attractions in the mountain side, and another three to five days to at least have a taste of the Orosei Gulf.
The best option, if you want to go everywhere and see as much as possible, is to stop for a full two weeks.
Where to sleep
There are several places where you can base yourself for a trip to the Supramonte region. I have picked the best option in each of them.
Su Gologone Hotel, Oliena – Immersed in the Supramonte nature, this hotel is equipped with every comfort and is granted to be the best place to spend a relaxing holiday. The place is pet-friendly, has a pool and a tennis court, and many other amenities. Free parking is available on site. Book it here. Read my full review here.
B&B Pascal House, Nuoro – If you are looking for a place to stay in the main city, this bed and breakfast is ideal. It offers great rooms with every comfort, free Wi-Fi, and free parking. The rooms are all equipped with private bathrooms and many have a terrace or balcony. If you choose to stay in Nuoro, you will have the total freedom to explore the area while staying in a city with everything you might need. Book it here.
B&B Il Portico, Orgosolo – Orgosolo is another great small town in the area and this bed and breakfast is an excellent place to stay. You can have free Wi-Fi and free parking, a delicious breakfast, and great rooms while staying in one of the most unique places in Sardinia. The B&B also has a restaurant. Book it here.
Rifugio Gorropu, Dorgali – This beautiful farm stay features excellent rooms and a breathtaking view of the Supramonte region. You can enjoy a walk or cycle a bit in the area, or grab a bite in the on-site restaurant, surrounded by nothing but silence and nature. Book it here.
B&B I Cinque Mori, Baunei – This bed and breakfast features excellent rooms and food, free Wi-Fi, and many other comforts including air conditioning. If you are planning to explore the marine side of Supramonte, Baunei is a smart pick for a place to sleep. Book it here.
To sum it up, whether you love the blue, clean Sardinian sea or you fell in love with the wild nature and mountains, the Supramonte region won't disappoint you!
Pin It For Later!