You surely heard me say this before, but it's worth repeating: Sardinia has much, much more to offer than heavenly beaches and luxury resorts. And if it is not your first time in Sardinia – or even if it is, but you have a knack for the unusual – you will certainly be interested in discovering Sardinia hidden gems.
Some of the best Sardinia hidden gems are often in plain sight; others take more of an effort to be fully discovered – but all of them are worth seeing.
You probably have stumbled upon some hidden gems during your trips, whether you were wandering around or you took the wrong turn at some point in your drives. And I bet that some of those serendipitous encounters left a mark on your memory, and made that holiday a special one – one you will cherish for life.
Sardinia is just like any other part of the world: there are places that will make you wonder how they even ended up on the island.
If you want to see some unusual places to visit in Sardinia, make your trip a bit more varied, or have an adventure exploring Sardinia off the beaten track, you're in the right place: I will share Sardinia's best kept secrets with you.
Continue reading for a selection of the most worth-seeing Sardinia hidden gems.
The Best Sardinia Hidden Gems
Posada Castle
One of the prettiest Sardinia hidden gems, Posada's castle overlooks the homonymous city in the Nuoro province (it's halfway between Nuoro and Olbia). It is also called Castello della Fava (Fava bean Castle).
It was built around the 13th century by the Pisans and the legend says it got its name after the locals pushed away a Turkish invasion with a very smart trick.
Their city had been under military siege for a while and they were running out of food, so they fed their last fava beans to a pigeon and sent it, partially hurt, towards the Turkish encampment.
When the bird fell among the soldiers, they saw it had a full stomach and thought that Posada's inhabitant still had plenty of food (after all, they could feed a pigeon, just like that!) and decided to retreat, as they didn't have many food supplies and they wouldn't stand a chance.
Whether the legend is true or not, the Posada Castle is one of the best-preserved ones in Sardinia and can still be visited: once there, you may want to enquire about a guided tour to discover every little secret about the building and the city.
Make sure to read my posts The Best Guide To Posada and The Prettiest Castles In Sardinia.
Siliqua Castle
There is no certainty about when the castle was first built, but it was definitely there in the 13th century and back then it was owned by Count Ugolino, the same one Dante speaks about in the Divine Comedy. It was, unfortunately, abandoned quite early on and now only some parts of it still stand and can be visited.
The castle is located on a hill at about 30 km (18.6 miles) from Cagliari. You can get there via a short uphill hike so make sure to wear comfortable shoes. Once there, I recommend joining one of the guided tours offered on site.
Make sure to read my post A Guide To Siliqua.
San Sperate
One of Sardinia hidden gems, if you happen to be in the area of Cagliari, visiting San Sperate is an absolute must. The village has become locally famous – but it remains unknown outside of Sardinia – for its extraordinary, colorful display of art.
A big section of the village is, in fact, decorated with murals, which are renewed, changed, added every year; the city center matches the walls with a colorful pavement instead of the usual, boring black one; and the Giardino Sonoro (Garden of Sounds), a beautiful museum that puts together visual and auditory art, is the cherry on the cake at this beautiful, unique place.
San Sperate can be visited on an easy day trip from Cagliari (click here for more information) and will undoubtedly make your holiday experience special and different.
Head over to my post A Guide To San Sperate.
Narcao and its mines
Narcao is a village located about 1.5 hours drive from Cagliari and full of surprises. First of all, it was an important mining area until 1979. After being abandoned for some years, the Rosas mines have now been renewed and are open to visits in their entirety, with even its own hotel and restaurants.
Moreover, the area of Narcao, albeit small, is filled to the brim with historical remains: if you go there, you can visit Su Bucculu Caves, which were inhabited during the Neolithic; you can see a Punic temple dedicated to Demeter and Kore; and you can explore Nuraghe Atzei, a great example of the Nuragic people's skills.
Narcao also hosts several important festivals, such as the Narcao Blues Festival and the Rosso in Miniera festival (the latter one at Rosas mining village), both very important and attended by several artists from outside Sardinia as well.
Read my post The Essential Guide To Narcao.
Nebida lavery
Nebida mines, nearby Iglesias and about 1 hour drive from Cagliari, are, like Narcao, an important token of Sardinia's mining past. They were active until about the 1980s and were then abandoned.
Now, they can be visited and offer a great insight into what the life of miners used to be and how the minerals were extracted and processed.
A very important and panoramic part of Nebida's mine complex is the washing area: it overlooks the sea and the beautiful sight of Pan di Zucchero islet, making for an exceptional photo spot. The whole area deserves a detailed one-day trip: it's considered one of the best – and most beautiful – mine ruins in Italy!
Check out my post 9 Mines In Sardinia Worth Visiting.
Villa Piercy
Villa Piercy, a wonderful English villa in Bolotana municipality (50 minutes drive from Nuoro) is another splendid botanical paradise that used to be the theater of wonderful parties for the 1800s aristocrats. It was built upon orders of Benjamin Piercy, a British nobleman who was in charge of supervising the railway construction in Sardinia.
The entire place is open to visits, from the splendid manor house to the huge garden, where you will be able to spot several exotic plants and many local ones. Guided tours are also available.
Check out my post A Guide To Visiting Villa Piercy.
Villa d'Orri
Of all of Sardinia hidden gems, this is the one I most recently discovered and enjoyed. The original villa dates back to the 1700s, which is when the Marquis of Thiesi Giacomo Manca Amat bought the agricultural estate "Vigna d'Orri."
Back then, it was mostly a rustic place with fields around, but with time it became more important as it was refurbished and beautifully decorated, and it even became the summer residence of King Charles Felix of Savoy during his exile in Sardinia.
Today, the villa is only open on special occasions and upon request. But if you are traveling to the South of Sardinia, it's definitely a place to add to your itinerary.
You should also read my post A Guide To Villa D'Orri, Sardinia.
Parco Aymerich, Laconi
The Aymerich were a family of lords who owned (and inherited) the Laconi area until 1990. They built a castle – its remains can still be visited – and an enormous botanical park where a huge number of Mediterranean species, both rare and common, are still kept and taken care of.
There even is an orchid that only grows there, and nowhere else in the world! The park is 22 hectares wide and has several paths and points of interest, including a big waterfall, a menhir museum, and the aforementioned Aymerich Castle. It truly is one of the best Sardinia hidden gems – and at less than 2 hours drive from Cagliari.
Make sure to read my post A Guide To Laconi.
Sa Stiddiosa waterfall, Gadoni
Sa Stiddiosa (literally, the dripping one) is a peculiar waterfall in Gadoni's territory, along the Flumendosa river. Its particular shape and rock formations make for an unusual "dripping" effect: the water, instead of falling fast and loudly, literally slips on the rocks, like a soft rainfall, ending up in a natural pool about 20 meters beneath.
The pretty view and the fact that you can enjoy your time swimming in the river – on its right side – attracts several visitors every day and has made Sa Stiddiosa a famous point of interest in the Sarcidano area. However, it remains unknown to international travelers. It's about 1 hour and 45 minutes drive from Cagliari.
Read my post The Most Beautiful Waterfalls In Sardinia.
Cala Murtas
If you are looking to visit a lesser known beach, this is for you. Cala Murtas is a wonderful beach in Villaputzu municipality, about 1 hour and 20 minutes drive from Cagliari.
Being located quite close to the Quirra NATO military base, there aren't villages nor services in the area and the beach itself is a bit difficult to reach, but that makes the place the ideal getaway if you are looking for a silent, peaceful corner to hide and relax.
The water is incredibly clear and is immediately deep: not a big deal if you are a good swimmer, but if you think you are on the less-confident side, you may want to approach with caution. There is, in fact, no lifeguard on duty in Cala Murtas.
Check out my Complete Guide To Cala Murtas.
Ingurtosu Mines
Ingurtosu, despite being now a deserted village, used to be one of the most flourishing mining areas in Sardinia: the mines were a great source of silver and other materials.
The buildings and various machines are scattered around a vast area spacing from Piscinas Beach to the hills overlooking the sites; here stands a big palace where the people in charge of supervising the work used to live.
Back when Ingurtosu was flourishing, about 5000 people lived in several villages around the mines, and the area had its own hospital, schools, and a church dedicated to St. Barbara, patron of the miners.
You will find the mines about 1.5 hours drive from Cagliari. For more information on visiting read my post A Complete Guide About Ingurtosu Mines And Piscinas Dunes. You should also read my post A Guide To Visiting Montevecchio Mines.
Muru Mannu waterfalls
Muru Mannu (literally, Big Wall) waterfalls are the tallest waterfalls in Sardinia. Located nearby Villacidro – you can access the hiking trails from there – but actually in Gonnosfanadiga municipality (around 1.5 hours drive from Cagliari), they really are worth visiting.
The falls, originating from a mountain river (its springs are about 1000 meters – about 3281 feet – above sea level) actually plunge at several points, but the most famous one is the Muru Mannu 70-meters (short of 230 feet) jump.
If you like walking around nature, you could try hiking there: the walk isn't difficult and the forest and the numerous small rivers make the air crisp and enjoyable.
Capo Ferrato
Capo Ferrato is one of my favorite Sardinia hidden gems. This is a beautiful promontory that can be reached via an easy hike that will lead you through the wild Sardinian nature and breathtaking sceneries.
At the top of the hill, a lonely lighthouse stands and watches over the sea. Once you're up there, photo opportunities abound. Above the promontory, some small coves with emerald waters wait for the visitors who, before or after the hike, go there to cool down.
If you happen to be nearby Muravera or Costa Rei and want to spend a day doing something different, a trip to Capo Ferrato is not a bad idea.
Make sure to read my post The Most Scenic Lighthouses In Sardinia.
Nuraghe Nuraddeo, Suni Archeological Park
This Nuraghe is an very well-preserved three-foiled Nuraghe inside the Suni Archeological Park, located between Alghero and Oristano, on a hill that will provide you with a great view of the surroundings.
The Archeological Park includes the Nuraddeo and Seneghe Nuraghe, a museum about the old agricultural life in the area, and a Domus de Janas. You can book a guided tour or go there on your own, it can be visited in an hour or so. Make sure to enquire locally about the opening times as it is often closed.
Have a look at my post The Most Famous Nuraghe In Sardinia.
S'Ena e Thomes Giant's Tomb
This gigantic granite tomb, located in the area of Dorgali (near Nuoro), is considered one of the best examples of Giants' Tombs on the island. With its over 10 meters (32.2 feet) of height and 7 tons of weight, it is indeed something stunning to witness and will leave you wondering how the proto-nuragic people could even lift such weights and build such monuments.
Only simple tools and tokens have been found inside the tomb, which probably means those tribes didn't make any hierarchic distinction and considered everyone equal in front of death: the Giants' Tombs were, in fact, collective burial grounds and not single-person crypts.
You could try and visit s'Ena e Thomes during the Autunno in Barbagia festival!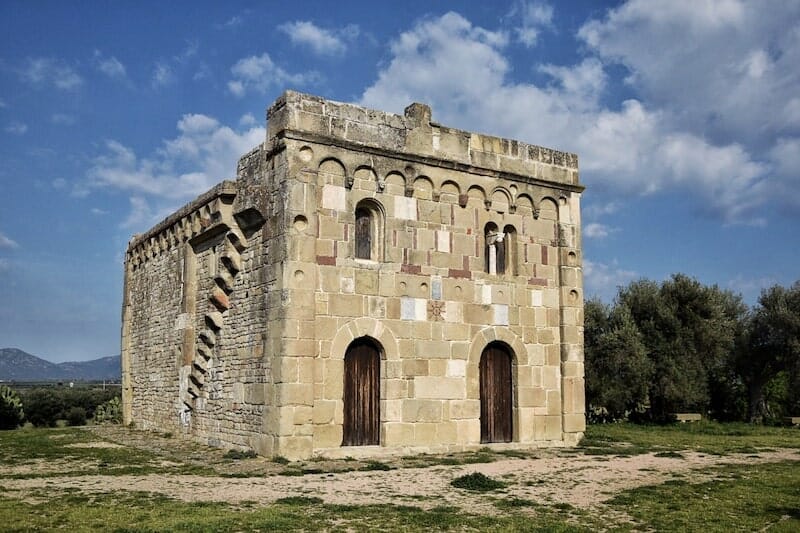 Santa Maria di Sibiola Church, Serdiana
If you care to visit Sardinia off the beaten track, head to Serdiana – incidentally, this is the village where my mom is from. About 20 kilometers (12.4 miles) from Cagliari, especially famous for its cheese, olive and wine production – which is celebrated each year with Cantine Aperte, a nice wine festival – Serdiana is a lovely place to visit.
One of its gems is the Santa Maria di Sibiola Church, located in a very scenic part of the countryside.
The church, built in a Romanesque style, dates back to the 11th century and is considered an architectural work of art: the ancient village of Sibiola was quite rich thanks to generous donations to the church, which in turn allowed some great works of embellishment, both structural and artistic, on the building.
Make sure to read my posts Make sure to also ready my post What To See And Do In Serdiana and The Prettiest Churches In Sardinia.
Su Stani Saliu, Serdiana
This attraction is actually pretty close to Serdiana too, and can be therefore visited on the same day you go to Santa Maria di Sibiola. Su Stani Saliu is a saltwater basin, where lots of birds nest or simply rest before continuing their migration.
It is one of the paradises for birdwatchers on the island. Several rare species live there, including the beautiful pink flamingoes.
The pond is about 23 hectares wide and is home to a great variety of aquatic plants as well. There are occasionally guided tours of the area – check out for Musei Aperti which usually occurs in May each year. Otherside, simply go there with a good camera and an even better lens and a pair of binoculars.
San Leonardo Siete Fuentes Park, Santu Lussurgiu
San Leonoardo is a small village, part of Santu Lussurgiu municipality, in the Oristano province. It's scarcely populated but it became famous thanks to the wonderful park where it was built, and because of the beautiful San Leonardo gothic church.
The village was actually populated before Santu Lussurgiu and was an important area ince the Roman era, becoming an essential city during the Giudicati period. Its name (San Leonardo di Siete Fuentes – San Leonardo of the Seven Springs) derives from the seven water springs that provide water for the locals.
The springs are actually still there, and the place is a much loved natural park, ideal for refreshing and relaxing walks in nature.
Make sure to read my post A Short Guide To Santu Lussurgiu.
Gairo Vecchio
Gairo Vecchio is the most famous ghost town in Sardinia and definitely one of the most unusual places to visit in Sardinia. The village, about 2 hours drive from Cagliari, has been completely abandoned starting from the 1800s, when a series of terrible floods started to periodically destroy the village, until the last, great flood of 1951 doomed Gairo Vecchio to its destiny.
The locals deemed it too dangerous, abandoned it, and decided to build a new village. However, they never reached an agreement on where to build it: nowadays, the old Gairo inhabitants (and their heirs) live in three separate villages, called Gairo Sant'Elena, Gairo Taquisara e Gairo Cardedu.
The old village is quite impressive, and can still be visited. However, for safety reasons, it's forbidden to get too close to the houses.
Read my post A Short Guide To Gairo Vecchio. You should also read my post A Guide To Visiting Lollove.
Is Zuddas Caves
At 1 hour and 15 minutes drive from Cagliari, this cave system in Santadi's area is considered the only one in the world with such features.
Someone even said that it looks like a fairytale or a fantasy movie set: the rock formations, stalactites, and stalagmites and the general atmosphere of the place will really give you a sense of magic.
The so-called "flower rocks" can only be found here in these caves, and the beautiful Nativity that is made each year in the main chamber is something you can't miss.
Tempio di Antas
This is one of the most beautiful places to visit in Sardinia, at just 1.5 hour drive from Cagliari. The temple and its surroundings are clear proof of the various cultural layers Sardinia is made of. The site was already considered sacred by the Nuragic people, and then the Punic decided to build a temple dedicated to Sid Addir there.
Another temple was later added by the Roman Empire, under Augustus' orders, and then renewed under Caracalla. Unfortunately, what stands now is a reconstruction, built in the 1970s to try to give an idea of what original temple looked like.
The site is quite interesting nonetheless: the various archeological excavations have brought to life numerous trinkets and relics, and the possibility of joining a guided tour is undoubtedly a chance you shouldn't miss.
You can catch two birds with a stone and explore the Roman quarries and Su Mannau cave complex too, where the Nuragic people used to perform some rites dedicated to water.
Read my posts A Guide To Visiting The Tempio Di Antas and The Most Interesting Archeological Sites In Sardinia.
Terme di Fordongianus
The hot springs in Fordongianus are considered one of the most important Roman sites on the island and are still partially running, albeit not on their original site – for obvious archeological reasons.
The thermal complex was built between the 1st and 3rd century AD and was an essential meeting point for the people living in the area. There is a part where the water is still flowing into the tubs – and it's 54°C (129,2°F)!
Fordongianus is located about 1 hour and 20 minutes drive from Cagliari. It can be visited both independently and on a guided tour. The site is only a few minutes from the new hot springs, so you can also relax after the visit!
You should also read my posts A Guide To Fordongianus, Sardinia: 6+ Best Places To Visit and A Guide To Fordongianus Terme Romane, Sardinia.
Final Considerations On Sardinia Hidden Gems
As you can see, there is plenty of hidden gems and off-the-beaten-track things to see in Sardinia. You can surely pick some and find the places that will make your holiday special. Have fun exploring!
Pin It For Later!