Muravera is a destination that has a lot to offer to any type of traveler. Thanks to its location, the village has been inhabited since ancient times and still attracts swarms of visitors year after year, starting from May, when its famous citrus festival takes place, until early fall when the seawater becomes too cold for swimming.
Unknown to many even in Sardinia, the area of Muravera is also a prime spot for birdwatching thanks to the presence of several swamps in the area.
To sum it up, if you are planning a holiday nearby Muravera you will enjoy some unique experiences, varying from heavenly beaches to birdwatching, from bike (or horse) tours of the mountains to thorough explorations of the archeological sites.
Curious to find out more about this interesting destination? Continue reading!
A Brief History Of Muravera
Historians think that the first Muravera village was located closer to the sea and was gradually moved away during the pirates' invasions era. But way before that, the area was a prosperous prehistoric site, as the numerous Nuraghe and Domus de Janas still prove.
The area was a Phoenician, Punic, and Roman colony. It then became part of the Cagliari and Gallura Giudicato and was passed among several powerful noble families. The Saracens who kept assaulting the villages and the fields forced these families to build several watchtowers on the beaches, which are still standing.
After Sardinia was annexed to the Reign of Piedmont (which then became known as Reign of Sardinia) of the Savoy family, Muravera wasn't involved in any important historical event.
What To See And Do In Muravera
Look for some Nuraghe and Megalites
The area is particularly rich in prehistoric remains. Among the many sites, Nuraghe Scalas is one that's worth mentioning: its area includes a multitude of menhirs (43, that were probably used as a calendar) and a Nuraghe, both rather well-preserved. Another great site is Cuile Piras Menhir Park, where the 53 menhirs are placed so that the old inhabitants could keep track of the seasons and the sun.
Make sure to read my post A Guide To Nuraghe In Sardinia.
Go visit the watchtowers
Three watchtowers can be visited in the area. The first one, Torre dei Dieci cavalli (Tower of the ten horses) got its name from the fact that ten horses (and their knight owners) used to live under the hill where it was built, in order to be always ready to act against any pirate's incursion.
The second one was built to guard off the salt mines (Saline, in Italian) and is therefore called Torre Salinas: it's the only watchtower with a squared base in all of Sardinia and has been recently restored.
The last watchtower, Torre Montiferru, watches over the natural harbor of Porto Pirastu and is located on a high hill: if you climb up there, you'll have a wonderful view of the surroundings.
Birdwatching at the ponds
Muravera and Villaputzu's municipalities share one of the richest marsh areas in Sardinia, the Sarrabus. Thousands of birds and other animals live and nest in one of the ten ponds in the area, which can be explored either with a guide or on your own, always following some essential guidelines.
Muravera's best spots are the Feraxi and Colostrai ponds: here, you can admire a multitude of both rare and common birds. Among them, you can't miss the ever-present pink flamingo and the much rarer and shier storks. Be careful to wear clothes in neutral colors and to be quiet during your birdwatching activities: many of the birds, if scared, can reach stress levels so high that they won't lay any eggs for the year – and a strong effort is being made in order to protect them!
Explore the churches
Many Sardinian villages have a history closely intertwined with faith. When Christianity was brought on the island, it set deep roots that remained until nowadays. Many villages, albeit small, have more than one church and each church in the village is equally important. Muravera has two churches that are worth a visit: San Nicola di Bari Church and Santa Lucia Church.
San Nicola di Bari Church was built in the 15th century on the ruins of an Aragonese church. There are some important relics in there, but the most famous – and particular one – is the silver cross that was donated by a man who was freed after being captured and enslaved by the Saracen pirates.
Santa Lucia Church is located in one of the most ancient areas of the village and is rich in relics, especially silver trinkets and velvet clothes for the statues. The locals are very devoted to the Saint and, despite the Church not being the main one, the Masses celebrated there are always very crowded.
Find what's left of the old mines
The area surrounding Muravera was exploited, up until the 1900s, for its abundance of silver. The old mines can still, sometimes, be seen and visited.
No guided tours are offered on a regular basis, but there's a mine – or, better, its ruins – that can be explored (while keeping both eyes wide open!). In fact, there are still some remains of Baccu Arrodas mine: they are just ten minutes away from the village. If you decide to explore the area, mind your step and be careful.
Sagra degli Agrumi
Taking place each year in April, the Citrus Festival is a celebration of all the citrus fruits – first and foremost oranges – for which the area of Muravera is famous for. If you happen to be in Sardinia around that time, make sure to attend as is very much is a local experience!
Carnevale di Muravera
As much as the Citrus Festival is local, Muravera's Carnival is strictly meant for tourists – including tourists from Sardinia! Taking place each summer around August 10th, the carnival is meant to give tourists an idea of all the traditional masks of Sardinia's winter carnival. It's a fun celebration! Make sure to watch out for the famous mamuthones.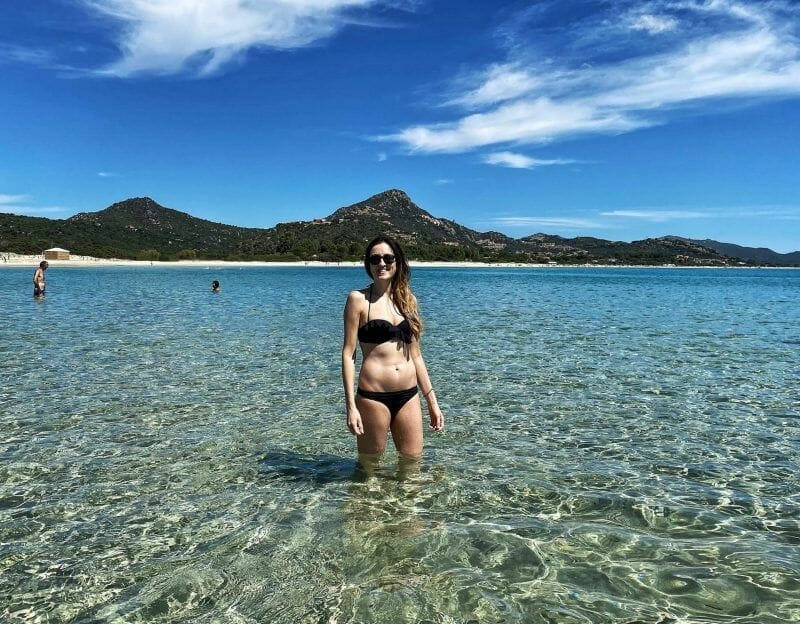 The Best beaches in Muravera
Muravera is rich in beaches and wonderful resorts! If you just want to relax, this is the right area for you. And if you want to also have a bit of adventure both? Still the best area. Here are my top picks.
Costa Rei
Costa Rei is an area with ten kilometers worth of beaches and resorts. Probably the best spot in the Muravera region, its crystal-clear water and white sand will leave you stunned. Here, you can choose between free beaches for a day trip or private beaches, property of the various hotels, for a longer and more immersive experience.
Make sure to read my post A Complete Guide To Costa Rei.
Piscina Rei
Part of the long Costa Rei shoreline, Piscina Rei is loved by people of every age for its shallow and clear water. It's safe for kids, beautiful for snorkeling lovers, and it is immersed in nature. The ideal place to spend a day away from worries and stress!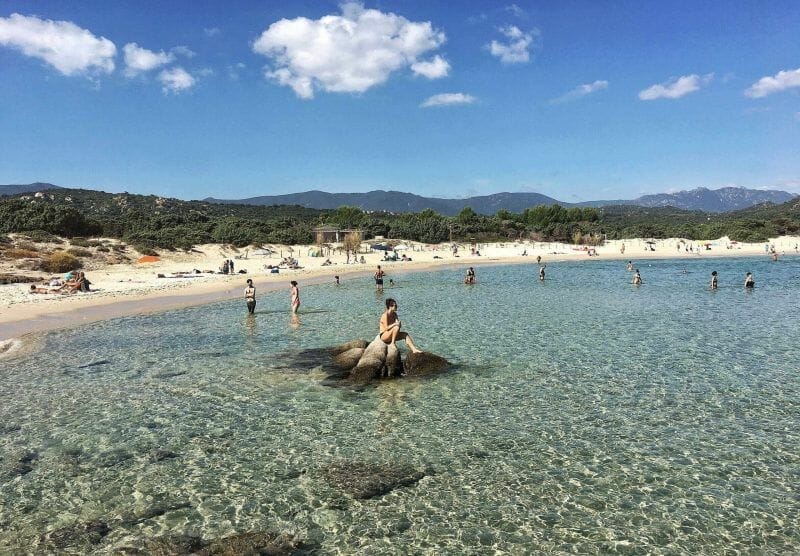 Scoglio di Peppino / Santa Giusta
This beach is the "beginning point" of the Costa Rei coast. Its particular rock (scoglio, in Italian) is the symbol of the beach, which is famous for its fine sand and clear turquoise waters. Many tourists come here to enjoy its beauty – it's surrounded by junipers and sea lilies! – and to spend a nice day with family. Just don't expect to have this spot to yourself: it's a very popular place!
Tiliguerta dog beach
One of the few fully-equipped dog beaches in Sardinia, the Tiliguerta Dog Beach is a great choice if you want to spend a holiday with your pets. Here, you will find everything you might need for them and will be sure that they're taken care of. Plus, they can make tons of friends every day!
Check out my post The Best Dog Friendly Beaches In Sardinia.
Colostrai
A long, sandy beach nearby one of the best birdwatching spots: this is Colostrai beach. You will be amazed by the scenery: the Mediterranean scrub and the yellow poppies are something worth going there for. Here, you won't only spend a great day at the beach but also take beautiful pictures!
Cala Sa Figu
One of the lesser known beaches in the area of Muravera, it's a bit of an effort to get there as you'll have to partially drive along a dirt road once you past Capo Ferrato. The beach is not serviced – don't expect a kiosk, toilets and the like – but it's a nice small cove very protected from the wind, with gorgeously clear waters that make it perfect for snorkeling.
Porto Illixi
Another lovely cove, it's located right next to Cala Sa Figu but a bit larger and thus more exposed.
Practical Information To Plan Your Trip To Muravera
How to get to Muravera
Getting to Muravera from Cagliari is quite easy. If you are driving, you just need to follow State Road SS 125 and the road signs.
Traveling by public transport? There is a direct bus (Line 103) leaving from Cagliari Central Station once every 90 minutes, every day from 6:30 am to 8:30 pm.
Where to sleep in Muravera
The best accommodation options are all in the area of Costa Rei – for hotel options in Costa Rei, click here. If you'd rather stay in the village, you can opt for one of these places:
Centu Concas Bed and Breakfast – Every room in this building has free Wi-Fi and a private bathroom, and there is a common garden and a terrace. Parking is free and the continental breakfast is delicious.
Residenza Petrera – This residence, located in an excellent part of Muravera, offers every comfort and luxury apartments equipped with everything from a microwave to a fridge and a washing machine. Wi-Fi and parking are free, and you can enjoy your time at their pool. The place is also pet-friendly.
Rio Molas Hotel – This hotel is built in an eco-friendly manner and is entirely sustained by solar panels. The location, surrounded by ancient olive trees, is excellent and so are the services: you can enjoy a swimming pool and nice rooms equipped with every comfort and a balcony. Free Wi-Fi and free parking are included.
Pin It For Later!