Are you traveling to Sardinia with your pet and looking for dog friendly beaches in Sardinia? I have you covered!
There are approximately 35 dog friendly beaches in Sardinia, and I have tried to choose the best ones and give you some information about them. These are the best places to visit with your four-legged best friends, not to mention actually some of the best beaches in Sardinia!
Before I take you to the best beaches you can visit with your dog, however, let me highlight a few things you should know.
Bringing Your Dog To Sardinia? Read This!
Personally, I have zero problems with dogs at the beach and all my friends feel the same way. In fact, I am always happy to see a furry friend hanging out with his or her family, under the umbrella or playing in the water – they are part of the family, after all. Other people, however, are concerned about the hygienic aspects and may not be too happy to spot a dog hanging out at a beach that is not specifically designed for that.
Anyways…
There is a local law that says that dogs are allowed in each and every Sardinian beach before 8:00 am and after 8:00 pm. In other words, this means that you can take your dog to the beach when there are less people around, provided that you take care of him / her, clean up after them and respect a few rules. If you bring your dog to a "no-pets beach" outside this time frame, and are caught with it (some people may complain about it and call the police, for example), you might get a fine that can range from €100 to €1000, so be careful.
If you want to spend a full day at the beach with your dog, you need to look for a dog friendly beach.
Dog friendly beaches in Sardinia might be fully equipped to guarantee the best experience to both humans and animals, or they might simply be "free-to-enter" beaches where you have to carry anything your animal friend may need. Both types of beaches will usually require your pet to have up-to-date vaccinations and a recent flea treatment. It goes without saying that your dog should be well-trained and not aggressive towards other dogs or people, and in the case of female dogs, access may be denied if they are in heat – which brings me to say that you should make sure to spay and neuter your dog, anyways!
Dog owners are also required to carry plastic bags and a plastic shovel, a short leash (generally not longer than 1.50 meters), and a muzzle. Your dogs doesn't need to wear them, but you have to have them with you.
Let's now see which are the best dog friendly beaches in Sardinia, and how to get there.
13 Beautiful Dog Friendly Beaches In Sardinia
Costa Rei, Tiliguerta Dog Beach
This is considered one of the best – if not the very best – dog friendly beaches in Sardinia. It is located inside the homonymous resort and has an area of 500 sq. meters reserved for pets and their owners. There are a lot of toys and equipment to entertain and take care of your dog, and you'll find other services such as a vet, dog sitters, and dog trainers. The beach itself is completely sandy (so, no sharp, dangerous rocks!) and the dogs are allowed to swim in the crystal-clear water.
The beach is about 65 km (40 miles) away from Cagliari and only 9 km (5.6 miles) away from the Costa Rei exit on State Road SS 125 and it's open to both the guests of the resort and outside guests, who however will have to pay a small admission fee – which is anyway 100% worth it.
Palau, Bau Bau
Located in the beautiful Punta Nera beach in Costa Smeralda, this dog beach is fully equipped for a day with your best friends. There are about 30 reserved spots, it's open from 8:00 am to 6:00 pm and it's free to access.
Upon arrival, you will receive a set with an umbrella, a water bowl, and a potty kit. There are also showers available if you want to rinse the salty water from your pet's fur. All the dogs must be registered on the Dog Registry, have up-to-date vaccines and flea treatments, and be in good health.
You have to keep your dog on a leash even when swimming; pick up their poop immediately, and always keep an eye on them.
There is also a pine grove nearby so that your dog can enjoy some shade in the hottest hours or have a run.
The beach can be reached easily since it is located inside Palau. Follow the directions to Via del Vecchio Marino and you'll find it easily.
Villaputzu, Murtas
The beach is near the Quirra Military base, a bit off the beaten path and as such very peaceful, even during peak months. There aren't any hotels or villages in the immediate proximity and the water is considered one of the cleanest, prettiest in the area. It simply is one of the best places to bring your dog to!
At Murtas, you can simply relax in front of the heavenly-like sea where your best friend is allowed to swim and stay fresh. The dog area is, as common in many beaches, separated from the general beach by a fence, and doesn't require an entrance fee.
You will need to bring your own water and food, pick up your pet's poop, and have a leash and muzzle with you. Your dog must be healthy and have up-to-date vaccines and flea treatments – there won't be anyone to check the documents, but in case the police shows up, it's best to have everything with you.
One thing to be aware of at this beach is that the water is almost immediately deep. If you are visiting with children, or if you or your dog aren't great swimmers, you'll need to watch out.
You can reach this beach by following State Road 125 to Tortolì, turning at the Quirra crossroad, and then following the road signs to Murtas beach.
Check out my complete guide to Cala Murtas beach here.
Cabras
The dog friendly beaches under the Cabras Municipality are located in pretty areas, easy to reach, and utterly gorgeous. The most famous one is Maimoni, which is just a continuation of the more famous Is Arutas and Mari Ermi Beaches.
This beach require the usual precautions (microchip, vaccines, leash, etc.) but have another, singular rule: you have to take your dog for a walk at least once every two hours.
The beach is not equipped with any umbrella or toy, so you will have to take care of everything, but rest assured you will spend an unforgettable day in some of the most renowned places in the Oristano province.
This location has clean sand and emerald water and are only a few kilometers away from Cabras: you can reach them by car. Follow SS 131/ E 25 to Cabras and then follow the road signs to the beach of your choice.
San Giovanni di Sinis
Not far from Cabras and Oristano, you'll find one of the most beautiful dog friendly beaches in Sardinia. You'll find it at the very end of San Giovanni di Sinis beach, under a promontory surmounted by a Spanish watchtower.
The beach is characterized by fine golden sand and incredibly clear, shallow waters. What's special about this place is that right behind the beach you'll find Tharros, one of the most interesting archeological sites in Sardinia. This is not a good beach on mistral days, as it's very exposed.
This is not an equipped beach – you'll have to bring everything you and your dog need for the day. However, on the way to the beach, right off the parking lot, you will find a number of kiosks where you can grab lunch and a drink.
From Oristano or Cabras, you'll have to follow the signs to Tharros archeological site. There is a large parking lot for which you'll have to pay (use coins or cards).
Make sure to read my post A Short Guide To San Giovanni Di Sinis.
Caprera, Porto Palma
I couldn't skip the best dog beach in La Maddalena Archipelago. The beach of Porto Palma is completely dedicated to dogs and their owners – you can't get in without a pet! It is free to access and the volunteers will give you a set which will include an umbrella, potty kit, water bowl, and shower access upon arrival.
The rules are the same as usual and the opening hours are from 9:00 am to 7:00 pm.
You can drive to Caprera island from La Maddalena. Once in Caprera, follow the signs pointing you to the Doggie Beach.
Olbia, Doggie beach le Saline
The first part of Le Saline beach is reserved for dog owners, who can enjoy a nice day in a very scenic place. The dog area is huge and enclosed to guarantee peace and space for everyone; the rules are the usual and there is no admission fee.
You will have to provide for everything your pets need and clean up after them.
The beach itself is loved by both locals and tourists, famous for the crystal-clear water and long, wide foreshore.
From Olbia, you can easily reach the place by following State Road SS 127 first and then SS 125; after that, follow the signs pointing to Le Saline Beach.
Porto Pino, Animal-Friendly Beach
This was considered among the best-equipped dog friendly beaches in Sardinia until it was abruptly shut down in 2019. After two years, dogs and their owners are once again allowed to go in, but the place is now a simple "dogs-only" spot with no toys or umbrellas.
The place is quite stunning, though, so in case you don't mind bringing your own water and equipment and following the usual safety rules, you will still spend a pleasant day with your best friend.
The beach is very close to Sant'Antioco Island and you will need about one and a half hour to reach it from Cagliari. Just follow State Road SS 130 to Assemini, then drive on the State Road 293 to Siliqua and follow it until Sant'Anna Arresi. That's where you'll find road signs pointing to Porto Pino. It sounds complicated but you can actually trust Google Maps in this case: it is surprisingly accurate.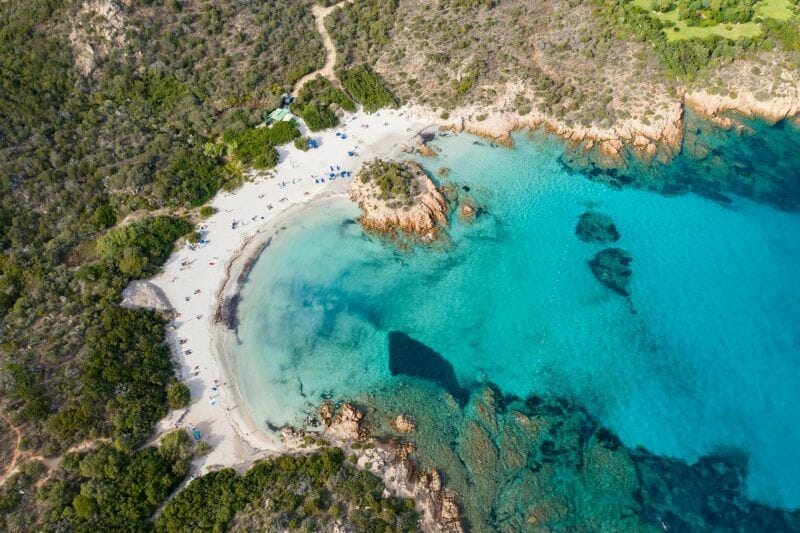 Arzachena, Lu Postu
This area doesn't only offer a scenic, heavenly beach where your dog will relax and spend some time in peace and silence (it's quite isolated from the busier tourist spots), but there are also plenty of activities you can do with your best friend!
Several resorts offer sports, trekking and even food-tourism packages specifically crafted to families traveling with pets.
This part of Sardinia is probably one of the best choices if you want to spend a pet-friendly holiday you will remember forever and which is not limited to long runs along the beach. You can, in fact, benefit from parks, hiking trails, and even boat trips to enjoy together with your dog!
Lu Postu is one of the locals' and visitors' favorite beaches because it's quiet and therefore suitable even for the shiest dogs, but the whole Arzachena area is a real gold mine in terms of pet-friendliness!
The beach is only 15 minutes away from the city, just follow State Road SS 125, then SP 13, and the road signs to Lu Postu.
Tortolì, Dog Beach Zaccurru
Another free access beach in a pretty area, the only thing you should pay attention to are the rock formations scattered along the beach. They are not particularly sharp, but your dog might hurt his paws when running around!
You must follow the usual rules: be sure to have a leash and muzzle with you (sometimes the police come for a checkup and you might be fined); keep all the papers with you; and remember to be polite and mindful of other visitors.
Water bowls, umbrellas, and the like are your responsibility.
The beach is only 9 km (5.6 miles) away from Tortolì, you just have to follow the signs pointing to Zaccurru.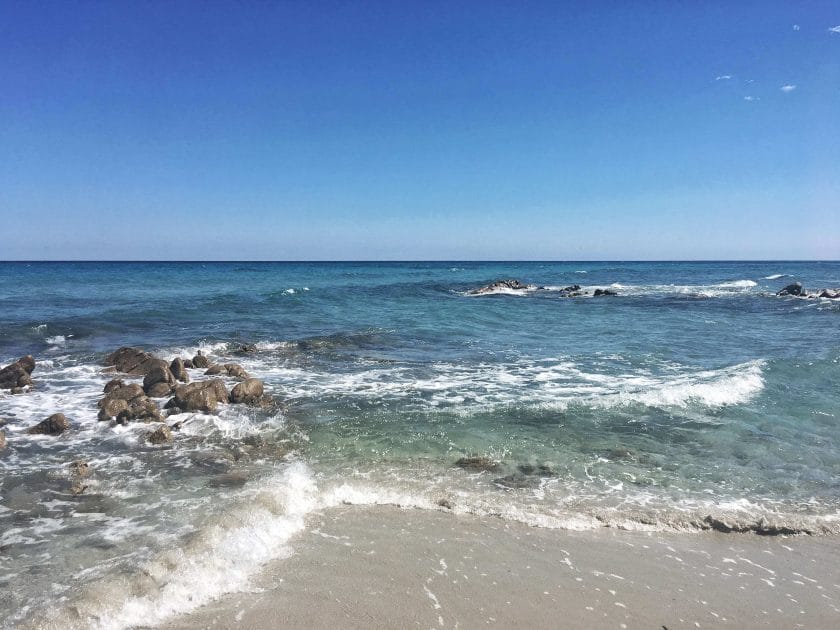 Orosei, Oasi Biderosa
Biderosa is a series of small coves between Siniscola and Orosei. You can visit with your dogs, but it is recommended to bring them to the less-crowded areas (though to be fair, as access to Biderosa is limited, none of the coves gets particularly crowded).
You will need to book your visit online here or by phone (that's for all visitors) and specify that you will bring your dog with you, and they will give you all the information you need. You must follow the usual rules, have all the papers with you, and take care of everything your pet might need during the day.
The whole area offers limited entry tickets to avoid excessive crowding, so be sure to book in advance!
You can reach the park (which consists of several elements such as a pond and five different coves) by following State Road SS 125. The entrance gate is about 12 km (7.5 miles) from Orosei.
Check out my post A Complete Guide To Oasi Biderosa.
Spiaggia di Razza di Juncu
This beautiful beach is an excellent sunbathing spot for everyone, with or without a pet. You will find yourself in the middle of everything that represents Costa Smeralda: emerald, crystal-clear water, soft sandy beaches, a peaceful and relaxing environment for a day you can pleasantly enjoy with whoever you like best.
You can rent an umbrella and a sun bed and benefit from the kiosk's services. Your dog will be, as usual, required to be healthy, non-aggressive, and not to bother the other visitors, and you will need to monitor him/her, clean up after him, and keep a leash and muzzle ready to use.
You can get to Razza di Juncu Beach by following SP 59 or SP 160 and the road signs pointing to the place. It's also registered on Google Maps so you can get there easily with a good GPS.
Fontanamare, FuntanaBAU Gonnesa
This is another pretty beach, managed by volunteers, who will give you a welcome kit upon arrival (although it's not specified what's in it, so bring your own umbrella and water just in case).
Remember the usual rules: up-to-date vaccines and flea treatments, dog registry papers, leash, muzzle, and so on.
The beach is quiet, so your dog will have plenty of space to run and fool around, the water is clean and fresh and there aren't dangerous rocks or other elements which might hurt your pet: the volunteers do an excellent job taking extra care of the beach.
FuntanaBAU is located about one hour drive from Cagliari. Follow the directions to Iglesias driving along SS130 and once there take SS126 to Gonnesa. You have to pay for the parking (€6 for the whole day).
Cagliari, Dog Friendly Beach at Poetto
Poetto, the main urban beach in Cagliari, has its very own dog friendly beach. You will find it between the old Ospedale Marino (pictured above) – a derelict building whose fate has yet to be decided – and the new one, by a beach kiosk known as L'Iguana, which is actually also dog-friendly and will happily provide a bowl of fresh water to your furry friend.
The actual dog beach is fenced so you will know which spot you should go to exactly. There is an old watchtower on the shore (see the photo above). As this is a city beach, you may find that it gets quite crowded on the weekend.
You can easily get to Poetto Beach by bus from Cagliari city center – best from Piazza Matteotti or Via Roma. Just hop on any P bus.
This has been a short list of the best dog beaches in Sardinia. I hope you will find one suitable for you, your family and your pets to spend an unforgettable holiday!
Further Readings
Looking for more incredible beaches? Check out my other posts:
Pin It For Later!