Su Gologone Experience Hotel is one of the best places to stay in Sardinia. It was first founded as a restaurant: the owners, in fact, wanted to create a cozy environment where tourists and locals could enjoy the typical Sardinian cuisine – sometimes with traditional dishes, sometimes with small changes and modernization of the ancient recipes.
It was the first restaurant in Oliena and, within a short time, it managed to get quite successful and well known, so much that the owners decided to add some rooms for the visitors coming from afar – who would otherwise have to drive back home after lunch/dinner. They started with eight rooms, and they now have seventy: this shows how much Su Gologone Hotel and the area are loved and appreciated.
If you are looking for an excellent, alternative way of spending your holiday, you can consider this boutique hotel immersed in the Supramonte region of Sardinia, surrounded by nature and incredible attractions, but still close enough to the beaches.
You should also read my posts Where To Stay In Sardinia and The Best Boutique Hotels In Sardinia.
What You Must Know About Su Gologone Hotel
Location
Su Gologone Hotel is located in Oliena, a nice village in the heart of the Sardinian mountains, in an area called Supramonte. The small town still looks like it was two centuries ago, with the streets made of cemented stones, and the traditional houses filling all the space, decorated with colorful murals. Whoever visits Oliena can witness a piece of Sardinian authenticity and tradition, and a stroll in a town stuck in the past.
Around Oliena, there are a variety of attractions, especially natural sites. The most famous one is the Gologone water springs, probably the most important water spring on the whole island, that originates from and flows through a huge carsic system in the Island's underground. You can visit the area, but a local guide is a must: it's terribly easy to get lost in this part of the mountains, and almost impossible to find your way back – especially because the terrain is filled with holes, natural pools, and other obstacles.
If you don't want to spend your whole stay in the mountains, Su Gologone is still less than 40 km (less than 25 miles) from the Gulf of Orosei and its stunning beaches. Dorgali is the gateway to the beautiful marine area – which is still part of the Supramonte! So, get in your car and maybe hop on a cruise to discover the many beauties of this part of the Sardinian coast.
Make sure to read my posts A Guide To Oliena, A Guide To Supramonte, A Guide To The Gulf Of Orosei and A Guide To Dorgali.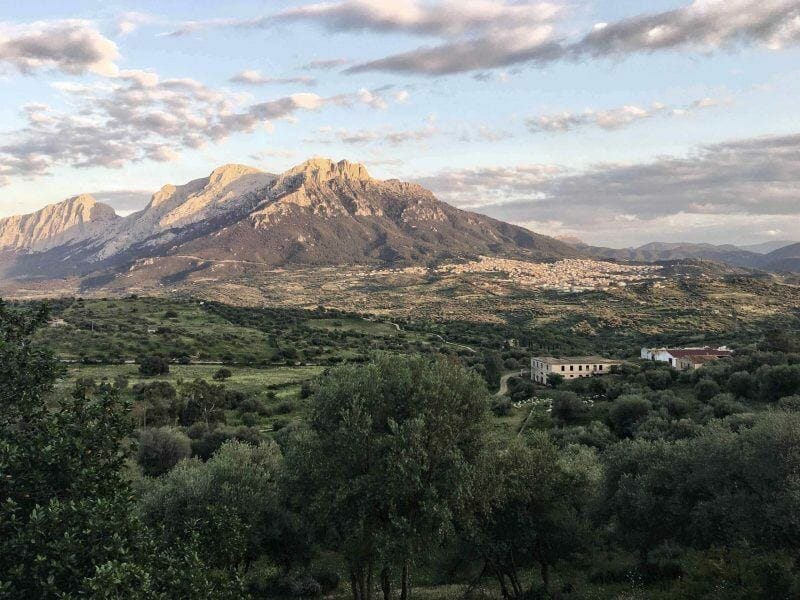 How to get there
Su Gologone Experience Hotel is an easy 20 minutes drive from Nuoro. You will need to take State Road SP46 to Su Gologone/Lanaitto, and follow the road signs pointing to the hotel.
The Rooms
When staying at Su Gologone Hotel, you can pick among an incredible selection of rooms. The following are the kinds of rooms you will find.
Art Studio Suite
This suite, of course, equipped with every comfort, was created by an artist, for artists. It's decorated with artwork and the staff will even provide art supplies for you if you need them. The suite is located nearby the hotel's garden and is well known for the peace and silence you can enjoy while staying there.
Experience Wild Suite
Created for the ones who want to experience nature to its fullest, with a bathtub and a bed outside – while the rest, beautifully furnished with traditional items and equipped with everything you might need, is inside a traditional suite – this room will give you the unique opportunity to sleep under a sky full of stars.
Experience Suites
These two suites are equipped with every comfort and are furnished with handmade, typical Sardinian furnishing, created by local artisans. They have an outside area where you can sleep or relax, and an inside part decorated with wool and other traditional items.
Suite Colores
Typical suites, well-furnished and equipped with anything a traveler might need. They vary in small details, such as the living room and private terraces (which are available only in some rooms) but they are all made for granting extra comfort to every guest.
Suite dell'Arte
This type rooms are all different, with little details to keep them unique. Some have a shower while some others a bathtub, some offer one big room and others two separate, smaller ones and so on. All of them, however, are created to be comfortable and a quiet space for the guests.
Junior Suite/Junior Suite Deluxe
Every junior suite room is dedicated to a different contemporary Sardinian artist and decorated with handmade items and furniture, often antique. Some rooms have a private terrace, every room offers a private bathroom with toiletries, a coffee machine, and much more.
Deluxe Emotion
You can choose between two singles or a double bed, and all rooms have an incredible view of either the mountains or the garden. A private bathroom with toiletries, coffee and tea maker, and many other features are included. All rooms have a terrace or balcony.
Deluxe Rooms
All the rooms are different one from the other, almost all of them feature a balcony or terrace, and they are all furnished with traditional pieces of Sardinian craftsmanship. A coffee maker, private bathroom with toiletries, air conditioning, and more are included.
Classic Rooms
The smallest rooms, but extra comfortable nonetheless. Furnished with traditional items and equipped with every comfort, all rooms are different and cozy; some have a balcony.
The food
Every dish served at Su Gologone Hotel is as traditional as it could get. The ingredients are often locally produced and farmed, and the chefs are incredibly talented in making delicious food that follows the ancient recipes by the book.
You can enjoy the best of Sardinian food at the hotel's restaurant, which offers a panoramic terrace and a cozy indoor area, or have a meal in one of the hotel's special areas, the Orto (vegetables' field), the Nido del Pane (the bakery), and the Corte de su Re, a mini-exhibit of antique Sardinian tools that were used for the everyday life.
Services to visitors
Boutiques
Su Gologone Experience Hotel has six different boutiques on its premises, all of them selling traditional Sardinian items, from pillows to furniture. Most of them are copies of what is used to decorate the hotel's rooms. If you want to buy a unique souvenir or something that will look beautiful in your home, this is the right place where to shop. All products are handmade with great care, and therefore unique.
Theme areas and lessons
It's possible to visit some areas of the property where you can see incredible collections of plants, or local products, watch and learn how to make Carasau bread and other Sardinian dishes, or relax in special terraces designed for quiet, peaceful resting moments. The winery and the farm are among the most loved places, but there's plenty more to discover.
Weddings
You can even plan your wedding at Su Gologone Experience Hotel. They can host huge parties and smaller ones, thanks to the numerous rooms, and the location is simply breathtaking and will make for incredible pictures. The food served at wedding receptions is, as usual, prepared with extra care to every detail, and the staff will make sure to meet every request you might have.
Health and Fitness
You can enjoy your time in a gym, swimming in the hotel's pool, or experience SPA day during your stay at Su Gologone Hotel. There are quite a few options to suit every guest's needs, from Yoga to massages, and several tools for your fitness exercises.
Pin It For Later!