There are plenty of boutique hotels in Sardinia and if that's your style of accommodation, you can rest assured you will find something suitable pretty much anywhere on the island.
An essential part of every holiday is the place of stay. Every traveler has some standards and preferences when it comes to booking a nice place where to sleep and rest, and that's why hospitality has evolved into a multi-faceted reality.
There really is a room/hotel/apartment to suit each and every personal taste, especially in places with a high tourist flow like Sardinia.
Due to the variety of environments and attractions, Sardinian hotels are quite variegated: from an enormous resort in front of the beach to a very private and cozy B&B in the middle of the mountains, you will undoubtedly be surprised by the almost infinite possibilities you'll have when choosing your place of stay.
Boutique hotels in Sardinia are found in various locations on the island, and provide incredible comforts, a cozy environment without over-the-top luxury.
What's A Boutique Hotel?
The idea of Boutique Hotel was first developed in the 1980s when the hotel industry thought of making a cozier, smaller, and more private alternative to the big hotels and chains. Boutique hotels, in fact, usually have fewer rooms (between 10 and 100) and are curated in every small detail, to give the guests the impression they are staying in a high-end apartment rather than a hotel.
Every boutique hotel has a theme that will fit the view and the surroundings so that there never are two boutique hotels looking exactly the same. Boutique hotels in Sardinia are widely appreciated by couples and guests who want to spend a relaxing holiday in a unique space, away from the hassle of big chains, resorts and crowded places.
Finally, let's look into the best boutique hotels in Sardinia. I have selected my favorite ones and divided them by location.
The Best Boutique Hotels In Sardinia
Villa Fanny is one of the prettiest boutique hotels in Sardinia, located in a nice area of Cagliari. It's close to several attractions such as the Roman Amphitheater and the Botanical Garden and guests can enjoy, on top of some incredible rooms and a pretty location, a peaceful stroll in one of the nicest parts of the city.
Villa Fanny was originally a private house, supposedly owned by Stanislao Silesu, uncle of the woman (Fanny) the building is now dedicated to. Fanny used to travel with his uncle (a famous composer) all across Europe, and during these travels, she made friends with several literates of her time, learned a lot, and became a well-educated noblewoman.
In 1952, she married Ercole Cellino and moved back to Sardinia, where she and her husband started to build a company – which nowadays has turned into a small empire that produces pasta in Sardinia.
In 2016, the boutique hotel Villa Fanny was opened to the public after a careful and thorough renovation, and its 19 rooms are now a sophisticated place of stay for tourists, and a great location for events and conferences. The on-site restaurant is fabulous.
Inaugurated in February 2020, Palazzo Doglio is the product of an ambitious project: the owners – the same who own Forte Village in Pula – wanted to renew the old building and revamp the whole area where it's located – and trust me, they were right on spot on this.
Palazzo Doglio is indeed a masterpiece: its 72 rooms include several suites, and there is a whole wing dedicated to wannabe permanent residents, with about 40 apartments on sale. The hotel is equipped with everything and more, from top-tier rooms impeccably furnished and decorated to a SPA, conference rooms, a theater, and four restaurants – each of them delicious.
Santa Maria Navarrese is a village in between the Ogliastra mountains and sea, and the Lanthia Resort Boutique Hotel really follows this kind of "truly Sardinian" vibe: everything is inspired by the local heritage and built with it. The granite and the durmast in the building are the clearest examples, but everything in Lanthia Resort is a proud product of Sardinia.
By staying in Santa Maria Navarrese you will have the freedom to explore the Gulf of Orosei in all its shapes and forms – from long hikes to peaceful boat trips – and have an adventure in the island mountainous region. The Ogliastra region is breathtaking both on its coasts and inside the depth of its mountains.
Su Gologone Hotel was originally a simple restaurant in the Barbagia mountains and became a boutique hotel as time passed and customers kept growing – and asking for a place to sleep after having delicious feasts. Now Su Gologone has more than 70 rooms, each furnished with great care, following the theme of Sardinian traditions and handcraft.
Every room is a unique piece of a beautiful puzzle, in the middle of the stunning Supramonte and nearby ancient and mysterious attractions – such as the Gologone Springs, several nuraghe, and the Sterru Plain.
The Jazz Hotel is just a few hundred meters from Olbia Costa Smeralda Airport and is the ideal stay for those who are planning to wander a bit around and need a comfortable place to rest. Like every boutique hotel, the rooms are well decorated and have a business hotel kind of vibe, but without giving up on luxury and attention to detail.
Olbia is the ideal gateway to the many beauties of North Sardinia: from there, you can quickly get to Costa Smeralda or La Maddalena Archipelago; you can take a detour from the coast and get (figuratively) lost in the beautiful Sardinian mountains, or you can just live a mundane life and visit the most touristic spots – like San Teodoro.
Located in a wide park filled with Mediterranean scrub, the Petra Segreta Resort is an incredible place to rest and recharge your batteries, away from the Costa Smeralda bustling life but just a few kilometers from it, altogether.
Petra Segreta offers 25 luxury rooms and suites (10 of them with private, heated pools), two gourmet restaurants, and breathtaking scenery. The guests usually are bewitched by the views of the sea – one of the most beautiful in the world – and of the mountains – unique, and the real symbol of this corner of Sardinia.
The Stazzos were old farmers' houses, where they used to live and take care of fields and livestock. A few of these stazzos have been renewed and turned into hospitality structures, and Stazzo Lu Ciaccaru is an excellent example of this new business.
Located in Arzachena, just a few kilometers from Costa Smeralda and in one of the areas most filled with ancient ruins and modern attractions, the Stazzo Lu Ciaccaru, despite being a luxury hotel, takes pride in its very homelike appearance and furniture.
The owner, in fact, has made a point of making the place as cozy as possible, to give her guests the feeling of staying in a well-made house rather than a hotel.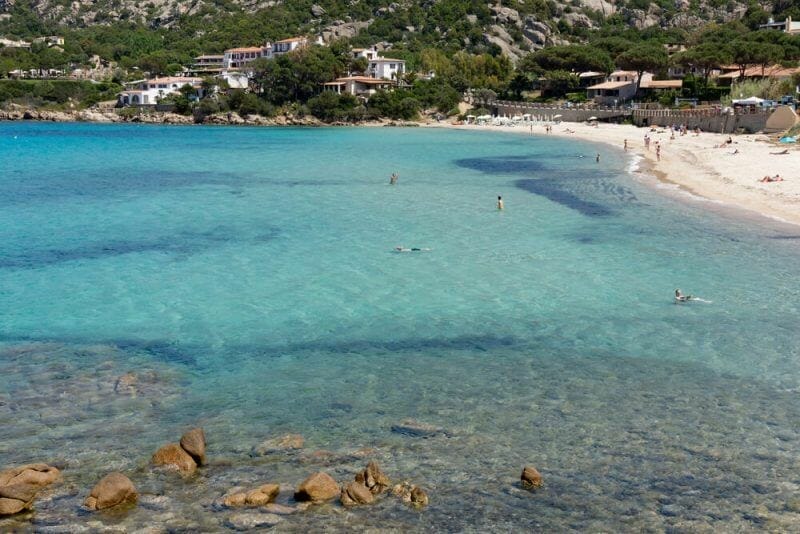 Located in an excellent part of the Sardinian coastline, Hotel Grand Relais dei Nuraghi offers views of the Arzachena Sea and the La Maddalena Archipelago. Its rooms are bright and furnished to match the paradise-like mood of Baja Sardinia. You can enjoy every comfort, including swimming in private pools and sleeping in top-tier suites or rooms.
And if you feel like exploring the area, you will have plenty of things to do, from visiting old ruins to some typical villages or cycling around the Sardinian countryside. After all, the hotel takes its name from the most representative thing in Sardinian archeology, so why not go and see one or two nuraghe with your own eyes?
Located in one of the emblems of North Sardinia, La Coluccia Boutique hotel has its own private beach and a view on the Spargi Islet – the pearl of La Maddalena Archipelago. The hotel offers five-star rooms and suites, a SPA, excellent restaurants, and much, much more.
The location is indeed excellent: just some kilometers from Santa Teresa di Gallura and Palau, and a few minutes (by boat) from La Maddalena, this boutique hotel is literally everything you can ask from a holiday where you can relax and enjoy the summer movida altogether.
Once the private residence of the famous singer-songwriter Fabrizio de Andrè and his wife, who loved the island deeply, to the point of buying a mansion here, L'Agnata has been transformed into one of the best boutique hotels in Sardinia in the 1990s, and you still can feel his original owners' presence and traces in every inch of the property.
Immersed in the green heart of Sardinia close to Tempio Pausania, the building offers a unique experience filled with de André memorabilia, breathtaking mountain views, and delicious food: the restaurant is – and has been – quite famous and is also open to external guests (but you will need to book your table well in advance).
The Luxury Liberty House is an ancient villa in the historical center of Alghero, one of Sardinia's most peculiar cities, loved by families, solo travelers, and young groups of friends alike. Alghero is often called the Sardinian Barcelona, because of the heavy influence of the Catalan culture throughout history.
The Luxury Liberty House, which has been renovated in 2021, offers six rooms where you can get an idea of how people from the previous century used to live. Moreover, thanks to its strategic location, you will be staying in the heart of Alghero, close to every attraction and fun activity.
Bosa was one of the most important and rich cities in Sardinia during the Middle Ages when the Malaspina (a family of nobles) lived there and made the economy flourish.
Palazzo Pischedda was one of the many residences of the nobles and still has the same charm of centuries ago. It's decorated with beautiful art and, despite being rebuilt several times, is still one of the most suggestive places to stay in Bosa, overlooking the Temo river and the beautiful village.
Located in Santu Lussurgiu, the Antica Dimora del Gruccione consists of several mini-apartments in a typical Sardinian style, mixing old and modern features.
The pretty village is found in the Oristano Province and has become famous for its traditions and folklore. You can't miss a visit to the San Leonardo di Siete Fuentes Park or a simple stroll in the city center, but most of all you definitely have to witness Sa Carrela e Nanti, a horseriding competition held every year during the Carnival celebrations.
Antica Dimora del Gruccione is still a family business: its owners take great care of the guest and great pride in their satisfaction. The hotel's name comes from the bee-eater bird (in Italian, Gruccione) that used to nest in the house when it was still a private place of residence. The on-site restaurant is worth a try too.
Probably the most unique boutique hotel in Sardinia, this one is located inside a lighthouse! In the past, in fact, the building was the guardians' home, but they abandoned it when Capo Spartivento (nearby Chia) lighthouse became automated.
Until someone decided to renew it and turn it into a boutique hotel: Faro Capo Spartivento is now one of the most desired places to stay in the area.
Capo Spartivento's rooms are incredible, and so is the view: the lighthouse is built on top of a hill in a promontory overlooking an incredibly blue and vast sea. Every guest who stayed here always has the same thing to declare: it's an unforgettable experience.
Santa Margherita di Pula, Boutique Hotel Capo Blu
The boutique hotel Capo Blu is located in Santa Margherita di Pula, very close to Cagliari and only a few kilometers away from Nora, one of the most important Punic-Roman remains on the island. Santa Margherita di Pula itself is one of the gems of Sardinia: the sea and the scenery are no joke.
The hotel Capo Blu consists of 14 rooms and a common area at the center of the building, of course, equipped with everything and carefully furnished and decorated. It's an excellent choice if you're looking for a space that's not crowded, close to the beach, and to the many attractions.
Further Readings
Looking for more accommodation ideas for your trip to Sardinia? These posts will come in handy:
Pin It For Later!