Dorgali is one of the Sardinian villages with the biggest surface (225 square kilometers!) and as such it has an incredible range of attractions waiting to be discovered. Its territory stretches from the mountains in the hinterland to the beautiful coves of the Gulf of Orosei: this makes finding an activity that will suit your tastes extremely easy.
Hiking? Check. Lazy sunbathing at the beach? Check. Archeological sites? Check. Boat tour of the area? Yup, check. The city of Dorgali in itself (and its Cala Gonone marine district) is filled to the brim with points of interest, churches, a museum, and even a small aquarium! And, let's not forget that this is one of the most beautiful marine areas of Sardinia.
Curious to discover all the attractions in Dorgali and plan a memorable holiday? Continue reading!
A Short History Of Dorgali, Sardinia
Despite being a territory that hosted a constant flow of people during the centuries, Dorgali was never a theater for extraordinary events. It was however highly populated since prehistoric times, as the many findings and and nuraghe in the area show. Its area was home to some flourishing villages during the Roman eras and to several Catholic monasteries during the Middle Ages: the religion's importance and influence have survived the flow of time and is still an essential part of the daily life of locals.
Dorgali's darkest era was undoubtedly the 17th century plague, which impacted the whole island and took its toll on this village as well: the population started to rise again only two centuries later.
The town had a marginal role during the two world wars, and started to develop its economy – basing it on tourism – from the 1950s onwards, especially thanks to the marvelous beaches of the area.
What To See And Do In Dorgali, Sardinia
As a village in and of itself, Dorgali doesn't have so much to offer – though I recommend having a look around, as you can definitely get a glimpse of local life there; and you should also pop inside the local archeology museum. On the other hand, the surroundings are packed with interesting places to visit – natural sites, archeological sites, and gorgeous beaches. Here are the places you should not miss.
Discover the local history in Dorgali Archeological Museum
Albeit small, the local Archeological Museum is well organized and hosts a considerable number of relics, spacing from prehistoric to contemporary ones. It's divided into three rooms that show, in chronological order, what happened in this part of the island throughout the centuries.
The relics exposed have been accurately chosen among all the findings and there is a huge presence of objects found in sites that are still open to the public, while the relics found in destroyed / hard to access places are less numerous. This has been done to encourage visitors to explore the area.
Hike all the way to Tiscali
Tiscali is one of the most interesting examples of nuragic civilizations in Sardinia. It's a bit of a hike to get there, but worth it.
Be sure to book a guided tour, because it's quite easy to get lost in the beautiful Sardinian mountains; plus, it's not the easiest of hikes, so having an expert guide by your side will make the experience way more pleasant. You will explore the ancient roads where coal miners used to travel until you reach Tiscali.
You can book your guided hike to Tiscali here.
Check out my post A Guide To Nuraghe In Sardinia.
Kayak to Su Gologone
Su Gologone, in the territory of Oliena, is the source of Cedrino, a mountain river which was actually turned into a lake by an artificial damn. It's a gorgeous place only a few kilometers away from the Lanaitto Valley, and close to other local landmarks such as S'Ena e Thomes and Sa Sedda e Sos Carros.
If you have a car, you can easily drive to Su Gologone. If you are feeling more adventurous, however, you should rent a kayak from the Agriturismo Canales and paddle all the way there. The view of the canyon from the kayak is stunning, and the beauty of the water source will reward you of all your efforts!
For a canoe tour of Lake Cedrino, click here.
Visit S'Abba Frisca Park Museum
Dorgali Park Museum was established in what used to be an old farmhouse, and is not Sardinia's largest ethnographic museum. There are trails inside that you can follow to learn more about Mediterranean vegetation, and a number of animals – wild and domestic – that live at the farm, which is thus the ideal place to visit if you are traveling with children. There is an on-site restaurant where you can also enjoy local specialties.
The site is open daily, but you must book your visit in advance. You can do so here.
Visit S'Ena e Thomes Giants' Tombs
This is one of the best kept examples of Giants't Tombs in Sardinia. Measuring over 10 meters (32.2 feet) in height and 7 tons in weight, it's beautifully immersed in the countryside, in what actually is private land.
Archeological excavation found simple tools and tokens inside this tomb – a sign that the tribes of the time may not have had a precise hierarchic distinction and thought everyone was equal when facing death.
Take a look at Sa Sedda e Sos Carros
One of the most interesting and lesser visited sites in the area is Sa Sedda e Sos Carros – literally meaning "where the carts pass."
This prehistoric village in the Lanaitto Valley, in the Supramonte mountains about 45 minutes drive from Dorgali on the way to Oliena, is a nicely kept nuragic complex that dates back to a time when the nuragic people already knew the use of metals.
The site was linked to the cult of water and its most interesting building is "the source" – a circular space made of squared blocks of limestone and basalt placed one next to the other. On its walls you'll be able to spot carved mouflon heads with a hole through which water would flow. The nearby structure was a pool used for ceremonial ablutions and religious rites all connected to the cult of water.
Visit the local artisans' boutiques
Dorgali, like the vast majority of the cities in the area, is particularly proud of its crafts. A tour of the local boutiques isn't just an optional activity, is something that will make your holiday really complete.
The most famous products in Dorgali are the ceramic artworks, from vases to mosaics, and the filigree jewels that are super requested for the production of the traditional Sardinian costumes' buttons. If you are looking for some special souvenirs, why not try your luck here?
Visit Cala Gonone Aquarium
Like every island, Sardinia is proud of its sea and sea creatures. In this aquarium – located in Cala Gonone, Dorgali's marine district – you can admire both local and exotic species divided into several tanks and educational itineraries.
It's indeed a fun activity if you travel with your family or if you are simply an aquariums lover.
Book your visit at least two days in advance by sending an email ([email protected]).
See the Sea Oxen Grottoes (Grotte del Bue Marino)
This cave complex – among the most beautiful caves in Sardinia – is located close to Cala Gonone and reachable by boat and is considered one of the biggest in Europe. Despite the portion open to the public being much smaller, the whole cave system stretches out for more than 70 kilometers. Its name, meaning "The Sea Oxen grottoes", was given by the fishermen who used to stock on fish in this place, where colonies of monk seals (called Sea Oxen because of their cry) would live and mate.
Unfortunately, the competition for the fish and the consequent killing of the animals brought the seals to the brink of extinction, but someone still believes they took shelter in the deeper portion of the cave system.
To visit the caves, you will have to hop on a boat in Cala Gonone. There are regular departures. You can also visit the grottoes as part of a guided tour around the Gulf of Orosei.
Make sure to also read my post A Guide To Visiting The Grotte Del Bue Marino.
Join a Gulf of Orosei boat tour
Another great experience thing to do in Dorgali is a boat tour to visit the many small coves in the Gulf of Orosei, most of which can only be reached by boat or on a long hike.
There are several cruises, of various sizes, that leave from Cala Gonone every day. You can book your tour via the many companies in Cala Gonone, or you can even rent your own dinghy and explore the sea on your own!
Alternatively, you can book your boat tour online here.
Discover the best beaches near Dorgali
Speaking about beaches, it comes with no surprise that Dorgali – or better, its marine district, Cala Gonone, has some of the best beaches in Sardinia. Let's see the most famous ones.
Spiaggia Centrale
The most popular beach in Cala Gonone, the one right in the center of the village, it's where the aristocrats used to go on holiday. You can still feel the importance of the place by simply looking at the view, and especially at the Liberty-style villas overlooking the beach. And, as expected from the nobles' favorite beach, the white sand and stunning emerald sea are simply perfect.
Cala Fuili
You can reach this beautiful cove via a staircase that goes through a forest: isn't this already enough to make you daydream about a relaxing day there? The beach is small and secluded, the water not too deep. It's seriously the ideal place for an escape, away from everything and everyone, surrounded by nature and peace. And it's one of the few beaches in the area that can be reached by car.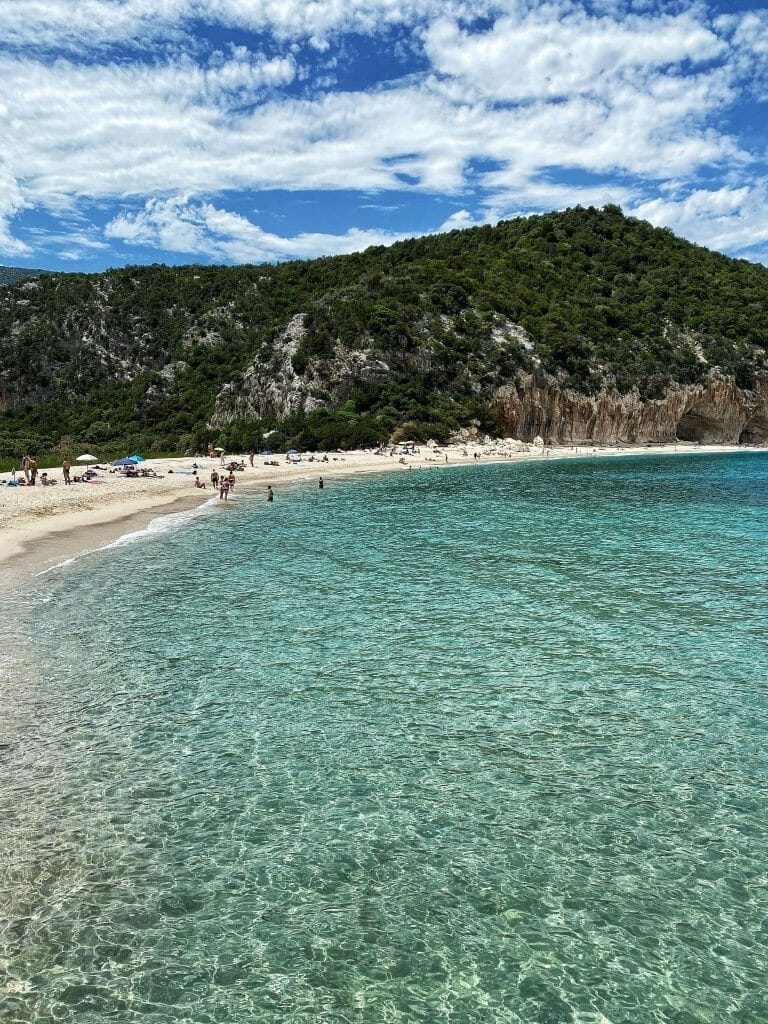 Cala Luna
An 800 meters long shoreline and crystal-clear, deep water loved by snorkelers: this is Cala Luna, which is considered, together with Cala Goloritzé, the symbol of the Gulf of Orosei. Its surroundings are simply breathtaking: many climbing lovers go there, all year round, to enjoy their favorite sport on the tall rocks that encircle Cala Luna.
Cala Luna can be reached by boat from Cala Gonone or via a 6 km hike (12 there and back) that starts in Cala Fuili. The hike is for the most part moderate, but you will need water and food for the duration of the hike and it can be very hot in the summer months.
Make sure to read my post A Complete Guide To Cala Luna.
To book a guided hike to Cala Luna departing from Dorgali, click here.
Cala Cartoe
This beach is probably the best pick if you travel with kids. The water is in fact very shallow for several meters and the whole beach is surrounded by Mediterranean trees and secular oaks, making it very safe for families who want to spend a peaceful day. The parking is nearby, too, so you will not have to walk a lot under the sun to reach the actual beach.
Palmasera Beach
Palmasera beach is the right place for the ones who like to be a little more spoiled. It's equipped with every comfort; it has its own resort and is very close to the village, so that you won't feel stranded, ever. You can rent a rubber dinghy, play in the small water park, or have fun with aqua scooters and kayaks. It's the best place to spend a day if you get easily bored.
Sos Dorroles Beach
Sos Dorroles beach is a bit of a special place: its sand is darker than the neighboring beaches and is surrounded by orange-golden rocks that make for a unique scenery. It's mostly loved by scuba and snorkeling lovers and is close to Cala Fuili and Palmasera Beach.
Practical Information To Plan Your Trip To Dorgali
How to get to Dorgali
While Dorgali is connected to the rest of Sardinia by bus, you are definitely better off renting a car if you are planning to visit, so that you can make the most of its beautiful surroundings.
If you are driving from Olbia, you first need to take State Road SS 131 to Nuoro-Siniscola; then, at km 70, you have to change to SP 38 and, after 17 more kilometers, to SS 125 Orientale Sarda until you reach Dorgali.
From Cagliari, take SS 131 to Abbasanta, from where you will take SS 131 towards Nuoro. A sign will point you to Dorgali. Take SP 38 to SS 125 all the way to Dorgali.
Check out my post A Guide To Renting A Car In Sardinia.
Where to sleep in Dorgali
Dorgali is a rather small town, but there are some good accommodation options. The best ones are actually the local agriturismi, which are beautifully immersed in nature and offer some of the best food in the area. Alternatively, you can opt to stay in Dorgali marina – Cala Gonone – for options that are closer to the sea.
AGRITURISMO CANALES – My favorite agriturismo in Sardinia, Agriturismo Canales is actually a few kilometers outside Dorgali, completely immersed in nature and with breathtaking views of Lake Cedrino. Rooms are spacious and comfortable; the meals delicious and there is the possibility of renting kayaks to go all the way to Su Cologone.
B&B FRADAMA' HOLIDAY – Located in a nice area of Dorgali, this Bed and Breakfast offers nice rooms, equipped with every comfort, and excellent breakfast service. Free WiFi and free parking are included. You will be staying at about 20 km from the beaches.
APPARTAMENTI SA CORTE – Every unit features free Wi-Fi, a microwave, a fridge, and everything else you might need from an apartment. The location is, according to previous guests, excellent. Free private parking is also available.
HOTEL VILLA GUSTUI MARIS – Located in Cala Gonone, this hotel features plain but spotless and very comfortable rooms, complete with gorgeous sea views. Free parking on site and a swimming pool make it a fabulous place to stay.
Dorgali is sort of a Sardinian Wonderland, with all the marvelous attractions. So, what are you waiting for? You'd better start planning your trip!
Pin It For Later!