If you find yourself in Sardinia, and you are looking for medieval villages and astonishing natural landscapes, then visiting Aggius is a must.
Aggius is a small town located in the heart of Gallura, in the north-western part of the island. It is well known for its landscape, shaped by granitic rocks, and for its traditional houses, which are built with the same granite rock.
It also received the "Bandiera Arancione", the orange flag, an environmental recognition of quality assigned by the Italian Touring Club, an organization whose purpose is to promote tourism to lesser known places in Italy.
Are you curious to find out more about this lovely small Sardinian town? Continue reading!
Make sure to read my posts The Best Hidden Gems In Sardinia and The Prettiest Cities, Small Towns And Villages In Sardinia.
A Brief History Of Aggius
The village dates back to the Middle Ages, its name is in fact attested since the 14th century. However, its origins are still uncertain – to date, we don't know if the name comes from ancient Latin or Greek. However, there are several evidences that place its origins since prehistoric times.
During the Middle Ages, Aggius belonged to the Judicate of Gallura, and its territory was much more extended than what it is today, incorporating several villages that now are independent towns.
When the time of Judicates was over, Aggius went through several dominations – much like the rest of Sardinia: first, the Aragonese rule and then the Spanish one. Spanish rule lasted more or less 400 years, and it had a great influence in Aggius' dialect and local traditions – an influence that is still visible nowadays.
Finally, in the 18th century, Sardinia became part of what was then known as the Kindgom of Sardinia and Piedmont, rules by the Savoy family. During the 19th century, there were numerous feuds in the town – one of those inspired the book (and now a movie) Il Muto di Gallura, written by Enrico Costa.
What To See In Aggius
Thanks to its landscape, its architecture and its museums, Aggius is a lovely place to visit year round. Here are its main attractions.
Valle della Luna
Aggius is known for its granitic peaks. These form the Piana dei Gran Sassi, known also as Valle della Luna (Moon Valley, in English: this must not be mistaken for the Moon Valley in Santa Teresa di Gallura). From the higher peaks, you can enjoy a breathtaking view that reaches the coasts of Gallura. It is the perfect place to go on excursions in the midst of nature.
Lake of Santa Degna
For those who are more interested in naturale, the town is surrounded by oak forests and Mediterranean scrub. In the area, a beautiful artificial lake is found – the lake of Santa Degna, which was created through the damming of Rio Mannu. It is a lovely park where you can relax, have a picnic, and enjoy nature.
Nuraghe Izzana
Near both Aggius and Tempio Pausania, you can find Nuraghe Izzana. It is probably the biggest nuraghe in Gallura, and it is known for its triangular base. It is made of granite and it has other peculiarities that make it an interesting example of Nuraghe in Sardinia.
For instance, the already named triangular base; then, it appears to have characteristics of two different types of nuraghe, which were built in different era. There is more than one entrance, and inside there are several passages that will remind you of a small labyrinth.
Make sure to read my post A Guide To Nuraghe In Sardinia.
Town Center
The center of Aggius is itself worth visiting, given its typical houses and streets made of granite. The town has different beautiful churches, for example the Chiesa di Santa Vittoria, which apparently was built in 1536 in Romanesque style, and the Chiesa della Madonna D'Itria, which was built by a family in honor of the Virgin Mary in 1750.
Ethnographic Museum "Olivia Carta Cannas" (MEOC)
For those interested in the local history, this museum show details of how people used to live in the area. The Ethnographic Museum "Olivia Carta Cannas" (MEOC) is the biggest ethnographic museum in Sardinia. It displays typical domestic items, as well as the manufacturing, especially the textile one, typical of the village. The very same architecture of the museum is worth seeing, since it combines granite and green spaces.
From October 15th to December 31st, the museum is open Tuesday to Sunday from 10:00 am to 1:00 pm and from 3:00 to 5:00 pm. The museum is closed in January. In February and March, it is open Tuesday to Saturday from 10:00 am to 1:00 pm. Finally, from April 1st to October 14th it is open every day from 10:00 am to 1:00 pm and from 3:00 to 7:00 pm. Admission is €4.
Museum of Banditry
The Museum of Banditry gives a portrait of banditry in Gallura through different documents, pictures and videos. it's one of the most interesting museums in Sardinia.
The museum is open by appointment only in the winter months – send your request via email to [email protected]. From April 1st to October 14th it is open every day from 10:00 am to 1:00 pm and from 3:00 to 7:00 pm. Admission is €4.
Make sure to read my post The Best Museums In Sardinia.
Festivals And Celebrations In Aggius
Depending on the time of the year, there are several events that take place in Aggius. Here are the most important ones.
You should also read my posts The Most Important Events and Festivals In Sardinia and A Guide To Easter Celebrations In Sardinia.
Settimana Santa
The most important event is the Settimana Santa, holy week, in which different parades and ancient rites are performed throughout the week that leads to Easter.
San Giovanni
The birth of Saint John – San Giovanni in Italian – is celebrated every June 23rd. A bonfire is lit in town, and food and wine flow.
Festa di li Agghjiani
Celebrated annually on the first Sunday of October, the Festa di li Agghjani is the celebration of bachelor men, which traditionally danced a traditional dance to attract the attention of young women. Many celebrations are accompanied by the traditional songs sung by the different choirs existing in town. Instead, the dance traditions are carried out by the town's folk group.
Practical Information To Plan Your Visit
How to get to Aggius
The nearest airport and harbor are located in Olbia. However, you can easily get to Aggius also from Porto Torres and Alghero. Needless to say, it is significantly easier to get to Aggius by car than it is by public transport.
From Olbia, you need to take State Road 127, then take SP38 following the signs to S. Antonio di Gallura and Tempio, then you need to turn again onto State Road 127 following the directions to Cagliari, Sassari, Aglientu-Aggius. It will take you about 50 minutes to get there. If you intend to use public transport, you'll have to first take a bus to Tempio and then another to Aggius and the overall trip will take you about two hours.
From Porto Torres, you either take SP90 which a coastal road and one of the most scenic drives in Sardinia, or you can take E25 until Codrongianos, then State Road 672 Sassari-Tempio. The first one will take more or less 1 hour and 15 minutes, while the second one 1 hour and 20 minutes. It will take you almost four hours and multiple chances to reach Aggius by public transport from Porto Torres.
From Alghero, follow State Road 672 Sassari-Tempio. This road will take you about 1 hour and 25 minutes. Traveling by public transport from Alghero is not recommended: it will take you more than four hours and multiple changes.
Where to sleep
Albeit small, should you want to sleep in Aggius you will find a fantastic selection of accommodation options. Here are some places you may want to consider.
Locanda Li Manni
Located in the heart of the town, this inn is the perfect example of the granite houses that make Aggius so charming. Breakfast and dinner are served daily using only local ingredients. Staff is available to help you plan visits to natural and archeological sites.
Li Tre Bicchi
In the historical centre of town, the main perk of this holiday home is the stunning view from the balcony. It has two bedrooms and two bathrooms, and a kitchen where you can cook your own meals.
B&B Li Criasgi
Located in Li Criasgi Street, this B&B offers private parking, free Wi-Fi, and an airport shuttle service for an additional charge. Staff will help you plan a wide range of activities from hiking to biking and even cooking classes. Pets are welcome.
Agriturismo Il Muto di Gallura
Just 1 km from Aggius, this beautiful agriturismo is an ideal place for a family. There is a swimming pool and you can also enjoy a hot tub or a sauna, for an extra charge. The on site restaurant serves typical Sardinian food. Pets are welcome.
Stazzu Coiga
Perfect for those who wants to be surrounded by untouched nature, yet very near to the town and to the interesting places in the area, Stazzu Coiga offers Italian style breakfast, free Wi-Fi, a beautiful garden and an outdoor pool to relax.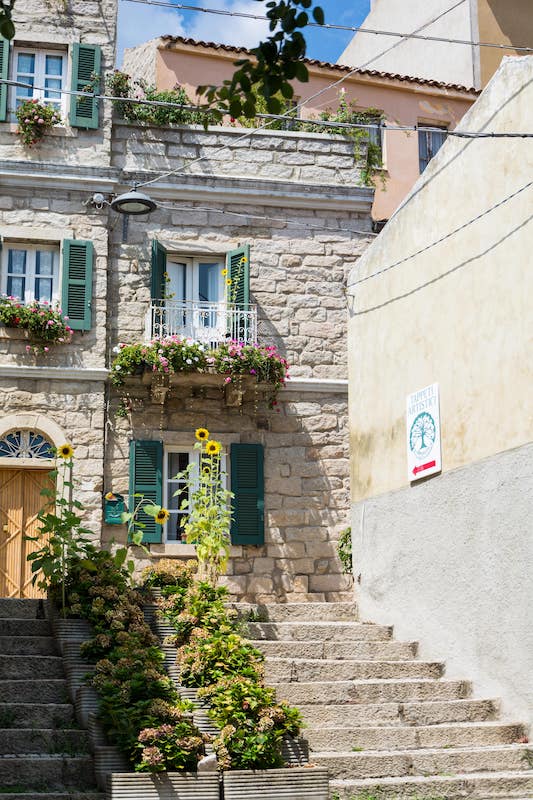 Best restaurants
Sardinia has a reach culinary tradition, and every part of the island has its own traditional dishes. Gallura is no exception. There are in fact several dishes that stem from local culture and that are difficult to find elsewhere – even in Sardinia! There are few nice places in which you could try traditional dishes from this part of the island. Also, remember that all Agriturismo mentioned above serve traditional food!
Wine & Food Il Mosto
In the heart of the town, this restaurant is known for its traditional cuisine, where you can eat the famous zuppa gallurese (a very thick soup made with bread and lots of Sardinian pecorino cheese), handmade pasta, and local meats.
Antiga Pizzeria
Located in the main street of Aggius, this restaurant offers local specialties, but if you need a break from traditional food you will also find good Naples-style pizza. Visit in the summer months and you'll be able to dine al fresco in the lovely terrace.
Pin It For Later!