Carloforte, on the small yet marvelous San Pietro Island, is a wonderful holiday destination. Albeit small, it offers an incredible range of attractions and activities that will make you want to visit. Should you decide to do so, you won't find shortage of excellent Carloforte hotels.
Needless to say, there is an abundance of beaches and coves to relax. The best ones are Il Giunco, famous for its shallow water and the rushes surrounding it, extremely safe and therefore suitable for families with children; Punta Nera, which overlooks the Sant'Antioco Island and is easily accessed via a wooden path; and Cala Fico, the best beach for diving and snorkeling lovers, home to the Eleonora Falcon and therefore protected since 1991.
The village itself has a unique history and plenty of things to show you. Did you know it was founded by people of Genoese origin? They were coral farmers who worked in the Island of Tabarka (off the coasts of Tunisia) and, once the business was not profitable anymore, chose to establish themselves in San Pietro. This colony was, indeed, Carloforte: you can see the strong Genoese influence in the buildings and in the city's colorful appearance overall; moreover, the Tabarkine (a dialect resembling Genoese) is still widely spoken in Carloforte.
Now that I got you curious about visiting Carloforte, let's find you a good place to stay. Continue reading for a selection of the best Carloforte hotels. There's something for any budget!
Make sure to read my post A Complete Guide To Carloforte And San Pietro Island.
12 Best Carloforte Hotels
Best Mid-Range Carloforte Hotels
Built on a hill overlooking Carloforte's harbor, this hotel offers simple yet spacious rooms and all comforts needed for an enjoyable stay. An abundant breakfast is served every day and you can also, upon request, eat local dishes for lunch and dinner. Free parking is available for guests who have a car.
Probably the best hotel in Carloforte, it's located in an excellent panoramic spot and offers everything you can dream of. The breakfast is notoriously delicious, with vegan and gluten-free options available as well.
Free parking for guests coming with their own car and paid airport shuttle services are also available. If you stay at this hotel, you will be close to every attraction in the city and will not have any problem reaching the best beaches, all at easy driving distance.
Another great hotel in the city center. You will be free to explore and wander around without any worry. The rooms are modern and clean, with all comforts including AC and free WiFi. They all have a balcony from where you can enjoy views of the town and harbor. The hotel is pet-friendly and offers an airport shuttle bus service upon payment of an additional fee.
Located slightly outside the city, guests love this hotel because of the quiet atmosphere and the remarkable position close to the beaches. Breakfast and free parking for guests are included, and so are WiFi and air conditioning. The rooms are simple, clean, and bright. It's a perfect place to stay for solo travelers.
Best Bed and Breakfast in Carloforte
A Bed and Breakfast especially popular among solo travelers, with free parking and breakfast (continental or buffet), included. This lovely place features a garden, private bathrooms with free toiletries for guests and it's close to Girin beach, one of the best on the island.
Another Bed and Breakfast in an excellent location. Its rooms are modern and clean, every unit features a private bathroom and a kitchen, AC, and free WiFi. Free parking and paid airport shuttle bus are available to guests upon request. If you are getting around by car, you will be able to reach several locations in no time from this place. Another feature loved by the guests is that the street is quiet and they can rest peacefully.
This Bed and Breakfast is located inside an old building and indeed gives off some antique vibes. Guests love the host and the atmosphere! Breakfast is included in the price of the room, and all rooms feature a balcony, private bathrooms, and free WiFi.
Great location, next to the beaches (you can walk there) and clean, bright rooms. This Bed and Breakfast offers free parking, a shared dining area with a delicious breakfast served every day, an inner courtyard, and much more. You will be staying a few hundred meters from the city center, and therefore will be able to explore and enjoy the city whenever you wish.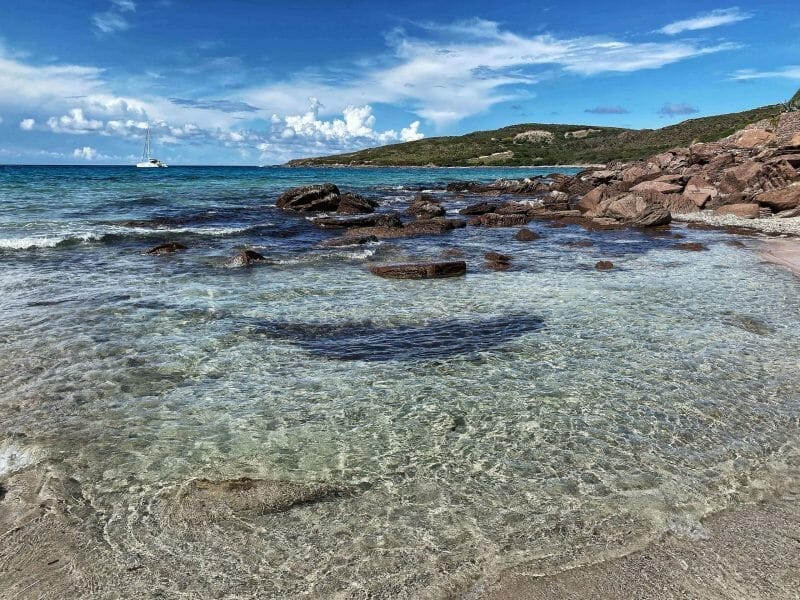 Best Holiday Rentals in Carloforte
This apartment complex is located in one of the best spots in Carloforte, overlooking Girin beach, and features luxury rooms with a stunning view of the sea, plus every comfort you might need. They also offer an airport shuttle bus service for an additional fee and free parking for guests who prefer to drive there. Breakfast is included in the price of the room.
These apartments are close to several beaches and all feature free WiFi, AC, and private bathrooms. Pets are welcome. The property offers a paid airport shuttle bus service and is located in one of the best spots in Carloforte. You can even rent a bike and explore the surroundings!
This apartment complex is very close to the harbor, making it the ideal place of stay if you are planning a day trip to Sant'Antioco and Calasetta. The units all feature the typical things found in a holiday apartment, free WiFi and private bathrooms.
The city center is not too far away and you can get there on foot in about 15 minutes. The place is pet-friendly and features free parking and an inner garden.
This modern apartment is located in an excellent area in Carloforte and features all the comforts a private apartment could offer. Guests can enjoy the garden, a balcony, and a terrace. The property offers free parking, paid airport shuttle service, and bike rental services.
These are some of the best Carloforte hotels, apartments, and bed and breakfast. Depending on when you are planning to visit, and especially if you plan to go in the summer months, make sure you book well in advance. See you there!
Further Readings
Make sure to read my posts:
Pin It For Later!