Located in the beautiful Isola di San Pietro, in the Sulcis Archipelago in southern Sardinia, Carloforte is one of the most beautiful, unique places to visit in Sardinia. Recently made nationally famous by a TV Series (L'Isola di Pietro), the island has retained all of its local character.
Blessed with beautiful sandy beaches, small rocky coves, transparent waters of a million shades of blue, a barren landscape with scenic rock formations, hiking trails, and the lovely small town of Carloforte, Isola di San Pietro should definitely be on your radar for your next trip to Sardinia.
If you are wondering about what to see and do there, you are in the right place. I know the island well! Continue reading for plenty of tips and ideas.
Some Background Information On Carloforte And Isola Di San Pietro
Archeological remains prove that people had lived in San Pietro Island in the Phoenician times (8th century BC). Remains of a Carthaginian settlement – with a temple and a necropolis – have also been found.
Carloforte was founded in 1738 by around 30 families from Tabarka – the Tabarchini, coral fishermen originally from Pegli, near Genoa (Liguria). These had been living in Tabarka (a small island off the coast of Tunisia) since the 16th century. Once they were granted King Charles Emmanuel III's permission, they started to colonize San Pietro Island, which was then uninhabited, and the nearby Calasetta, in Sant'Antioco Island.
The name Carloforte is a clear reference to the Piedmontese king – meaning "Charles the Strong" but also "Charles' Fort."
Locally known as U pàize, Carloforte has preserved throughout the centuries the language and culture of its founders. With a total population of around 6200 people, it is also the only town on Isola di San Pietro – or San Pietro Island, in English – which measures just 51 square km.
Nowadays, Carloforte still has some very strong connections with Pegli and Genoa, in Liguria, and Tabarkine – a language that resembles that of Liguria – is still widely spoken. Upon visiting you will see that the beautiful town resembles those you may have seen in Liguria – colorful buildings, narrow streets, fortifications.
Finally, continue reading to discover more about Isola di San Pietro and Carloforte.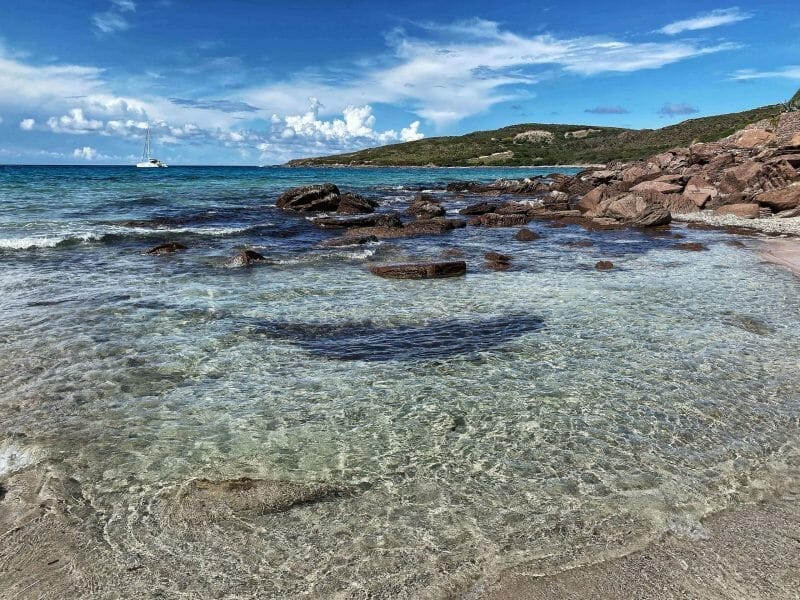 The Best Beaches In Isola Di San Pietro
Isola di San Pietro is at its best in the late spring and summer months, when vegetation is in full bloom and you can enjoy the many beautiful beaches. You will find sandy beaches as well as small rocky coves, each with clear waters and offering unique experiences.
Maps of the island are available at the best hotels, pointing out the best beaches, but also indicate whether they are a good spot on windy days. They also point out the best sunset spots.
Continue reading for more information.
Il Giunco
At 2 km from Carloforte, this is the longest beach in Isola di San Pietro. The beach takes its name from the many rush (giunco, in Italian) plants found there, and is characterized by shallow waters protected from the currents. It's perfect for families with children, who can safely play there.
Il Giunco is accessible to disabled visitors, and part of the beach is also accessible to dogs. There is no kiosk and no lifeguard on duty.
Girin
Girin is a sandy beach that is beautifully sheltered from the mistral wind. You will find clear, shallow waters waters and Mediterranean vegetation – macchia and pine trees – around it.
Perfect for families with children, the beach is located at about 3 km from Carloforte. You can get there following SP7. Keep in mind that there is nothing in the way of services.
Punta Nera
Immediately after Girin and overlooking Sant'Antioco Island, Punta Nera is one of the best beachesfor families with children. It's a nice, sandy beach divided in two by a water-breaker meant to protect it from the waves on windy days.
You will find a kiosk serving quick meals and drinks, but no lifeguard service.
There is a wooden trail leading to the beach, which is thus accessible to disabled visitors.
Guidi
Guidi is another white sand small beach characterized, with tuff rocks and perfectly transparent waters. The shallow waters have a sandy seabed that gives way to posidonia – which, contrary to common belief, is a sign of how pristine the water is.
The beach is located at about 5 km from Carloforte. You need to park your car at the parking lot of the restaurant on the other side of the street and then walk there.
There is a kiosk where you can get a sandwich and a drink, as well as beach equipment. Lifeguards are on duty only during the peak months of July and August.
La Bobba
La Bobba is surmounted by rocky cliffs on both its sides, covered by Mediterranean vegetation and from where you can enjoy nice views that span all the way to Guidi. It is nicely sheltered from the mistral winds.
The beach has a kiosk where you can get food and drinks and rent all sorts of equipment, and there is a lifeguard on duty. You have to pay a small fee for the parking lot. It is accessible to disabled visitors.
At a short distance from La Bobba you will find Punta delle Colonne, one of the most popular landmarks on the island where you can see two massive trachytic rock columns emerging from the water. A Natural Monument since 1993, you can get there along road 103 from Carloforte. From La Bobba, just follow the well marked trail – it's accessible to disabled too.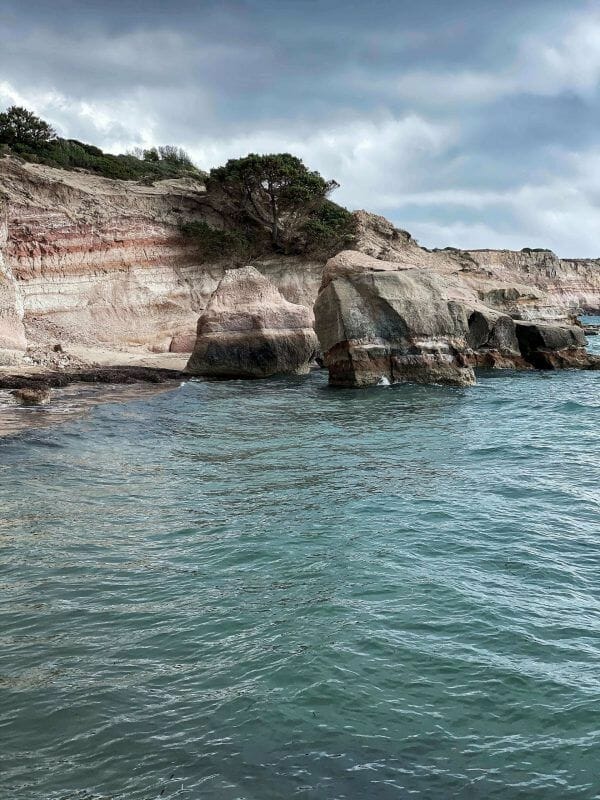 Geniò
This tiny cove of no more than 50 meters is located on the south of the island. It has a mixture of fine, white sand and clear granite rock formations, and shallow waters which however give way to deeper ones perfect for diving and fishing. If you are into swimming, you can easily reach the small islet located in front of it.
There is nothing in the way of services at the beach.
La Caletta
By far the nicest beach in Isola di San Pietro, located on the southwestern coast of the island and accessed via a very short trail that starts in the parking lot.It's a perfect place for families with children.
Located at the beach you will find a kiosk that serves light meals prepared to order and where you can rent umbrellas and sun-beds for the day. It is accessible to disabled visitors.
Cala Fico
On the northwestern coast of San Pietro island, north of Capo Sandalo where the lighthouse is located, Cala Fico is a tiny beach with large pebbles in what looks like a fjord, surmounted by steep cliffs and with incredibly transparent waters.
A perfect spot for diving, snorkeling and underwater fishing, the surroundings are a protected oasis since 1991, for being a refuge for Eleonora's falcons. The beach is managed by the LIPU – Italian League for the Protection of Birds.
There is a parking lot and a small kiosk.
Conca
Not exactly a beach, but definitely worth mentioning, it is located in the Mezzaluna Gulf and is famous for its cliffs from where many love jumping directly into the clear waters. There are several underwater caves – for those who like diving.
You can get there following SP102 from Carloforte. There is a parking lot but no other services. There is no lifeguard on duty.
Cantagalline
One of the smallest beaches, it's protected by a beautiful forest and only known to locals. It's located 5 km north of town. You can park the car near the Museo del Mare. It has nothing in terms of services.
What To See And Do In Carloforte And Isola Di San Pietro
Explore the village
For as small as it is, Carloforte is a lovely place to explore with plenty of photo opportunities. A simple stroll around town will take you to the most important landmarks.
Archiottu
Located in Via Solferino, this small arch was built at the end of the 18th century as the door to the garden of the Rapallo family – back then one of the wealthiest in town. It's one of the most photographed spots in Carloforte.
City Walls and Lion's Gate
The city walls were lifted after the last invasion by Tunisian Corsairs who, in 1798, captured and enslaved around 1000 locals. They started being built in 1806 and were completed in 1813, and back then surrounded the entire village. Nowadays, you can only spot them in the western part of town.
You can still see the three main forts – Santa Cristina, Santa Teresa and Beatrice, and the Lion's Gate, whose name is due to a lion head carved in the rock.
The Castle
Saint Charles Fort was built in 1738 with the aim of providing shelter to soldiers and weapons used to defend the island. It's a two-floors building with seven rooms and an inner yard.
Giuseppe Cavallera Cineteatro
Located on the waterfront of Carloforte, this large building is also known as "Casa del Proletario" or "U Palassiu" (in Tabarchine language). It was built between 1920 and 1922 and used as a meeting area for the trade union, which were led by Giuseppe Cavallera.
Church of San Carlo
The main church of Carloforte (pictured above) was built in 1775 on the model of the parish church of Pegli, where the first inhabitants of the island came from. The church has a single nave with three chapels set on one of its sides. Close to the altar you can find a statue of Saint Anne that was brought to the island by the first settlers in 1738. The bell tower was added in 1797.
Chiesa dei Novelli Innocenti (AKA Church of San Pietro)
A bit outside of town, the church was built between 1227 and 1241 upon wishes of Pope Gregorio IX to pay respect to the young crusaders who died on a shipwreck just outside San Pietro island. The church was built well before the arrival of the Tabarchini in the 18th century, thus proving that there were people living and working before they got there.
The church was completely renovated in 1984. During the renovation works, traces of the foundations of a pagan temple were discovered.
Another church you may want to spot is the Church of Our Lady of the Slave, located in Via XX Settembre.
Museo Civico Casa del Duca
Carloforte Civic Museum has an interesting exhibit divided into four main sections. The first one is dedicated to documents that explain the planning of the city by engineer Augusto De La Vallée and that of the Carlo Emanuele III Fort; the second room has a model of the tuna factory of Portopaglia. The other rooms include a collection of shells from the Western South Tyrrhenian Sea, and a collection of documents about the Galanzieri – local boatmen.
PRACTICAL INFORMATION: The Civic Museum is open from April to September, on Friday from 4:00 to 7:00 pm; on Saturday and Sunday from 10:00 am to 1:00 pm and from 3:00 to 7:00 pm.
Multimedia Museum of the Sea
This interesting museum is entirely dedicated to the history of the Island of San Pietro. The museum is located in the three floors of San Vittorio Tower, which dates back to 1768 (when it was built in honor of King King Vittorio Amedeo III), and first opened in April 2016. Each floor explores a different time period in the history of the island.
PRACTICAL INFORMATION: During the winter, the museum is only open on Saturdays and Sundays from 10:30 am to 4:30 pm. During the summer months, it is open daily except on Mondays. Make sure to double check the opening hours and book your visit by emailing [email protected]; or calling +3007818589260 or +3907818589200.
Carloforte Salt Pans
Just outside of town, the Salt Pans are a great place to admire some of the most unique bird species of the Mediterranean, including pink flamingoes and corse seagulls.
The area was used for the production of salt since Punic times, but it was only in 1770 that extraction began on a larger scale. They went out of use in 1998.
Piazza Pegli
One of the nicest squares in Carloforte, whose main sight is the Monumento ai Caduti, built in the 1930s in honor of those who died in World War I. At the top of the monument there is a statue of the Winged Victory, which was placed there in 2009.
Swim in the Piscine di Nasca
One of the most unique places on the island – a series of natural pool carved in the volcanic rock by the wind and the sea and that gets regularly filled with sea water. Getting there isn't exactly easy, but it is definitely worth the effort.
Drive all the way to the north of the island. You will reach a final spot on the road where you can park your car and from there follow the signs leading to the pools. The trail is not marked, but it's easy to find your way. It's a steep downhill on the way there. Hiking shoes or good walking shoes are necessary.
GOOD TO KNOW: On the way to the Piscine di Nasca you will find the remains of the Fortino di Guardia Mori, which was built in 1850 for defensive purposes. It's currently abandoned.
Hike
San Pietro Island isn't exactly mountainous (the highest peak is little over 200 meters), yet it is a great place for hiking and there are several trails.
Cala Vinagra, in the LIPU Oasis near Cala Fico, on the northern coast, is the most challenging hike. The trail is fairly easy to begin with, and mostly downhill, but it quickly becomes harder as you get close to the shore. The views once you get to the cliffs are splendid. Hiking shoes are required.
Go on a boat trip around the island
One of the best ways to enjoy Isola di San Pietro is on boat tours. Several companies depart daily from the harbor – except on windy days.
You can opt for a sailboat or for a zodiac, depending on how big the group you are traveling with is. Prices are in the range of €55 per person. For information and bookings, enquire locally at your hotel.
Alternatively, you can book your boat tour here.
Go diving
This is one of the best diving destinations in Sardinia, though keep in mind it is best for expert divers as the diving spots often have strong currents. The best diving centers are Isla Diving and Carloforte Diving.
Read my post A Complete Guide To Diving In Sardinia.
Admire sunset from the lighthouse at Capo Sandalo
Located in Isola di San Pietro there is Italy's westernmost lighthouse, built in 1864. This is a fantastic spot to catch sunset. It takes about 15 to 20 minutes to drive there from Carloforte. Once there, there is a large parking lot from where the trails to the viewpoints start.
Attend Girotonno Festival
Carloforte canned tuna is mighty expensive compared to the typical stuff you can get off the shelf in stores. There's a reason it costs so much: it is really top quality. Girotonno, Carloforte's most famous festival, is a celebration of this high-quality tuna.
The festival takes place every year between the very end of May and the first two weeks of June and lasts 3 days. During the festival, you will be able to taste delicious tuna in all sorts of forms, and will be entertained with music concerts and other activities.
GOOD TO KNOW: Another cool festival in Carloforte is the Tabarchino cous cous festival, which takes place every year in April and – as the name recalls – focuses on the local (delicious) version of cous cous.
Take a day trip to Calasetta and Sant'Antioco
Calasetta is another Tabarkine enclave. Located on Sant'Antioco island, it's at a 30-minutes ferry ride from Carloforte. Ferries depart regularly throughout the day, so you can take advantage of that for an easy day trip.
You will find lovely beaches – Sotto Torre is right in town, and it's gorgeous; viewpoints; museums and charming little alleys with lots of sleepy, friendly cats.
If you wish to explore a bit further, the town of Sant'Antioco used to be Phoenician-Punic colony, and later on a Roman City. It has a lovely waterfront, and a well curated museum of archeology and a museum of ethnography.
PRACTICAL INFORMATION: The Museo Archeologico Ferruccio Barreca – is open daily from 9:00 am to 7:00 pm.
If you intend to explore Sant'Antioco Island rather than just Calasetta make sure to take your car.
Make sure to check out my post A Complete Guide To Calasetta, Sardinia.
Practical Information
How to get to Carloforte
Carloforte is located on Isola di San Pietro, in the Sulcis Archipelago. You can get there by ferry from either Porto Scuso, on mainland Sardinia, or Calasetta, in Sant'Antioco Island.
Delcomar runs several daily ferry rides between Porto Scuso and Carloforte, and between Calasetta and Carloforte. You can check the schedule here.
Ticket prices vary depending on the season, but are in the range of €8 and €9.50 euro per person, roundtrip. If you have a car, there is an additional cost of €20 roundtrip.
Advanced bookings are only necessary during peak season (August).
If you get a roundtrip ticket, you can travel back to a different port other than the one you departed from. For example, if you reached Carloforte from Portoscuso, you can use your roundtrip ticket to travel to Calasetta on the way back.
Depending on the departure point and the weather conditions, traveling time is between 30 and 40 minutes.
How to move around
The easiest way to move around Isola di San Pietro is by car – you can rent one directly in Cagliari airport or whichever other is your port of entry.
If you are the sporty type, you may want to take your bike. There isn't much traffic, and it is a great place to bike around – but keep in mind that it's very hilly. Add to that the summer heat, and you may easily be discouraged. The village is very bike friendly.
Guided tours
If you don't have much time to visit Carloforte and Isola di San Pietro during your trip to Sardinia, you may want to opt for a full-day guided tour departing from Cagliari. This guided tour of San Pietro Island and the nearby Calasetta is a great option.
Where to stay
You will find many great places to stay. For prolonged period of times, you may want to rent a holiday home close to the beach. Otherwise, I recommend staying in Carloforte. These are the best places:
NICHOTEL – Tucked away in a small street right by the harbor, this hotel combines perfect location, great spacious rooms and fantastic breakfast. Click here for the latest rates.
LU' HOTEL RIVIERA – With a gorgeous terrace overlooking the harbor and comfortable, spacious rooms, this remains one of the best hotels on the island. Click here for the latest rates.
Make sure to also check out my post The Best Hotels In Carloforte.
Where to eat and drink
These restaurants have all been tried and approved:
DA NICOLO – The Pomata family manages some of the best restaurants in Sardinia, and this is one of them. Great food, generous portions, and spot on service – expensive but worth it. Reservations are recommended.
DA ANDREA – There are two Da Andrea restaurants – one is a trattoria; the other a more refined restaurant. Both are good, but the fine restaurant is an incredible dining experience. It's definitely worth the price. Reservations are recommended.
LO SCUGNIZZO – The best pizzeria in town; it dishes out mouthwatering, fragrant Napoli-style pizza prepared with seasonal, fresh ingredients.
BARONE ROSSO – The most popular pub in Carloforte, it's a great place to grab a beer in an easygoing atmosphere.
Further Readings
Make sure to read my other posts about Sardinia:
Pin It For Later!