Sant'Antioco is located on the southwest of Sardinia and is the fourth biggest island in the Mediterranean Sea, after Sicily, Sardinia itself, and Elba Island. Part of the Sulcis Archipelago of which also San Pietro Island is part, it's famous because of its astounding beaches, but it has a lot more to offer than that! It has been inhabited since very ancient times and it has always been a rich, prosperous land, especially thanks to the lead and silver mines in the area and to the abundance of fish which made its economy flourish.
Despite being an island, Sant'Antioco is quite easy to reach by car: it is, in fact, connected to the main island by an isthmus and an artificial bridge, and it is only a one-hour drive from Cagliari. There are two main villages on this small(ish) island: the homonymous Sant'Antioco, and Calasetta.
Sant'Antioco is a place suitable for every kind of tourist. It has everything from heavenly beaches to clubs, from a nice shopping street to numerous museums and archaeological sites. Let's dive deeper into this fascinating island's details.

A Short History Of Sant'Antioco
The numerous Nuraghes and Domus de Janas on the island witness that the place was already inhabited during prehistoric times, but Sant'Antioco really flourished under the Phoenician. At the time, the city was called Sulki and was a prosperous harbor that strived thanks to various businesses, like the mines in the Sulcis area and the rare byssus weaving.
Some historic papers and findings suggest Sant'Antioco was founded at about the same time Carthage was, supposedly making it into the first Sardinian village in history and among Italy's most ancient ones! The city was eventually "inherited" by Carthage from their motherland at the end of the 6th century BC, and remained as a strong colony until the end of the Punic wars when it was invaded and annexed by Rome.
Under the Roman rule, the city (now called Sulci to reflect the softer sound of Latin compared to Phoenician) kept flourishing and was considered the richest city in Sardinia together with Caralis (Cagliari); it was so rich that, when the civil war between Caesar and Pompey exploded and the village supported Pompey, it had virtually no issue with paying the huge fine Caesar imposed after winning the war.
Sant'Antioco kept its head up and stayed as an essential Roman colony until the fall of the Empire in 476 AD when the Vandals took control of the Island.
Like many other coastal cities, the island was abandoned during the Middle Ages in order to escape the pirates' invasions and robberies and started to be inhabited again only around the 18th century, under the Savoy, when a huge population of miners from the Iglesias area started to live in Sant'Antioco with their families.
The Best Places To Visit In Sant'Antioco
Nuragic Ruins, Domus de Janas and Giants' Tombs
There are about 30 nuraghes (and several other ancient ruins) on the island, but the most important ones are the Grutti 'e Acqua Complex, the S'Ega Marteddu Nuraghe, and the Sa Cipudditta Nuraghe. These three sites are all located on the coast and served as both watchtowers and settlements.
The largest among them is the Grutti 'e Acqua which is a complete village with roads, temples, and commoners' houses, in which several relics have been found (and from which many others have been stolen). The site is located very close to another prehistoric ruin: the Su Niu 'e su Crobu Giants' Tomb.
Another (supposedly) important Nuraghe was located close to where now is the Sant'Antioco city center, but it has long been demolished and its stones used to build the Su Pisu Savoy fort.
Punic and Roman Ruins
The Punic remains of the ancient Sulki are all very close to the modern Sant'Antioco; what can still be seen and visited, however, is limited to the necropolis (which was used during Roman times as well and later turned into catacombs) and the Tophet (children's cemetery).
The majority of urns that were found there have been replaced with copies and safely stored in Sant'Antioco Archeological Museum to save them from the grave robbers' greed.
Not much is left of the Roman ruins as well because the modern city just evolved from the oldest one.
It is known there were several beautiful mosaics which have been disassembled to decorate other places, and given the importance of Sulci during the Roman eras, we can assume it was a big, developed city, probably resembling its sisters Nora and Tharros.
The only known "roman relic", the fountain in Sant'Antioco's center which was indeed built by Romans and is still called "the Roman fountain", has been renewed so many times that there's nothing left of its ancient material.
For a guided bike tour of Sant'Antioco sites, click here.
Basilica di Sant'Antioco Martire Catacombs
The catacombs in Sant'Antioco are one of the most ancient Paleo-Christian remains in Sardinia, and were used by the Christians between the 2nd and 7th century. They were created through digging and putting together the older Punic/Roman cemeteries and were meant for the worshippers to be buried as close as possible to their patron saint, who was supposedly martyrized and has his tomb here. The church dedicated to the Saint was built above the catacombs, and it is possible to visit both.
The Catacombs can be visited on guided tours that cost €5. During the summer months, they are open Monday to Saturday from 9:00 am to 12:00 pm and from 3:30 to 5:30 pm and on Sunday from 11:00 am to 12:00 pm and from 3:30 to 6:30 pm. Winter hours are shorter.
Savoy "Su Pisu" Fort
This fort was built with old Nuraghe stones on a hill close to the village of Sant'Antioco between 1813 and 1815. Back then, there were numerous and ferocious raids from the Tunisian-Ottoman pirates, and the small island needed to see their ships from as far as possible. Unfortunately, despite the excellent strategical position, the fort fell in 1815 and more than a hundred persons were kidnapped and deported as slaves.
The fort is open daily from 9:00 am to 8:00 pm in the summer, and from 9:30 am to 1:00 pm and from 3:00 to 6:00 pm in the winter. Admission is €2.50.
Sant'Antioco Museums
There are two important museums in Sant'Antioco, plus a few smaller exhibitions.
The most famous one is indeed the Ferruccio Barreca Archeological Museum which exposes relics from the most ancient ages (from the Nuragic era to the Roman ones).
The museum is open daily from 9:00 am to 7:00 pm. Admission is €6. For more information, visit the museum's site here.
The other, a bit more unique, museum is the Byssus Museum. The Byssus is a particular type of fabric, weaved from the fibers of the Pinna Nobilis mollusk. This special cloth was firstly made by the Punic and, although its weaving tradition is almost nonexistent nowadays, it is still practiced in Sant'Antioco.
The museum will guide you through the history and making of this special piece of fabric, from the legends around it to the technical details about the weaving. Remember to book a tour in advance or you might have to give up the visit!
Finally, you may want to check out the small but well curated Ethnographic Museum. It's an interesting place to get a better understanding of the traditional way of life on the island.
The Museo Etnografico is open daily from 9:00 am to 8:00 pm in the summer; and from 9:30 am to 1:00 pm and 3:00 to 6:00 pm in the winter. Admission is €2,50.
Calasetta
Like the biggest village of Sant'Antioco, the area around Calasetta was inhabited since the prehistory and Punic era but got abandoned during the middle ages. The peculiarity of this village is that, when it was newly founded, its inhabitants weren't Sardinians but Genoese coming from the island of Tabarki, in Tunisia – where they had established themselves as mewrchants. Genoese is the dialect that's still spoken in Calasetta, much similarly to Carloforte in the nearby San Pietro Island.
The Genoese who founded Calasetta were actually running away from one of their Tunisian business harbors, Tabarki, because of the growing conflicts with the locals and the Ottoman Empire. They asked the King of Sardinia for a place to stay and he gave them a deserted part of Sant'Antioco Island, which became their new home and still is such for their descendants.
Capo Sperone
The southern tip of Sant'Antioco island, from there you can enjoy incredible coastal views. 2 km inland from the cliffs you can visit an old lighthouse that was built in 1887 and soon became a military radio station. It was used as a radar station and as a defensive viewpoint during World War II and finally abandoned in 1957.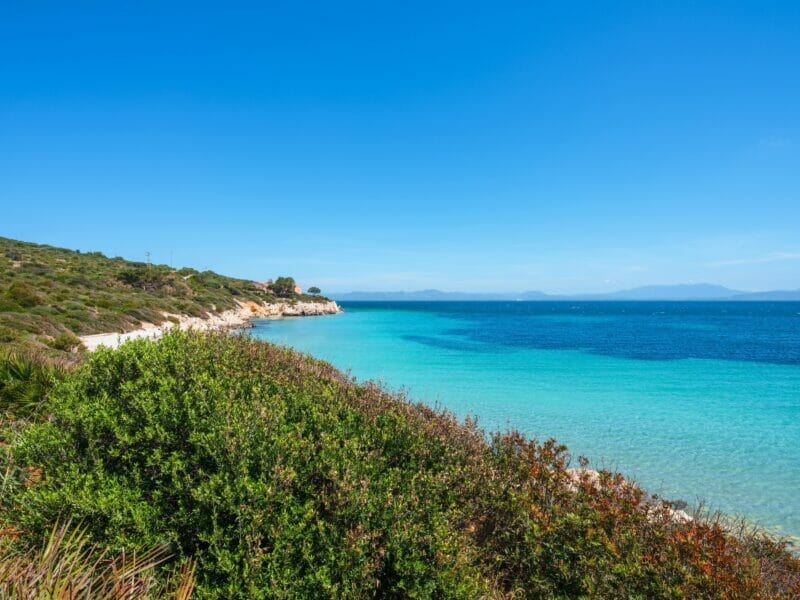 Sant'Antioco Beaches
Of course, what kind of Sardinian holiday would it be without some nice sunbathing? Sant'Antioco consists of tiny, small beaches and inlets, so it's the ideal place for those who want to relax and stay in a kind of private place, but that also means that there's a lot to choose from. Here are the best beaches in Sant'Antioco!
To make the most of Sant'Antioco beaches, you may want to consider joining a guided kayak tour. For more information, click here.
Maladroxia and Portixeddu
Probably the most famous beach on the Island, water is very shallow and is safe for children. Located close to a small village, it offers all comforts even to the pickiest of tourists.
Close to Maladroxia you'll find the tiny but gorgeous Portixeddu cove
Coacuaddus
One of the longest beaches on the island, it's a bit less equipped with comforts compared to Maladroxia, but its exceptional, clear water makes everything worth it.
Cala Sapone
Cala Sapone is a beach divided into a group of smaller inlets that you can see one after another if you explore the area. There really is a corner for every tourist and, as usual, the water is clear and turquoise.
Cala Lunga
Cala Lunga is a long, sandy beach on a side of the island that's usually sheltered from the wind. It's a nice and peaceful place to spend a relaxing day alone or with your friends or family.
Practical Information To Plan Your Visit
How To Get To Sant'Antioco
Getting to Sant'Antioco by bus from Cagliari or other places in Sardinia can be a bit of an ordeal, so my recommendation is to rent a car – you can rent a car here.
From Cagliari, you just need to follow SS 130 (through the hinterland) or SS 126 (coastal road) and follow the road signs: the island is about 85 kilometers (around 53 miles) from the capital and is linked to the main island by a bridge.
Where To Sleep In Sant'Antioco
There are plenty of sleeping options in Sant'Antioco. Here are some suggestions:
Montellino's Suite Oro – This location offers an airport shuttle bus service and is especially loved by couples. Wi-Fi and breakfast are included.
Le case di Loris – This is a great solution for families or larger groups. It offers every comfort and is located very close to Sant'Antioco's city center.
Hotel del Corso – Located in the main city, this place offers an airport shuttle service and everything you might expect from a hotel. It's close to every attraction in Sant'Antioco village, included bars and the shopping street. It's also pet-friendly!
Although Sant'Antioco is not that big of an island, it looks like you'll find a lot of activities to do during your stay, right? See you there, then!
Further Readings
Make sure to read my other posts:
Pin It For Later!