If you are visiting during the summer months, you will certainly want to eat gelato in Cagliari. Looking for the best spots? Don't worry, I have you covered.
During the long-lasting summer in Sardinia, what could be better than cooling off with a mouth-watering gelato? During a day at the beach, after a long working day, as a reason to meet friends or just to have a walk after dinner and enjoy the night breeze, any time is the right time to enjoy a good gelato in Cagliari.
I personally eat ice cream all year round, because it is never too cold here in Cagliari, and because it is so good, refreshing, practical (you can eat it while walking) and cheap. But it must be a proper artisanal gelato!
Before I share my favorite gelaterie in Cagliari, let me show you a few tricks to recognize good gelato – they apply to all of Italy, so whether you are having gelato in Rome or in Milan, you can count on them!
How To Recognize Good Gelato
In Italian the word gelato just means "frozen" and refers to any type of frozen dessert. In English, instead, gelato specifically refers to the artisanal variety that contains 6 to 9% butterfat. The lower fat content allows the flavors to do the talking rather than the rich cream. It's also denser than a typical ice cream.
Good quality gelato is usually made from natural ingredients so the color is typically not very dazzling or bright. If among the different flavors you see a Smurf blue or a Barbie pink, that ice cream very likely has additives and is industrial.
Good gelato doesn't stand up by itself, unless it is freshly made. Keep in mind that a quality ice cream sits within the container, while additives usually allow it to stand up in crazy towers, like in the photo above. You don't see this kind of bad gelato in Cagliari very often – but in case you do, steer away.
Another tip to recognize a good gelateria is that it usually has less choice in flavors. Too much variety of flavors could mean (but not always) that there's a large factory behind the operation. Seasonal flavors are a good sign as it means the gelateria is using fruits available only at that time of the year.
Now that I've told you all about the basics, let's check out the best places for gelato in Cagliari. Once you try them, come back and tell me which one is your favorite.
Where To Have The Best Gelato In Cagliari
Chiccheria
Located in the city center, in one of the most popular shopping areas of Cagliari, Chiccheria offers homemade made with fresh, seasonal ingredients. This means you can often find different flavors, some of which people love so much that you may not even find a scoop at the end of the day.
Ricotta and figs; bread, butter and jam; ricotta and saffron (that reminds you of the taste of Pardula, a classic Sardinian dessert); salted caramel and strafondente are just some of the flavors I recommend you try.
My favorites, however, remain crema al limone, made with real lemon peel, and pistachio, with lots of pistachio grains. There isn't a large choice of flavors, but you can always find lactose-free alternatives, either in the form of fruit flavored gelato (I love their coconut and mango), or deep textured dark chocolate, for example.
You will find La Chiccheria in Via Dante 5/A. Outside the gelateria there are two benches but no tables.
I Fenu
For the best gelato in Cagliari in December, go to I Fenu. Sardinia still has nice weather in December, and I Fenu is open throughout the year. It is considered a real pastry shop where you can find ice cream and other desserts such as cakes, panettone, colomba and other delicacies.
Everything at I Fenu is made with seasonal and local ingredients. Traditional flavors here are always combined with new and innovative ones. I suggest you to try the more unusual ones like fiore sardo (a type of Sardinian cheese) and honey caramelized pears; cistus honey and almonds from the Marmilla region, or goat yoghurt.
Lactose free options are always available – the other day I had the most decadent dark chocolate and Bronte pistachio cone!
I am also in love with their dessert on the go: my favorites are "shades of lemon and ricotta", and their chocolate and pears tart. The shop is small and full of delicacies with the lab in full view, synonymous of cleanliness and hygiene.
Outside there are benches where you can sit and enjoy your ice cream, all right by the main shopping area in town. The prices are slightly higher than that of average gelaterie in Cagliari, but the quality is unquestionable.
I Fenu is located in Piazza Galilei 35. Don't feel like going all the way there? You can also find I Fenu on the Deliveroo app for home delivery.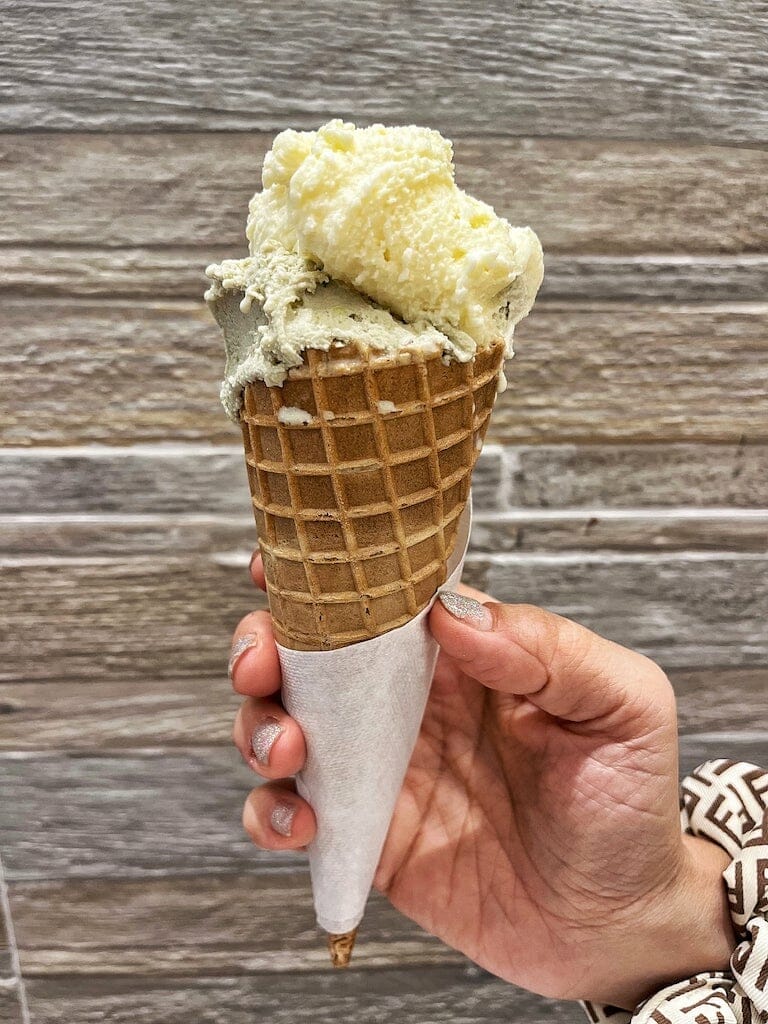 Il Gelato Aresu
Close to the not-to-be-missed San Benedetto market, there is Il Gelato Aresu. A family-run gelateria in Cagliari where the tradition brought by the father meets the innovation of the two daughters, Elisa and Caterina, who have taken over the management.
Innovation has taken several roads: the first is the great classics and reinterpretations such as chili-flavored chocolate or watermelon with chocolate seeds; the second road is for those who want to experiment with new flavors such as pineapple and ginger; banana and caramel or bergamot cream.
There also is a third option for those who want to dare with savory flavors such as gorgonzola cheese, salted butter and burrobirra (butter & beer). Which way will you take?
For those who love ice cream but have dietary restrictions, there are also lactose-free and gluten-free options. Gelato at Aresu is made with natural and mostly local raw materials, and the choice of flavors depends on seasonal availability.
If you are lucky, you will see the electrically powered ice cream cart in a Cagliari neighborhood or you can rent it for a special event.
Il Gelato Aresu is located in Via Vincenzo Monti, 58. The shop has tables inside where you can sit and enjoy a cone or cup but, if you prefer, you can get Aresu ice cream delivered at home.
Bobocono Gelateria
During a day spent at the beach, after a long swim, you will likely be in need of a refreshing treat? Or, are you walking in the city center and would like a break? Very well, because Bobocono has two locations: one in Villanova, the historic center of Cagliari, and the other at Poetto Beach waterfront.
Once you are in, you will be spoiled for choice: ice cream cone, ice pop, brioche pastry with ice cream, cookies (ice cream between two cookies), or the extra-decadent boboroll (ice cream roses covered with homemade syrups and pistachio or nut grains).
For the gluttonous there are my beloved "boboetti" (that's a slang word we use in Cagliari to refer to any sweet treat): delicious morsels of semifreddo covered by a crunchy layer of the highest quality white, dark or milk chocolate.
There are flavors and options for vegans and lactose intolerants too.
Although this gelato in Cagliari is made with high quality products, local and seasonal ingredients mostly from fair trade, the prices are more than reasonable.
Bobocono has two locations: one in Via Oristano, 23 and the other in Viale Lungo Mare Poetto, 248. At Poetto waterfront there are outdoor tables. You can also order Bobocono gelato or an ice cream cake and have it delivered directly to your home through Justeat and Deliveroo apps.
Kremet
In one of Cagliari's main squares, a meeting place for locals and visitors, next to bars and restaurants and main shopping streets, you can find Kremet, home to one of the best gelato in Cagliari.
Not only the quality of this gelato is excellent, but it is super yummy. For example, before picking your flavors you can have your cone filled with melted chocolate and, as a topping, you can add hazelnut or pistachio granola.
if you like hazelnut, then Cremino is the flavor you must try. If you are in the mood of something different you can have their dessert on the go: brioches with ice cream, crepe and, last but not least, churros with ice cream.
Kremet is in Piazza Jenne, 22. You can sit on the benches outside the gelateria while enjoying the ice cream and Cagliari's movida. If it's too hot to go out, you can receive your order delivered with Justeat and Deliveroo app.
Soncini
By far my favorite place for gelato in Cagliari, this small workshop was first opened in 1977 by Luca and Luisa Soncini, true gelato masters. Gelato here is made to perfection. A simple taste and you will be able to feel the creaminess and the quality of seasonal raw ingredients.
You can choose between classic flavors such as creams and fruits and more intriguing ones such as s'aranzada, which reminds us of the typical dessert from Nuoro with orange peel, almonds and honey; pardula with ricotta and saffron; millevoglie with zabaglione cream, caramel, coffee and puffs.
If you are here when they are in season, try the black figs and torrone di Tonara flavor, by far one of my favorites.
In the display case, next to the name of each flavor, you can see whether the gelato contains lactose. This is one of the few gelaterie in Cagliari where lactose free milk is used to prepare most flavors, and as a lactose intolerant I am always spoiled for choice.
The ice cream is always very fresh, and it runs out quickly – there's always a line outside the shop!
Soncini is located in Via Dante Alighieri, 121, close to Piazza Giovanni XXIII. You can enjoy your ice cream sitting on one of the benches outside or you can get it delivered through Glovo app.
Il GeoGelato di Federico
In the heart of Cagliari, in one of the most crowded streets in town where restaurants, pubs, and pizzerie are, you can find il GeoGelato di Federico.
Starting from the blackboard standing outside the workshop, it is pretty clear how much Federico cares about the choice of ingredients. He uses eggs laid by free-range chickens, seasonal fruit from organic farming, and mostly local products.
In addition to classic but timeless flavors such as pistachio, strawberry, figs and watermelon you will find new seasonal delicious flavors like fresc'orto: a refreshing sorbet made of cucumber, celery and basil; karkadè and dog-rose.
You have a choice of cones, popsicles, ice cream cookies, single-portion semifreddo and ice cream cakes.
Ask which flavors are lactose-free; Federico and his staff are very friendly and helpful.
Federico's is located in the lovely Stampace District, in the heart of Cagliari, in Corso Vittorio Emanuele II, 185. Outside the gelateria, on the pedestrian street, there are comfortable benches where you can rest and enjoy your ice cream.
Gli Stefini
Once located in the historic Marina district, as of this year Gli Stefini has moved to Via Garibaldi. Since 2018 you can also find it at Cagliari airport for a fresh welcome and a sweet goodbye.
Gli Stefini is an artisanal ice cream shop with fresh seasonal products and the highest quality ingredients.
Here are some of the creamy flavors you should try: Mediterraneo, made with almonds, pistachios and pine nuts; Caribe, an egg custard with vanilla and rum; and Cuba with chocolate and cherries.
If you prefer something lighter and more refreshing have a sorbet: I love pear and cinnamon. The list of flavors reports which ones are milk-based and which are water-based (perfect for vegans or people who, like me, are lactose intolerant).
Gli Stenini is now found in Via Garibaldi, 194. With its itinerant vintage cart you can have a delicious gelato even at Lido, at Cagliari Poetto's waterfront.
Cremoso
One of the reasons I like Cremoso ice cream is because you can create your own cup by choosing the flavors of the gelato and then adding fresh fruit, chocolate chips, hazelnut or pistachio granola, chocolate syrups, cookies and more.
When I am not inspired, I simply pick one of the sundae combinations: my favorites are strawberries and nutella with yogurt ice cream, fresh strawberries and nutella; or the pistachio mini pancake bowl with pistachio ice cream, caramelized puffed rice, mini pancakes and melted white chocolate.
Besides the yumminess of these additions, the ice cream itself is delicious: excellent flavors and very smooth texture. You can also find celiac and lactose free options.
Cremoso is located in a small square next to one of Cagliari's most famous shopping streets and near to Bastione and is open year-round – Piazza Martiri, 1.
Fresca Voglia
Outside the city center, near the Amsicora stadium and on the road to Poetto beach, you can find Fresca Voglia, a historic artisan gelateria in Cagliari. Thanks to the great attention to the quality of ingredients, this place offers a good choice of flavors.
Among their most iconic flavors there are those with cookies such as plasmon, taralluccio, pan di stelle cookies, lotus, all creamy and tasty; fruit flavors are delicious too.
The value for money is very good and the staff is very polite.
Fresca Voglia is located in Via Della Pineta, 249/C. The place is small and there is no indoor seating but outside there are three small benches. Their gelato is also delivered to your place through the Deliveroo app.
Icemu
Do you feel like enjoying a great ice cream while sitting comfortably at a table in a covered courtyard? At Icemu you can!
You'll be spoiled for choice. There is a wide selection of classic and more extravagant flavors, such as zozzerello with chocolate, caramel, salted peanuts and brownie crumbs. Make sure to try their ricotta and caramelized figs; or the ricotta and honey. Another popular flavor is pears, ginger and cinnamon.
For those who want to dare more, there are also pan'e saba, a typical Sardinian dessert: literally translated it is bread with saba or sapa (cooked must). You can also have the culurgionis flavored gelato: it is a typical stuffed pasta now turned gelato, with a cream of boiled potatoes, cheese, mint and a touch of extra virgin olive oil.
Even simple whipped cream is delicious here. If you want to discover the flavor named after the place, Icemu, then you will have to come in person. Aren't you curious?
In addition to classic gelato, you will find excellent brioche with gelato, single-portion parfaits and cakes. The service is excellent.
The two owners, brother and sister, offer a wide variety of vegan and lactose-free flavors too. Even the waffles here are lactose free.
You will find Icemu in Via Corsica, 13. You can also get home delivery through Glovo app.
Vaniglia & Pistacchio
Vaniglia & Pistacchio is a small artisan workshop where the owners, Moira and Antonello, give great importance to the freshness and quality of ingredients such as milk and cream, exclusively Sardinian, local sheep's ricotta cheese, Bronte pistachio and IGP Piedmont hazelnut, to name a few.
These excellent raw materials are then processed following Sardinian traditions, hence you will find very special flavors such as civraxiu bread and nutella, where Sardinian typical bread and world-famous nutella come together for the most decadent flavor; ellusu with fileferru, a typical local liqueur; eya with ricotta, fileferru and saffron, a kind of pardula converted in gelato.
Among my favorite flavors there are the very refreshing strawberry with basil and pepper; and Sardinia flavor with goat ricotta, toasted almonds and orange zest.
Vanilla & Pistachio is located in one of the most characteristic district of Cagliari, La Marina, in Via Napoli, 30. You can enjoy the ice cream on a cone, cup or wafer that you can taste seated on one of the benches outside. The service is excellent.
Brebé
Brebè ice cream is different from others because it is made only with fresh, high-quality sheep's or goat's milk that live in free-range pastures. The other raw materials are also locally sourced, fresh and seasonal.
Massimo Conti, one of the founding partners, has almost 40 years of experience in the gelato world and has developed his recipes based on sheep's milk for BreBè. Even the ricotta cheese they use here is made from goat's milk.
If you want to start with something simple, go for fior di pecora, sheep's milk flavor, and continue with oro sardo, made with sheep's milk and ricotta, saffron and muscatel (a sweet sparkling wine characterized by aromatic scents), a delicate mix in which you can feel the acidic but pleasant note of the ricotta softened by the sweetness of the honey.
Another intriguing flavor is lavender from the Marmilla region. You should also try the ricotta and caramelized figs.
Fruit flavors, on the other hand and as per tradition, are made only with water and fruit.
The ice cream shop is totally gluten free and uses only recyclable and compostable materials (including scoops)!
Brebè is located in two different locations in Cagliari – Via Alghero, 50 e Via Mameli 71. You can have the gelato delivered to your home through the apps Glovo and Justeat.
Pin It For Later!