Culurgiones are among the best known traditional Sardinian dishes, originating from a region called Ogliastra. The concept of culurgiones is similar to that of ravioli – a fresh pasta filled with other ingredients, measuring between 2-4 inches in length and between 1-2 inches in width. But the shape and the taste are not even remotely similar. Indeed, their shape will remind you of a wheat spike.
The main ingredients of culurgiones are re-milled semolina or durum wheat flour and water for the pasta dough; boiled potatoes, fresh mint, pecorino cheese (the kind of pecorino used varies from place to place) and garlic (finally a recipe that calls for it!) for the filling.
Now, without further ado, let's get to the recipe. I promise it is easy to follow!
Interesting Facts About Culurgiones
Culurgiones are originally from Ogliastra, a region in central Sardinia. They are the kind of dish for which each village – in fact, each family! – has its own recipe. And each of them will inevitably tell you that theirs is the original recipe, and any other one is a bad imitation. Ulassai (where they were traditionally eaten on the "Day of the Dead," November 2nd), Jerzu, Lotzorai, Osini and Villagrande Strisaili are the most famous places for their production.
My favorite recipe is that from Seui, one of the most scenic villages in Sardinia, where they are made with cas'e fitta, a fresh cheese kept in salt water whose concept is similar to that of Greek feta cheese (though the taste is not even remotely close).
Ask my friend though, and he'll tell you the best ones are by far those from Arzana, where his dad is from, and which call for no mint in the filling.
There even is a Barbagia (another region of Sardinia) version of culurgiones – they are made with fresh cheese and served with meat and various sauces, so not really similar to the ones from Ogliastra.
Tips To Make Sardinian Culurgiones
Use the best fresh pecorino cheese
The cheese used to prepare culurgiones varies from village to village. For this recipe, I have used a mix of three kinds of pecorino. You should be able to get a good Sardinian pecorino (mild to fresh) at any good Italian grocery store.
Don't use Greek Feta
Feta is saltier than pecorino (which is salty enough already), and the texture is different. Just try to get a mild and softer and an aged pecorino for this recipe.
Don't peel the potatoes
I know, peeled and chopped potatoes boil much quicker, but they also lose the texture. So, it's best you don't.
You can freeze your culurgiones
Make sure to freeze them raw, and eat them within 3 months.
How to serve culurgiones
Culurgiones are typically eaten boiled, either plain with just grated pecorino cheese on top (and no such thing as olive oil or butter, which would cover their delicious taste) or in a plain tomato sauce.
You can even fry them – and the result is truly heavenly. They become mouthwatering bites with a crispy shell and a filling that literally melts in your mouth.
Don't serve culurgiones with butter.
Butter has a strong flavor and it'd take away the already delicious flavor.
Yield: 6
How To Make Sardinian Culurgiones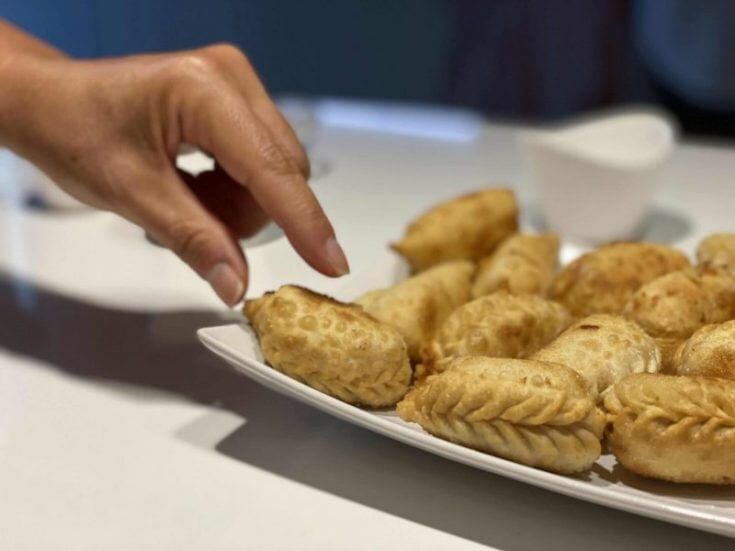 An easy to follow recipe for Sardinian culurgiones, prepared using various kinds of pecorino cheese.
Total Time
2 hours
5 minutes
Ingredients
For the dough
4 and 3/4 cups (600 grams) of re-milled semolina or durum wheat flour
1 and 1/3 cups (300 ml) of water at room temperature
Salt to taste
For the filling
3 large red potatoes
10 fresh mint leaves, finely chopped
1 and 1/3 (120 grams) cups of fresh pecorino cheese
1 and 1/3 cups (120 grams) of seasoned / hard pecorino cheese
1 cup (100 grams) of a slightly sour cheese
1 clove of garlic, finely chopped
Instructions
STEP 1 - PREPARE THE FILLING
Place the potatoes in a pan with cold water and bring to the boil. Cook the whole, unpeeled potatoes in salted water until fork tender - pierce them with a fork to check they are. Run them in cold water to cool them, and once cold peel them and mash them.
Add the grated cheeses, the garlic and mint.
Mix well.
Cover the mixture with cling film and let it rest in the fridge for at least a couple of hours.

STEP 2 - PREPARE THE DOUGH
Gradually add salty water to the flour and knead continuously.
Work energetically until a smooth and lump-free dough is obtained.
Wrap the dough in cling film and let it rest for half an hour.
STEP 3 - PREPARE THE CULURGIONES
Roll out the dough into a well-floured surface and into thin sheets of about 1 mm and with a pastry cutter or a glass cut out some round sheets of about 8 cm (3 inches) in diameter.
In each of them put a portion of stuffing the size of a walnut.
Close with the classic spike closure, as shown in the video. You will have to pinch the end and fold it onto itself, and repeat it until you close the culurgione. Place them on a floured tray.
STEP 4 - COOK THE CULURGIONES
Cook the culurgiones in abundant salted water for about 4/5 minutes - or 2 minutes from the moment they start floating. Don't drain them, but pick them up from the pot with a skimmer. Serve them with seasoned pecorino cheese or a fresh tomato and basil sauce.
You can also fry culurgiones in hot sunflower oil (165 degrees) for a fun aperitif.
Notes
Don't add any fat - oil or butter - to the culurgiones, either in the preparation process or once boiled. They are best enjoyed plain, with grated pecorino cheese.
Nutrition Information:
Yield:
6
Serving Size:
1
Amount Per Serving:
Calories:

787
Total Fat:

18g
Saturated Fat:

10g
Trans Fat:

0g
Unsaturated Fat:

6g
Cholesterol:

58mg
Sodium:

805mg
Carbohydrates:

119g
Fiber:

8g
Sugar:

2g
Protein:

35g
Where To Eat Culurgiones In Sardinia
You will find culurgiones served at most restaurants around Sardinia, and definitely in all restaurants in Ogliastra. The best are usually found at very traditional places and agriturismo that make their own. Some restaurants in Cagliari have started serving a revisited version, which is quite yummy but a far cry from the original recipe.
Having said so, here is a selection of restaurants where you can taste them.
PANI E CASU – one of the best traditional Sardinian food restaurants in Cagliari.
MEC PUDDU'S – a Sardinian fast food where you can try local dishes at very reasonable prices. There is a restaurant in Santa Maria Navarrese, in Ogliastra.
RIFUGIO DEL GOLGO – a very traditional restaurant located in the stunning setting of the Golgo Plateau, right above the lovely village of Baunei, that serves the local version of this dish.
SU CUMBIDU – located in Cagliari's La Marina quarter, this is one of the most popular traditional restaurants in town.
SA DOMU SARDA – allegedly the best culurgiones in Cagliari.
RISTORANTE ADA – A very popular place with locals, it prepares dishes of the Sardinian tradition with the freshest ingredients.
LE SEGRETE – this lovely restaurant in the heart of Cagliari makes its very own version of the dish: the pasta dough is black and it is filled with potatoes and shrimps and served with a sauce prepared with fish broth and burrata cheese.
Other Recipes
For more readings about Sardinian food and wine, check out these posts:
This post was written by Strictly Sardinia contributor Gianni Simonetti. All photos in this post to be credited to Gianni Simonetti. Make sure to check out his Instagram channel for more delicious recipes.
Massive thanks also to Francesca Ambus for showing us how culurgiones are made! You can follow her here – but I shall warn you, it is highly addictive.
Pin It For Later!