La Marina is one of the four historic districts of Cagliari and has always been an important place for the residents, since very ancient times. This is the harbor district, where workers, sailors, and merchants used to live and run their businesses.
The district was also quite busy thanks to the nearby salt mine, which contributed to the city trades and economy.
Due to its long history and flourishing life, La Marina is still one of the busiest districts in Cagliari, the beating heart of nightlife, and an excellent place for a shopping spree. But it has also lots of culture and history: its churches and historic buildings all deserve a visit, even better if with a tour guide.
Should you be able to read Italian, make sure to get hold of the book "I Delitti della Salina" ("The Salt Mine's Crimes") by Francesco Abate: the setting and the events revolve around this – and other – neighborhoods, and the descriptions are pretty accurate. Definitely, a must-read if you are a book lover planning to visit Cagliari!
Make sure to also read my posts The Best Guide To Castello, A Short Guide To Villanova and The Best Things To Do In Cagliari.
A Brief History Of La Marina, Cagliari
La Marina was officially founded by the Pisans in the 13th century AD, but the area was already inhabited by previous populations, such as the Romans, who moved their headquarters here (from Santa Igia, now Santa Gilla). Excavations have brought to light some mosaics, a road and a thermal complex' remains.
Anyway, La Marina became the city's marine district under the Pisans, who built houses and facilities for the sailors and harbor workers in Cagliari. Its original name wasn't the current one: the area was originally called "La Pola/Lapola", a name that derives from the Pisan dialect and means "the palisade", referring to the wooden fence that was built inside the harbor's water, as a means to regulate traffic and select the ships allowed to dock.
Speaking of defensive measures, La Marina was also an enclosed area of the city, with its own defensive walls – that have been demolished long ago, to make space for the big roads passing through Cagliari – making it a fort before the already fortified area, of which some Bastioni (bastions) are still standing and are a famous attraction of the Castello district.
On the contrary, the only remains of the Marina walls are now part of the old Scala di Ferro Hotel, where several celebrities (like the Italian actor Totò, and the poet Gabriele d'Annunzio) stayed during their visits to Cagliari.
La Marina district kept growing with time and became more and more a multi-ethnic part of Cagliari, with several groups of people from around Italy (and the world) establishing a small community there. Around the beginning of the 19th century, several noblemen decided to build their residences here – and the luxurious buildings can still be seen and are now the location of hotels, theaters, and other public facilities.
There is even a funny episode about the competition among nobles and the people in the Cagliari district: in 1811, the Duke of Modena declared that the buildings in the Marina were vastly superior in beauty to the ones in Castello. This led to some crushed egos (on the offended side) and to the Marina residents to brag about it for quite a while!
Cagliari was bombed during WWII and that led to a huge chunk of ancient buildings, especially churches, collapsing and never being rebuilt again. Nowadays, the Marina district is mostly made of recent (from the 1800s onwards) buildings and gives off the typical vibe of a bourgeoise, rich marine hamlet.
An important figure in the Marina history is Ottone Bacaredda, who was born in Cagliari and, after becoming a lawyer and a politician, became the city mayor and contributed to the renewal of several city landmarks such as the Saint Remy Bastion.
His works, however, weren't always welcomed and were often used as excuses for popular uprisings, like the 1906 strike which started from the Buggerru miners (complaining about the rising prices) and expanded all the way to the Cagliari Tobacco Factory workers.
The Best Sights In La Marina, Cagliari
Now that you have a better idea of the history of La Marina, let's check out the main sights you should not miss.
La Rinascente
Once cinema – the Iris, which was called "su baracconi" by locals, La Rinascente was opened in 1931, partially destroyed by the WWII bombings and later rebuilt, and has always been a department store targeting middle to high-income customers.
The last floors of the building were originally used as hotel rooms, but now La Rinascente is a full department store, a must-go for shopaholics.
Hotel Scala di Ferro
First a theater (actually, several theaters under different administrations), then a luxury hotel and public bathhouse starting from 1869 (thanks to its owner, Antonio Cerruti, who decided to expand his business – he owned another theater and an ice warehouse), the Scala di Ferro Hotel is a legend in Cagliari's recent history.
Even though now the only remaining memory of it is its façade in Viale Regina Margherita, the hotel has bewitched countless noblemen, visitors, and celebrities, like the aforementioned Totò and D'Annunzio, David Herbert Lawrence, Salvatore Quasimodo, and many, many others.
Unfortunately, the scarce ability of the city councils to preserve and give value to this building has led to the decline of the once marvelous hotel – which closed down for good in 1964.
Sant'Agostino Church
The Church was first built with a Gothic style but then demolished under the Spanish rulers, and is now one of the rare Renaissance-style churches on the Island. It is though that St. Augustine's relics were kept here before they were brought to Pavia in 725, meaning that the church is probably even more ancient than the historic records tell.
From the 19th century, the Church became the location of several civil activities (among them, a kindergarten and a bank); the religious functions were briefly back from 1925, but Sant'Agostino church was damaged during WWII. It was newly built once again and allowed to celebrate mass only in 1978.
Sant'Eulalia Church and Museums
The Sant'Eulalia Church, which is one of the most important religious buildings in the Marina district, was built around 1370 by the Aragonese, on a previously existing church and in one of the archeologically richest areas in Cagliari.
The church itself is a work of art, but what's really stunning is the treasure kept in the dedicated museum: I strongly recommend booking a visit there, if you want to see all the riches and artworks that have piled up during the centuries of the Church's existence.
Another incredible experience in Sant'Eulalia is its archeological area, which is one of the widest and richest historical sites in Cagliari, with traces of civilizations dating back to the Romans. If you want to travel back in time and experience the district's growth and development, be sure to book a guided tour of this site!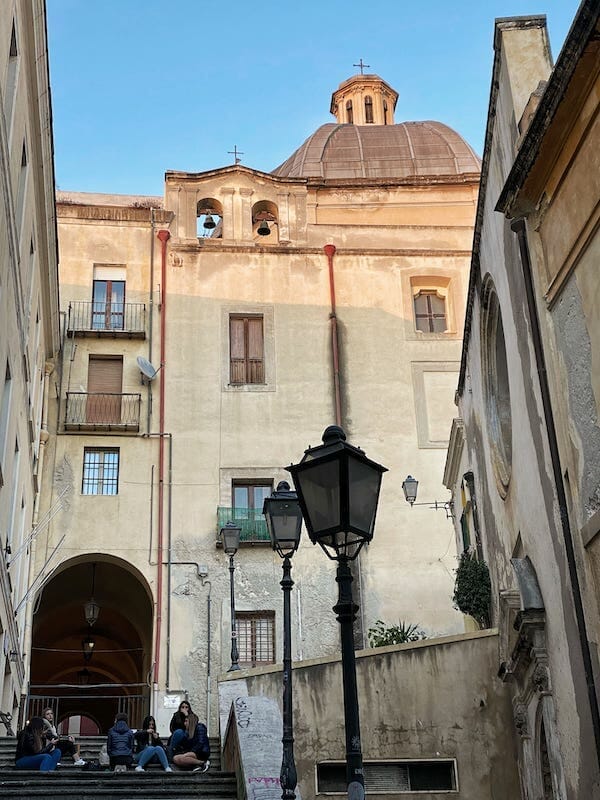 Sant'Antonio Church
There isn't much left of the ancient church, which was a part of the old Cagliari hospital, but the newly (18th century) built church is equally stunning. Built with a neat, well-planned Baroque style, and with its big dome as a landmark in the district, it's definitely a must-visit. Sant'Antonio, to whom the Church is dedicated, is one of the most beloved Saint patrons on the Island, and the celebrations in his honor are always worth participating in.
About the hospital, the building in la Marina was an essential place up to the late 1800s, when the new San Giovanni di Dio (which was designed by architect Gaetano Cima) was opened to the public and the patients were transferred there. The old building became, during the years, the location for several schools, until the final decision to renew it and turn it into a hostel – one of the places to stay in Cagliari for backpackers.
Old Market
The old market, called Olimpo, was made of two buildings and was one of the biggest enclosed markets of the time. Many visitors (among them, Lawrence) were fascinated by it during their stay, and the market had a 70-years-long, prosperous history.
It was demolished only in the 1950s, to make space for new buildings (mainly banks), but it is still part of the Cagliari most recent history and collective memory. You can see what's left of it on the buildings in Largo Carlo Felice.
Palazzo Civico
Also known as Palazzo Bacaredda, Cagliari City Hall wasn't always located here – it used to be in the historic district of Castello, in Piazza Palazzo, in a building now known as the Palazzo di Città which is mainly used for exhibits.
The City Hall was moved here upon wishes of Ottone Bacaredda, one of the most enlightened mayors of Cagliari. Entirely built in limestone and in liberty style, it's a massive palace with beautifully adorned rooms. The most famous ones are the Wedding Room, decorated with paintings by Filippo Figari; and the mayor's office, where you can spot a flemish tapestry that dates back to the 1500s.
The City Hall can be visited on Saturdays and Sundays, at 9:00 am; 1:30 pm and at 2:30 and 7:30 pm.
Practical Information
Guided tours of La Marina
You will find several tours of the historic center of Cagliari that will take you to La Marina, but if you want something that is truly specific and focused on this fascinating part of town only, get in touch with Arasolé, an excellent local operator. They will arrange a private tour for you at a very reasonable price. Just send them and email at [email protected] – make sure to mention my name!
Alternatively, you can book your guided tour online here.
How to get to La Marina
La Marina is one of Cagliari's most central districts. If you are coming from the airport, you will just have to take the train and it will drop you off at Cagliari's central station in Piazza Matteotti. From there, it's literally a matter of crossing the road to find yourself in La Marina. You won't need a car to explore: the area is relatively small and most of it is ZTL (limited traffic zone) anyways.
For more information make sure to read my post How To Get From The Airport To Cagliari City Center.
Where to eat in La Marina
La Marina is one of Cagliari's nightlife hubs and you will find an infinity of restaurants, bars and cafés. These are my favorite ones.
Make sure to also read my posts The Best Cafés In Cagliari, The Best Restaurants In Cagliari, The Best Bars In Cagliari, and The Best Wine Bars In Cagliari.
Kobuta Hamburgeria
A great place for a nice hamburger after a long day of walking – or to divide your day into two halves with a great lunch. The prices range from €13 to €22 and there are close to zero negative reviews! And if you don't fancy a burger, you can simply head to Osteria Kobuta – the Hamburgeria's big sister. It's in the Stampace District, right on the other side of Largo Carlo Felice.
Sabores
One of the best restaurants and wine bars in the area, I never miss an opportunity to go. Samuele, the owner, will be able to recommend the best wine pairings based on your taste and on the food you are having. The prices are budget-friendly, from €10 to €30, and the dishes are well presented and delicious. The meat and appetizers are especially good!
Stella Marina di Montecristo
A super budget friendly place considering the food, this trattoria has a seafood-based menu and a great reputation nonetheless. It's truly easy going, but it's a popular place so you'll have to book in advance.
Corsaro
Another nice place where you can get excellent food. The Sardinian dishes and desserts are particularly good. The restaurant was awarded a Michelin star, so expect the prices to be a bit high.
Marino al San Remy
Probably the restaurant with the most options on this list, Marino offers Italian and Sardinian dishes, vegan and vegetarian options, and much more. It's not cheap, but definitely worth your money.
Oca Bianca
With several options and affordable prices, Oca Bianca is an excellent choice if you want to try good food. Here, you can order both Italian and Sardinian dishes, pizza, and vegetarian/vegan-friendly food. There is a selection of international dishes too.
Vegan? Make sure to read this post.
Where to sleep in La Marina
You will find some excellent accommodation options in La Marina. I have selected the best ones for you.
Make sure to also read my post Where To Stay In Cagliari.
Located in an excellent position, this apartment has everything you need from your place to stay, from free WiFi to a fully equipped kitchen. The building is within a walking distance of every important attraction in the area.
An excellent hotel that offers everything you need. A in-house restaurant (and several at your doorsteps), airport shuttle bus, a swimming pool, a spa and all the common comforts (like free WiFi and private bathrooms): you will have it all. The location is amazing too – though mind you, it's not in the heart of La Marina but at easy walking distance.
Cagliari's only hostel, it offers both private rooms and dorms in the heart of La Marina and it is also a fantastic social space for both locals and tourists.
A clean, nice Bed and Breakfast with free WiFi, free parking, and great rooms. All in all, an excellent accommodation in a good location.
Pin It For Later!