Sardinia has so much more to offer than only beaches and crystal-clear waters. Today, I'm here to talk about another hidden gem of this island: its marvelous underground.
Did you know that Sardinia is the Italian region with the biggest number of caves open to tourists? That's right, and the caves in Sardinia are all quite different among them, too. There are marine caves (which are the most famous); deep and mysterious caves in the island's hinterland that go deeper than what the visitors are allowed to see; and very picturesque caves with unique features, ideal to take those photos that will make your friends jealous.
In this post, I will introduce you to some of the most beautiful open caves in Sardinia. Remember that you can only go there with a guide: free exploration is forbidden and extremely dangerous!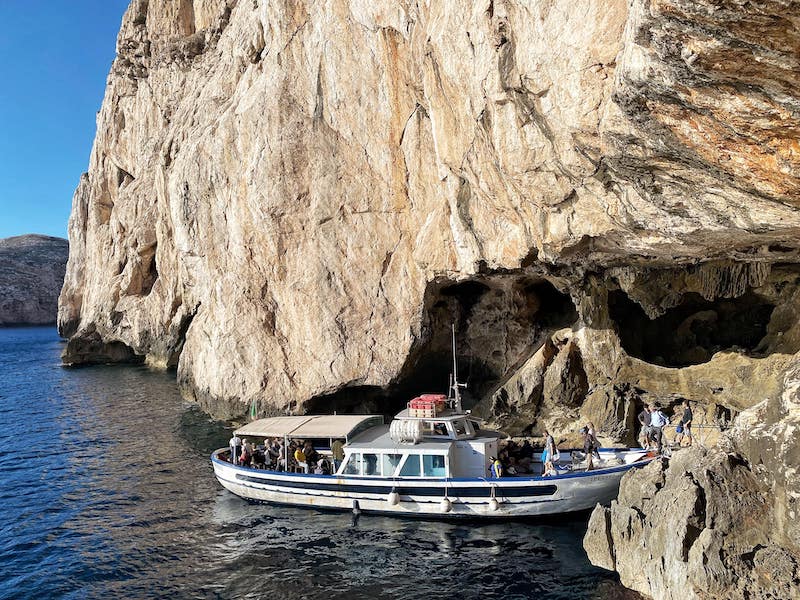 The Most Beautiful Caves In Sardinia
Neptune's Grotto, Alghero
Located near Alghero, Neptune's Grotto can be reached by boat from the city and by foot from Capo Caccia, through the 654-steps of the Escala del Cabirol staircase. They are probably the most famous caves in Sardinia, as well as the biggest. The complex is more than 4 kilometers long, although only a few hundred meters can be visited. They were probably inhabited, or at least used as a shelter, during prehistoric times.
You can only visit Neptune's Grotto on guided tours. The tour is divided into steps and you will be taken to several areas. You will start from the Lamarmora Lake (a huge saltwater lake) at the very beginning of the Neptune's Grotto cave complex. At the end of the tour you will visit the Tribuna della Musica, a higher area from which you can grasp a wider sight of the site.
OPENING TIMES: Guided tours are available in various languages. They depart each hour from 10:00 am to 3:00 pm every day.
ADMISSIONS: Adults €14; children under 14, elderly (over 65), groups of more than 25 people €10; disabled and accompanying person, kids under 7 years of age and tourist guides free.
Ferries to Neptune's Grotto depart regularly from Alghero tourist harbor. The ride costs €15 and does not include tickets to the caves, which you can buy onsite.
Booking the boat trip to the cave is recommended but not mandatory, since you can also get there via the Escala del Cabirol. You will, however, have to book your visit in advance here.
Make sure to read my post A Short Guide To Neptune's Grotto.
Grotte del Bue Marino, Dorgali
The Grotte del Bue Marino is the most famous cave system together with Alghero's Neptune's Grotto. The tunnels here are part of a much bigger cave system (about 70 kilometers wide) that spreads under the Gennargentu area and is the biggest in Europe.
Also known as the Sea Oxen Grottoes, the Grotte del Bue Marino are located in Cala Gonone's proximity and can be reached by boat from Arbatax, Cala Gonone, La Caletta, Orosei, and Santa Maria Navarrese.
The cave's name, meaning "The Sea Oxen's Caves," comes from the monk seals which used the place to mate and reproduce until very recent times. Fishermen, who called them "sea ox" because of their cry, unfortunately, started to hunt them down because of the competition for the fish they both fed on.
The site will leave you stunned right from the start: you will see the beautiful arched doorway from quite a distance, and the inside will not leave you disappointed either. The north wing has been sealed, but you will see tons of wonderful natural formations while visiting the southern one. I don't want to tell you every detail and spoil the trip for you, so just go and enjoy the visit!
OPENING TIMES: Guided tours depart from Monday to Friday at 10:00 and 11:00 am; 12:00 and 3:00 pm; Saturday and Sunday at 9:00, 10:00 and 11:00 am and at 12:00 and 3:00 pm. They last one hour.
ADMISSIONS: Adults €10,00; children €5,00.
Most people visit the Grotte del Bue Marino as part of a boat trip along the Gulf of Orosei, departing from Cala Gonone. Ferries to the cave depart regularly from the tourist harbor and cost €12.
Don't forget to read my post A Useful Guide To Visiting The Grotte Del Bue Marino.
Grotta di Ispinigoli, Dorgali
During ancient times Ispinigoli Cave was used as a shelter and, later, as a sacrificial pit by the Phoenicians. Sheepherders have used it too, until very recently. It's currently famous thanks to a 38 meters tall natural column (one of the tallest in Europe) and, in general, because of the trail that goes through it.
If you are not claustrophobic, you should definitely visit!
OPENING TIMES: Guided tours depart every hour, from 10:00 am to 4:00 pm.
ADMISSIONS: Adults €8; children €4.
The cave is located in Dorgali, very close to Cala Gonone and 40 mins away from Nuoro; you can get there by car driving along SS109 towards Orosei.
Is Zuddas Caves, Santadi
Located in Santadi, in southern Sardinia, and easily accessible from Cagliari, many have described the Grotte Is Zuddas as "straight out of a fairytale." The reason is simple: thanks to the water flowing throughout the millennia, there are some unique formations in this place, such as the so-called "rock flowers," a very peculiar crystal formation that looks exactly like a fantasy world's flower.
The cave is rich with other dreamy things, too; from a crystal waterfall to long stalactites and stalagmites to a rock formation resembling a pipe organ, you will feel like you've fallen in some sort of enchanted land.
OPENING TIMES: Guided tours run daily, from 1 April to 30 June at 11:00 am; 3:00 pm and 4:15 pm; from 7 July to 30 September at 10:00 am; 12:15 pm; 2:30 pm and 6:00 pm; from 1 to 31 October; from 20 December to 6 January and from 1 March to 31 March at 12:00 and 4:00 pm. The caves remain closed between 1 November and 19 December and 7 January and 28 February except on public holidays and for bookings of 15+ people
ADMISSIONS: Tickets + guided tours cost €10
Make sure to also read my posts How To Visit Is Zuddas Caves and A Guide To Santadi.
Su Marmuri Cave, Ulassai
Su Marmuri cave runs inside Ulassai's area and is, once again, a very unique cave excavated by the constant flow of water and divided into several chambers. The most famous ones are the Cacti Chamber (which got its name thanks to the two plant-like stalagmites inside there), the Bat Chamber (home to a colony of bats), and the "pools' gallery," rich of puddles and small lakes.
OPENING TIMES: Daily from 11:00 am to 5:00 pm. For more information on guided visits, email [email protected].
ADMISSIONS: Adults €10; children €6; groups €7.
Ulassai is an area rich in water and is also famous for its two waterfalls, which you can't miss if you're in the area. You can reach it by car driving along SS125 from Arbatax and then SP11 to Ulassai.
Su Meraculu Cave, Baunei
Located in the area of Baunei, Su Meraculu Cave (The Miracle Cave), gained its name thanks to the sunlight that, at certain times of the day, lights up its galleries filled with natural sculptures, making everything look like a miracle shining on a museum of sorts.
The rock formations in this cave are pretty peculiar too: some stalagmites resemble cauliflowers, another one looks like Pisa's Leaning Tower, an amphora, a frog. It really seems like a sculptor used this place as a workshop… but it's all nature-made, there's nothing artificial.
TICKETS AND OPENING TIMES: This cave complex can only be visited via guided tours which you must book in advance; tickets vary from 15€ to 30€ and include transportation. For more information, email [email protected] or [email protected].
You can get to Su Meraculu cave by boat from Arbatax or Santa Maria Navarrese, or by foot via the hiking trail that starts in Cala Sisine.
Grotta Azzurra, Masua
This is not a big or extremely famous cave (except here in Sardinia), but it has a peculiarity: its gateway, surrounded by turquoise waters, looks (from a certain perspective) exactly like Sardinia's top half. In fact, it's also known as Grotta Sardegna. It's easily reachable by raft from Masua beach. There is no ticket or opening time, you'll just have to pay for the boat… and bring a waterproof camera.
For information on how to get to Masua, read this post.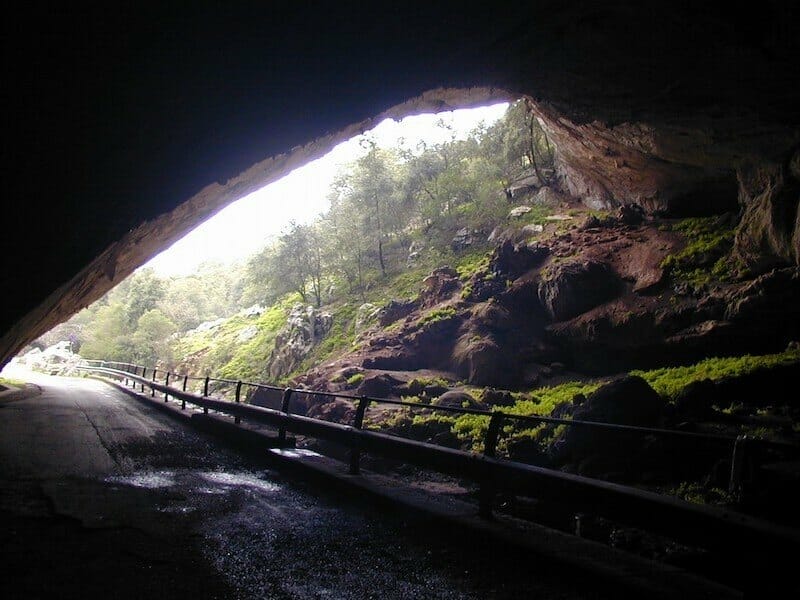 San Giovanni Cave, Domusnovas
The distinctive trait of San Giovanni cave is that it's the longest carriage cave in the world, with an asphalted road that passes through it completely: it was possible to go there by car until 1999. Once a mine, the site is now only accessible by foot. It got its name because of an old chapel dedicated to St. John, which was built during the middle ages and demolished in the 19th century when building the road.
A small, homonymous church is now located at the entrance of the cave. It was probably, as the many relics found there suggest, inhabited or at least used as a shelter during ancient times.
A Nuragic village was built inside there as well. A legend suggests that a bandit hid there during more recent times.
OPENING TIMES AND ADMISSION: You can visit San Giovanni cave on guided tours that cost €12 and must be booked in advance. For information and to book your tour, send an email to [email protected].
You can reach San Giovanni Cave via SS130 from Iglesias to Domusnovas and then follow the road signs guiding you to the cave.
Grotta Santa Barbara, Iglesias
First discovered by mines working in San Giovanni mine (inside which the cave is located) in 1952, the Grotta Santa Barbara are among the most impressive caves in Sardinia. The cave has no external access – which helped keeping it intact.
This is one of the oldest caves in Italy, with a massive hall that is a real work of nature, with a 25 meters ceiling and columns, stalactites and stalagmites that took millennia to form. There even is an internal lake.
The cave is reached via a mining train and a complex system of galleries: after around 700 meters you reach an elevator that you 36 meters up the shaft. From there, you can enter Santa Barbara cave via a spiral staircase.
OPENING TIMES AND ADMISSION: You can visit Grotte Santa Barbara on guided tours that cost €15 for adults and €12 for children. Entrances are timed and must be booked in advance either at the tourism office in Iglesias or online here. For more information, send an email to the tourism office [email protected].
There are other smaller caves in Sardinia that tourists can visit, but these were the most famous and particular ones. I hope I managed to get you interested in some of them!
Further Readings
Make sure to read my other posts:
Pin It For Later!