Also known as Porto Cauli, Masua Pan di Zucchero beach is located right by the tiny village of Masua, in the south-western coast of Sardinia bot far from Iglesias.
Often mentioned among the best beaches in Sardinia, this small cove takes its name from the Pan di Zucchero massive stack that emerges from the water right in front of it. But that's not its only impressive landmark.
Visiting this beach will also give you the chance of seeing and exploring Porto Flavia mines.
With beautifully fine, white sand and clear shallow waters, and completely surrounded by rock formations, Masua is a very scenic place perfect to spend a relaxing – and actually also quite active – day during the summer.
Loved by locals, tourists are proving to appreciate this beach more and more every year – so I won't hide the fact that it can get quite crowded. If you are curious to visit this jewel of southern Sardinia, continue reading this post as I will tell you everything you need to know to plan your visit, and how to make the most of it.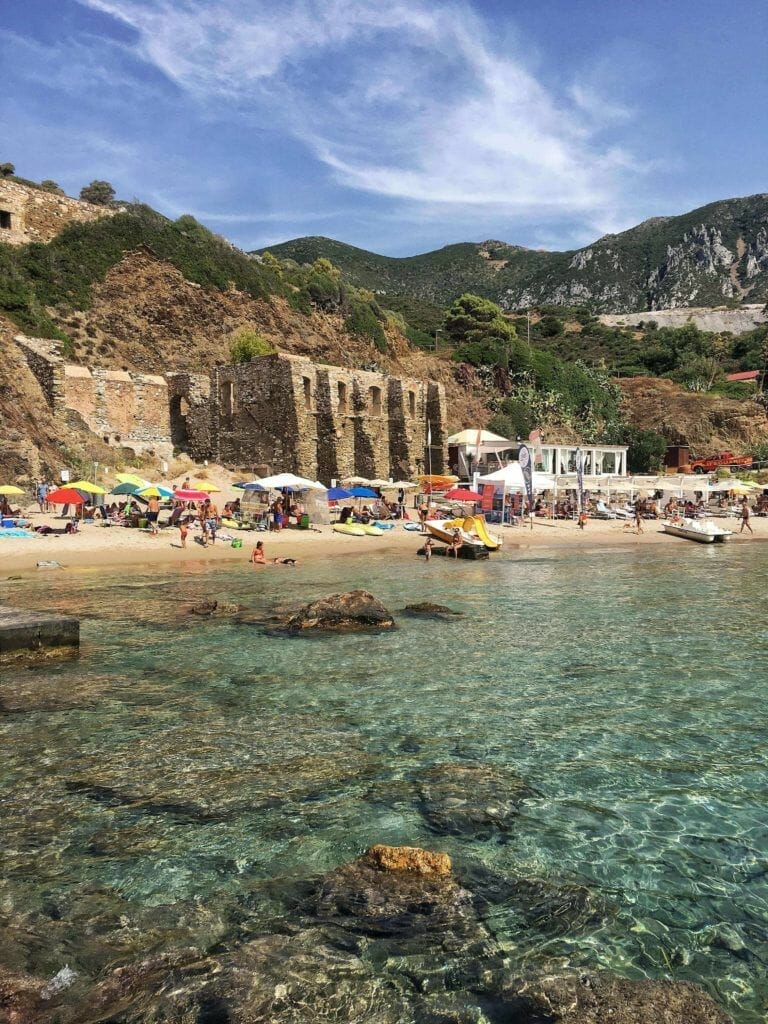 Complete Masua Pan Di Zucchero Guide
Masua Pan Di Zucchero Beach
Masua is a small cove of no more than 100 meters (328 feet), surrounded by Mediterranean vegetation and surmounted by impressive limestone cliffs that call any climbing lover. With its incredibly clear waters and perfect visibility, it's a great spot for anyone who loves fishing, snorkeling and scuba diving.
Yet, the main attraction here is the beautiful Pan di Zucchero, a massive sea stack that sprouts out of the sea right in front of the beach. Once called Concali su Terràinu, the stack dates back to the Cambrian Period (590 million years ago). This gives you an idea of how old a land Sardinia is!
Not many know, but with its 133 meters (436 feet) in height, the Pan di Zucchero stack is actually taller than the more famous ones in Capri. In fact, this is the highest coastal rocky outcrop in the entire Mediterranean Sea.
On its sides, there are two small rock arches you can swim or paddle across.
Although the beach itself is nicely sheltered from the wind, the sea in this part of Sardinia gets very rough and getting in the water can be dangerous when the mistral wind blows and there are strong underwater currents.
I recommend not going when the weather forecasts mistral wind as you won't be able to enjoy it.
The beach is equipped with lifeguards and a kiosk where you can rent umbrellas, sun beds and whatever else you may need for the day, and there is an information point where you can enquire about boat trips to nearby beaches and islands.
You will also find toilets and showers for which you have to pay a small fee.
Also located on the beach there is Warung, a nice beach club with a fantastic small restaurant that serves excellent light meals during the day – that you can eat there or take away – and fantastic dinner with a focus on fusion cuisine that uses solely local ingredients. If you wish to stay for dinner, make sure to book in advance.
The beach tends to get very crowded in the summer, so you may wish to head there nice and early (be there no later than 9:00 am) to secure a good spot, or else plan to visit at the very beginning or at the very end of the summer season, when it's a bit less busy.
This is one of the best sunset spots in Southern Sardinia, so make sure to linger long enough to admire the sun dropping behind the horizon.
Visiting Porto Flavia
Masua Pan di Zucchero is the best access point to visit the mines of Porto Flavia. If you continue driving along the road that takes you to Masua you will reach the entrance of the site, a marvel of mining engineering whose construction was completed in 1924 and takes the name of the daughter of Cesare Vacelli, the engineer who planned it.
Porto Flavia mines are open every day, throughout the year. Guided tours in English and Italian depart every hour between 10:00 am and 7:00 pm. They cost €10 for adults (€6,50 for children) and last about two hours.
You will need to book a time-slot for your visit and show up at the site about 20 minutes before the tour departs. Tickets are available on the website of Tourism Office here.
Alternatively, you can book your visit here.
Make sure to be fully dressed and wear closed shoes to access the site.
How to get the best views of Porto Flavia
The best views of Porto Flavia are actually from the sea. For that, you can rent a kayak or a SUP and paddle all the way there.
Alternatively, you can join one of the boat trips that depart from the beach every couple of hours. There are two main options:
Pan di Zucchero and Cave of the Mines Coast boat tour – it's a shorter tour that includes a stop for jumping in the water. There are 5 daily departures and the tour costs €25 for adults and €20 for children up to 9 years of age.
Coast of Mines' – Pan di Zucchero, Cala Domestica, 'I Faraglioni' sea stacks – boat tour – it's a longer tour which includes 3 stops for swimming. There is only one departure daily at 9:00 am and the tour costs €60 for adults and €50 for children up to 9 years of age.
You can enquire directly at the info point at Warung Beach Club at the beach, or book your boat tour online on Warung Beach Club website.
Keep in mind that boat tours don't actually allow you go to inside the mines. However, you will get to see the Grotta Sardegna, a cave whose entrance is shaped like Sardinia and that is also called Grotta Azzurra, after its intense blue colors.
For more complete information, make sure to read my post A Guide To Visiting Porto Flavia, Sardinia.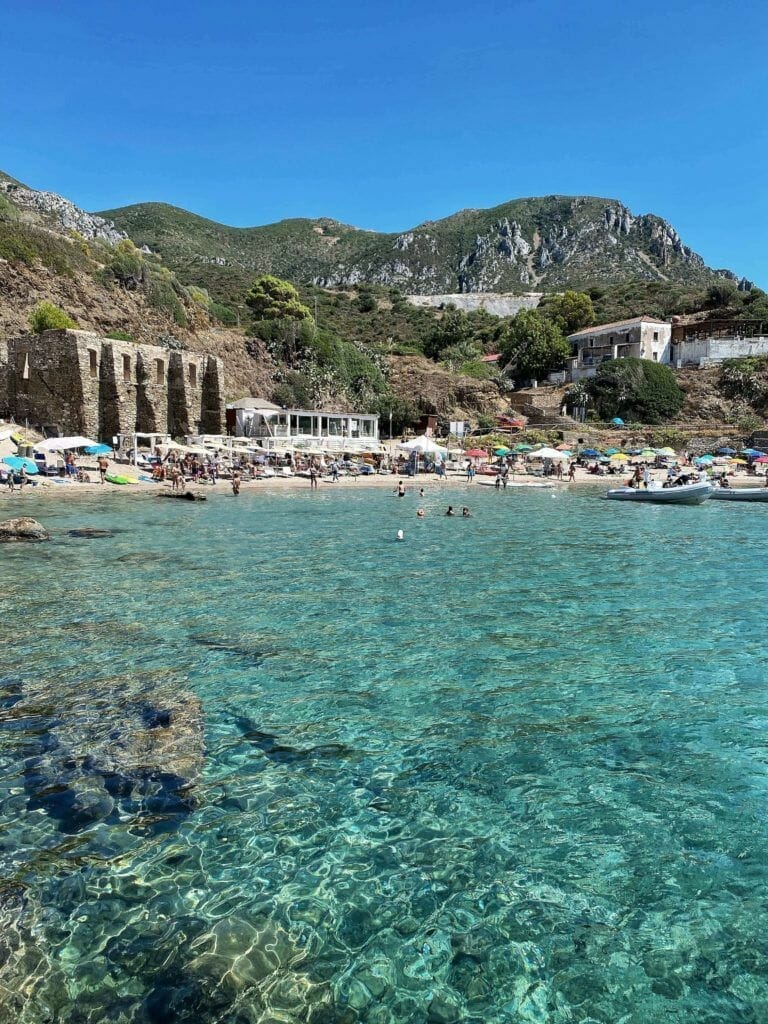 How to get to Masua Pan di Zucchero
Masua beach is located in Southern Sardinia, not far from Iglesias and about 1.5 hours drive from Cagliari. It's just a 10 minutes drive from Nebida.
By car
The best way to get to Masua Pan di Zucchero is by car. From Cagliari, you will have to follow directions to Iglesias and from there continue on road SS130 and take the exit to Nebida.
Continue straight on Provincial Road SP83 until you reach the small village of Masua and from there follow the direction to the beach.
You will find a large parking lot for which you will have to pay. It costs €2 per hour. Until last time we visited, only cash was accepted.
By public transport
I don't really recommend attempting to visit Masua Pan di Zucchero by public transport, but if you insist, here's how to do it:
FROM CAGLIARI – Take the train to Iglesias, then hop on bus 808 to Masua. The bus only stops at the village, from which you will have to walk to the beach. Expect your overall traveling time to be 2 hours, plus a good 30 minutes to get to the beach.
FROM IGLESIAS – Take bus 808 to Masua, then it's a 30 minutes walk to the beach.
FROM NEBIDA – Take bus 808 to Masua, it's a short drive. Then, you will have to walk to the beach.
By guided tour
If you are staying in Cagliari and don't have your own car, you will be happy to know that there are guided tours that go all the way to Masua Pan di Zucchero and include a visit of Porto Flavia and the nearby Laveria Lamarmora in Nebida.
You can book your visit of Masua Pan di Zucchero, Porto Flavia and Laveria Lamarmora here.
For are more active experience, you may want to join this guided hike that goes to Laveria Lamarmora and stops in five beautiful beaches including Masua Pan di Zucchero. You can book it here.
Make sure to also read my post A Guide To Visiting Laveria Lamarmora.
Other Nearby Beaches
Not far from Masua Pan di Zucchero you will find a bunch of other beautiful beaches.
CALA DOMESTICA – About 20 minutes drive from Masua, this is probably the most popular beach in the area. It's a tiny cove at the back of which there are some beautiful sand dunes (though remember, you can't walk on them) and with the remnants of a mine. To its right you will find a trail to a smaller cove, whereas at the left there's a trail to a viewpoint for stunning views. Hiking trails connect it to other nearby beaches and offer stunning coastal views.
Warung Beach Club has two daily boat tours to Cala Domestica beach.
PORTIXEDDU AND SAN NICOLAO – Further north from Masua Pan di Zucchero, in the area of Buggerru, they are some of the best surfing spots in Sardinia.
FONTANAMARE – South of Masua, this is a great, long sandy beach perfect for families.
Where to stay to easily access Masua Pan di Zucchero
Most people visit Masua on day trips from Cagliari, but should you wish to tour this part of the island you will find some good accommodation options in the nearby Nebida. I have selected a few places for you:
Important Rules of Behavior At Sardinian Beaches
The same rules of behavior that apply in other Sardinian beaches are valid for Masua. The general idea is that of respecting the environment and leaving the beach as clean as you have found it. Here are a few basic rules you should be observing:
DON'T TAKE SAND – Tourists are often unaware of this, or decide to ignore it, but taking sand, shells or stones from Sardinian beaches is prohibited and should you be caught with it, you will be subjected to a fine. Should you visit a beach that has sand dunes, make sure not to walk on them as that is also prohibited.
DON'T LEAVE ANY TRASH – There are plenty of trash cans at the beach. If you don't find one, if it is full or if you have bulky items, don't leave your trash behind: bring it home with you and dispose of it properly. Remember that we do separate and recycle here in Sardinia.
BE RESPECTFUL OF OTHERS – This is more of a general rule that applies in all circumstances. If you are a smoker, remember that people around you may not appreciate the smell of smoke and please by all means don't dispose of cigarette butts in the sand!
Further Readings
Traveling to Sardinia? Make sure to read my other posts:
Pin It For Later!