Once known as Portu 'e Sisine, Cala Sisine is one of the most beautiful beaches on the eastern coast of Sardinia. Historically, this beach was used as landing place for cargos of coal. Tools found in the area show human presence as early as 4000 years ago. Later on, during World War II, Su Stuggiu (hiding place, in Sardinia) became a perfect hiding spot for boats and submarines.
While none of the coal remains nowadays, shipwrecks have been found along the coast. What's important, however, is that the beach is a favorite of locals as well as tourists, surrounded at it is by gorgeous rock formations and with a thick forest of centuries-old carob trees and holm oaks at its back, where you can go in search of shade and cooler air during summer's hottest days.
The beach isn't directly accessible by car, but any effort to get there is immediately paid back: this is a truly beautiful place, and if you happen to be holidaying on the eastern coast of Sardinia you shouldn't miss the chance to go.
Curious to find out more? Continue reading!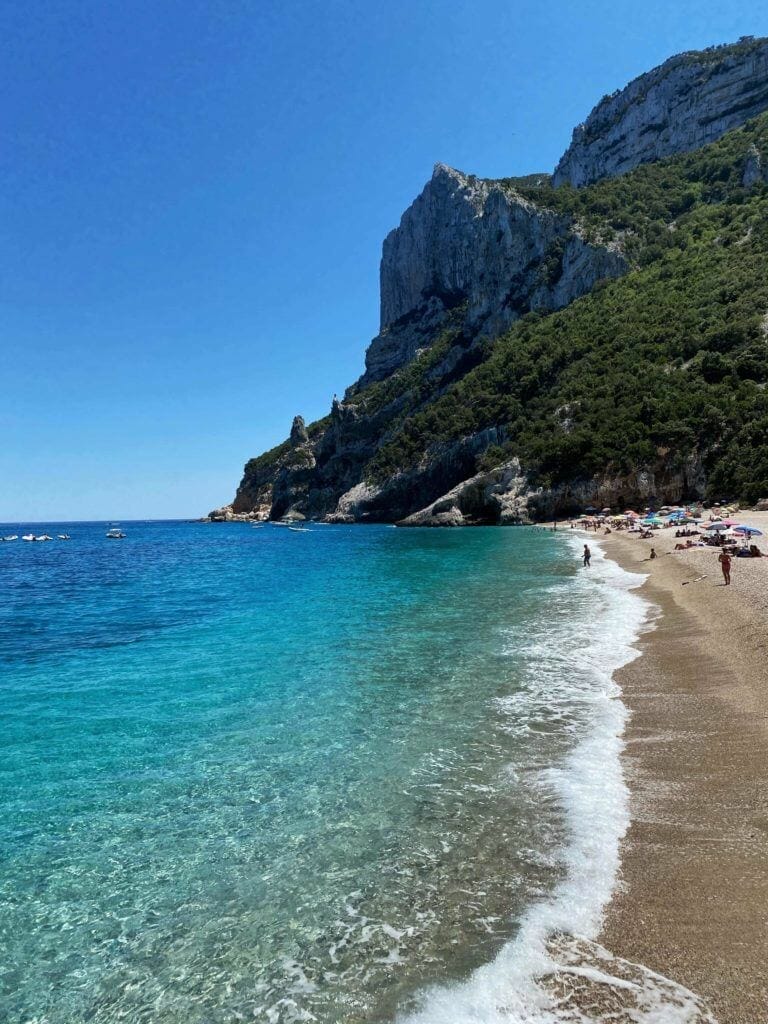 Everything You Need To Know About Cala Sisine Beach
Cala Sisine Beach
Among the nicest beaches in the Gulf of Orosei, between the mountains of Ogliastra and those of Barbagia, Cala Sisine is located at the end of a ravine – a valley known as Codula Sisine, a river bed that swells with winter rains but completely dries up with the summer heat.
The beach is tucked between the 500 meters high cliffs of Serra Ovra and measures 200 meters in length and is around 100 meters wide at its largest – thus being one of the largest in the are.
This isn's a sandy beach proper: you will find a mix of sand, pebbles of various sizes and tiny white grains. Water is incredibly transparent but immediately deep.
GOOD TO KNOW: Despite the lack of proper sand to play with, and the immediately deep water, children love this beach.
At the back of the beach you'll find a small freshwater pond and a small restaurant called Su Coile, which however isn't always open.
South of the beach there is another beautiful small cove – you can walk there, but getting there can be quite of an effort. Alternatively, you can get there by boat.
This isn't an equipped beach so you'll have to bring anything you may need for the day.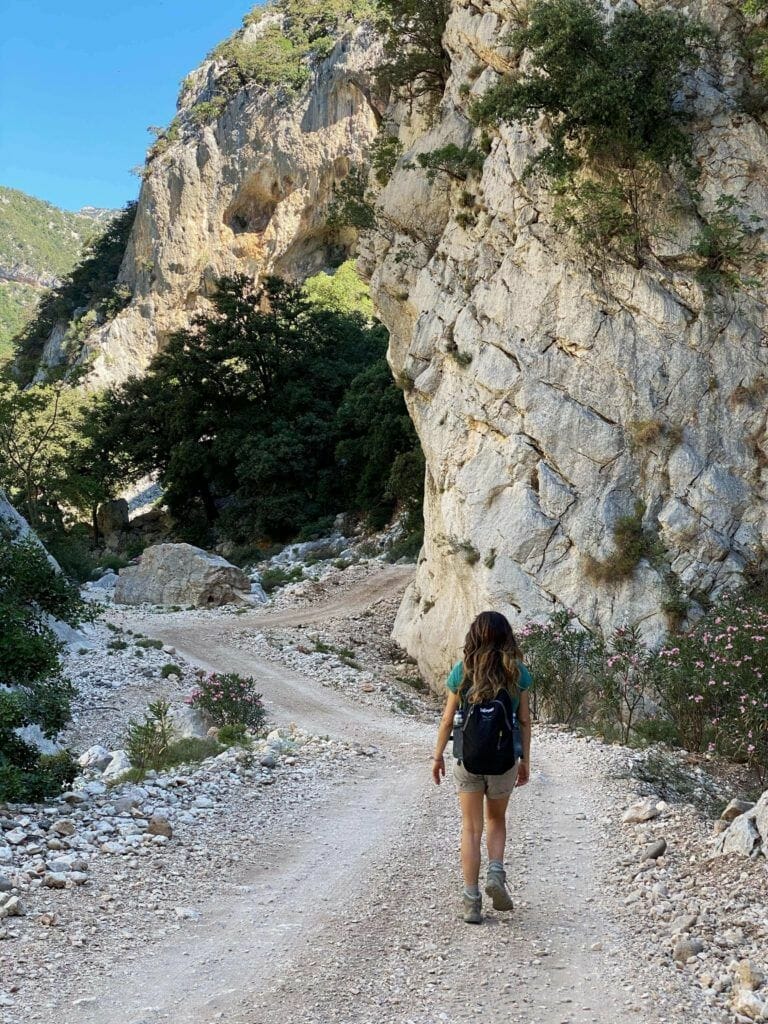 How to get to Cala Sisine
You can't go all the way to Cala Sisine by car, but if you have a 4X4 vehicle, an old car with high engine (such as an old Fiat Panda, for example) or an SUV you can get quite close to it, and will only have to walk an easy 2 km trail.
By car + hike
From the Golgo Plateau, follow the directions to the tiny San Pietro al Golgo church. Before getting there, turn right and follow the dirt road for another 13 kms. The road is usually quite good, though bumpy. At the end of it you will find a parking lot where the 2 km trail to the beach starts. From there, expect to walk for about 30 minutes before you get to the beach.
On a hike
If your car isn't suitable to drive all the way to the last parking lot you'll have to leave it at the first one, where there also is a small kiosk where you can get some refreshment before heading to the beach; and where the challenging trail to Cala Mariolu beach also starts.
From there, it is a 13 km walk mostly downhill along the dirt road, with some parts in the shade.
By Boat
Boats to Cala Sisine and the other beautiful beaches in the Gulf of Orosei depart regularly from Cala Gonone and Santa Maria Navarrese, and you can opt to just stop in Cala Sisine or go on a hop on hop off boat cruise.
Prices for roundtrip rides to Cala Sisine start at €20 in low season and on charter boats. If you opt for a private boat and a hop-on hop-off experience, prices inevitably rise and you can expect to pay €50 per person or more. You can get tickets directly at the harbor but if you are looking for a private experience you will have to book a week or so in advance.
For a bout tour of Cala Sisine departing from Santa Maria Navarrese, click here.
Check out my post The Best Gulf Of Orosei Boat Tour.
Other useful information
To make the most of your time in Cala Sisine, I'm sharing a few useful tips.
BRING WHAT YOU NEED FOR THE DAY – This is not a serviced beach. There is a kiosk at about 1 km from it, in the forest, but it's opening times throughout the summer are quite random so you are better off bringing food and water for the day. Make sure to also bring an umbrella, as there is no shade at the beach other than near the formations at its sides.
DON'T TAKE SAND – Or pebbles, stones and shells: it's forbidden and if you are ever caught with it you'll be fined. Yes, it's happened – many times indeed.
TAKE YOUR TRASH BACK WITH YOU – Cala Sisine is not equipped with bins, so you will have to bring any trash you produce back home with you. The same goes for cigarette butts. It's not ok to drop them in the sand or in the water.
THERE'S NO LIFEGUARD ON DUTY – And phone signal is weak. Keep this in mind!
Other nearby beaches
Cala Luna is located in the Gulf of Orosei, where you will find an incredible amount of gorgeous beaches.
North of Cala Luna, Cala Fuili is the last beach accessible by car from Cala Gonone, and the starting point of the hike to Cala Luna. Not far from it, at 3 km from Cala Luna, there are the Grotte del Bue Marino – Sea Oxen Grotto – are accessible by boat and among the best known caves in Sardinia.
South of Cala Luna, accessible by boat or on more or less strenuous hikes departing from the Altipiano del Golgo, near Baunei, you will find a few other beautiful beaches – namely:
CALA LUNA – One the most famous beaches on the island, known for being the set of many movies. You can get there by boat or on a hike departing from Cala Fuili, south of Cala Gonone.
CALA BIRIOLA – A small beach characterized by tiny white and pink pebbles and transparent waters. You can get there by boat or – if you want some adrenaline – on a challenging hike that requires abseiling too.
PISCINE DI VENERE (VENUS POOLS) – This isn't actually a beach, but a stretch of water with pool's like colors.
CALA MARIOLU – Called Ispuligi de Nie (literally "snow flakes" in Sardinian) because of the tiny white pebbles, it's the most popular beach in the area. Get there by boat or on a challenging hike.
CALA DEI GABBIANI – Similar to the beaches mentioned above; get there by boat or on a difficult hike.
CALA GOLORITZE' – Famous for its Pinnacle that is a paradise for rock climbers, it is actually only accessible via a hike departing from the Golgo Plateau – boats can't anchor there. You can read more about it in my post A Useful Guide To Cala Goloritzé.
Where to stay to easily access Cala Luna
If you want to take the boat to Cala Sisine, the best access points are Cala Gonone, Dorgali's seaside town; and Santa Marina Navarrese, which is further south and Baunei's seaside town.
For places to stay in Cala Gonone, click here.
For accommodation in Santa Maria Navarrese, click here.
If, on the other hand, you intend to hike to Cala Sisine, your best access point is the Golgo Plateau, where you can sleep or camp at the lovely Rifugio Cooperativa Goloritzé.
Further Readings
Traveling to Sardinia? Make sure to read my other posts:
Pin It For Later!