There is no shortage of amazing beaches in Alghero.
There are many reasons why this small, quaint Catalan town is one of the most celebrated tourist destinations in Sardinia. It is packed with historic sights; memorable sunset vistas; diving opportunities galore; nearby archeological sites; caves and hikes offering breathtaking coastal views.
Visit in the summer, and you'll have the added bonus of the great beaches – which easily are among the best in the Mediterranean. With shallow, transparent waters and a gorgeous natural setting, Alghero beaches are perfect for any kind of crowd; including families with children who'll have a blast playing with the powdery, white sand and splashing in the refreshing waters.
Below is my selection of the best beaches in Alghero, with a few tips to make the most of your visit. All of them are free to visit!
12 Gorgeous Beaches In Alghero
Le Bombarde
This is the most famous beach in the Riviera del Corallo – the Coral Riviera. It's a comfortable place as it is nicely serviced with a kiosk and rental of all sorts of beach equipment, just in case you don't feel like carrying yours.
The beach is actually quite small, but it has the most refreshing, transparent water and incredibly fine, white sand, surrounded by a thick forest of pine trees that cicadas call home – indeed, the singing of the cicadas on hot summer days is almost deafening!
It's one of the most crowded beaches in the area – so if you are looking for a quiet place, maybe this beach is not for you.
GETTING THERE: You can get to the beach by bike (it's 30 minutes from Alghero), by bus during the summer months, or by car, following road SS127 BIS.
Lazzaretto
Lazzaretto beach is a nice, sheltered small cove that takes its name from the tower that dominates it. A favorite of locals and tourists alike, this beach is nicely serviced with a kiosk and rental of all sort of equipment for your day. The shallow water makes it perfect for families with children, and since it is nicely sheltered from the wind, the calm sea are great if you want to give SUP a try.
The beach is located right next to Le Bombarde, only separated by the pine forest, and it can also get incredibly crowded – avoid going if you are looking for a quiet spot.
GETTING THERE: Follow the same direction to Le Bombarde beach to get there.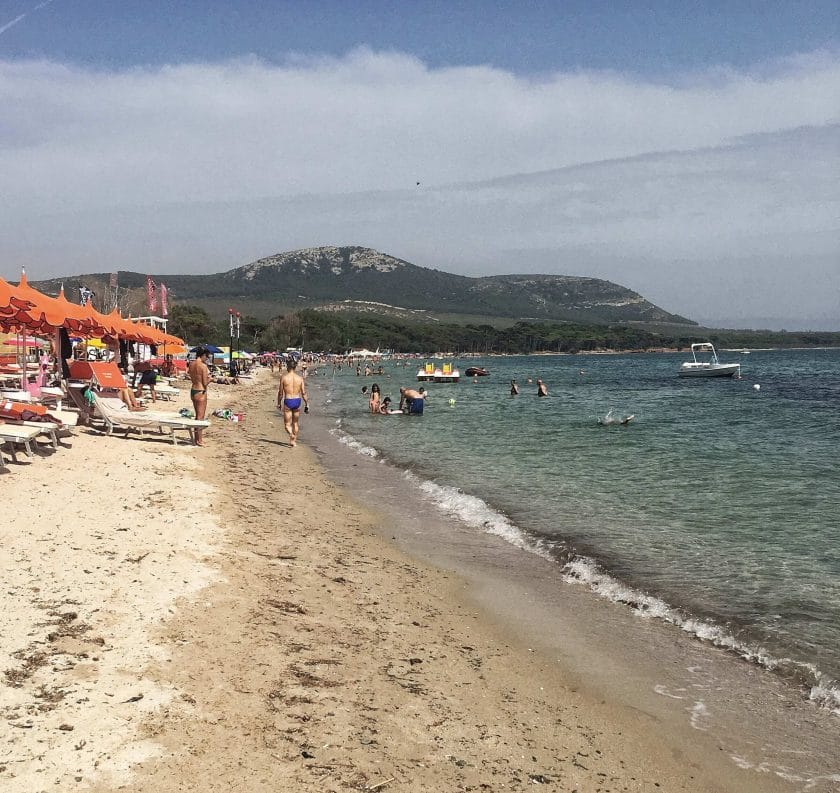 Mugoni
Not nearly as famous as the above mentioned beaches, but a favorite of locals, Mugoni is a longer, narrow stretch of white sand and clear waters with gorgeous views over Capo Caccia. You'll find a nice pine forest at its back, various kiosks and places to rent beach equipment.
As it is a much larger beach compared to Le Bombarde and Il Lazzaretto, you'll never find it to be overwhelmingly crowded.
GETTING THERE: Drive past Le Bombarde and Nuraghe Palmavera, till you reach a roundabout, where you have to turn right. There is a large parking lot.
Punta Negra
Not far from Fertilia, where Alghero International Airport, Punta Negra is a small, sheltered and lesser known beach with fine sand and transparent waters, home to Hotel Punta Negra. Much like other beaches in the area, you'll see a forest of Arenosu pines at its back. You'll also find a kiosk and beach equipment rental.
GETTING THERE: Drive north along SS 127 BIS. Turn left at Via Mario Ascione.
Cala Dragunara
Located in the area of Porto Conte, north of Alghero, Cala Dragunara is one of the smallest, most charming coves, with very fine golden sand and pristine clear waters that are great for snorkeling. It's also a fantastic sunset spot – good thing there is a kiosk for that much needed drink.
GOOD TO KNOW: Excursions to the nearby Neptune Caves depart from the pier. The beach is close to the area of Capo Caccia, a great place for a walk and where you'll also find the via Ferrata del Cabirol, one of the most challenging in Sardinia.
The beach is incredibly small. Plan to get there super early if you want a spot at the beach!
GETTING THERE: Drive along SP55 in the direction of Porto Conte and Capo Caccia. You have to go past Tramariglio until you literally find yourself at the beach.
Porto Ferro
DOG FRIENDLY!
Porto Ferro is actually part of the municipality of Sassari but can be easily reached from Alghero, so I thought I'd mention it. The beach is surrounded by a gorgeous pine forest and very exposed to the mistral wind, thus a perfect place for surfing, wind surfing and kite surfing. You'll also find a kiosk and beach equipment rental, in case you are too lazy to bring your umbrella!
Since 2017, part of the Porto Ferro also became a dog beach. Torre Negra, the northern part of the beach, where the Aragonese Tower is located, is a nudist beach.
GETTING THERE: Follow the directions to Capo Caccia then turn right onto SP55 BIS. It takes about 30 minutes to drive from Alghero.
Maria Pia
Known for its sand dunes, pine forest and thick juniper bushes, this is one of the most popular urban beaches in Alghero. It's nicely equipped with kiosks and rental of beach equipment. As it's within easy reach from the center of town, it can get very crowded.
GETTING THERE: Maria Pia is an easy 10 minutes drive towards Fertilia. You can also walk or bike along the waterfront till you find the beach.
Lido San Giovanni
The closest beach to the center of Alghero (just 2 km!), this 3 km long beach is perhaps the least charming one but a favorite of families thanks to the sandy shore and very shallow water. All in all it's a good place to catch a glimpse of sun if you have just arrived in town. You will find plenty of kiosks serving food and drinks and renting whatever you need for the day.
GETTING THERE: Just walk along via Lido.
Porticciolo (Torre del Porticciolo)
Surmounted by an Aragonese tower, Porticciolo beach is a lovely place, nicely equipped with a kiosk and where you'll be able to rent umbrellas and sun-beds. The clear waters make it perfect for snorkeling, but the rocky seabed and the mix of sand and pebbles, however, make it a bit uncomfortable and not ideal for families with children.
GOOD TO KNOW: Follow the trail to reach the nearby Cala Viola or, further north, Porto Ferro beach.
GETTING THERE: Porticciolo is located at about 30 minutes drive from Alghero. To get there, follow the directions to Mugoni Beach and from there take SP 55 to Torre del Porticciolo. There is a short trail leading to the beach – make sure to wear shoes.
Cala Speranza (Poglina)
This beach takes its name from the nearby La Speranza church, but the official name is actually Porto Pollina, or Poglina. It's a narrow strip of sand with incredible cliffs at its back, fine white sand and shallow clear water – in other words, perfect for families with children.
GETTING THERE: Cala Speranza is located at just 15 minutes drive south of the center of Alghero, in the territory of nearby Villanova Monteleone, on the way to Bosa. To get there, follow SP105 to Bosa for about 10 km.
BONUS #1 Argentiera
Equally distant from Alghero and Sassari, Cala dell'Argentiera is a splendid, small cove in a truly unique setting: this once was a mining village! As it is a bit more isolated and not equipped with a kiosk, it is never too crowded. The beach takes its name from the silver – argento in Italian – which was once abundant in the area and that was extracted from 1867 onwards. The mining village has been abandoned and what's now left is an open-air museum. Only a few families live there.
The main characteristic of the beach is the dark cliffs that jump directly into the clear waters. When the sea is calm, this is an incredible place to go snorkeling. But if the mistral wind blows you should avoid it, as the sea can get very rough.
GETTING THERE: Follow SP 18 passing Palmadula village and Porto Palma.
BONUS #2 Rena Majore della Nurra
About 45 minutes drive from Alghero, Rena Majore della Nurra is a gorgeous cove surrounded by cliffs, with tiny white pebbles and wonderfully clear waters that make it perfect for snorkeling. The beach is not equipped with a kiosk (so make sure to bring food and water for the day) and there is no lifeguard on duty.
As there is no sand and it's not directly accessible from the road (it's a good 15 minutes hike from the parking lot, more on the way back when you have to go uphill) this is not a good beach for families with children, unless they are truly confident in the water.
GETTING THERE: Take SS291 dir from Alghero and then SP42 towards Sassari, and then follow directions to Pozzo San Nicola. Exit the roundabout and take SP57 towards Argentiera, but turn after about 5 km. You need to follow a dirt road to the parking lot, from where a panoramic trail to the beach begins.
Make sure to read my post A Complete Guide To Rena Majore Della Nurra Beach.
La Pelosa Beach, one of the most celebrated beaches in Sardinia, is at roughly 60 km and an hour drive from Alghero.
Further Readings
Make sure to read my other posts:
Pin It For Later!