The Neptune's Grotto (Grotte di Nettuno, in Italian) is a beautiful cave complex nearby Alghero, and among the most beautiful caves in Sardinia, and they have charmed thousands of people – a lot of celebrities, too! – during the years. They are one of Alghero main tourist attractions and a site of great scientific interest as well.
If you are visiting Alghero, you should definitely not miss the opportunity of visiting. Not only the caves are spectacular, but the overall experience of getting there (either by boat or via a stunning staircase), the incredible views that surround the area, make it all worth it.
Curious to find out more about Neptune's Grotto? You are in luck! I have been there many times, including recently, and I am ready to share everything you should know to plan your visit and make the most of it.
For more information about Alghero, read my posts A Complete Guide To Alghero and The Best Beaches In Alghero.
The History Of Neptune's Grotto
There is no certain proof of when the Grotte di Nettuno were discovered first. Official records mention a fisherman finding the place in the 1700s, but historians agree on the fact that ancient populations must have at least visited these places, especially because the nearby complex of Porto Conte was notoriously inhabited since the pre-historical ages (tons of tools have been found inside the caves) and the Romans had a village there.
Anyway, Neptune's Grotto has been thoroughly explored only in relatively modern times. Several important persons, such as La Marmora and John Warre Tyndale, have visited the caves and mentioned them in their writings.
Some parts of the complex, deemed more dangerous, are still reserved to expert speleologists and closed to the public, but contrary to many other caves in Sardinia, Neptune's Grotto have been explored in their totality.
A Guide To Visiting Neptune's Grotto
The caves are about 4 km broad – it's not a huge complex – but the part that's actually safe to visit and therefore open to the public is just a few hundred meters wide.
Despite these reduced dimensions, there is plenty to see and the visit lasts overall more than one hour, especially because you can't visit on your own: the only available option is to join a guided tour, for safety reasons and to protect the site.
Whether you get to the caves on foot (via the stairs) or by boat, you'll end up at the same entry point, and will start your guided tour of the place, which will show you several rooms carved in the limestone by centuries of water dripping.
The first room is the one where you can see the famous La Marmora Lake, one of the biggest saltwater basins in Europe. Around it, several stalactites and stalagmites decorate the room: the most important of them, the so-called Holy Water Font, is more than two meters tall and serves as a small water holder for the birds living in the Neptune's Grotto.
The deeper you venture into the caves, the more you'll discover about them: the guide will tell you every secret about the various rooms, which all have very suggestive names (such as the Hall of Ruins and the Royal Palace Hall); I don't want to spoil the whole experience for you!
My last recommendation is to bring a camera with you as you will want to take photos for sure.
Practical Information To Plan Your Visit
Neptune's Grotto opening hours
The site is open every day except on Christmas, from 9:00 am to either 5:00 pm or 7:00 pm (last admission) depending on the season. If you are going there by boat, much will depend on favorable weather (it's impossible to access the caves with a rough sea).
Neptune's Grotto tickets
Neptune's Grotto tickets are €14 (full price); whereas reduced tickets for kids under 7-14, people over 65 years old, and for groups of more than 25 people are €10.
Included in the ticket there's a guided tour. Tours depart regularly in a variety of languages which include English, German, French, Spanish and obviously Italian; and last about 45 minutes to an hour.
You can't get to the caves and simply buy a ticket, too. You will need to reserve your spot with the app/website Alghero Experience: once you have saved your information and booked the visit, you can buy the ticket at the caves' entrance.
The booking on the website doesn't include the ticket but is only a way to save your spot.
How to get to Neptune's Grotto by car
In order to visit Neptune's Grotto, you will need to get to the promontory of Capo Caccia (the one you can see from Alghero Bastions). From Alghero, take State Road SS127 Bis to Fertilia, then switch to SP 55 to Capo Caccia. It's about 25 km (15.5 miles) from the city.
Once in Capo Caccia, you will have to park your car and retrieve your ticket at the ticket counter, and then the fun begins: walking down the 654 steps of the "Escala del Cabirol" (Billy Goat Stairs), designed appositely for the caves' visitors and opened in 1959. It seems like a lot of steps, but don't worry: they are not steep and the views along the way will keep you entertained.
It will take you about 15 minutes to walk down, and about the same amount of time to walk back up depending on your level of fitness and how often you stop for photos and to catch your breath.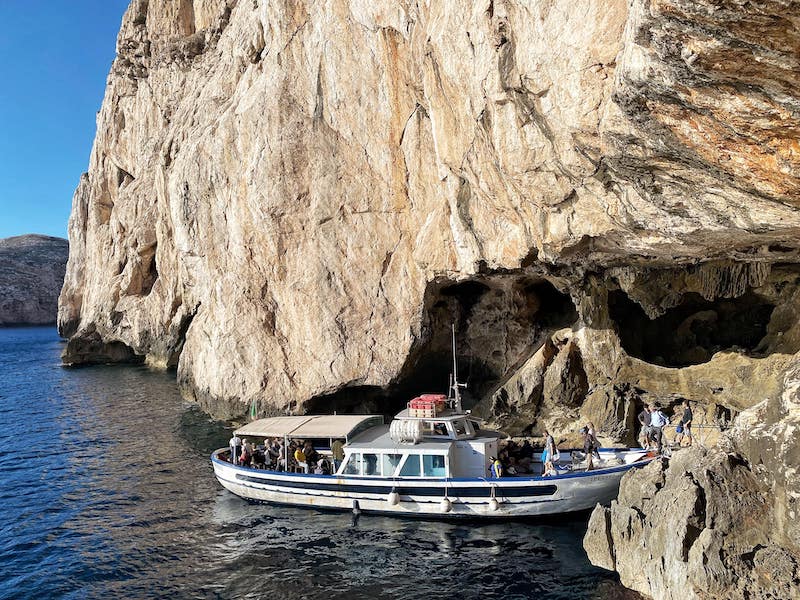 Boat trips to Neptune's Grotto
If stairs aren't your cup of tea, you can reach the caves with a ferry boat. There are two companies operating the trip, leaving either from Alghero's tourist harbor or from Porto Conte.
The price of ferry rides start at €15 (it may vary a bit according to the season and the company) and you need to book your spot in advance – you can do so directly with the company at the harbor.
The companies operating the boat trip are Frecce delle Grotte di A. Piccinnu and Linea Grotte Navisarda. Here's all the information you will need to contact them and book your seat.
Linea Grotte Navisarda, Port of Alghero; phone number +39079950603. Tickets: adult €16; children 3/12 age €8; groups €13; schools from €8 to €10

Frecce delle Grotte di A. Piccinnu; Port of Alghero; phone number +393683536824 or +393317229999. Tickets: adult €15; children 3/12 years €7.
The boat ticket doesn't include the caves' ticket: you will still need to book it and buy it separately once you get there.
Guided tours
Some guided tours of Alghero also go to Neptune's Grotto and Capo Caccia. They are in the range of €135 per person, but keep in mind they last up to 9 hours!
For more information on guided tours, click here.
Final Tip
If you are flexible with your timings, try to plan your visit of the Grotte di Nettuno so that you get to see the incredible sunset from Capo Caccia – it's one of the most impressive sunset views in Sardinia.
You will obviously have to go by car if that's something you want to do. Just factor in about one hour to go down the Escala del Cabirol and to visit the caves, and another 15 to 20 minutes to walk up before you can walk up to the panoramic spot. Make sure to check out the daily sunset time for that!
Further Readings
For help planning your trip to Alghero, make sure to read these posts:
Pin It For Later!