Orgosolo is a small village with a little more than 4000 inhabitants in the center of Nuoro's Barbagia. Small as it is, as it often happens, it has a lot more to offer than what meets the eye. Sure, the place isn't the typical Sardinian beach location, and it doesn't bustle with people going in and out of cool clubs and restaurants, but it's a touristic must-see place, nonetheless.
The most famous things in this village are the 150+ murals scattered around, but did you know it is also home to one of UNESCO's intangible world heritages? And have you ever heard about its centuries-old tradition of silkworm farming?
Continue reading this guide to discover what to see and do in Orgosolo and learn how to make the best out of your trip.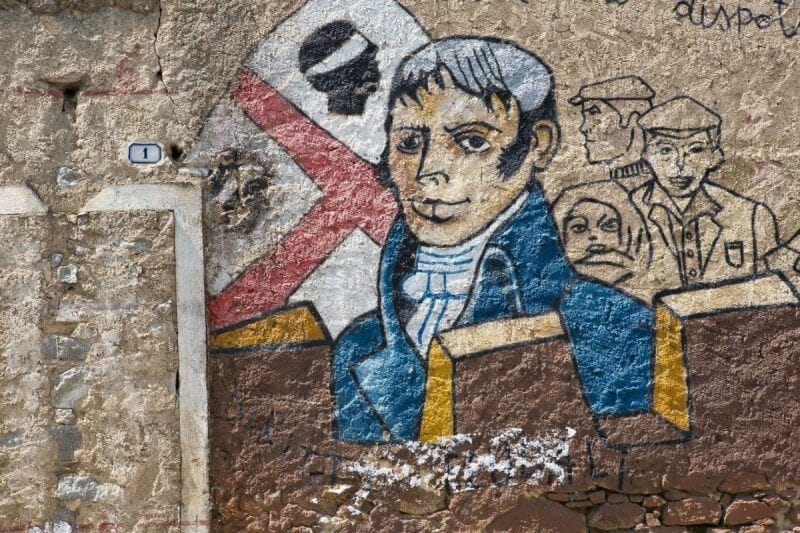 A Short History Of Orgosolo
Although archeological findings such as the 30+ Nuraghes and several Domus de Janas are proof that the Orgosolo area was inhabited since the prehistoric era, the first traces of a village with this name are only found in medieval church logs. Before that, some Roman historians had written about the army's struggles to conquer the fierce, belligerent Barbagia inhabitants, who finally surrendered after decades of fights.
Maybe because of its people's nature, Orgosolo was never involved in Sardinia's conquerors' business: it has stayed a peaceful, small village in the heart of the island, living out of farming and sheep herding until today.
Punic people had no interest in this area, too far from the sea; wanting-it-all Romans annexed it to the Empire for the simple fact that locals didn't want to. Orgosolo was indeed part of one or more Giudicati (but it's difficult to determine which one, as the village is located at the border between various areas) but neither the Aragonese and the Spanish nor the Savoy showed any interest in this rural place.
During modern times, Orgosolo became sadly famous because of the banditry phenomenon that was then endemic to Barbagia and still has to live with the stigma that originated from it, but I can assure you there's nothing out of the law left there now. People are welcoming and generous, and there is plenty of things to see and do. Let me show you a few of the village's charms!
What To See And Do In Orgosolo
Canto a Tenore (Tenor Singing)
The Canto a Tenore, or "tenor singing" is one of the things Orgosolo locals are most proud of. It's a singing style that's performed by four people standing up in a circle, and it can be witnessed in many bars (they spontaneously perform almost every night) or during special festivities and occasions, when the most famous quartets are invited to the village.
These traditions are common among Barbagia's sheepherders who used it as a form of entertainment since ancient times when they had to spend months away in the mountains with their sheep/goat flocks.
Check out my post What You Must Know About Sardinian Canto A Tenore.
Silkworm farming
Silkworm farming was an activity that was largely practiced in Sardinia during ancient times, but it was slowly abandoned and forgotten almost everywhere. Orgosolo is one of the few places (if not the last one) where silkworms are still an essential part of the economy and popular culture: they are, in fact, farmed with care to use their silk to weave a part of the village's (beautiful) traditional costume, the handkerchief (which is, by the way, also manually dyed with saffron).
Orgosolo's traditional clothes are as pretty as they are expensive because they are still manufactured by hand piece by piece, following the ancient tradition. And one of these traditions precisely says that the handkerchief (called "su lionzu" in the regional dialect) must be made of silk.
Murals
The murals are the most famous attraction in Orgosolo. They were first painted by an anarchist theatre company called Dioniso as a means of protest against politics, and they kept this function for a long time.
Although with the changing of times several murals have just been painted to show simple moments of the village's life or to showcase the painter's art, there are still some others keeping their original function and being used to voice discomfort or open disagreement with something.
There are about 150 murals: the tourist information office gives away free maps, so be sure to grab one and see every single painting. The whole murals sightseeing tour can be done in two hours.
To book an audioguide for your murals tour of Orgosolo, click here.
Check out my Guide On Street Art In Sardinia.
Casa Museo
Sa Dommo e sos Corraine – The Corraine's House, also simply called "Museum House" is a traditional house showcasing the furniture, clothes, pottery, and everything typical of an old local residence. The owners will guide you through the house's ten rooms and tell you all about the old times, legends, traditions of the village, with a smile and some Sardinian sweets and liquors. It's definitely a must-go place if you want to know how people lived in the past century.
Churches and festivities
Orgosolo is, like many other villages in the Barbagia region, a very religious center that has kept its beliefs through the years and therefore is abundant with churches. The most important ones are Santissimo Salvatore Church, where they keep the body of Antonia Mesina, a young martyr from the village, and San Pietro Apostolo Church, the patron's place of worship.
The patron is celebrated on June 29th, but the most important religious festivity is the one held on August 15th to honor the Virgin Mary. The festival starts on the 13th and ends on the 23rd and mixes religious events such as processions and public novenas, and pagan ones like the Vardia, a horse race where the citizens do acrobatics on their horses' back. If you happen to be in the area during the middle of August, be sure to pay a visit to Orgosolo!
Hiking
Since Orgosolo is located at the heart of Sardinia's most beautiful mountains, there are also several hiking options nearby. These trails are sometimes a bit hard and often need the help of an expert guide both because of the terrain's insidious shape and because Barbagia is still a highly wild area – you might meet some local fauna and not all animals are cute and shy.
Here are the best areas and trails to enjoy a day in the nature:
Sas Baddes Forest, one of the few primary forests still existing in Europe. Many guides will also bring you to the nearby Mereu nuraghe.
Su Biu Mountain, famous because of the eagles that still nest there.
Gorropu Canyon, one of the longest canyons in Europe. It's almost 22 kms long and its walls are up to 500 meters tall. It has a microclimate of its own and it's, therefore, home to various endemic plants that only grow there. There are several trails of varying difficulty to choose from.
Montes area, where the sheepherders used to go during the summer months of transhumance. Their traditional shelters can still be found in the area and are still, sometimes, inhabited.
Check out my guide on The Best Hikes in Sardinia.
Practical Information To Plan Your Trip To Orgosolo
Guided tours of Orgosolo
Orgosolo is mall enough for you to be able to visit alone, but it's nevertheless interesting to have a guide introduce you to the area and help you put what you see in context. You may thus want to consider a guided tour.
For information on tours of Orgosolo, click here.
Where to sleep in Orgosolo
Despite Orgosolo being a small village, there are plenty of places to stay. It is also not distant from bigger cities like Nuoro and the coast. You can totally visit the village in one day, but if you're planning to go on an adventure in the mountains as well, here are some suggestions on where to spend the night:
Jannas B&B – Located 7 km away from Orgosolo, in the heart of Supramonte region, it's the ideal place to spend some healing time away from everything.
B&B il Portico Orgosolo – This Bed and Breakfast is located inside the village and offers great rooms and a bike rental service.
Viche Viche – Another B&B in the city center, it's brand new and offers everything you might need.
How to get to Orgosolo
The best way to get to Orgosolo is by car – public transportation is still somewhat lacking in the area. The closest city is Nuoro, only 18 kms away, and the closest harbor and airport are, respectively, Olbia harbor and Olbia Costa Smeralda airport. You can reach Orgosolo via SS 131 and SP 58.
Further Readings
Make sure to read my other posts:
Pin It For Later!