There are many incredible hikes in Sardinia.
Hiking in Sardinia is fantastic. Along the trails, you'll soak up spectacular scenery and breathtaking views. The Italian island of Sardinia is world-renowned for being a top summer holiday destination, with plentiful idyllic beaches, but Sardinia is also home to lush vegetation and abundant mountains with a vast number of trails. For outdoor enthusiasts or nature lovers, Sardinia's trails are out of this world!
I've lived in Sardinia nearly my entire life, and I will never say "no" to a hike! Each time I go out and explore the trails, my mind is blown. Sardinia is a natural wonder. With scenic coastal trails winding around the shore providing gorgeous seaside views, and in-land trails that bring you to the top of mountains and through magnificent forests, you're going to love the hikes in Sardinia as much as I do as soon as you set foot on the trail. Moreover, some trails will weave you through and around ancient archaeological sites! Any history lovers out there? I'm talking to you!
I'm eager to share with you my favorite hikes in Sardinia. For the sake of organization and clarity, I divided them up by area. I hope everything is crystal-clear and that I can help make your Sardinia hiking dreams come true!
The Best Hikes In Sardinia
The Best Hikes in the South of Sardinia
Sella del Diavolo Hike – Cagliari
One of the best hikes in Sardinia is the hike out to Sella del Diavolo. It's a short hike and an easily accessible trail. However, hiking shoes and a big water bottle are definitely required. Sella del Diavolo is close to the capital city of Cagliari and can be found right behind the urban beach of Calamosca. The hike takes approximately two hours from start to finish, and you'll want to stop more than once along the trail to take in the stunning seaside views.
The beginning of the trail faces Calamosca beach, where you can see impressive views of the watchtower and lighthouse below. From the top of Sella del Diavolo, the view is expanded much wider— encompassing the Gulf of Cagliari and Poetto Beach. Poetto Beach is Cagliari's biggest and most popular beach! The Sella del Diavolo trail is classified as easy and is perfect for the whole family.
INSIDER TIP: The Sella del Diavolo hike can be tackled year-round. During winter, it's short enough to handle the cold, and the path isn't so narrow that you feel fearful during gusts of wind. In the humid, hot summer months, it's a short enough hike that you won't feel too horrible in the heat!
The hike to Sella del Diavolo can be easily accomplished solo.
The Roman Road to Su Cordolinu
Calling all hiking beginners out there! The Roman Road to Su Cordolinu is for you! This hike isn't just perfect for hiking novices and those who don't feel enormously physically fit; the Roman Road to Su Cordolinu is a stunning hike that anyone and everyone will enjoy – definitely one of the best hikes in Sardinia.
The trailhead can be found at Pinus Village, a quaint summer residence about an hour's drive from the capital city of Cagliari. The trail then follows an ancient Roman Road along the Sardinian coastline that will take you out to Su Cordolinu island. If you want to extend the hike a little, consider walking just a bit further to Chia Beach to see its glorious Spanish watchtower.
Anticipate the Roman Road to Su Cordolinu trail taking nearly four hours to complete (for a roundtrip journey). Whenever I take this route, I often pack a little lunch which I enjoy eating at the beach. The trail isn't difficult: it's suitable for the whole family, and the path is wide enough that bicycles can easily pass you. This is a popular bicycle route, so you'll likely encounter a few of them on the trail!
The coastal views along Roman Road to Su Cordolinu are positively divine. Keep in mind that once you arrive at Su Cordolinu, you'll have to follow a small, steep trail to get down to the beach. If the tide is low, you can cross the water to get to the island. If you can do it, don't miss the walk out to the island! Trust me; the views will blow you away.
INSIDER TIP: My favorite time of day to start the hike is between 10 and 11 am. I pack a ton of water, food, and snacks as there are no vendors, kiosks, or drinking fountains along the way.
While I like to do this hike solo or with a friend, there are guided hikes of Roman Road to Su Cordolinu available if you prefer.
My recommended guided hike is the half-day ancient Roman Road hike.
Hike from Cala Cipolla to Tuerredda
Drive around one hour from Cagliari, and you'll arrive at the lovely coastal cove of Cala Cipolla. The trail will begin there and lead you to Tuerredda— one of Sardinia's best beaches. The hike is about 18 kilometers.
Want to learn more about the top beaches in Sardinia? Check out my post here.
The hike from Cala Cipolla to Tuerredda travels past Capo Spartivento, an old lighthouse that has recently been transformed into a swanky boutique hotel. The trail also passes other beautiful beaches, like Pedra Longa and Cala Antoniareddu. Since these two beaches cannot be reached by car, it's very special to witness them on your hike from Cala Cipolla to Tuerredda – which is why I think this is one of the nicest hikes in Sardinia.
Personally, I would rank this trail as easy to moderate; it depends on the add-ons you choose to tack on to your journey. Undoubtedly, the most challenging part of the trail is the hike up to the observatory, but if you can handle it, the coastal views from the observatory are awe-inspiring.
INSIDER TIP: The Cala Cipolla to Tuerredda trail can be exceptionally long if you want to hike it roundtrip. It is an 18-kilometer hike after all! Since it's not a loop, it can feel over-the-top strenuous to have to hike out and back. My favorite way to hike this trail is to caravan with a friend and park one car at each trailhead. Usually in Tuerredda, we park a car right by the observatory off the main SS195 road. If you'd rather sign up for a guided hike, transportation from Tuerredda back to Cala Cipolla is provided.
From Masua Pan di Zucchero to Cala Domestica
The hike from Masua Pan di Zucchero to Cala Domestica is one of the most strenuous hikes in Sardinia – often regarded as one of Sardinia's most challenging trails. Clocking in at 12 kilometers long one-way, this hike will take quite some time and effort to complete! For the sake of clarity, the hike round trip would total 24 kilometers.
The Masua Pan di Zucchero to Cala Domestica trailhead originates at Masua Pan di Zucchero, which is about a one and a half-hour drive from the capital city of Cagliari. Masua Pan di Zucchero is a great surfing spot and a stunning beach! The trail terminates at Cala Domestica, a charming cove in what has been likened to a fjord.
As one of the most technical trails in Sardinia, Masua Pan di Zucchero to Cala Domestica is a narrow trail. At certain points, the path squeezes down to just 50 centimeters wide! You'll be walking along cliffs and through thick, oppressive Mediterranean bushes. Expect to have to navigate through branches more than once.
Lastly, I want to mention that Cala Domestica has a Spanish watchtower that you can walk up to. The views from the watchtower are unparalleled! It's backed by sand dunes and the remains of an old mining railway. Keep in mind that there are no facilities along this trail, so make sure to bring plenty of water and provisions.
INSIDER TIP: As I've already mentioned, Masua Pan di Zucchero to Cala Domestica is a very technical hike. If you're not a very experienced hiker, I recommend joining a guided group for peace-of-mind and safety. Transportation is provided. My top recommendation for guided group tours is Cooperativa Santa Margherita. Their headquarters are located in Nebida, which is close to Masua. You can get in touch with them via email at [email protected] or by phone at + 39 0781 186 5860 or +39 334 210 5474.
BONUS ACTIVITY TIP: The area of Nebida, Masua, and Cala Domestica is chock full of old mines that you can visit and explore. Sardinia has an impressive and unique history of mining, and a trip to Sardinia really isn't complete without visiting a mine! My favorite is the seaside mine of Porto Flavia, which was built directly into a cliff.
If you'd like to learn more about Sardinia's mines, check out my post by clicking here. Guided tours of the mines are available.
Is Cannoneris
Looking for one of the most moderate hikes in Sardinia? Is Cannoneris is for you. Located in the southwestern part of Sardinia, right on the eastern border of Sulcis, you'll find a lush and luxurious forest that is home to the Is Cannoneris trail. This ancient oak forest is one of the oldest in Europe.
With plentiful shade, it's perfect for the whole family on a hot summer day. You might even see goats and deer along the trail! If you want to hike to the highest point of the Punta Sebera mountain, expect a four-kilometer hike to lead you up to the summit at 979 meters. Guided trail hikes can be booked online.
My recommendation is Is Cannoneris Nature Reserve walking tour.
Sa Spendula
Ah Sa Spendula! What a lovely hike to a spectacular waterfall! Sa Spendula hike is an easy-breezy walk. It's around a 45-minute drive away from Cagliari in the province of Villacidro.
The trailhead is actually the parking lot of Campanas de Sisinni Conti. The Sa Spendula trail is very well-demarcated and follows a well-worn path. Expect the first half of the trail to be easy and the second half to be more strenuous: you'll be hiking to the summit of Monte Margiani at 900 meters. The hike to the peak is a steady uphill battle. Nothing too awful, just expect to have to handle an incline for a while!
Sa Spendula hike will take around two hours to complete. If you're hiking in Sardinia during the summer months, this is a wonderful hike as it only takes a couple of hours, and there is plenty of shade covering the path. Plus, once you arrive, you can jump in the cool, refreshing pool beneath the waterfall – though there is less water in the summer! Talk about a reward after a couple of hours on the trail.
Sometimes hikes are just more fun with friends. Join a guided group hike to Sa Spendula that departs from Cagliari.
Make sure to check out my post The Most Beautiful Waterfalls In Sardinia.
The Best Hikes in the Center of Sardinia
Hiking Gorropu Canyon
As Sardinia's most impressive gorge, bordered by giant, 500-meter-tall limestone walls, Gorropu is home to some of the best hikes in Sardinia. Just for reference, Gorropu's full name is Gola Su Gorropu.
I have hiked several of the trails that lead through Gorropu; each of them is incredible for a myriad of different reasons. There are two main hiking routes to follow. The most epic route starts at the car park at Genna 'e Silana pass. The trail is approximately eight kilometers. It takes around two hours to go down into the gorge and about four hours to return and hike back out. I want to convey that it is a truly difficult, steep hike out of the gorge.
Another trail to try, which is often considered slightly easier than the Genna 'e Silana trail, is the Sa Barca Bridge trail. This path begins roughly 15 kilometers outside of Dorgali and will take you on a 14-kilometer hike crossing the Sa Barva bridge and continuing on a trail towards Gorropu. Enjoy a peaceful two-hour hike right along the Rio Flumineddu all the way to the mouth of the gorge. Expect it to take about four hours to hike back out to the parking lot.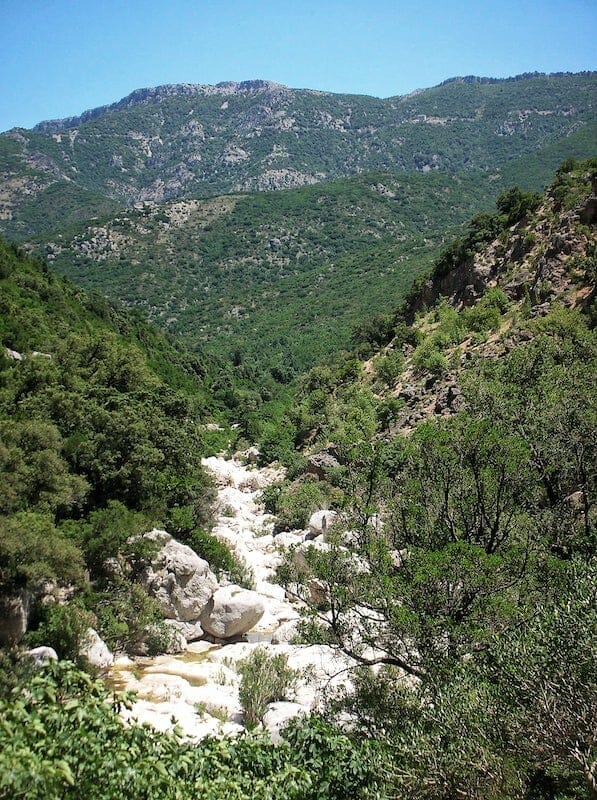 There is a 5 euro admission fee to enter the Gorropu canyon. Make sure to bring small bills with you, as making change can sometimes be a struggle.
Lastly, if you'd rather enjoy a bird's-eye view of the gorge from above, there is a ridge trail that will take you to the peak of Punta Cucuttos. The trailhead is at the parking lot again. This route will take about three hours round trip and lead you 888 meters up the mountain.
INSIDER TIP: The parking lot at Rifugio Gorroppu is the only place where you can buy water or food, so make sure you have enough for your hike. Also, keep in mind that you can either hike into and back out of the gorge or book a jeep one way to cut down on hiking time.
I recommend this guided hike to Gorropu from Dorgali or the one to Gorropu from Orosei.
Make sure to also read my post A Guide To Hiking In Su Gorropu.
GOOD TO KNOW: Gorropu is a paradise for rock climbing!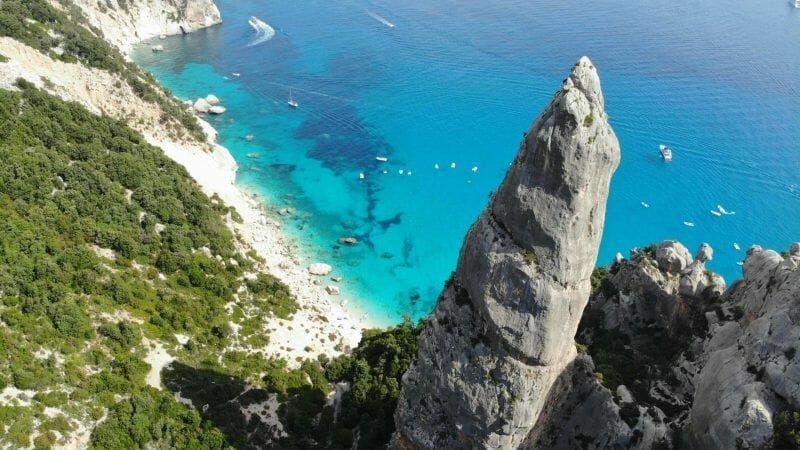 Cala Goloritze
The one to Cala Goloritze is one of the most beloved hikes in Sardinia. Beginning at Su Porteddu parking lot, on the Golgo Plateau above Baunei, you'll follow a trail that will lead you to one of the most jaw-droppingly beautiful beaches in Sardinia. And guess what? There's no other way to access this beach than by hiking in. So if you're looking for a truly rewarding hike in Sardinia, this is one of my top recommendations.
The Cala Goloritze hike is a fairly pleasant downhill path that will lead you to the beach. While the downhill slope is very enjoyable on the way to the beach, that does mean there's a steep uphill all the way back to the parking lot. It takes around one hour down and one and a half hours on the way back up— dependent, of course, on the pace you're going.
My personal recommendation is to head down to Cala Goloritze early in the morning and enjoy a full day at the beach. Since this beach is so difficult to access, it's never too crowded! There are no kiosks or vendors there, so you have to bring all the food and water you need for a day on the beach. However, if you forget anything, there is a coffee shop in Su Porteddu parking lot, so you can snag some bottles of water before heading down to the beach.
INSIDER TIP: As this is home to some of the most gorgeous beaches in Sardinia, you might want to consider basing yourself around here for a few days. That way, you can you can hike to different beaches on the Gulf of Orosei over several days. My other two favorite beach hikes in the area are Cala Mariolu (one of the most strenuous hikes in Sardinia) and Cala dei Gabbiani.
Another good hike that starts more or less in the same area is the one to Cala Sisine beach. This is an easier trail in terms of terrain and elevation gain, but beware it can be harsh in the summer months as there is hardly any shade. It's where the Selvaggio Blu ends – more about that below.
Make sure to read my post A Useful Guide To Cala Goloritzé.
Punta Salinas
This is easily one of the most rewarding hikes on the island, affording you views over the magnificent Cala Goloritzé and its famous pinnacle. The hike initially follows the exact same trail that goes to the beach – so you will have to get to Su Porteddu parking lot. However, once the trail to Cala Goloritzé starts to descend, you will have to go a different way to reach Punta Salinas.
This is a circular trail about 9 km long with a difference in altitude of about 800 meters, and that takes about 5 hours to complete, though you should factor in at leas 7 as you will stop along the way for views.
The trail is not marked and while for the most part the path is really self evident, there are bits where it is easy to get confused, so you are better off going with a guide. You should inquire locally in Baunei for a guide or get in touch with Trekking Sardinia, a local company that organizes guided hikes.
An alternative trail is also marked on WikiLoc and you can see it here – though keep in mind that it doesn't return to the same place where you park your car so you'll need two separate cars for this.
While the hike is considered to be moderate to easy, the terrain can be actually quite difficult and you will definitely need good hiking shoes and, if you like some extra help, hiking poles too. There is nothing in the way of services along the way so make sure you bring enough water and food for the duration of the hike, and apply sunblock, wear sunglasses and a hat as there are many parts which are not in the shade.
Cala Luna
I walked this trail for the first time at the very beginning of the summer and loved it – it is a great mixture of incredible coastal views, forest and vegetation, and beautiful scenery all around.
The hike starts in Cala Fuili, a lovely small cove a short distance from the village of Cala Gonone. That's where the road ends. You will have to take the stairs down to the beach and from there start following the trail, which is about 7 km long one way.
Depending on your level of fitness, this is a moderate to difficult trail – there are lots of ups and downs and the terrain can be very uneven, especially after heavy rains. At the end of the hike you will be rewarded with one of the most beautiful beaches you can ever hope to see!
A hat, hiking boots, food and water are a must for the hike as there is no water source and kiosk at any point.
INSIDER TIP: During the summer months, once you get to Cala Luna you will be able to catch a ferry ride back to Cala Gonone for just €5 and save yourself the effort of walking back. Leave one car parked there and one parked in Cala Fuili – or make use of the local shuttle to get back to the parking lot and get your car.
I recommend a small group trek to Cala Luna from Nuoro or this guided hike of Cala Luna.
Make sure to read my post A Quick Guide To Cala Luna, Sardinia.
Hiking Oasi Bidderosa
Bidderosa Natural Park is a protected area that is only open from May to October. If you're visiting outside those months, I'm sorry to report that hiking Oasi Bidderosa isn't an option! Moreover, during Oasi Bidderosa's open months, a restricted number of cars are allowed entrance— but there's no restriction on the number of visitors. Inside Oasi Bidderosa Natural Park, there are five spectacular coves, with numerous trails connecting them.
Hiking and biking in Oasi Bidderosa makes for a truly delightful day! You are welcome to explore the entire park, trails, and coves independently, or guides are available at Oasi Bidderosa to lead you on hikes and walks.
There is only one place in the park to buy food and water — the kiosk in cove #3.
INSIDER TIP: Driving into Oasi Bidderosa? It's required that you reserve your admission in advance. It's recommended that you call more than 72-hours in advance to secure your spot. You're welcome to call farther ahead if you wish! This is their website to book your spot. The website is only in Italian but it is rather self-explanatory.
For guided tours of Oasi Biderosa, click here.
Sentiero dei Banditi
Not far from Scano di Montiferro and at a short distance from Cuglieri, this moderate 6 km hike puts together the pleasure of walking inside the thick woods of central Sardinia with the chance of getting to know more about the famous bandits of Sardinia.
That's why this trail – albeit very easy to follow – is best enjoyed with a guide. It's one of the most interesting historic hikes of Sardinia, during which you will get to learn a lot about the morphology of this part of the island as well as about its troubled past. 
The only company running the hike is the Associazione Turistica e Culturale Barbarighinu. Get in touch with them to enquire about their next departure. They also have English speaking guides.
PRACTICAL INFORMATION: Meet your guide in the village and then drive with them to the beginning of the trail just outside Scano di Montiferro. It's not the easiest one to find.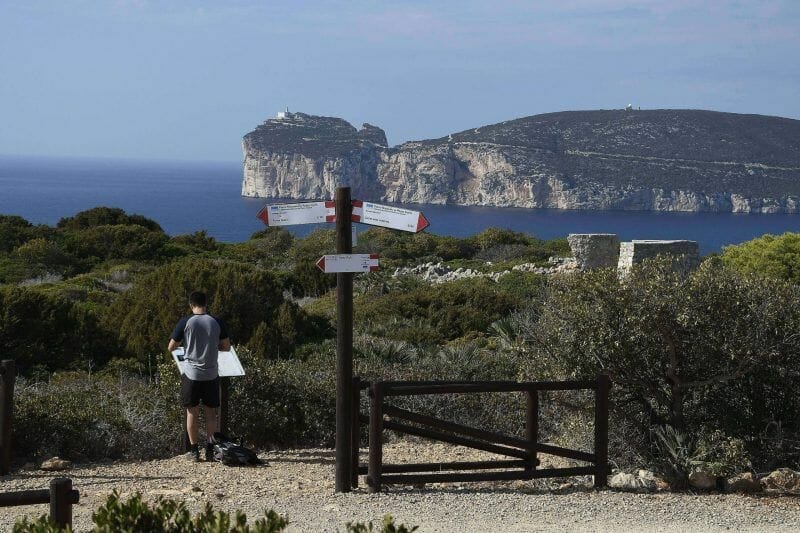 The Best Hikes in the North of Sardinia
Hiking Punta Giglio & Porto Conte
Porto Conte Regional Park is one of the most beautiful places to go hiking in Sardinia; there are five different trails that will all lead you to the peak of Punta Giglio. The paths are well-defined and have a good number of signposts dotting all the trails. To give you a rough estimate, the trails usually take around one and a half hours to complete. It's a popular spot for hiking, running, and off-road biking in Sardinia's northern region.
What's interesting is that some of the paths will weave through nature, and other tracks will take you around inactive military sites.
Want a guided tour? Book it here.
Asinara National Park
Floating off the northern tip of Sardinia lies the tiny island of Asinara. Asinara is a remote, rural island entirely overrun by the wild flora and fauna. There's nothing but donkeys, boars, foxes, sheep, and deer on the island. Only a few park rangers live here! Asinara has been many things in the past – from a leper colony to high-security prison; however, in 1997, Asinara was officially made into a national park.
The Asinara island and national park are highly protected and filled with fantastic hiking and biking trails. The island doesn't really have cars on it— just a few park ranger vehicles and a lone van operated by the local hostel. There is accommodation available in the tiny village of Cala d'Oliva.
If you want to explore the whole island, you can stay for a couple of days in Asinara and take advantage of all it has to offer. As the island is just 52 square kilometers, you really can see the whole island in a couple of days! There are seven most popular trails for hiking in Asinara.
The Granite Path is 11.2 kilometers in length. You'll cross the Santa Maria plain, coming across three granite queries. You'll end near Cala Sant'Andrea and begin at Fornelli.
The Water Path is one of the most popular trails in Asinara. It begins and ends at Fornelli's pier and follows a coastal route totaling seven kilometers. You'll wander past wells, dams, springs, and the sea.
The Path of Memory is a 5.5-kilometer trail that will lead you on a journey through Asinara's past and bring you to quite a few of Asinara's important cultural sites.
The White Donkey Trail follows a road along the sea that will take you to an Aragonese tower. It begins in Cala Reale.
The Path of Castellaccio is a three-kilometer route that begins at Fornelli and takes you to the ruins of Castellaccio, a decrepit medieval edifice. The path is only three kilometers long, so it's perfect if you don't have that many hours to spend on the trail.
The Holm-Oak Path begins in Cala d'Oliva and leads you through beautiful inland areas like the White Houses, meandering through forests and springs. It's one of the most peaceful and picturesque hiking trails on the island of Asinara.
The longest trail is the Lighthouse Path, which begins in Cala d'Oliva and ends at the Lighthouse in Cala d'Arena. The trail clocks in at nearly 18 kilometers long!
For more information on these trails, check out Asinara's website: Parcoasinara.org.
INSIDER TIP: While a day-trip to Asinara is always a good idea, an even better idea is spending a few days there to really get to know Asinara. You'll want to book a room or a dorm bed at the hostel in Cala d'Oliva far in advance or at the guesthouse in the village.
Want to learn more about Asinara? Check out my post by clicking here.
Long Distance Hikes in Sardinia
Selvaggio Blu
There are three long-distance hikes in Sardinia that I will cover in this post; however, my favorite is Selvaggio Blu. This is an ambitious and arduous hike that will take seven days and cover a total of 45 kilometers along the east coast of Sardinia. The trail is demanding as it will travel by ravines, along cliffs, and through forests. There are even some spots of the trail that require a bit of rock climbing. Goat herders used the Selvaggio Blu trail in times past, so it is very narrow, rocky, and difficult.
The Selvaggio Blu trail begins in Pedra Longa, close to Baunei, and travels to Porto Cuau (translated to "hidden harbor"). It will bring you past some of Sardina's most stunning beaches of the Gulf of Orosei. The beaches you'll encounter on the Selvaggio Blu trail are: Cala Goloritzé, Cuile Piddi, Bacu Maduloru, Cala Sisine, Cala Luna, and Cala Fuili.
I definitely do not recommend that you hike Selvaggio Blu by yourself. It's a challenging trail that takes seven days to complete! That means you'll need help with food, water, and navigation on your journey.
The hiking tour company that I recommend schedules Selvaggio Blu hikes a few times per year, so you should inquire far in advance and plan ahead. Follow the Sun Sardinia tour company is my top recommendation— the guide Alessandro Abis is experienced, trustworthy, and very reliable.
Sentiero Sardegna
Sentiero Sardegna is Sardinia's section of Sentiero Italia, the "Grand Italian Trail," a 6166-kilometer long hiking trail crossing all of Italy. While Sardinia is an island— so you obviously can't hike to the island from the mainland— it is still included in the Grand Italian Trail as Sentiero Sardegna. This trail leads up the highest peaks in Sardinia and along the most arduous trails on the island.
To hike Sentiero Sardegna you'll need to spend at least three weeks on the trail. It's not a loop, so you can decide to start either in the north at Santa Teresa di Gallura or in the south at Castiadas.
As I've never done this hike myself, I recommend checking out Sentiero Sardegna's website. You can download maps and a book that details all the ins and outs of the Sentiero Sardegna trail. Unfortunately, the information is only available in Italian.
Cammino Santa Barbara
Cammino Santa Barbara is one of the longest hiking trails in Sardinia. It is a circular route that totals 386 kilometers and covers the Sulcis Iglesiente region in the south of Sardinia. The Cammino Santa Barbara trail comprises 24 different stages, with each stage totaling around 16 kilometers.
What's amazing about this trail is that you can add on visits to ancient archaeological sites or picturesque Sardinian villages at any stage. Lastly, I want to note that just a small amount of the path is paved road; the majority of the trail is on dirt roads.
When to Go Hiking in Sardinia
If you can, I recommend avoiding hiking in Sardinia during the hot summer months. However, some of the most idyllic hikes do lead you to beaches, so if you can handle the heat, you will be richly rewarded with a refreshing swim in the Mediterranean Sea.
That being said, the best time to go hiking in Sardinia is during the spring or fall. Winter can be a good time to go hiking in Sardinia, but the hours of daylight will be shorter, so it's more challenging to tackle longer trails.
Other Tips for Hiking in Sardinia
While it may sound obvious, I want to be clear that when you go hiking in Sardinia, you're going to want to wear hiking boots. I've seen people on the trails with flip flops, and it makes my heart drop! That's a twisted ankle waiting to happen! I also recommend wearing layers and bringing a windbreaker jacket as Sardinia does endure strong mistral winds.
As I've alluded to multiple times in this post, many of the hikes in Sardinia are not loops. Therefore, you might want to consider booking transportation or joining a group so you're saved from having to hike all the way back out.
If you're going on a long or strenuous hike in Sardinia, getting travel insurance isn't a bad idea!
Further Readings
Make sure to check out my other posts about Sardinia:
Pin It For Later!