Street art in Sardinia is thriving.
The Italian island of Sardinia is home to picture-perfect beaches, phenomenal wines, ancient archaeological sites, and divine gastronomic delights like bottarga fish roe and Pecorino Sardo cheese. Sardinia also has something very surprising to offer visitors— an epic public art scene. While Sardinia isn't like Lisbon or London, it is home to some mural-towns that are multifaceted, dynamic, and diverse.
One town in Sardinia has over 320 murals in it! Some public art pieces feature the country's history, some are political statements, and others are abstract and imaginative.
If you're on the hunt for the best Sardinia murals, seeking a visual feast, look no further! You're in the right place. I'm Claudia, a local who lives in Cagliari, and I've spent many trips searching for the best murals and street art in Sardinia.
I'm here to show you that Sardinia is bursting with explosions of color throughout the island, around some of the most unexpected corners. Ready to find the best spots for street art in Sardinia? That's great! But before I dive into the best places for street art in Sardinia, let me give you a brief overlook of how Sardinia murals came about.
Some Background Information On Sardinia Murals
The first mural in Sardinia was painted in 1968 by Pinuccio Sciola, an internationally acclaimed Sardinian artist, but it wasn't until 1975 that street art in Sardinia really took off. That's when Francesco del Casino, an art professor, started paining the first Orgosolo murals (a whopping 90% of Orgosolo murals were painted by him!). Back then, Sardinia murals were a form of protest against the government, against NATO, against imperialism and injustice.
Street art in Sardinia has always been associated with political unrest, as it was clear when in 1982 Adriano Putzolu, a street artist who expressed his anger against American imperialism), was accused of and arrested for subversive activities. Other murals in Sardinia showed political support for the pledge of Chile and its people, affected by a brutal dictatorship.
Finally, continue reading to discover the best places for street art in Sardinia.
Where To Find The Most Beautiful Street Art In Sardinia
San Sperate
San Sperate is actually a living art gallery! It is a village filled to the brim with murals, with 320 large walls dedicated to enormous paintings. Walking through the village streets can feel like being inside a comic strip. You'll be hard-pressed to find a street, or an area of town, that isn't covered in street art. Some of the trees are even painted in bright colors!
For a little bit of a history lesson, the idea of creating a village dedicated to murals came from the artist Pinuccio Sciola in the 1960s. Painters have traveled from around the world to add their art to the conglomeration of murals. There are murals of all styles that cover a myriad of themes. San Sperate is truly an art lover's paradise.ì
From the capital city of Cagliari, you'll only have to travel approximately 20 kilometers inland to find San Sperate. You don't even need to rent a car to get to San Sperate: the bus from Piazza Matteotti in Cagliari will take you right to this living art gallery's town center.
You can also join this San Sperate murales tour.
Read my posts A Quick Guide To San Sperate, The Most Incredible Day Trips From Cagliari and The Nicest Small Towns And Cities In Sardinia.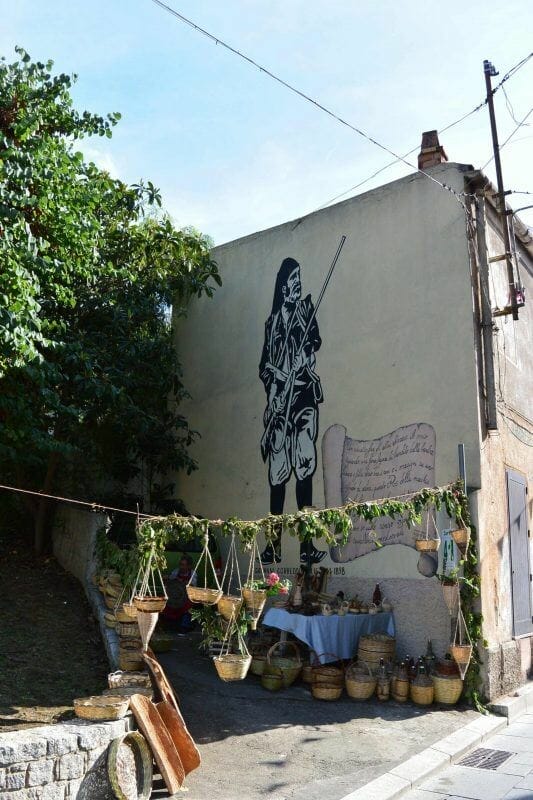 Oliena
Oliena is located in the province of Nuoro, right in the heart of Sardinia's central region. It is surrounded by woods and nestled between the mountains. Delightfully charming, the little village of Oliena is rich in nature – and also in murals! It's actually one of Sardinia's hidden gems, as very few people—but the locals—know about Oliena's murals. While others come to Oliena for kayaking in the spring of Su Gologone or to hike Monte Maccione, my love for Oliena lies with its murals.
The murals in Oliena vary greatly, from black and white soldiers standing starkly as if cut-out from an old newspaper, to realistic Sardinian basket-weavers smiling with their grandchildren. One of Oliena's most iconic murals is The Right of the Encounter, which depicts Sardinia's Easter celebrations and procession. Numerous murals dot the town of Oliena and portray—in their own captivating kind of language— Sardinia's culture, customs, and opinions.
While Oliena doesn't hustle for the street art spotlight, it is a picturesque mountain town that certainly warrants a visit!
Orgosolo
In central-eastern Sardinia lies the small mountain town of Orgosolo. While Orgosolo may seem like a sleepy mountain village, it is well-known for having a very bloody past filled with generations of family feuds! As an isolated mountain town, Orgosolo was also a place where outlaws and bandits flourished.
Now, on to the art… Orgosolo is home to approximately 150 murals centered mostly on Orgosolo's history and political activism. Graffiti art in Orgosolo first started in the 1960s during a period of strikes and social upheaval, as a way to express political messages and convey frustration.
The very first murals in Orgosolo were completed by an anarchist theatre company by the name of Dioniso. Directly after that, the communist Francesco Del Casino and his art students began painting more murals around the town to speak up about their political beliefs during the 1970s and 1980s. Not all of the 150 murals in Orgosolo are about social injustices; some simply depict glimpses into daily rural life.
Orgosolo's graffiti art highlights the town's cultural heritage and showcases the protesting and celebrating that occurred in Sardinia in times past. If you've ever been to Belfast in Northern Ireland, Orgosolo's political public art reminds me of what you will find in Belfast.
Fonni
At 1000 meters above sea level, Fonni is the highest town in all of Sardinia! Located high in the mountains of Gennargentu, in the province of Nuoro, Fonni is most well known as a popular winter sports hub with a celebrated ski resort (please don't go expecting glaciers and permanent snow though!). During the other seasons, it's not surprising that Fonni is a popular base for hikers seeking to summit Sardinia's highest peaks.
Like a veritable treasure hunt, the murals in Fonni are scattered throughout the town's winding, narrow streets. The artwork mostly depicts rural Sardinian life and agricultural scenes that synthesize with the building in such a way that you feel as if it's actually real! Truly, the murals in Fonni harmoniously blend into the architectural elements of the buildings and structures in a way that leaves me stunned every time I visit.
There is a mural of a grandmother standing outside her front door with her laundry hanging near her, and I had to do a double-take— I didn't realize it was a mural at first! These pastoral murals in Fonni are whimsical and positively delightful. The Old Couple on the Balcony is another one of my favorites.
Lastly, if you want one last little dose of art in Fonni before heading home, head directly to the historic center of town; you'll find in an ancient manor house the Museum of Pastoral Culture. This museum seeks to represent the aspects of the pastoral world and shine a spotlight on sheep farming culture. There are numerous exhibits spread out over three floors, but there are some beautiful paintings and photographs inside as well.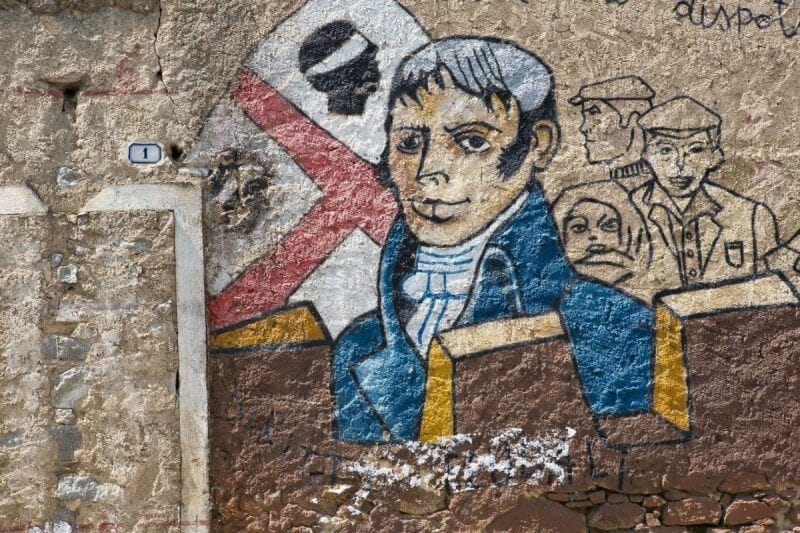 Villamar
Near the south of Sardinia lies the village of Villamar, approximately 55 kilometers north of Cagliari. Villamar is an agriculturally rich region with rolling hills and fertile soil. Murals first started popping up in Villamar in 1976, when two Chilean exiles – Uriel Parvex and Alan Jofrè -started painting on the mud and stone walls around the village's historical center. They started creating political mural pieces for the town as a way to let the walls speak for them.
Just a year later, in 1977, two local Sardinian artists – Antonio Sanna and Antonio Cotza – began showcasing their talent on Villamar's walls as well. Sanna's murals depicted local daily life with its traditions and customs, whereas Cotza focused more on historical events, both in Sardinia and internationally.
Cotza's paintings were bright, vivid, and colorful, whereas Sanna's were more subdued and sober. The public space has been transformed by these visual aesthetics created by Villamar's Chilean and Sardinian population.
If you happen to be visiting Villamar at the end of August, each year, there is an outdoors fair and exhibition that features local handicrafts and sculptures. It's another fantastic celebration of the arts that shouldn't be missed.
Serramanna
Only 30 kilometers north of Cagliari lies the town of Serramana. Serramana is similar to Villamar in that it is an important agricultural hub. In fact, it is one of the largest producers of fruits and vegetables in Sardinia. The town has fewer than 10,000 inhabitants and also has a quaint historical center filled with Campidanese residences and little courtyards.
Serramana is one of the best places to see street art in Sardinia. However, it's much less talked about than the town of Orgosolo or San Sperate. It's a bit of a local gem! For a bit of background information, public art really took off in Serramanna in the 1970s as a platform to convey discontent about the state of affairs in Sardinia, but murals around town also portrayed the local agricultural life.
The most iconic mural in Villamar is on the theme of emigration, titled: Emigration is Deportation. It was realized in 1979 by a group of artists – Dessì, Ledda, Putzolu e Arba.
San Gavino Monreale
San Gavino Monreale is a town in South Sardinia approximately 45 kilometers northwest of the capital of Cagliari. Since the 15th century, San Gavino Monreale has been recognized as a major saffron producer. It's also home to popular festivals like the Fiera internazionale dello zafferano culinary festival and the Carnevale Sangavinese carnival, which brings in 50,000 visitors each year!
There are more than 50 murals tucked around nearly every corner of the town. However, unlike some of the other towns on my list, San Gavino Monreale's mural scene didn't take off in response to political upheaval and strife in the 1960s through the 1980s.
It only just began in 2013! After the Italian singer-songwriter Simone Farci ( aka Skizzo) died in 2013, his friends wanted to honor his memory by creating a mural in San Gavino. They created the cultural association Skizzo and financed the first mural in 2014 by local Sardinian artist Giorgio Casu.
Since 2014, many more murals have sprung up around San Gavino Monreale each year, making this small town one of the best places to see street art in Sardinia. The mural scene in San Gavino Monreale is truly flourishing!
Moreover, the murals in San Gavino Monreale are all quite different and bursting with personality. They rival the dizzying and impressive murals in international graffiti hubs like Paris and New York City. New murals are being commissioned each year, and public art is continuing to grow and flourish in San Gavino Monreale.
Check out all the recent news and happenings with the mural scene in San Gavino Monreale by clicking here.
BONUS! Street art in Cagliari
Scattered around Cagliari, the beautiful capital of Sardinia, there are quite a few murals. Among the best ones, check those at Galleria del Sale, which connects the tourist harbor of Su Siccu with Molentargius Nature Reserve and where you'll be able to admire several pieces by Manu Invisible, one of Sardinia's most prominent street artists.
Other places to look for street art in Cagliari are the area of Terrapieno, in the historical quarter of Villanova and Exmé, a former market in the area of Pirri (outside of the center of town). Make sure to also keep an eye out for "Under the City," painted in 2015 in Via Tevere, a parallel to Viale S. Avendrace, by Tellas, whose pieces can also be found in Monserrato.
Further Readings
Make sure to read my other posts:
Pin It For Later!