Located on the west coast of Sardinia, Mari Ermi Beach is a natural jewel that I really recommend visiting. Not surprisingly, it is one of the most popular beaches on the Sinis Peninsula, and yet not nearly as crowded as next door Is Arutas beach.
That's why I prefer it! While people are sitting around literally elbowing one another, Mari Ermi has more room to relax (though don't expect a desert beach!) and it also has a bit more of a local feel compared to its more famous neighbor.
If you are planning a trip to the west coast, of Sardinia then I suggest you read this guide on Mari Ermi beach, where you can find everything you need to know about the beach, the rules to follow during your visit, how to get there and also, information about the most beautiful nearby beaches.
Check out my posts A Guide To The Sinis Peninsula and A Guide To Cabras, Sardinia.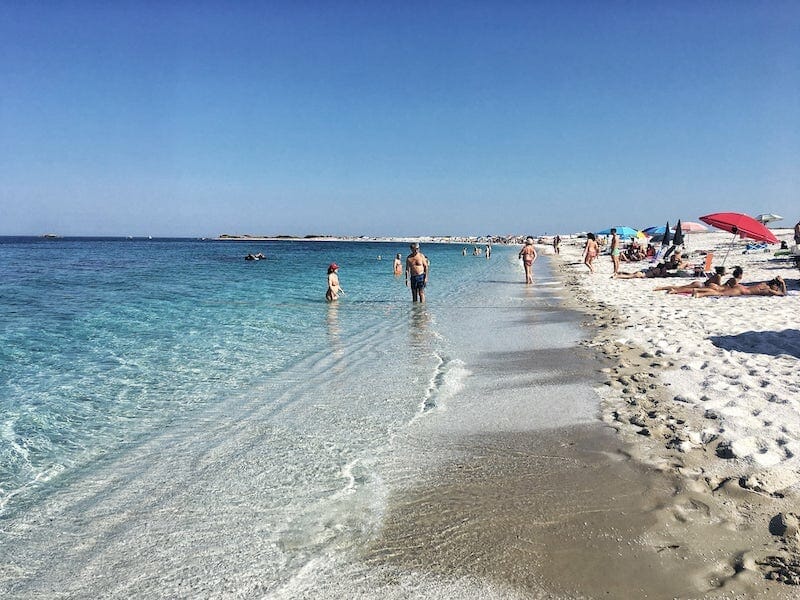 Everything You Must Know About Ermi
Mari Ermi Beach
Mari Ermi beach is located on the coast of Cabras, on the Marine Protected Area of the Sinis Peninsula. The beach is more than 1000 meters long, therefore there is space for everyone. During the summer, the beach attracts tourists and locals alike, since it is quite easy to find a spot to lay down and relax.
The northwest wind that at times blows even during the summer months makes the beach perfect for surfers and kite surfers alike – though on those days, the beach is really not suitable for swimming. The position of the beach on the west coast of Sardinia makes it a prime sunset spot.
Like other beaches in the area, Mari Ermi has the most peculiar sand: tiny white pebbles (almost like grains of rice) instead of sand, with deep water of the most beautiful turquoise and green shades. Behind the beach, you can find a pond, where beautiful pink flamingos and other birds find their natural habitat.
Mari Ermi is a well equipped beach and should you forget to carry your umbrella or lunch, you will find everything you need for the day – free toilets, a couple of restaurants, places to rent all sorts of equipment and even rent zodiacs and join boat tours. There even are public showers were you can wash off the precious sand before leaving.
Since the beach can get quite crowded in the summer months, plan to be there early in the morning or at lunch time, when some people may leave for lunch, to find a good spot.
How to behave at Mari Ermi Beach
Mari Ermi beach is located within a protected area – but even if that was not the case, there are some specific (I'd dare say common sense) rules you need to follow.
DON'T TAKE SAND – as in other beaches in Sardinia, it is strictly forbidden to pick up and take away sand, pebbles, stones or shells from the shoreline or the sea at Mari Ermi beach. If found by the authorities, you will be subjected to a fine. You can read more about it here.
KEEP THE BEACH CLEAN – don't leave litter on the beach, take advantage of the waste baskets located right on the access points to the beach to keep it clean. Even cigarette buts are considered waste, and they are highly polluting.
RESPECT THE MARINE LIFE – don't pick up crabs, starfish, jellyfish or other marine life out of the water, since you could harm them. It's also forbidden by law.
How to get to Mari Ermi beach
The best way to reach Mari Ermi beach is by car. To get there, just take the Strada Provinciale SP54 to the north, then turn towards Tharros and follow the signs to San Giovanni di Sinis. After a few kilometers you will find signs for Is Arutas beach and then for Mari Ermi beach.
While the beach is easy to reach from Oristano and Cabras, it's also a great place to visit on day trips from Cagliari. In this case, you'll have to follow SS131 northbound and exit and Oristano Nord, and from there follow the signs to Cabras and then Tharros etc.
Other nearby beaches
The whole coast of Cabras has a mixed landscape, composed by rocks and sand, therefore you can find many beaches to visit. Here are my favorite ones:
San Giovanni di Sinis – right by Tharros archeological site, it's one of the most beautiful beaches in the region. Contrary to others in the area, it has actual sand and not quartz grains and water is quite shallow. It has a dog-friendly beach too.
Is Arutas – very similar to Mari Ermi in terms of sand composed of quartz grains that color the beach in shades of pink and white, it has gorgeous rock formations at its sides.
Maimoni – again very similar to Mari Ermi, but even less crowded. It has a dedicated dog-friendly beach.
Isola di Mal di Ventre – reached on boat tours from Mari Ermi, this is an unspoiled oasis where you can also see the wreck of a roman ship.
Make sure to also read my post The Best Dog Friendly Beaches In Sardinia.
Where to stay to easily access Mari Ermi Beach
The closest city to Mari Ermi is Oristano, which is a good base to explore the area. Alternatively, you will find some excellent accommodation and dining options in Cabras, the municipality that manages almost the entire area.
Find the best hotel deals here.
Pin It For Later!