Located on the southern far end of the Sinis peninsula, with its two-thousand-years long history, Tharros is considered one of Sardinia's most important archaeological sites. It is often called an "open-air museum" because of the abundance of well-preserved ruins and relics, and thanks to its location, right next to the beautiful west Sardinian beaches.
The city has flourished for a long time especially thanks to its strategic position near the San Giovanni Isthmus: this thin strip of land has always provided a safe harbor for ships throughout the centuries, therefore contributing to Tharros' prosperity from Nuragic age until its abandonment in the 11th century AC.
The site is quite wide, with buildings from a variety of eras and styles, from Nuraghe remainings on the Murru Mannu hill to the San Giovanni di Sinis Church. Most of the remains, however, date back to the Roman and early Christian eras.
The numerous relics found throughout various excavations have been brought to various museums, such as Cagliari's National Archaeological Museum, Oristano's Antiquarium Arborense, and even the British Museum in London. Unfortunately, the relics' number has been drastically lessened because of constant theft and illegal trafficking: many of them are kept in private collections, while we lost track of many others.
Curious to find out more about Tharros? Continue reading.
A Guide To Visiting Tharros
There are three different Nuraghe remains in the vicinity of Tharros, but it is thought that, at the moment of the city foundation by Phoenicians in the VIII century BC, those prehistoric villages had already been abandoned.
As the city went under Carthage's control, it grew to the point of probably becoming the island's capital; some of the things left from this early age are two necropolis (built a few kilometers apart from each other, which suggest there probably were two different, small villages rather than a bigger one) and the Tophet, in which over 5000 urns and 300 stone tablets have been found, showing the sacred place's importance during the Punic age.
Another important remain is the Quartiere Artigianale Su Murru Mannu: it's the blacksmiths' and artisans' district and it has been destined, for around three centuries, to the making of weapons, pottery, and other crafts, specializing in metal's manufacturing.
Rome conquered Tharros in 238 BC, after the Third Punic War. Romans immediately began renewing and often re-building whole parts of the city, including the fortifications of Punic craft.
One of the most important buildings on the site, the Tempio Tetrastilo, dates back to this era. It was erected in the 1st century BC on a pre-existing and probably sacred ground and originally had four columns, of which only one capital is left; the two columns we can admire nowadays are a recent copy that was made for touristic purposes only. Archaeologists have hypothesized that the temple was a big structure dedicated to Jupiter, Juno, and Minerva but no evidence has been found.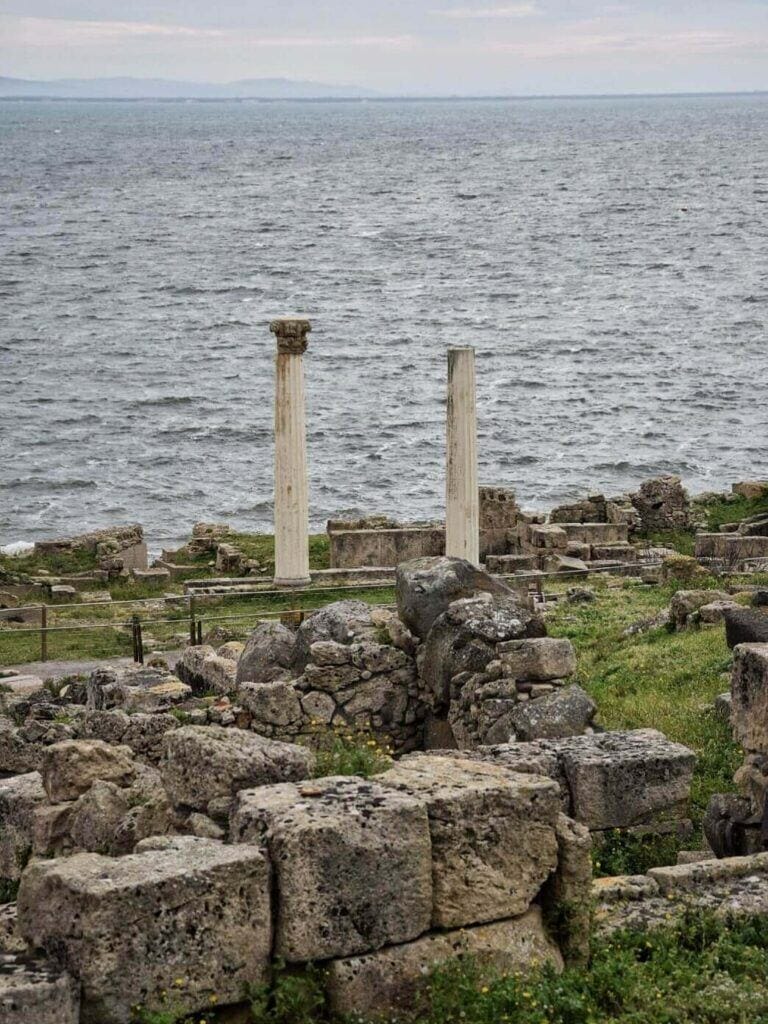 Other important (and ubiquitous in Roman sites) ruins are the thermal complexes, which in the city of Tharros are in a particularly good shape (there are still some mosaics on the floors) and are located in three different spots. The most relevant one is the so-called Terme n. 3: although only partially visible and still under excavation, this thermal complex is located close to the aqueduct and Castellum Aquae, which were essential to both the city in general and the thermal complexes.
A little outside of the city center you can find the Tempietto K. It has a rectangular shape, a well-preserved altar, and was mainly used during the Imperial age. However, archaeologists have found that it is built from Punic scraps: it has, in fact, several Punic inscriptions on its stones and has therefore often been called "Tempio delle Iscrizioni" ("Temple of Inscriptions").
As I have said before, Tharros flourished greatly during the Roman Imperial age. It expanded, sturdy roads were newly made or rebuilt, and the population grew steadily, causing the need for broader, bigger cemeteries that are still visible in the city outskirts and have gifted archeologists a lot of relics which are widely kept in Cabras's Museo Civico Giovanni Marongiu. This museum, founded in 1997, is located in Via Tharros, Cabras, and is the safe storage of thousand of relics from the earliest ages of our territory, starting from the Neolithic age, up to more recent eras.
Of course, the city doesn't consist of solely public buildings: private houses are numerous as well and you will be able to see and examine their structure and details during your stroll in Tharros.
The city kept its important role during early Christianity; remains of a church (dedicated, maybe, to St. Marcus) have been found in the area, but only the Battistero is left nowadays. This baptismal font was built around the V-VI century AC with scrap material, probably stolen from a temple of an earlier age.
This church was probably substituted by the San Giovanni di Sinis Church, located right outside the Tharros area, in the still inhabited, homonymous village of San Giovanni di Sinis. It was firstly built in a Paleo-Christian style during the VI century AC and later expanded and improved during the XI century, when Tharros was, once again, capital, this time of the Giudicato di Arborea.
Tharros was definitively abandoned around 1050 AC because of recurrent and increasingly violent pirates' incursions. The most recent historical building is the Torre di San Giovanni, a fort appositely built by the government to keep a watch on the sea in the hopes to prevent such barbaric assaults.
Are you curious about how -and when- to visit this beautiful, history-filled place? Just keep reading!
Practical Information For Visiting Tharros
How to get to Tharros
You can only get to Tharros by car.
FROM CAGLIARI: Take the SS 131 towards Sassari; exit at Oristano Sud-Santa Giusta, pass through Oristano, and proceed towards Cabras. Once there, follow the signs to the Museum or towards San Giovanni di Sinis beach. The site is right next to the sea, the Museum is in front of the Cabras Pond. Driving time: little over one hour.
FROM ALGHERO: Take the SS 291 towards Sassari-Cagliari. At the end of SS 291, take SS 131 towards Cagliari. Exit at Oristano Nord and follow the signs to Cabras; once there, follow the signs to the Museum or the beaches.
FROM ARBATAX: Take SS 389 towards Nuoro. Once in Nuoro, take SS 131 towards Cagliari. Exit at Oristano Nord and follow the signs to Cabras; once there, follow the signs to the Museum or the beaches.
Once you reach Tharros you can take the "trenino di Tharros" shuttle, which will bring you directly to the archaeological area. It runs from March to September, from 9:00 am to 7:00 pm.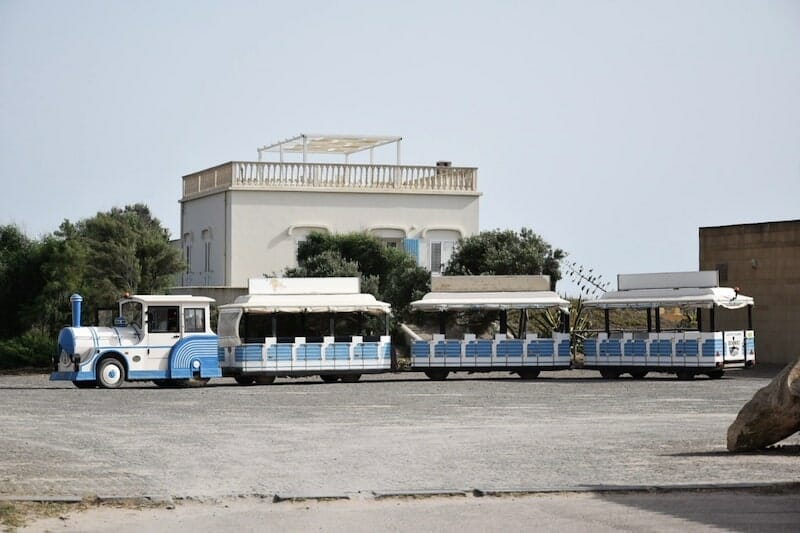 Opening Hours
November – March: Daily from 9:00 am to 5:00 pm. Last admission at 4:15 pm.
April – May and October: Daily from 9:00 am to 6:00 pm. Last admission at 5:15 pm.
June – July and September: Daily from 9:00 am to 7:00 pm. Last admission at 6:15 pm.
August: Daily from 9:00 am to 8:00 pm. Last admission at 7:15 pm.
The site is open on public holidays except December 25 and January 1.
Tickets
Admission to Tharros is €6,50 for adults.
Combined tickets for Tharros and the museum are €10; for Tharros and the Tower they are €8,50. If you with to visit the 3 sites, tickets are €12.
You can book your tickets here – there is a small booking fee.
To best enjoy your visit, you may need a guide – English language guides are best booked in advance via phone or sending an email at [email protected].
Nearby Places to Visit
Tharros covers a wide area and there is not much more to see in its vicinity, but I'd recommend the Nuraghe remains in the Murru Mannu Hill (next to the Tophet); the beautiful beaches in the area (you can't miss Is Arutas Beach!) and, of course, the Museo Civico in Cabras where you can see the famous Mont'e Prama Giants.
Further Readings
Make sure to read my other posts:
Pin It For Later!