Santu Lussurgiu is a pretty medieval town in the Oristano province, especially famous for its traditional festivals and the amazing parks and natural sites in the area. Many visit Santu Lussurgiu to have a taste of folklore and enjoy some fresh, clean air, escaping from the heat of the cities and beaches during the summer, and even to appreciate foliage in the fall. This small Sardinian town, thanks to its location, is always pleasantly fresh and shaded by the mountains and their many forests.
As I have said above, the main reason we locals go to Santu Lussurgiu is the many festivals: Carnival has as special flavor here, as well as the Holy Week, and the patron saint – whom the city was named after – celebrations in summer – are all festivals you should have on your radar.
But there is much more to discover in Santu Lussurgiu. One of the reasons to go is definitely local food! Another reason to visit is the traditional houses that are still the pride of the town. Locals are also renowned horse and cattle farmers.
Curious to find out more about this lesser known Sardinian gem? Continue reading!
Make sure to read my posts The Best Hidden Gems In Sardinia and The Prettiest Cities, Small Towns And Villages In Sardinia.
A Brief History Of Santu Lussurgiu
Judging by the many prehistoric remains and relics in the area, the region where Santu Lussurgiu is located was inhabited since very early, but the town's official foundation dates to (about) 1000 AD. Santu Lussurgiu was a prosperous village, and only the last to be founded back then, since there were already other small villages in the area, which is rich in water sources and great in many aspects, such as the favorable position on the island.
The city was first assigned to and ruled by the Torres Giudicato and followed its events and fate, then became part of the Aragonese Reign, and was one of the first cities to openly fight against the Sardinian-Piedmontese government.
Like many other villages, Santu Lussurgiu was only moderately damaged by the World War events, and thanks to its central position on the island several important intellectuals and historic figures came and went there quite frequently, finding it to be a safe haven.
What To See And Do In Santu Lussurgiu
Although small, Santu Lussurgiu has actually quite a bit to offer!
San Leonardo di Siete Fuentes
San Leonardo is a small, semi-deserted village (which gets only slightly more populated in summer) and the only hamlet of Santu Lussurgiu. It was the first inhabited area before people moved to the current town location, and it takes its name from the seven water springs there.
There isn't much left of the village's past, but San Leonardo is still a beautiful green area where many go for a walk and some fresh air, or for specific events.
The Church, dedicated to the homonymous saint, was built in the 14th century following a Pisan Romanic – Gothic style and is still excellently preserved.
An easy trail will take you to the seven water springs. Another interesting sight is an abandoned hotel. It's not safe to go in, but you can peep at it from a distance.
Santa Croce Church
This Church was consecrated in 1185 and it was around it that the people started to group together and build the first housing cluster for the village. It was originally dedicated to San Lussorio and it is said that his relics are kept in there.
Santa Maria degli Angeli Church
Built in 1473 thanks to some monks who were sent to Santu Lussurgiu, this church is a good example of Aragonese Gothic style and is a safe storage place for several ancient religious artworks, such as the wooden Mary statue that dates back to the 15th century and the altar's decorations.
Museo della Tecnologia Contadina
This Museum was built with the goal to show and teach people how farmers used to and still use to work their fields and raise their livestock. All the 2000+ tools in the exhibition have been donated by Santu Lussurgiu citizens and are a collection of ancient and more modern objects that were or still are essential for their daily lives.
The museum is only open in July and August, from Wednesday to Sunday, from 10:00 am to 1:00 pm and from 4:00 to 8:00 pm. Outside of these months, you will have to book your visit by contacting the museum. Admission is €5 for adults and €3 for reduced tickets.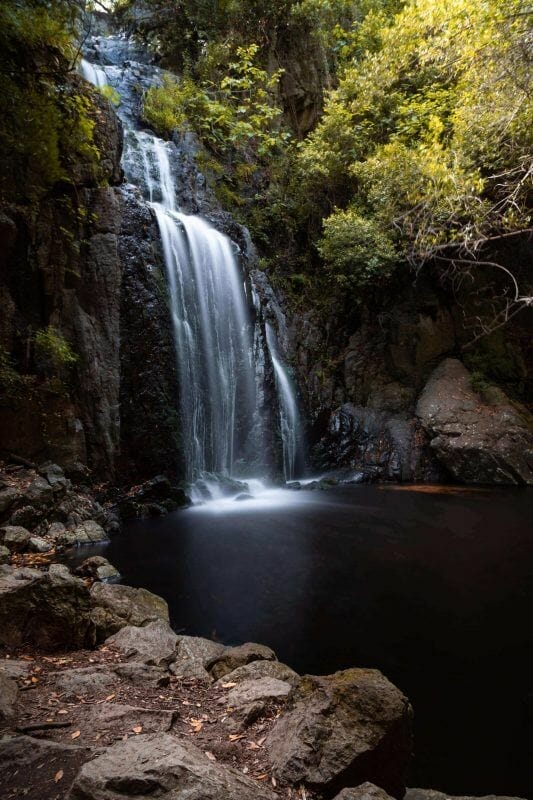 Cascata Sos Molinos
The area around Santu Lussurgiu is rich with water and water springs, and there are several waterfalls you can admire during an easy hike. Sos Molinos is one of the most popular. It takes about an hour of hiking to get there, and there's enough space to sit and enjoy a snack after. Also, you can swim in the natural pool – but only do it in the spring and summer months: water is freezing!
Santu Lussurgiu town center
Santu Lussurgiu has one of the best-preserved medieval centers on the whole island. Despite some areas needing some renovation works, the streets and the houses look very similar to how they supposedly were in the earlier centuries. A simple stroll through the town center will offer you some great photo opportunities, some hidden corners and gems, and a trip back in time – all costing you only a few thousand steps.
Practical Information To Plan Your Visit
How to get to Santu Lussurgiu
Here's how to get to Santu Lussurgiu from several larger hubs in Sardinia
From Oristano
BY CAR – Just follow State Road E25 to Paulilatino, where you'll have to take SP11 to Santu Lussurgiu. It takes about 30 to 40 minues.
BY BUS – Direct bus 423 connects Oristano to Santu Lussurgiu. It takes little over one hour.
From Cagliari
BY CAR – You will need to get to Oristano via State Road E25 and then follow it until Paulilatino, where you'll have to take SP11 to Santu Lussurgiu, for a total driving time of about 1 hour and 30 minutes.
BY PUBLIC TRANSPORT – Take any north bound train and get off in Abbasanza, where you'll have to take bus 423 to Santu Lussurgiu. The overall travel time is about two hours and 40 minutes.
From Nuoro
BY CAR – It takes about one hour to get from Nuoro to Santu Lussurgiu, and all you need to do is follow State Road SS 131.
There are no direct buses from Nuoro to Santu Lussurgiu and the overall trip by public transportation takes a minimum of three hours and several changes.
Where to sleep in Santu Lussurgiu
Albeit small, Santu Lussurgiu has some excellent accommodation option and no matter what your budget is you are guaranteed a comfortable stay during your visit.
Antica Dimora del Gruccione
This is where I normally stay any time I visit Santu Lussurgiu. Located in the center of the town, Antica Dimora del Gruccione offers 12 rooms and apartments scattered around town. It also has a restaurant serving delicious, traditional meals with a modern twist. All rooms have air conditioning and private bathrooms. Depending on where you are located in the village, you will also have Wi-Fi. Breakfast is served in the main building.
Sas Benas
Another great property with rooms scattered around town, Sas Benas offers various kinds of rooms all furnished following the traditional Sardinian style, and a restaurant serving typical local dishes. All the rooms are close to the reception and main building, where you can use the free Wi-Fi and maybe make some new friends while having breakfast.
Agriturismo Francadu
Located just a few kilometers outside of Santu Lussurgiu, the agriturismo offers rooms with private bathrooms and all comfort, free Wi-Fi, free parking, and a park with a pool and a play area for kids. A delicious breakfast is served every morning.
Pin It For Later!