Su Nuraxi is the most famous nuraghe in Sardinia, and if you are planning on visiting the south of the island you really should not miss the chance to go. I have lost count of how many times I have visited, and each time I am captured by its mystery.
If you have checked my post about nuraghe, you will know that these ancient megalithic structures are only found in Sardinia — that's right, you won't see them anywhere else in the world! We count around 7000 of them at the moment, but research shows that at some point there were more than 10000 on the island.
Nuraghe are truncated cone stone structures built by the Nuragic civilization (which lived in Sardinia from the Bronze Age until Roman colonization) between 1900 and 730 BC to serve as military strongholds – though some archeologists believe they may have had religious purposes.
Chances are that if you visit Sardinia on a road trip you will come across several nuraghe as you drive around. To an untrained eye, they may look as nothing more than a mount of stones – but interesting enough, that's not too far from what a nuraghe is! Indeed, the word "nuraghe" means "mount of stones" and "cavity."
While most nuraghe in Sardinia have yet to be fully excavated, some offer a unique peak into the complex history of Sardinia, and may be a great addition to your trip. In southern Sardinia, Su Nuraxi is the most interesting nuragic complex.
Having been the subject of research for decades, it's the one for which we have the greatest amount of information, so it makes for a really interesting visit.
Continue reading for a short guide of Su Nuraxi nuraghe, and for information that will help you plan your visit.
The history of Su Nuraxi provided here is by no means complete! Make sure to visit the site to learn more about it.
A Brief History Of Su Nuraxi, Sardinia
Located in the town of Barumini, Su Nuraxi complex is the only designated UNESCO World Heritage Site on the island, having been inscribed in 1997. The complex was discovered and excavated by Sardinian archeologist Giovanni Lilliu between the 1940s and 1950s.
Barumini actually counts around 30 nuraghe, but Su Nuraxi is by far the most elaborate complex, as it is formed by more than one tower. What we see today is the result of 2000 years of stratifications, from 1500 BC to roughly the 7th century AC. Through research, archeologists have established that it was built across various stages.
In the first stage of its construction, basalt stone was used – that's a volcanic stone which, in this case, was sourced from the nearby Giara Plateau.
The main tower – the "mastio" or tholos nuraghe, which is a truncated conical tower whose interior is made of circular rooms which get smaller and smaller as they go up, and which are covered with a false dome or vault – was likely built in the Middle Bronze age, between 1500 and 1300 BC.
This was originally 18.6 meters tall (that's 61 feet) and had three rooms that communicated one with the other thanks to an internal staircase built inside the wall.
During the Later Bronze Age, between 1300 and 1100 BC, a complex of four smaller round towers, each with two rooms (one per floor), was built next to the main one – connected by a wall and pointing to the four cardinal points, each reaching 14 meters (around 46 feet) in height.
The main entrance was placed on the south-eastern wall, which gave access to a yard where a well was located and from which one could access the various towers.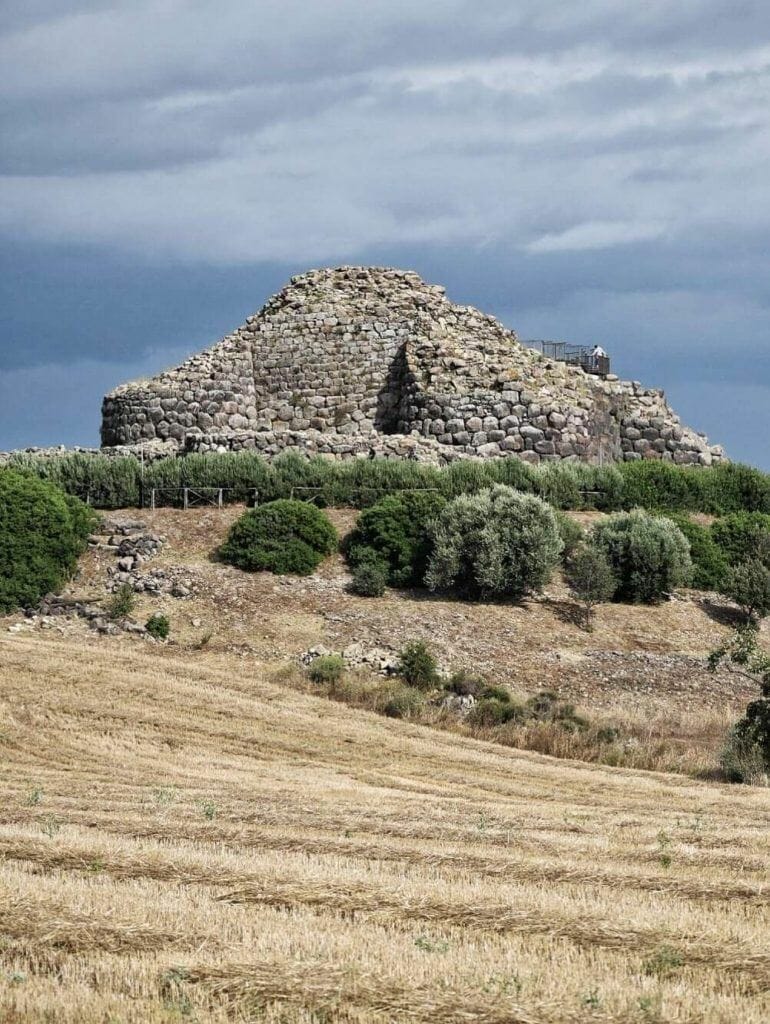 The Later Bronze Age also is when the nuragic village, still visible today and having itself three towers and a wall, was built around the main complex. The majority of the houses in the village had just one room.
Between 1100 and the 9th century BC the village was further enlarged, with the construction of more towers, whereas the internal towers area was further surrounded by a 3-meters thick wall which ended up closing the entrance on the ground level. The new entrance was thus placed above ground, on the northeastern side of the wall.
The most important building in the village is the "capanna 80" (hut 80), also known as hut of the assemblies, meeting room or curia. It's a large circular building characterized by a large seat and 5 small niches tucked in the walls, inside which objects which likely had ritual and sacred purposes were found.
During the Early Iron Age – between the 9th and the 6th century BC, Su Nuraxi was almost entirely destroyed and a new complex was built on its remains in the early 7th century BC. At that time, most of the houses – whose perimeter continued to be circular – had various quadrangular rooms inside, which all faced an internal yard.

The Nuragic Civilization started disappearing in the 5th century BC, with the arrival of the Punics to Sardinia. Through the increased relationship with the invaders, the way of life of the nuragic people changed and a drop in the nativity rate eventually caused their disappearance.
The Romans, who arrived in Sardinia between the 2nd and 1st century BC, used Su Nuraxi for various purposes – some areas were used as burial ground. Su Nuraxi continued to be used until the 3rd century AC.
Now that you know a bit more about Su Nuraxi, let me share some practical information to help you plan your visit.
Practical Information For Visiting Su Nuraxi
How To Get to Su Nuraxi
The easiest way to get to Barumini, where Su Nuraxi is located, is by car. The site is at about 45 minutes drive from Cagliari. If you don't wish to rent a car during your trip to Sardinia, you can consider joining a guided tour which includes transportation. There are a few that depart from Cagliari every day.
You can book your guided tour of Su Nuraxi here or here. If you wish to add a tour of Giara Park you may wish to consider this Barumini and Giara Park tour.
Su Nuraxi Opening Hours
The site observes the following opening hours:
November to February: every day from 9:00 am to 5:00 pm – last admission at 4:00 pm.
March: every day from 9:00 am to 5:30 pm – last admission at 4:30 pm.
April and September: every day from 9:00 am to 7:30 pm – last admission at 5:30 pm.
May to August: every day from 9:00 am to 8:00 pm – last admission at 7:00 pm.
October: every day from 9:00 am to 6:30 pm – last admission at 5:30 pm.
Tickets and Tours
Admission fee to Su Nuraxi is €15 for adults, €12 for kids aged from 13 to 17 and €9 for kids aged from 7 to 12. Tickets include a guided visit of the site in your language of choice. Tours depart every 30 minutes from the information / ticket desk and last about one hour – though most guides will gladly continue the tour if they get a particularly engaged group.
Other Nearby Places to Visit
Included in your admission fee for Su Nuraxi, you get two more places that are worth a visit:
CASA ZAPATA – Located in what used to be the residence of the Zapata Family is now a museum with a strong focus on the nuragic civilization that lived in the area. It's worth visiting even just to admire the building.
CENTER OF CULTURAL HERITAGE COMMUNICATION AND PROMOTION GIOVANNI LILLIU – A multimedia center with permanent ant temporary exhibits usually dedicated to Su Nuraxi.
Both open daily at 10:00 am while the closing times are the same as Su Nuraxi.
Another place you may want to visit to make yours a full-day trip is the Giara Plateau, one of the most beautiful nature reserves in Sardinia and home to unique local wildlife such as the Giara horses.
Further Readings
Make sure to check out my other posts:
Pin It For Later!