You can go on many great day trips from Cagliari.
As the capital city of the Italian island of Sardinia, Cagliari is the perfect place to base yourself for your island adventures! While there is so much to do and to see in Cagliari itself — from checking out the Bastione of San Remy to touring the ancient Roman Amphitheater that dates back to the 2nd century AD — you don't want to miss out on all that Sardinia has to offer.
Lucky for you, just by hopping in your car or catching a bus, you can see some real Sardinian treasures. I'm not talking about jewels here; it's better, much better. Don't believe me? Read on!
With some of the island's most significant and stunning sights just a hop, skip, and a jump away, Cagliari makes the perfect base for day trips. So if you're eager to go exploring, let's get right to it and cover the best day trips from Cagliari!
12 Incredible Day Trips From Cagliari
Serdiana: Famous Wines and Rural Vibes
Serdiana is a small village located just 20 kilometers north of Cagliari. It is a well-maintained and preserved quaint, rural community. While there certainly isn't an abundance of accommodation options or even a whiff of a nightlife scene, Serdiana is a charming town that makes for wonderful day trips from Cagliari.
This village is most well-known for fine wines. From the renowned Cannonau to the Vermentino, this village produces the best of the best when it comes to Cagliari's signature grapes. In fact, one of the most famous wineries in all of Sardinia is located in Serdiana — Argiolas Winery! You can tantalize your taste buds at Argiolas with a food and wine tasting.
You can book your wine tour experience from Cagliari here.
Also, if you happen to have the opportunity to visit Serdiana at the end of May, don't miss out on celebrating Cantine Aperte-Wine Day. You'll get to sample all the local delights and delicacies – and of course, the wines – during this festival.
If you're visiting during the winter, make sure to go birdwatching at Su Stani Saliu, a blissful salt-water pond where you can bask in the beauty of birds like flamingos and black-winged stilts.
Lastly, make sure to visit Santa Maria di Sibiola church, a 12th-century romantic church that is an absolute masterpiece of Romanesque architecture. It's actually one of the most well-preserved medieval Romanesque-Pisan buildings in Sardinia.
It's definitely one of Sardinia's architectural gems, and shouldn't be missed. Plus, since it's just 20 kilometers away from the capital city, there really is no excuse not to take a day trip from Cagliari!
Check out my posts 15 Must Visit Wineries In Sardinia and A Guide To Sardinian Wines.
Barumini: Ancient Megalithic Edifices & Mind-Blowing Pizza
If you've glanced at the top sites to see in Sardinia, you know that seeing a Nuragic site and a nuraghe are on your must-see list! These utterly unique ancient archeological megalithic edifices look like beehives, and it turns out that Barumini has one of the most impressive ones of all: Su Naraxi!
There is the complex nuraghe, with four corner tours, and a maze of 50 ancient huts as well. It's quite the sight; in fact, it's the only UNESCO World Heritage Site in Sardinia. It's truly an archeological treasure.
The town of Barumini sits just 50 kilometers north of Cagliari. While visiting the Su Naraxi is a history-lover's dream come true, keep in mind that there is also a cultural center located just a stone throw's away, where concerts, events, and exhibitions take place. So try to catch a show!
Looking for a fabulous lunch after exploring Barumini on your day trip from Cagliari? Head over to the Trattoria Pizzeria Su Pasiu for some mouth-watering food!
If you're looking for a relaxing afternoon activity, head over to the Parco Della Giara. It's just a 15-minute drive from the city center of Barumini. This fantastic park is home to more than 100 species of animals, including their famous Giara little horses. Close by is also the Società Agricola Olianas winery, where you can walk through the vineyards sipping wine on a tasting tour.
Easy to see why Barumini is one of the best day trips from Cagliari.
If you can't be bothered driving, you may want to consider one of this half day tour of Su Nuraxi di Barumini.
Check out my posts A Quick Guide To Visiting Su Nuraxi, Sardinia and A Guide To Nuraghe In Sardinia.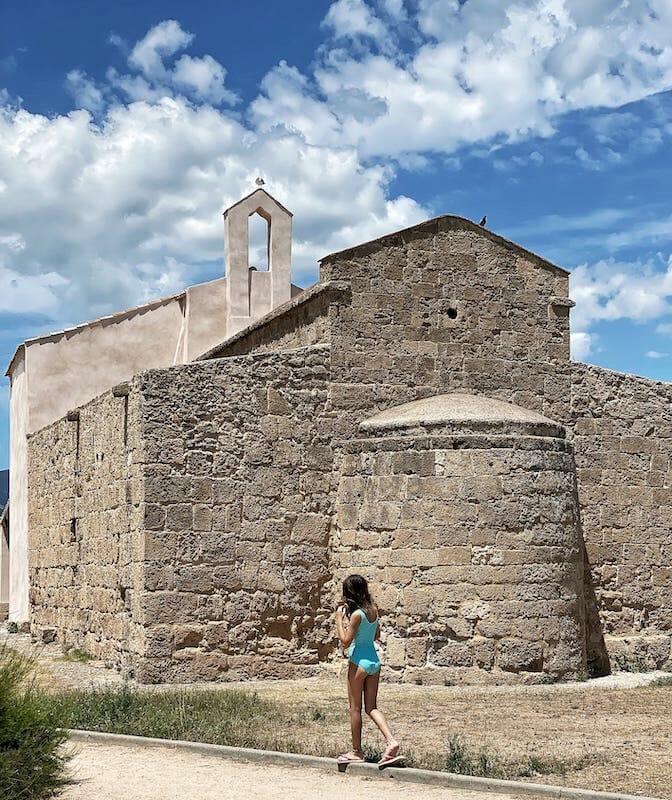 The Ancient City of Nora
The city of Nora has been crucial to the growth and development of ancient civilizations in Sardinia. It was a Phoenician city first, Punic next, and finally, it became a burgeoning Roman city.
With over three thousand years of history, why wouldn't you want to include it among your planned day trips from Cagliari and come on over for a visit? It's only 50 kilometers to the southwest of Cagliari, anyways!
When visiting Nora, make sure to spend some time walking through the archaeological park. Another must-do activity is going snorkeling and seeing the ancient remains in the water! I'm serious— underwater!
So grab your snorkel gear, and look down at the ancient Roman roads and ruins below. Sorry fishes, the ruins below are more exciting than you.
Also, you simply can't miss seeing the remains of the Temple of Tanit and the Nora Stone inside the National Archaeological Museum.
Finally, after checking out archeological sites — try to see the remains of the thermal baths at the park too — enjoy a walk along the beach or lagoon and try to catch a glimpse of the rare birds there.
If you'd like to join a guided tour, this Archaeological tour of Nora from Cagliari is a good option.
Another beautiful archeological site that can be easily reached on day trips from Cagliari is Tharros, in the Sinis Peninsula about 1.5 hour drive from Cagliari. This is a city that was founded by the Phoenicians between the end of the 8th and the beginning of the 7th century BC, but there is proof of the presence of people from the Nuragic period. The city was later on conquered by the Punic and finally by the Romans.
Make sure to read my posts A Quick Guide To Tharros Archeological Site, A Quick Guide To Nora, Sardinia and The Most Interesting Archeological Sites In Sardinia.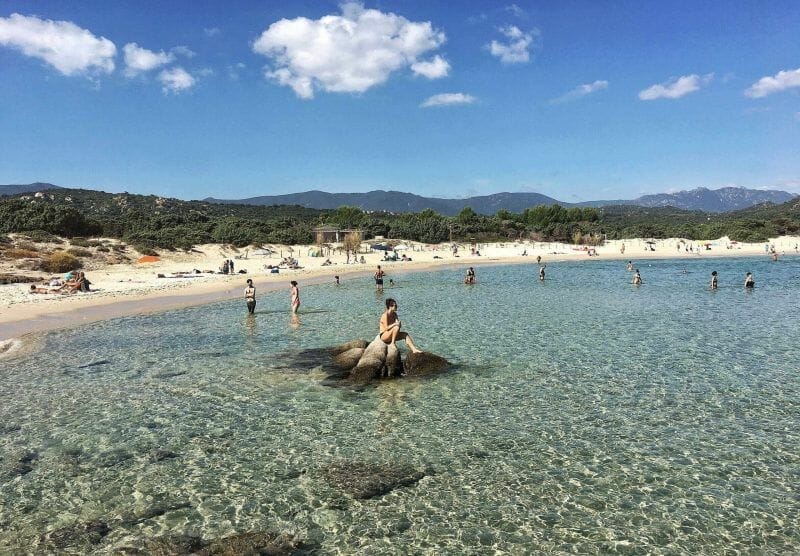 Costa Rei Beaches: Fun in the Sun
Are you dying for some time in the sunshine, lying back on a towel with a good book in hand? Or are you itching for some time riding the waves — jet skiing or wakeboarding? Either way, the Costa Rei beaches have you covered.
Spread along the south-east coast of Sardinia, just under an hour's drive from Cagliari, the beaches of Costa Rei are calling your name. Get ready for powdery white sands spanning eight kilometers, with a total of three different beaches to enjoy, such as Santa Giusta, Cala Sinzias, and Monte Turnu.
Moreover, there are awesome water activities to enjoy on the beaches, from windsurfing and kayaking to snorkeling and scuba diving! There is also a bevy of restaurants, bars, and shops lining the beaches, so your every craving and whim can be met.
So, precisely how divine does this sound for day trips from Caglairi? There really is no reason to not head on over to the beaches of Costa Rei and soak up some relaxation and rejuvenation — maybe even a little dose of water-sports-driven-adrenaline, too!
Also, when is wine not a good idea? Head over to Baccasardus in the nearby town of Villasimius. It's a food and wine shop that seamlessly shifts into a lively bar in the evening. Make sure you sample their house red — Monica Amabile — from their private label.
If you happen to be in the area on a gloomy day, worry not. Head to the nearby Castiadas to visit the historical prison. For a minimal fee you can get a guided tour that lasts about one hour.
Read my posts The Inside Scoop And Best Kept Secrets: Costa Rei In Sardinia and The 15 Best Beaches In Sardinia.
Chia Beach
To get from Cagliari to Chia Beach takes just over an hour. There's even a bus that will take you there for less than €4 — talk about a bargain! The southern coastline of Sardinia is a tremendous place to spend the day. It has turquoise waters and peach-colored sand. Instagram heaven, here we go!
Chia Beach is also a wonderful spot to experience Sardinia's wildlife. Pink flamingos often dot the shallow waters of the lagoon right behind the beach, and dolphins are known to swim nearby in the sea. So if hanging out with dolphins and flamingos is among the things you'd like to do on day trips from Cagliari, look no further than Chia Beach.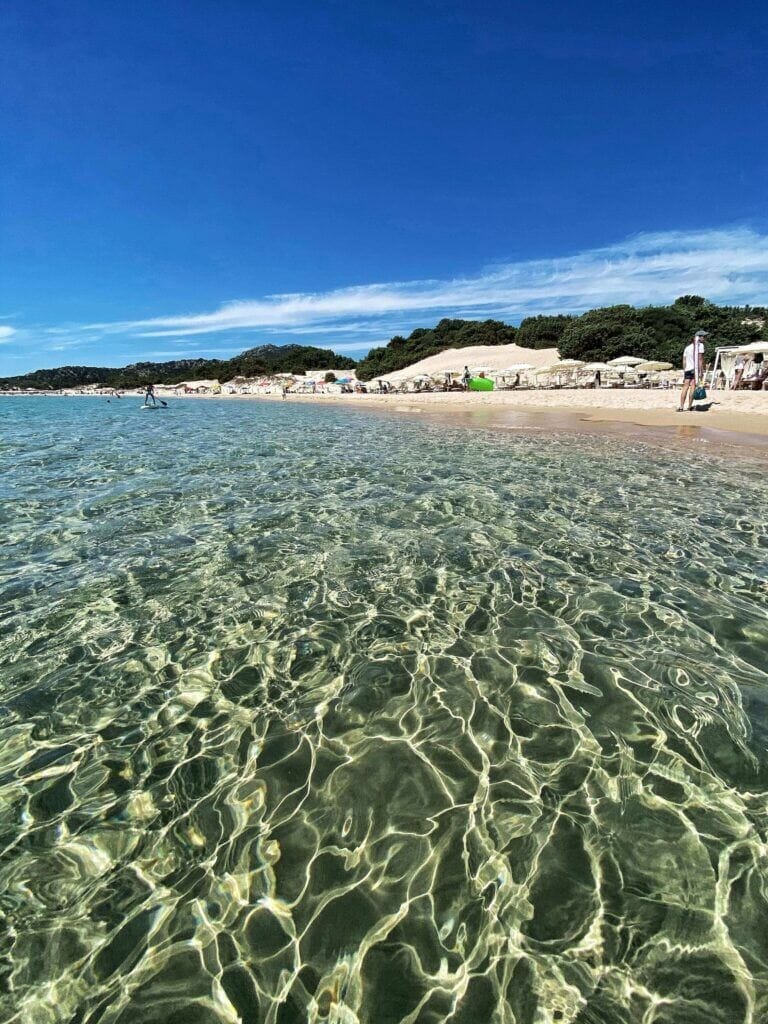 There is actually more than one beach that makes up the Chia Beach area: there is the Torre di Chia that has a fabulous viewpoint to walk to and take in the views; there's another beach with 20-meter-high dunes (but it is forbidden to walk on them, in order to preserve them).
Su Giudeu is one of the most popular beaches around for water sports. So if you want to try out scuba diving or surfing and wind-surfing, that's the beach for you. There's also horseback riding and golfing to partake in.
Check out my post Where To Go Surfing In Sardinia.
Since Chia is only an hour away, it sounds like a beach day might just make the itinerary for your future day trip from Cagliari.
Su Gorropu Canyon
If you enjoy hiking or rock climbing, you will have many places to visit even on day trips from Cagliari.
Su Gorropu Canyon, also called the Gorropu Gorge, is located in the province of Nuoro. It's actually a little farther away than I'd typically recommend for a day trip — about a three-hour drive from Cagliari — but it's just too incredible to leave off my list! It's a Sardinian National Park that has colossal canyons and astounding hiking opportunities.
There are also jeep services that will cut your trek down by about 40 minutes, but if you are healthy and spry go for the whole walk. The canyon is actually only 1.5 km long. However, without a guide and some serious skills with rope, you can only climb through about a third of the way.
So really, it's definitely worth the walk! Specifically, Gorropu is a natural ribbon of land winding between two limestone cliffs. Just how tall are these cliffs? About 500 meters tall.
If you've made a day trip from Cagliari, might as well stop by a gorgeous winery on your way back to the city to kick your feet up for a minute and treat yourself to a chilled glass of wine. The Vitivinicola Antichi Poderi Jerzu is the place to do it.
The Mines of Sulcis Iglesiente: Industrial Archaeology at its finest
The Sulcis Iglesiente is a region in the southwest of Sardinia. This area is most well-known for its mining activities, especially coal mining. There were also other things to mine, such as carboniferous granites and diorites, limestones and dolomites, and lead and zinc.
Although the mines are now closed, visiting the mines in Sulcis Iglesiente makes for some incredible day trips from Cagliari
In fact, the geo-mining historical and environmental park of Sardinia is now a UNESCO World Heritage site. You can enjoy a long hike along the old miner trails. I recommend booking a guide who can fill you in on all the fascinating history of the mines.
When you visit the Malfidano mine in Buggerru, you'll be able to see the remains of the old mines and tour their fantastic historical museum.
And make sure to visit the Masua complex, where you can check out the Porto Flavia tower overlooking the water below and take a tour of the museum of mining equipment. The third mine complex I would recommend visiting is the lead and zinc mine that dates back to the late 1800s. The Laveria is located in Nebida, and the remains are fairly well-preserved.
If you're looking for something else to see in the area, the Sulcis-Iglesiente region also has oak and bearberry forests to explore, and caves to see, including San Giovanni di Gonnessa cave, Su Mannu di Fluminimaggiore cave, and San Giovanni di Domusnovas cave.
While it will take up to two hours or more to reach these mining villages, it's one of the most worthy day trips from Cagliari when you have such a unique dose of industrial archeology right at your fingertips.
If you want, you can go there on a guided tour. I recommend this Porto Flavia tour departing from Cagliari.
On the way to Masua, or on your way back, you may want to stop at Siliqua. This small town is about half way and home to Acquafredda Castle, which is perched on top of a hill and can be visited on guided tours. On a clear day, the views from the castle span all the way to Cagliari!
For a guided tour of Acquafredda Castle departing from Cagliari, click here.
Make sure to check out my posts A Guide To Visiting Porto Flavia, Sardinia and 9 Sardinian Mines You'll Enjoy Visiting.
Sa Spendula Waterfall: True Natural Beauty
Bring on the breathtaking beauty, because you're about to see one of the tallest waterfalls on the island of Sardinia — Sa Spendula waterfall!
The waterfall cascades down in a three-part tier, which forms three pools. It stands 72 meters in height. You can soak in the pools, which have special qualities: the mineral, a granitic aiguille, is present in the waters and reportedly has healing properties.
When you hike through the oleanders and holm-oak woods, you'll be able to spot two other nearby waterfalls right off the trails. The Piscina Irgas is 45 meters tall and plunges into a deep pool of water. The other waterfall to spot is the Muru Mannu, which stands nearly 70 meters high and falls into a quaint little lake.
When you're visiting the falls, make sure to stop by the charming town of Villacidro, and pick up some snacks.
Keep in mind that it takes less than an hour to get to Sa Spendula Waterfall from town.
Check out my posts The Most Beautiful Waterfalls In Sardinia and The Best Hikes In Sardinia.
San Sperate Village: An Art Lover's Paradise
San Sperate is a charming town that sits just 20 kilometers from Cagliari. Renowned for its astounding public art scene, San Sperate is an art lover's delight!
Immersed in colorful orchards filled with oranges, lemons, and peaches, San Sperate definitely qualifies as idyllic. Meander through thei charming cobble-stone streets and see hundreds of colorful murals covering the walls! There are murals that show the history, life, and tradition of the town and of Sardinia itself.
San Sperate is also home to a plethora of artists, who create beautiful works, from ceramics and paintings to jewelry, iron, and leather works. The most prominent one was Pinuccio Sciola, who sadly passed away a few years ago. If you decide to visit on day trips from Cagliari, bring some extra cash with you to pick up some memorable souvenirs.
You can also join this San Sperate murales tour.
For more guidance, you should also read my posts A Quick Guide To San Sperate, Where To Find The Best Street Art In Sardinia and The Nicest Small Towns In Sardinia.
Sant'Antioco Island: The Perfect Island
Sant'Antioco is the main island in the Sulcis region – that's the area where the mines are! This island makes for some of the most incredible day trips from Cagliari.
Once a Phoenician-Punic colony; the town was turned into a Roman City. Now, it's a beautiful seaside small town filled with colorful houses and charming restaurants. It's actually the largest island of Sardinia, and it's connected to Sardinia by an articular isthmus. It takes about one and a half hours to reach Sant'Antioco from Cagliari.
Sant'Antioco is known for building traditional wooden boats and for weaving. Obviously, it has a burgeoning fishing and salt business as well, but you might find witnessing some boat building or weaving a tidbit more interesting!
One little fun fact is that the town was originally known as Sulky (or Sulki, or Sulci), which I find charming and a little bit hilarious. There are still remnants of the original town, built by the Phoenicians in 770BC.
There are also lots of Roman remnants to check out, from sa Presonedda mausoleum to the domus de Janas (fairly houses) of is Pruinis.
What else is there to see on Sant'Antioco? Well, there are ruins of nearly 30 nuraghes, as well as sacred springs, and giants' tombs. If you aren't swept away by the charm, get ready to have your jaw drop at the mix of ancient archeological sites and natural wonders.
Finally, the Tenuta La Sabbiosa vineyard also dwells on the island of Sant'Antioco. It overlooks the sea. They work with centuries-old vines and strive to be as sustainable and environmentally conscious as possible.
Not only that, but they produce a particularly divine wine — a Carignano del Sulcis DOC wine that is full-bodied, rich, and warm. A visit to Sant'Antioco wouldn't be complete without a stop at this winery!
Check out this guided tour of San Pietro Island – it also goes to Sant'Antioco.
Calasetta – A Seaside Oasis
Calasetta is a town on the Sulcis Archipelago that sits on the south-western tip of Sardinia. It has quite the cool history, in that it began in the year of 1769 with 38 families of coral fishermen from the Tunisian island of Tabarka.
Later, tuna fishermen settled there as well, and then settlers from Piedmont came and brought grapes with them. Today, the mixed language of Tabarkian and Ligurian can still be heard throughout the town.
Calasetta has three sandy beaches – Grande, Sottotorre, and Le Saline beaches. And the other areas of the coastline are covered with jagged cliffs. Snapping a photo of the rock formation called the Boat Eater (Mangiabarche), where a scenic lighthouse is located, makes for quite the memorable shot!
There's also the fjord called Cala Lunga that has a sheltered beach on it. And there are impressive rock formations that jut out of the water.
And I did mention grapes, didn't I? There are some absolutely fantastic wineries in Calasetta that can't be missed! My favorite is the Cantina di Calasetta, which produces Carignano del Sulcis and has an impressively extensive tour, where you get to sip on award-winning wines and sample traditional food and dishes such as the Gallettine di Calasetta.
Lastly, make sure to visit the Museum of Contemporary Art (called the MACC) to bask in some awesome artwork.
Check out this guided tour of San Pietro Island – it also goes to Carloforte.
Make sure to read my post A Complete Guide To Calasetta, Sardinia.
Monte Arcosu Hike
Seeking a jolt of adventure? Then the Monte Arcosu hike is for you. Sitting just outside of Cagliari, Monte Arcosu is a forest that is actually a huge Mediterranean marquis. It's a glorious natural park overflowing with biodiversity. Also, it is one of the last homes of the Corsican red deer! Spotting one of those cuties is a real treat!
Curious about the numbers? Spanning over 35,000 hectares, the high peaks of the mountains soar more than 1,000 meters high. Monte Arcosu really is a spectacular place to plan a hike.
Throughout the park are two different nature paths that are simple to follow and don't require a guide. Both trails take about two hours to complete — the Perdu Melis trail and the Sa Canna trail. However, if you are an experienced hiker, there are five different paths you can take throughout the reserve that are more steep and challenging.
So, whether you're looking for a straightforward, smooth, and pain-free hike or something a bit more exciting and arduous both options are available to you in Monte Arcosu. No matter the trail, you're sure to enjoy a breath of fresh air on your day trip from Cagliari.
Final Thoughts
While Cagliari is jam-packed with awesome things to do and to see, I hope this post illuminated some of the best day trips from Cagliari and sparked a bit of curiosity in you!
Whether you need some time in the sand at Chia Beach, prefer to sample wine at Calasetta's renowned winery, or even wander through the ancient maze at Su Naraxi in Barumini, there are true wonders to be found when you hop in a car or on a bus and get outside of town.
Want to push yourself a bit further? Check out this guided day trips from Cagliari:
Further Readings
Make sure to read my other posts about Sardinia:
Pin It For Later!