A short distance from one of Sardinia's prime holiday destinations – Santa Teresa di Gallura; and right in Capo Testa, Cala Spinosa is a tiny, rocky cove with the most pristine, clear waters you can imagine, perfect to snorkel. With stunning views over the Bocche di Bonifacio (Mouths of Bonifacio) and overlooking Corsica, it's a wonderful place to spend a day completely immersed in nature.
I visited Cala Spinosa last summer, during a weekend with friends in Santa Teresa di Gallura. While we had not planned to go there (we simply intended to drive to Capo Testa), as soon as we caught glimpse of it we made it a point to walk down – and it was a memorable place!
Curious to find out how to make the most of this hidden gem of Sardinia? Continue reading, as I am about to unveil the secret!
Everything You Need To Know About Cala Spinosa
Cala Spinosa Beach
Cala Spinosa is a lovely, tiny cove in the territory of Capo Testa, in the municipality of Santa Teresa di Gallura, in northern Sardinia. Albeit being a bit harder to access compared to other beaches in the area, this beach gets quite busy in the peak summer months. I don't blame people for wanting to go there: looking at it from the road, the view is breathtaking and you will feel compelled to walk down – trust me, it is worth the effort!
The cove is made of large rock formations and pebbles only partially mixed with sand – which makes laying an umbrella quite a challenge. At its back, a forest of Mediterranean pines and shrub adds to the scenery. There are actually two small coves in Cala Spinosa – one is accessed from the trail, whereas to reach the other you will have to scramble above rocks and large boulders.
Water at Cala Spinosa is incredibly transparent, and the fact that it is surrounded by rock formations makes it perfect for snorkeling – so make sure to bring your gear with you!
While there is a lovely restaurant with stunning views over the sea immediately above Cala Spinosa, this is not a serviced beach – you won't find a kiosk, umbrellas or a toilet there. There is a toilet at the restaurant, but it's a hike to get there. You will need to bring whatever you need for the day, including a pair of rock shoes to help you get in the water. Make sure to wear shoes to walk down to the beach! There is no lifeguard on duty.
How to get to Cala Spinosa
The beach is located 4.5 km (2.8 miles) west of Santa Teresa di Gallura. Driving there will take you about 10 minutes – but factor in some extra time as parking is scarce. To get there, follow Via Capo Testa out of the village for 2.5 km (1.5 miles), then turn on Via Cala Spinosa. Parking is available at the very end of the road, or along the road – you will have to wait to find a spot if none is available, or make your way there super early for higher chances.
Once there, you have the option of following the trail that goes through the Sea Lounge restaurant's ground – a €5 ticket will also give you access to the facilities; or the rather rough trail that you can access for free. Make sure to wear shoes as either way it can be quite steep and challenging in places!
Other Useful Information
Here is some additional tips to make the most of your time at Cala Spinosa:
ARRIVE EARLY – Cala Spinosa is small, so to get a spot at the beach and to find some parking along the road, try to be there no later than 9:00 am!
BE RESPECTFUL OF OTHERS – This beach is tiny, and there isn't much space. Try to leave some room for other people to walk around when laying down your towel and placing your umbrella, and by all means try not to be loud!
DON'T TAKE SAND – Taking sand, shells, pebbles or anything else from Sardinian beaches isn't just bad for the environment, but also forbidden by law. Get caught with it, and you may get a hefty fine. Make sure to read my post about Sardinian sand theft here.
DON'T BRING CHILDREN – Children aren't bound to enjoy this beach, so don't ruin their day (and yours) by taking them there. The trail to get there is a hassle; and the lack of sand is such that any child may get bored!
PICK UP AFTER YOURSELF – This is not a serviced beach and you won't find garbage disposal bins. Don't abandon your trash on the beach. Bag it and bring it home with you – and remember, recycling in Sardinia is a must.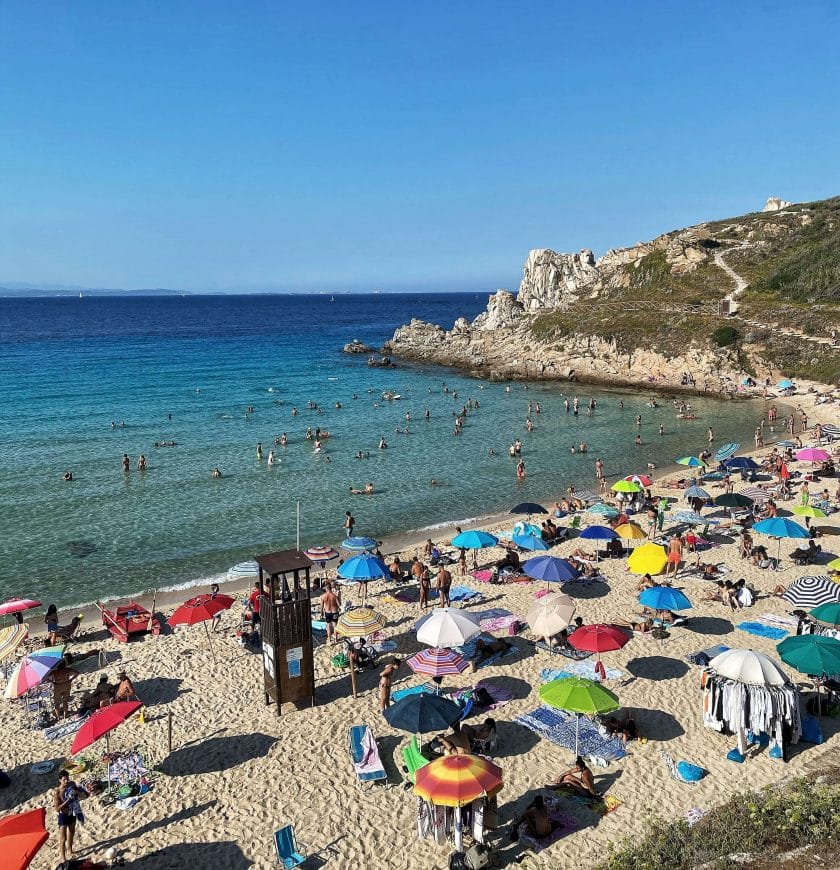 Other Nearby Beaches And Attractions
CAPO TESTA – Accessed via the same road that will take you to Cala Spinosa, the main attraction in Capo Testa is the lighthouse. Several trails will make exploring the area easy and convenient.
VALLE DELLA LUNA – One of Sardinia's most famous sunset spots, and a favorite of hippies who gather there every summer to enjoy the scenery, often setting camp albeit the fact that it is prohibited. Get there via a 30 minutes easy walk from the main road, and if drums and pot are not your thing, simply bring a drink and enjoy the sunset before heading back to the village for the night.
RENA BIANCA – Santa Teresa di Gallura's main beach is a nice stretch of fine, white sand and clear shallow waters. It's easily accessible on foot from the village, fully equipped and perfect for families.
RENA MAJORE – A quick drive from Santa Teresa di Gallura, this sandy cove has clear waters and fine sand and is perfect for families with children. There is a kiosk where you can get a quick meal. You have to pay to park your car.
Where To Stay Near Cala Spinosa
The best place to stay to easily access Cala Spinosa is Santa Teresa di Gallura, where you will find a variety of accommodation options for any taste and budget – from luxury hotels, to budget guest houses and camping sites, as well as holiday apartments. Santa Teresa also has a great selection of restaurants for all budgets.
For a selection of places to stay in Santa Teresa di Gallura, click here.
Further Readings
Spending your holidays in Sardinia? Make sure to read my other posts:
Pin It For Later!