North Sardinia beaches are among the most beautiful and unique in Italy. Thanks to the Island's shape and the numerous difficulties to access the shores up until very recently, they can still be considered quite intact and their waters are nothing but pristine.
Whatever part of North Sardinia you choose to visit, you will find excellent sunbathing and swimming spots, great places to stay and lovely people, and you will fill your camera roll with stunning pictures of places that look almost out of this world.
To make the most of the best beaches in northern Sardinia, you will want to rent a car: the North is especially difficult to explore by public transportation; plus, having your own car will give you total freedom on your schedule and itinerary.
Make sure to read my post A Guide To Renting A Car In Sardinia and check the prices of car rental in Sardinia here.
Now, without further ado, let me list the best beaches in Northern Sardinia.
The Best Beaches In Northern Sardinia
Romazzino
Romazzino is a peculiar, lesser known beach in Costa Smeralda, nearby the more popular Spiaggia del Principe. Its name comes from the rosemary plant that grows everywhere nearby. Romazzino beach is worth a stop if you don't like the overwhelming crowds of Costa Smeralda – but don't expect an empty beach during the summer months.
The beach is unusually long and water is quite deep, which are uncommon features on North Sardinia beaches; the sand is slightly thicker than the one on the neighboring beaches (personally, I like it better) and the place isn't nearly as crowded as the other beaches, who are more popular among tourists.
Cala di Volpe
Contrary to Romazzino, Cala di Volpe is one of the most famous and trendy places in Costa Smeralda. Its area, made of four different coves with thick, pinkish sand and rocks coming out of the water, is filled with resorts, clubs, and VIPs.
A huge number of celebrities, in fact, choose to spend their holidays here, maybe docking their yacht nearby or renting a fancy villa or even suite in one of the hotels of the area. The sea, of course, is crystal clear, with shallow waters and a fun seabed, great for kids and snorkeling lovers.
Grande Pevero
Grande Pevero is one of the longest (360 meters) beaches in Costa Smeralda and, according to many, getting there and seeing the wonderful color contrasts feels like landing on the Moon. To be fair, its white sand covers a wide, arch-shaped area and, seen from above, really gives the impression of being on the moon, or at least in some fairytale land.
The beach is stunning and offers a lot of activities to do other than sunbathing, so if you happen to go there, be sure to try some water sport or have a walk on one of the area's hiking trails.
Porto Pollo
Porto Pollo is a rather famous beach nearby Palau, great for every type of traveler. Thanks to the wind that blows constantly, it's a hot spot for kitesurf, windsurf, and sailing lovers. The reddish, soft sand forms dunes that go all the way to the shore, which is perfect for kids thanks to the shallow waters. The beach is served by several kiosks and is quite popular among young people as well: all in all, an excellent holiday spot!
Cala Corsara
Considered one of the most beautiful beaches on the Maddalena Archipelago, Cala Corsara can only be reached by sea and is one of the coves of Spargi Island. The whole island is surrounded by a crystal-turquoise sea that you won't likely see anywhere else, and made of dunes where wild lilies, juniper, and other Mediterranean plants grow freely.
Underwater, if you like snorkeling, you will find countless fishes and a few interesting things, like old ships that wrecked on these waters centuries ago – the oldest one being of Roman craft!
As you can only reach Cala Corsara by boat, you should make sure to book a boat tour of La Maddalena Archipelago. For more information, click here.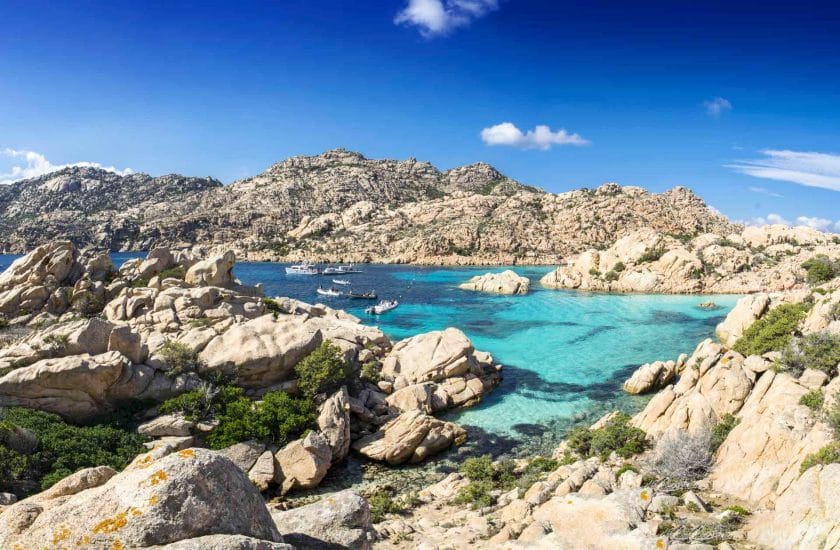 Cala Coticcio
Despite being a hidden gem of the Maddalena Archipelago until very recently, Cala Coticcio has become quite popular during recent years, and this has led the local administration to put some rules in place. Now the beach – and the whole area, actually – can only be accessed with a special permit and together with a local guide.
The Sardinian Tahiti, how locals call it, needs to be preserved and only experts can lead you there through a (not too difficult) hiking trail and explain to you all the wonders of the area. You won't regret going, though: Cala Coticcio really lives up to its fame. It's a secret paradise in an already paradise-like part of the world.
The only way to get to Cala Coticcio is via a guided hike. Guides are available on the website of La Maddalena Park here.
Alternatively, consider joining a guided boat tour. For information on boat tours of La Maddalena Archipelago click here.
Make sure to also read my post How To Visit Cala Coticcio.
Rena Majore
Surrounded by dunes of thin, white sand, Rena Majore beach is a small paradise less than 10 km (6.2 miles) away from Santa Teresa di Gallura. It's broad enough to host about 400 people and, like many other places in the area, its water is pristine and painted with every shade of blue. Moreover, the water is shallow – great for kids – but rich in colors and living beings: if you love snorkeling, this one is for you.
La Marmorata
Near Santa Teresa di Gallura, la Marmorata is a lesser known but still incredible beach, great for families with kids and for anyone who loves the water. The beach is quite wide, can host a lot of people, and is well served. You can rent umbrellas and beach loungers, have a meal in a nearby restaurant, and have a peaceful day under the sun, on a safe and beautiful beach surrounded by Mediterranean shrubs.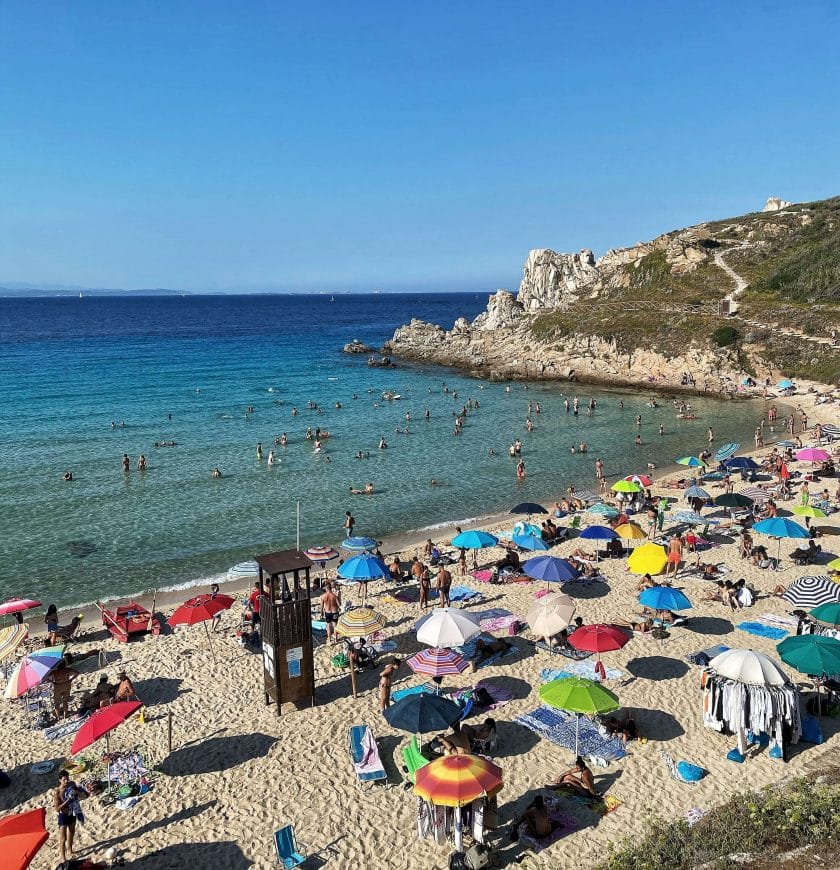 Rena Bianca
Rena Bianca is a long cove in Santa Teresa di Gallura. As its name – which literally means white sand – suggests, it's made of beautiful white sand that makes for an amazing view. The clean waters are full of marine life and a paradise for scuba divers and snorkelers, and the shallow water makes Rena Bianca a safe spot for children.
Being only 300 meters away from the village, the beach is well served and equipped with every comfort, and the natural land conformation shelters it from the mistral wind all year long: this means, however, that the beach can get quite crowded during peak season.
Cala Spinosa
A hidden gem with pristine water just a few minutes' drive from Santa Teresa di Gallura, Cala Spinosa is bound to stay in your memory for a long time. Despite it being not the best beach for kids – it's mainly rocky, both on the shore and inside the water – it's a fantastic snorkeling spot.
Getting there isn't difficult – well, at least to the trail that leads to it. However, parking and actually climbing down to the beach are a totally different adventure than the drive to Cala Spinosa. The trail is well marked and short, but you will need shoes!
Make sure to read my post A Quick Guide To Cala Spinosa.
Li Cossi
Li Cossi is a small beach (about 80 meters/262 ft wide) located in Trinità d'Agultu municipality, roughly half-way between Castelsardo and Santa Teresa di Gallura. The beach is surrounded by pink granite cliffs and protected by a small river that runs behind it, making it a very quiet and safe spot.
Its sea bottom is very low on the shore, ideal for families with kids, and becomes a paradise for snorkeling lovers after some meters. It's a great place for everyone!
To get there you will have to walk along a trail for about 1 km (0.6 miles) from the parking lot. It may seem a lot, but the views along the way are stunning and the trail easy.
La Marinedda
Located nearby Isola Rossa and surrounded by red granite rocks and Mediterranean shrub, la Marinedda is a long, beautiful beach equipped with everything – though you can access for free and plant your umbrella wherever you prefer!
The place, very appreciated by sea sports lovers, is the yearly location for a global surf competition, and offers all the common features shared by the best beaches in northern Sardinia: pristine water, shallow waters, beautiful colors.
Make sure to read my post The Best Surfing Spots In Sardinia.
Cala Sarraina
A small, almost untouched cove nearby Costa Paradiso, Cala Sarraina is going to take your breath away. Whether you like sunbathing for 12 hours straight (please don't do that) or practice snorkeling until you see fish even while on dry land, this place won't disappoint: it's a peaceful haven for locals and tourists, not very known by the masses but spectacular, nonetheless.
A word of advice, though: don't go when the mistral wind blows, as it's virtually impossible to stand or even swim!
Tinnari
Another hidden gem in Costa Paradiso, Cala Tinnari is a cove surrounded by rocks and a Mediterranean grove, with transparent waters and thin sand. It's not often listed among the best beaches in northern Sardinia, so if you are looking for a nice place to relax, go snorkeling, and enjoy a peaceful day at the beach, keep Cala Tinnari on your to-go list.
Balai
Balai is the urban beach of Porto Torres, and it's a popular hangout spot in any season – like Cagliari's Poetto – and the stage of many events, such as the New Years' Dive, during which people jump in the frigid waters to celebrate the new year.
The water and sand follow the standards of any of the best beaches in northern Sardinia, but it's what's around Balai that's special. You can enjoy a long walk or cycle alongside the shore, sip a coffee in a nearby café, or even visit the pretty Balai area, on the outskirts of Porto Torres. It's an easy to reach beach, with plenty of on-site parking, and the views from above stunning!
Ezzi Mannu
Another long and sandy beach with emerald water, Ezzi Mannu marks the border between Stintino's and Sassari's municipalities. You can fit your umbrella and towels easily along its two-kilometers-long shore, made of peculiar quartz sand.
A lot of people love Ezzi Mannu because it's wide – it never gets overcrowded, at least compared to many other North Sardinia beaches – and its water is great for snorkeling and safe for kids.
La Pelosa
La Pelosa is the symbol of Stintino, and one of the most visited beaches in Sardinia. It's a great photography spot – mostly thanks to the Aragonese watchtower overlooking the sea – and a staple for water sports thanks to its exposition to the mistral wind.
Unfortunately, its fame was starting to cause damage to this amazing beach, so the municipality of Stintino has ordered and made sure that the access to the beach is limited to just a few hundred people per day – a policy that has started being implemented a few years ago. You will need to book your spot in advance and follow a set of strict rules to help with the preservation efforts of this incredible beach.
Head over to my post A Guide To Visiting La Pelosa Beach.
Saline
Le Saline Beach is one of the broadest beaches in Stintino and also one of the lesser crowded ones, perfect for those who prefer a slightly bigger personal bubble. Its main charm is the ash-colored sand, which strongly stands out against the emerald waters – where small fishes swim peacefully, very close to the shore.
Adding to the charm is an Aragonese watchtower located directly on the shore.
If you are visiting Stintino, love snorkeling, and would like to spend a day away from the more famous North Sardinia beaches, le Saline is the best choice you can make.
Further Readings
Make sure to also read my posts:
Pin It For Later!