There are many excellent Stintino hotels, and should you decide to spend your summer holidays there you won't have troubles finding a suitable place to stay.
Stintino is a small village not far from Sassari and overlooking the Asinara Natural Park, famous for its stunning beaches, especially La Pelosa, which is as precious and delicate as it's renowned, and requires booking to enter: the huge number of visitors has, during the years, damaged the beach and called for drastic solutions such as introducing a restricted-number entry.
Visiting Stintino means immersing yourself in a beautiful area of Sardinia, close to one of the main cities, but also to breathtaking sea views and incredible natural and historical attractions. Plus, the local cuisine is delicious: there are several dishes made with the freshest fish the cooks could get their hands on, and the typical sweets from the region are also something you'd want to eat forever.
There are plenty of activities to do in Stintino and its area, as long as you have a car (sorry, public transportation isn't the best here). But great adventures can't be so great without an adequate dose of rest: you will need a nice place to sleep, and that's why I compiled a list of the best hotels in Stintino.
Make sure to read my post A Complete Guide To Stintino.
The Best Stintino Hotels
Amaremare
Of all the Stintino hotels, this is my personal choice. This B&B features a terrace and a garden, rooms with a private bathroom and courtesy set, free Wi-Fi, and free parking. It's close to the beaches, pet-friendly, and located in an excellent area of Stintino. You will be able to also make use of the services offered – Costantino owns a catamaran and runs some of the best tours around Asinara island!
103 Boutique Hotel Stintino
Located close to the beach, this hotel offers free Wi-Fi, a bar, and bright, spacious rooms. Some rooms have a terrace, and all of them have a private bathroom and toiletries. You can also book an airport shuttle service to and from Alghero Fertilia.
Hotel Silvestrino
Located barely minutes away from the beaches, this hotel offers rooms equipped with every comfort, including private bathrooms, free Wi-Fi and air conditioning, and a great restaurant where you can enjoy your breakfast and several traditional, fish-based dishes. The property is pet friendly and offers an airport shuttle bus service. It's one of the best choices in terms of accommodation in Stintino.
Hotel Cala Reale
When it comes to luxury Stintino hotels, this would have to be your choice! This hotel features two swimming pools, a restaurant, a playground for the younger guests, and much more. The rooms are equipped with every comfort and all have a private bathroom with a courtesy set. Free Wi-Fi and free parking are included and the property is pet-friendly, just in case you want to bring your furry friend along too.
Domo Sul Porto
This Bed and Breakfast overlooking the old harbor offers free Wi-Fi, free parking, and a common terrace where to eat an abundant breakfast every morning. The rooms are bright and spacious, all have private bathrooms and a hairdryer. Like many other hotels in Stintino, this property is pet-friendly.
B&B Mare di Fuori
Located in a great part of town, Mare di Fuori offers a delicious Italian breakfast, unique rooms with a private bathroom and courtesy set, free parking, and free Wi-Fi. The property is close to the beaches and just a short drive from many other attractions in the area.
Roccabianca Rooms and Studio
For the ones who prefer the privacy of a self-catering apartment to a hotel or B&B, this place is a great pick. Less than 1 km from the beach, the property serves breakfast every day and offers rooms and full apartments with every comfort, free Wi-Fi, and free parking. The building is immersed in a garden and has a patio where to enjoy the fresh breeze in the morning and evening.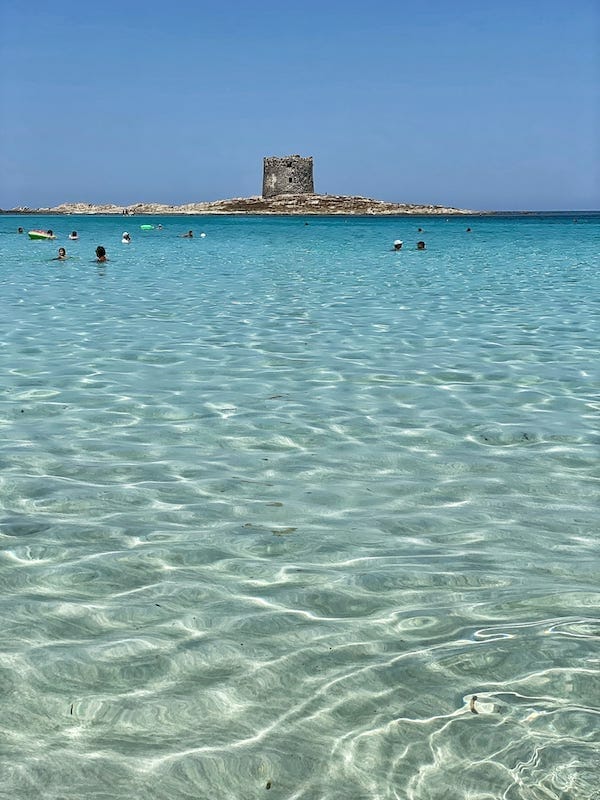 B&B Sa Serra
The property is close to the beaches and offers a common kitchen for guest use, free Wi-Fi, and free parking. All the rooms have a private bathroom. The property is also pet friendly. You will start your day with a delicious continental breakfast.
Appartamento nel Lungomare
This apartment is, like the name suggests, directly on the waterfront and ideal for a group of friends or a family. It's equipped with every comfort, from a microwave to a washing machine, making it a perfect self-catering option, and has free Wi-Fi and a balcony overlooking the sea.
Further Readings
Planning a trip to Stintino? These other posts may be useful:
Pin It For Later!